In this article, I would evaluate future growth of Insteel Industries, Inc. (NASDAQ:IIIN) and how much its value should be. Further, I would also try to explain the recent rally in the stock price and the drivers of its earnings. The scrip has seen a high of $32.11, outperforming the benchmark of NYSE.

Firstly, I will calculate the future growth of the stock implied in its last market price through a PVGO (present value of growth opportunities) method. I have calculated that if IIIN has no future growth opportunities, then what would be its price. To estimate this value, I simply divided its EPS (Trailing Twelve Months) by the required return on equity. The price without any growth opportunity turned out to be $17 per share.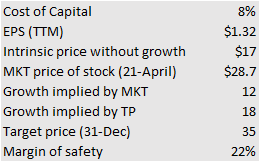 The recent rally in the stock price was primarily driven by improved market conditions following a recovery in the economy. As more than 85% of the sales of IIIN is concentrated towards non-residential construction sector (the main driver of company's sales due to presence of high correlation), the uptick in the non-residential construction sector contributed significantly to the surge in the recent quarter's top-line. But as IIIN is a growth stock, the market must also include the expected growth aspects of the stock, which the market implies to be $12. This means that market is giving the value of $12 to the future growth prospects of the Insteel Industries against my growth value of $18. Note the target price was obtained through DCF valuation methodology. Given the recent earnings announcement coupled with consistent growth in earnings, the stock would warrant a value of $18.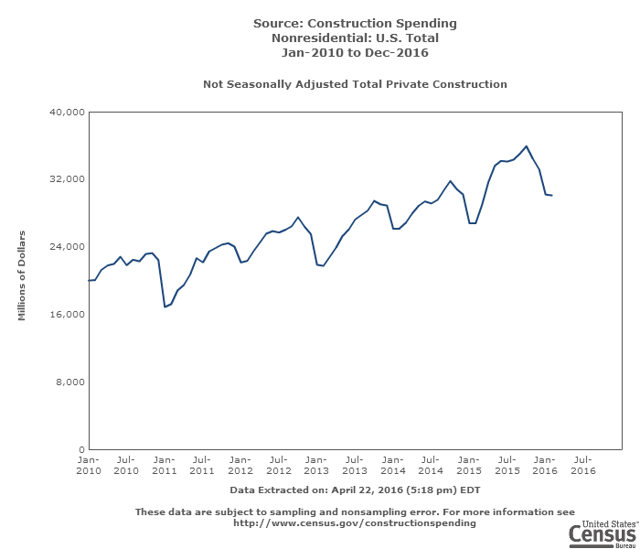 However, we have also seen the stock plummeting once it has reached its high of $32.11. In my view this is largely due to the shrinkage of the margin of safety which is measured relative to the stock price.
I would suggest investors to hold this stock at the current level and buy at the dips.
Disclosure: I/we have no positions in any stocks mentioned, and no plans to initiate any positions within the next 72 hours.
I wrote this article myself, and it expresses my own opinions. I am not receiving compensation for it (other than from Seeking Alpha). I have no business relationship with any company whose stock is mentioned in this article.