When the well is dry, we'll learn the value of water.
Every investment which is water related has my interest. This is part 7 in the series I've written on Seeking Alpha covering water related investments. The previous parts are the following: Part 6 (Veolia (OTCPK:VEOEF)), Part 5 (American Water Works (NYSE:AWK)), Part 4 (ETFs), Part 3 (PowerShares Global Water Portfolio ETF (NASDAQ:PIO)), Part 2 (First Trust ISE Water Index ETF (NYSEARCA:FIW)) and Part 1 (PowerShares Water Resources Portfolio ETF (NASDAQ:PHO)).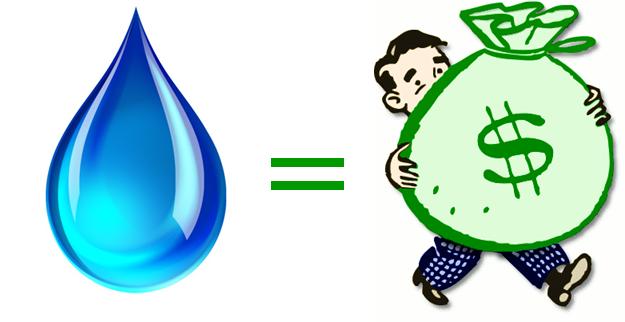 This article will specifically focus on Suez Environment (OTCPK:SZEVF)(OTCPK:SZEVY), the second largest water utility firm in the world.

French Glory: Number Two Is Sometimes An Advantage
Not too long ago I wrote an article on Seeking Alpha about France's number 1 water-related firm, Veolia (OTCPK:VEOEY). If we step down the ladder, we reach Suez Environment as number 2. Suez supplies drinking water to 92 million people (a little less than Veolia), delivers wastewater treatment services to 65 million, collects waste produced by almost 50 million, recovers 14 million tons of waste each year and produces 5,138 GWh of local and renewable energy. With 80,990 employees, Suez, which is present on all five continents, is a key player in the sustainable management of resources. Just to compare, Veolia has 170,000 employees.
Annual Results 2015
Not too long ago, the firm announced results over 2015. See here for the presentation from Suez.
Readers who also followed the story of Veolia's shareholder presentation over 2015 will see a remarkable difference. The story is presented in a different style. Suez presents a much more grim story of the French economy and the drivers that could chain the firm due to these lagging factors in the world, while on the other hand Veolia's shareholder presentation is much more of a 'pat on the back' for the performance over the last year and showing confidence that they will be able to push this until 2018.
The revenue pie of Suez is as follows: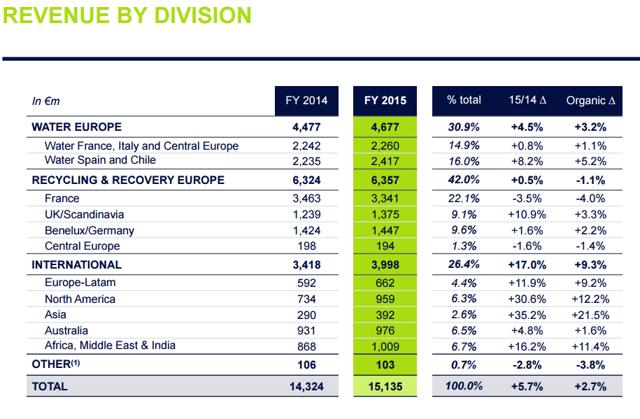 Source: Shareholders Presentation
The difference to Veolia is trivial: for example Veolia's revenue out of the water division is around 45% while Suez, as shown above, has around 30% out of revenue derived from water.
Suez Performance 2015: Marginally better than 2014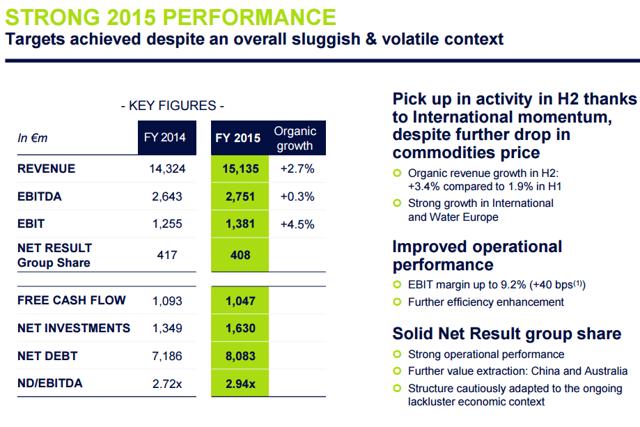 Source: Suez Shareholder Presentation
Revenue grew around 3% while net results grew 2%. Net debt grew around 12.5% while Veolia was able to decline net debt by 1.6%. D/R (debt over revenue) is around 53% while Veolia has a debt/revenue factor of 32%. Veolia clearly has performed better in 2015 than Suez.
Debt obviously is a constraint on dividend payments, as what is being paid for interest is a little less than what is being deducted for dividends: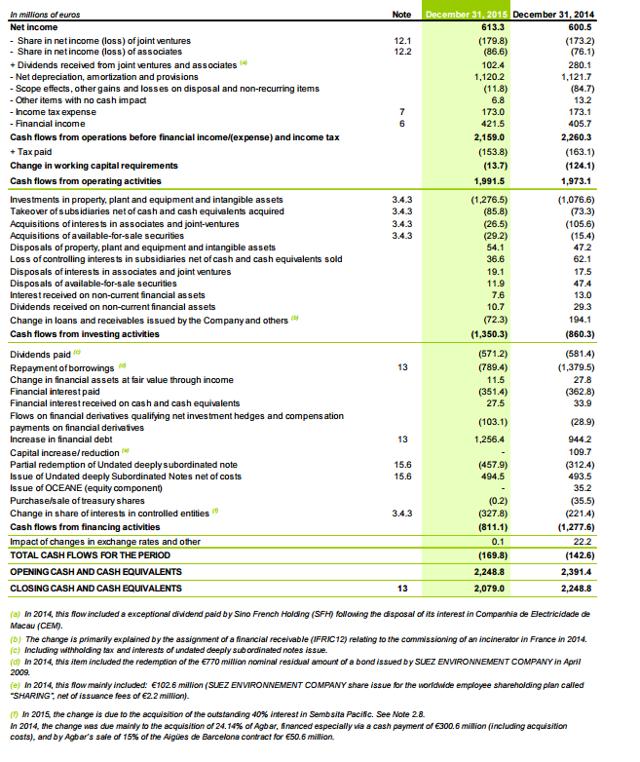 Source: Annual Report Suez Environment
The table above shows that dividends paid is €571 million while interest payment was €352 million. Veolia, to compare, paid €512 million in dividends and €425 million in interest. For both firms, debt is still considerable and I do consider it a chain on business progress, for both.
Both firms are in the midst of restructuring their core by trying to lower debt levels, and lower cost levels by reducing significance in some countries. This should increase earnings overall which should increase the probability that the firm can maintain its dividend policy to reel in new investors. Suez and Veolia don't differ much on this strategy.
When looking at the debt/asset ratio, Suez has 79%, which is 2% higher than Veolia and 9% higher than American Water Works (AWK). The differences are trivial in my opinion.
Moody's comparison: Veolia vs Suez
When it comes to an appropriate comparison between Veolia and Suez, Moody's, one of the main 3 Credit Rating Agencies, gave a proper overview of the two a while back.
The analysis, even though a few years old, is undeniably solid and comes from a relatively neutral background, as Moody's rates both the structured products of Veolia and Suez. Unfortunately, the really interesting analysis is behind a paywall, yet some interesting documents are on both links in case anyone is interested in the ratings of their structured products.
The original article that compares both firms sums up what has been mostly said in this article and in the previous one covering Veolia. Suez has a better risk profile and is more easily manageable simply due to the fact it is smaller in size in contrast to Veolia. Hence the massive issues Veolia saw a few years ago when it had to do a large restructuring. Since this article was written a few years ago, Veolia has totally caught up to this.
As shown below, the overall revenue pies indicate that there is much overlap between Veolia and Suez: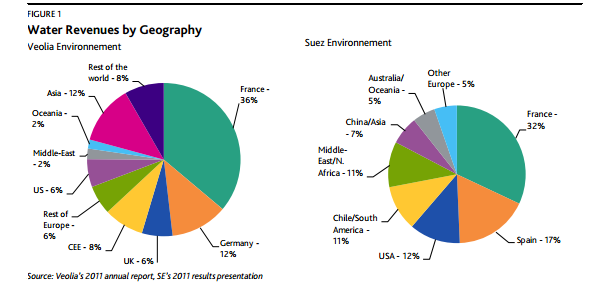 Source: Moody's Paper
Moody's clearly points out that from a revenue perspective, both Suez and Veolia operate under low-risk profiles. This is because revenue is derived from multi-year contracts mainly to relatively low-risk counterparties in the public sector. The contracts they own are diversified by sector, service and contract type spread worldwide which should help mitigate cash flow volatility. This is a huge beneficial factor for both Suez and Veolia in contrast to many other private firms. One of the reasons I have such an immense interest in water-related investments is that one cannot simply go without water; hence the stability of contracts is much better than for anything 'non-critical' related, for example contracts in regards to gas.
One of the issues mentioned between Veolia and Suez is that during the mortgage crash, Veolia was much leveraged in contrast to Suez. Now years later, Veolia has learned from its mistakes and sufficiently turned its debt issues around from a leverage perspective: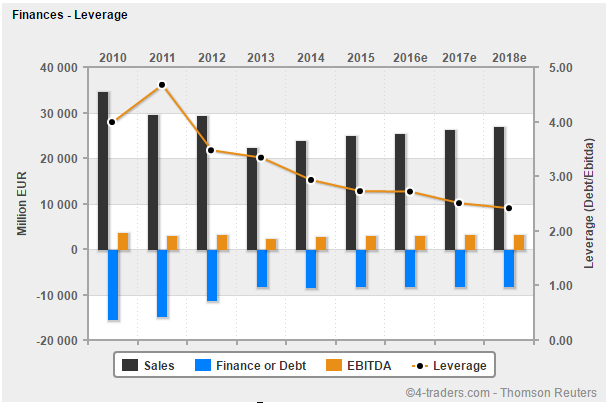 Source: 4traders.com
Whereas Suez has kept their leverage at the same level for years: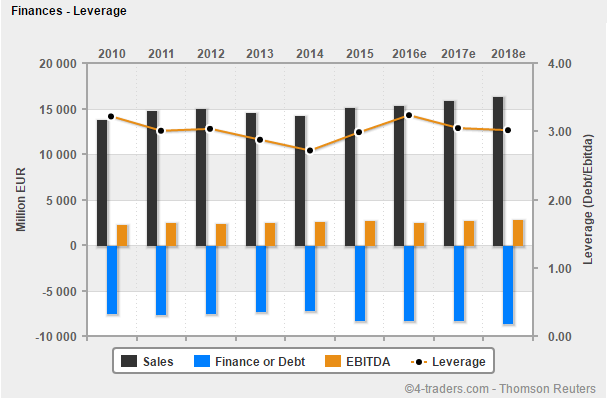 Source: 4traders.com
I do believe Veolia has done a better job in this regards in contrast to Suez and also believe this is one of the reasons why Veolia has performed better than Suez lately: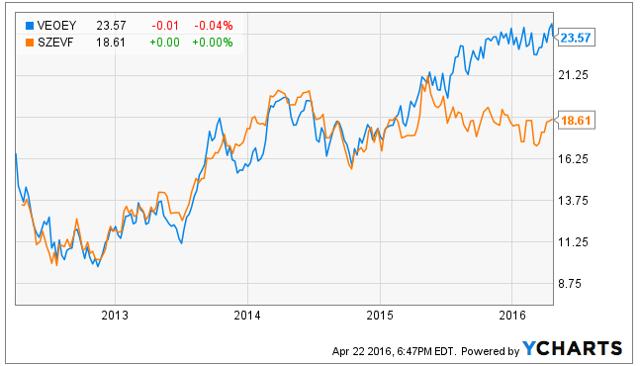 The like-for-like comparison was significant until mid-2015 when results for 2014 were published.
Analyst Consensus: Not So Happy With The Future
In comparison to Veolia, Suez has also seen a decline in positivity among analysts: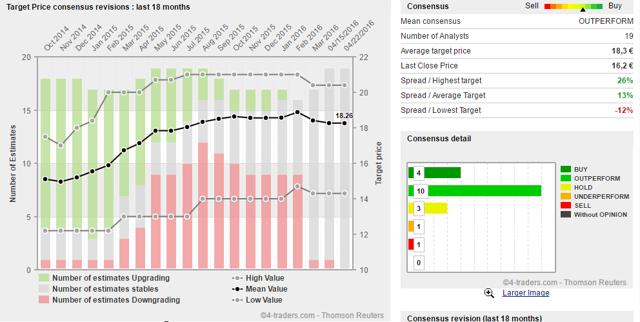 Source: 4-traders.com
Nevertheless, the significant difference is that with Suez, analysts have been overwhelmingly downgrading their estimate in contrast to Veolia which only a few downgraded.
This difference can be seen when compared with the graph of Veolia: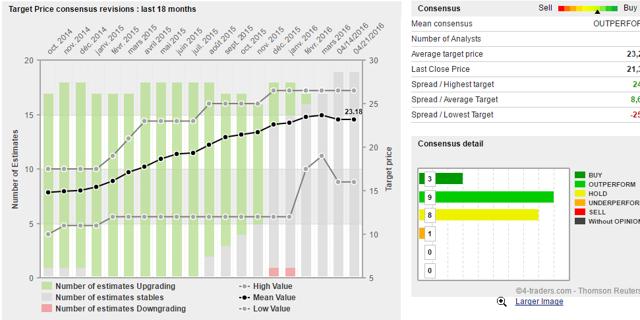 Source: 4-traders.com
The higher estimated price is based on the following figures for the coming years: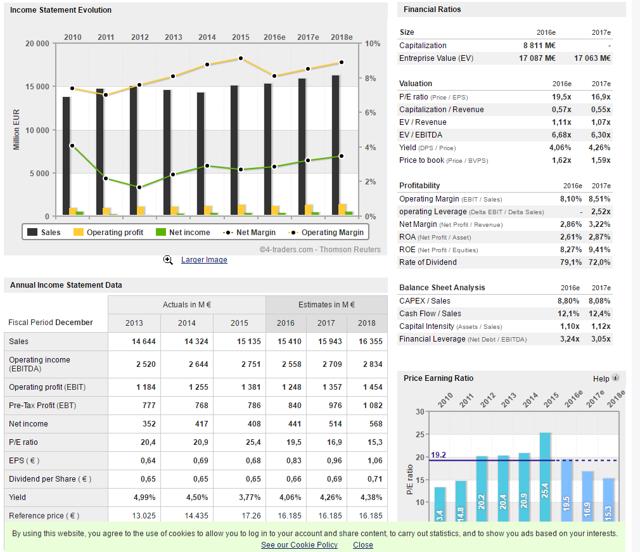 Source: 4-traders.com
Revenue growth is expected to come along with low single digit growth in net income. Overall this should indicate a higher chance of dividend sustainability. All things being equal, it trades at a forward P/E of 15 in 2018, very similar to that of Veolia in 2018.
Nevertheless Veolia's P/E is currently trading at 30 while Suez trades at a P/E of 22.
Earnings-wise, Veolia is seeing just a little bit of additional growth in contrast to Suez: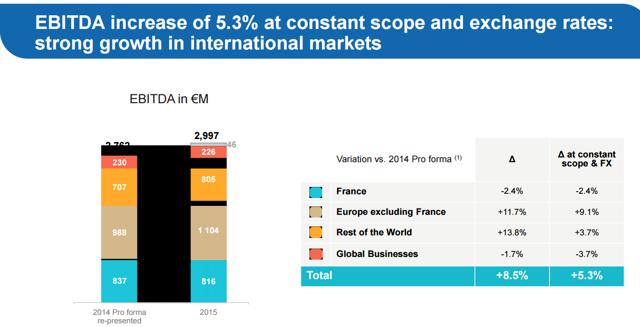 Source: Veolia Shareholder Presentation
While Suez clearly sees lower EBITDA growth numbers: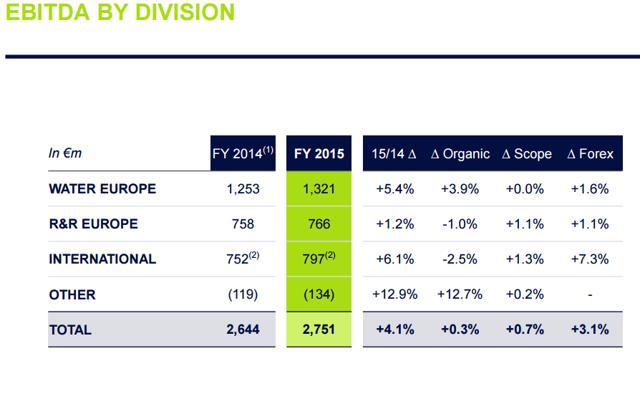 Source: Suez Shareholder Presentation
From a geographical segmentation, it's clear that France is a lagging drain for both firms. Not surprisingly, both are each other's largest competitor, fighting tooth and nail for large contracts.
Conclusion
It's easy to see why investors favor Veolia over Suez; so much is certain. Better performance, stronger restructuring and simply more faith in its ability to perform and reach its 2-year plan goals by 2018.
Currently, Veolia and Suez are in full restructuring mode. In other words, cut costs to increase margins to keep shareholders happy. Suez is currently cheaper valued in contrast to Veolia, yet both offer an interesting dividend yield of around 3-4%. The restructuring in both firms is ultimately done for the same purpose, to keep dividend sustainability alive and therefore lower their susceptibility to economic, political or a fraudulent downturn. But, Veolia, probably due to its larger size, is much more efficient in its current restructuring than Suez.
There are some minor differences in regards to size and geographic segmentation but overall the internal structure does have many similarities.
As with Veolia, I wouldn't currently invest in Suez, yet consider them highly interesting. If I have to favor one over the other, it would be Veolia priced at a lower P/E. From a firm perspective, I simply have more faith in Veolia's path than Suez's. Nevertheless, I believe due to the higher valuation, shareholders have thought the same, hence Veolia's recent turn. Therefore I don't see much potential in eithercurrently. Perfect stock to hold, not to sell or buy.
Disclosure: I/we have no positions in any stocks mentioned, and no plans to initiate any positions within the next 72 hours.
I wrote this article myself, and it expresses my own opinions. I am not receiving compensation for it (other than from Seeking Alpha). I have no business relationship with any company whose stock is mentioned in this article.
Editor's Note: This article discusses one or more securities that do not trade on a major U.S. exchange. Please be aware of the risks associated with these stocks.