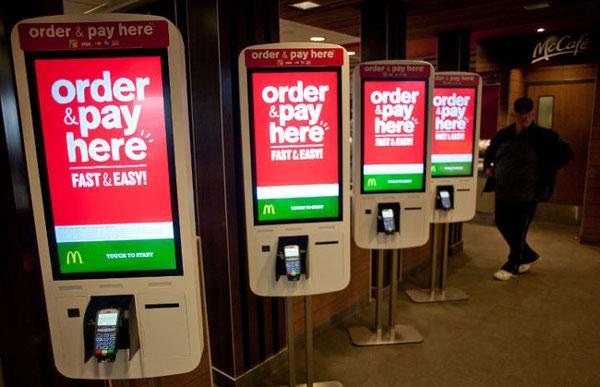 Image source: brandchannel.com
McDonald's (NYSE:MCD) does face wage pressures along with the rest of the restaurant industry. The combination of a lower unemployment rate as compared to recent years and the numerous activists protesting for higher wages has put pressure on McDonald's to raise wages.
Order kiosks can be a way for the company to keep labor costs under control.
I've experienced order kiosks at my local Wawa (privately owned) convenience stores when ordering hoagies. Multiple kiosks allow employees to focus on preparing the food, while customers choose exactly what they want and how they want it. The employees that are preparing the food never have to contaminate their hands by handling money. This can be implemented at McDonald's for a long-term improvement in customer service and to keep a lid on rising labor costs.
Customers can choose the particular type of food and the specific ingredients that they want right from the kiosk. When the order is complete, the customer pays and a number is assigned to the order. The employees prepare the food and call the number when the order is ready to be picked up.
Order kiosks can be used inside and outside the restaurants. By using the kiosks outside for the drive-through, the frustration of the customer and the employee trying to understand each other is eliminated with an easy to use touch-screen order system.
McDonald's did raise the minimum wage last year by $1 over the local mandated minimum pay for its company-owned restaurants. However, the raise did not affect the franchise-owned restaurants. The $1 raise didn't bring the company's minimum wage to the $15 per hour level that protesters are calling for.
The $15 level is probably not a realistic level to jump to all at once. The supply and demand of each local labor market has a lot to do with how wages are paid. If the economy keeps improving, then the natural economic forces of supply and demand will lead to continued wage pressures.
One risk for McDonald's to implement these kiosks is a negative reaction from its employees. The employees could view the kiosks as a threat to the cashier job function. Although a full implementation of kiosks could replace the cashier job function, the kiosks could create a better experience for the customers.
If the kiosks attract more customers as a result of an improved customer-service experience, then this could lead to increased comp store sales results for McDonald's. If comp store sales continue to increase, then employees who previously worked the registers could still be needed for food preparation. In that case, the increased labor costs would be offset by the higher sales revenue.
However, I would think that there would be net savings in labor costs as not all cashiers would likely be needed. For example, if a restaurant used two cashiers per shift before a full kiosk implementation, the restaurant may go to one after implementation. The remaining employee could be used for preparing food and delivering the orders to the counter. Of course the actual employees needed will vary by location.
Since the restaurant industry typically has a high turnover rate, lay-offs would probably not be needed. The restaurants could simply allow natural attrition to reduce the amount of labor being used per shift. This could lead to additional savings because the cost of training a new employee is high. So, if one or two positions are no longer needed per shift, that will reduce the costs of retraining for those positions.
Conclusion
McDonald's has been performing better since it reported comp store sales increases for the past three quarters. The company just achieved a strong global comp store sales increase of 6.2% in Q1. McDonald's achieved 4% and 5% comp store sales increases for Q3 and Q4 respectively. The comp store sales increases help to boost top line growth. While labor costs remain a headwind, kiosk ordering technology represents a viable way to offset those costs going forward.
The kiosks don't have to happen all at once. It may make sense for certain locations to use a full kiosk ordering system, while others may experiment with one or two kiosks. I do think that a kiosk ordering system is inevitable for many locations to implement going forward to help keep a lid on rising labor costs. That is likely to result in higher earnings and thus a higher stock price over the long-term.
Disclosure: I am/we are long MCD.
I wrote this article myself, and it expresses my own opinions. I am not receiving compensation for it (other than from Seeking Alpha). I have no business relationship with any company whose stock is mentioned in this article.
Additional disclosure: If you like my analysis, click on FOLLOW at the top of the article near my name. That will allow my articles to display on your home page as they are published.