"$8.3 billion returned to shareholders; $6.1 billion through buyback," General Electric (NYSE:GE) announced on Friday, reporting its trading update for the quarter ended 31 March.
This is relevant, even more so nowadays because earlier this month, according to several press reports, at least 2,500 workers employed by GE marched through Paris asking for the job carnage to stop.
In early January, Bloomberg reported:
"General Electric plans to eliminate 6,500 jobs in Europe in a global restructuring effort as the industrial giant seeks $3bn in cost savings from its purchase of Alstom's energy business."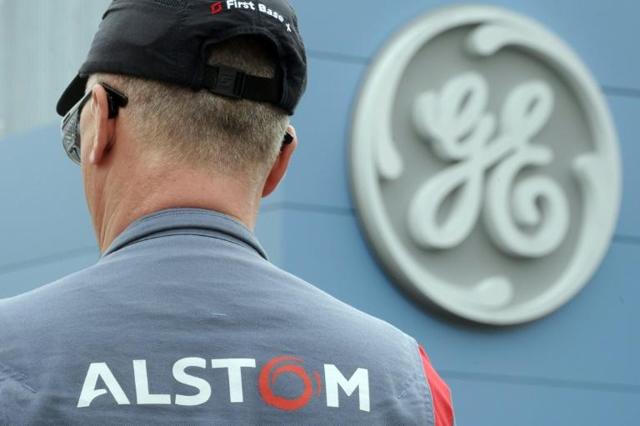 (Source: i24news.tv)
Elsewhere I have also heard that Medtronic (NYSE:MDT) is becoming more serious about cutting jobs in Europe, where targeted layoffs have already started without being publicized, and you have surely read about Intel (NASDAQ:INTC), which recently announced it would get rid of 12,000 employees. Wasn't Corporate America meant to drive the world out of this recessionary environment?
Well, I do not know what the answer to that is, but in the UK, some of the major financial institutions -- Barclays (NYSE:BCS), Lloyds (NYSE:LYG) and Royal Bank of Scotland (NYSE:RBS) -- have all recently announced a very similar strategy to release... value, as they call it.
Redundancies at the banks did not surprise me at all, but when layoffs stem from deal-making then the "who's next" game kicks off at big corporations such as General Electric, where success hinges on the commitment of the entire crew -- from the chief executive to the railroad man on the night shift. So, I wonder whether GE executives have thought their actions through since when they snapped up certain assets of Alstom.
Unions
Trade unions in France were "not expecting what they are seeing coming," I am told by people familiar with the Alstom affair, and notoriously they are not a nice bunch to deal with over there. This comes just when headlines such as this one from The Guardian seem to draw more attention than in the past: "BP shareholders revolt against CEO's £14m pay package."
Chief executive Jeff Immelt earned a few millions, too, last year, but the bulls can argue that his emolument was well deserved given that the shares of GE rose 24% -- and that return doesn't take into account almost one US dollar a share in dividends before taxes.
I know GE more than than any other industrial conglomerates, and I think management possibly underestimates the impact that the news coming from Europe could eventually have at group level. So, I thought it would be a good time to run the ruler over its assets portfolio after assessing the benefits of those cash returns in Q1 -- after all, $8.3bn is a very nice sum of money, you know.
Benefits
During the first quarter, its share price rose 3.5%.
Quite simply, GE splashed out almost $91m in each calendar day between the beginning of January and the end of March, spending $2.3bn for every 100 basis points in capital appreciation at a time when it is cutting thousands of jobs to achieve its synergy target and to shore up its underlying profitability.
By comparison, before its wider corporate restructuring started in early 2015, GE threw out of the window some $11bn in the full-year 2014 -- that was the amount it paid out in dividends and stock buybacks, returning $30m to shareholders every day, in a year during which its shares underperformed the S&P 500 by 20 percentage points.
At its current daily rate, the total bill for 2016 will be $33.2bn -- that amount is broadly in line with guidance, but is that strategy working at all?
Well, after reaching a 52-week high at the very end of 2015, GE stock plummeted with the broader market earlier this year, but then it roared back, setting a new 52-week high at $32.05 on 31 March, only a week ahead of the events in Paris and a few days before a downgrade from Bernstein. GE shares managed to beat the market by 1.2 percentage points in the first quarter, but are lagging the S&P 500 by 3.7 percentage points, excluding dividends, since the turn of the year.
Risk Appetite
To gauge its fair value, several elements must be considered because there's more now to trading volumes; GE is a highly cyclical equity investment where roughly 30% of its assets portfolio boasts an operating margin lower than 10%, but its stock trades at over 20x forward earnings, while its enterprise value divided by adjusted operating cash flow, or EV/Ebitda multiple, stands at 14x in 2016 -- which is clearly not where the shares of a paltry industrial conglomerate faced with currency headwinds should trade.
In this environment, impairments and asset write-downs could force even defensive businesses to reconsider the underlying profits associated to their core assets, but GE stock doesn't price in any of that risk. Moreover, consensus estimates from Thomson Reuters predict little upside from its current level of $31 a share, and a few investment bankers I talked to on both sides of the Atlantic agree that GE's estimates could be well off the mark. Consider that once its key financial metrics are compared to those of Siemens, the downside could be as much as 30% for the former if volatility, which has been hurtling towards its all-time lows for no obvious reasons, springs back to life.
China's yuan devaluation is far from over, in my view, and if I am right, our financial world could soon see the VIX Index climb to the high 20s sooner rather than later. On Friday, GE stock fell 2% at one point, closing down 0.7% on the day, while the VIX Index dropped 5.2% -- this says a lot about the amount of risk involved if GE management doesn't deliver on its promises.
If a meltdown is around the corner, GE shareholders will be much more troubled those of several consumer staples companies whose earnings and cash flows multiples are in the same ballpark -- i.e. all the major goods producers around the world, from Procter & Gamble (NYSE:PG) to Nestle (OTCPK:NSRGY), Unilever (NYSE:UL), Coca-Cola (NYSE:KO) and so forth. If it is not, its fat dividend will remain its main attraction, but then you could earn more income with less downside, in my view.
Units
Its power and renewable energy units are growing inorganically, so it's pretty hard to indicate how they will look like once its corporate restructuring is finished. Still, its underlying profitability is below 10%, and the two divisions represent about 27% of industrial revenues -- which is not necessarily something I like very much.
That's where you have to hope GE will deliver on its promises, particularly because oil and gas is still a drag on performance, healthcare is only mildly growing, while energy connections is in the red at operating level, as the table below shows.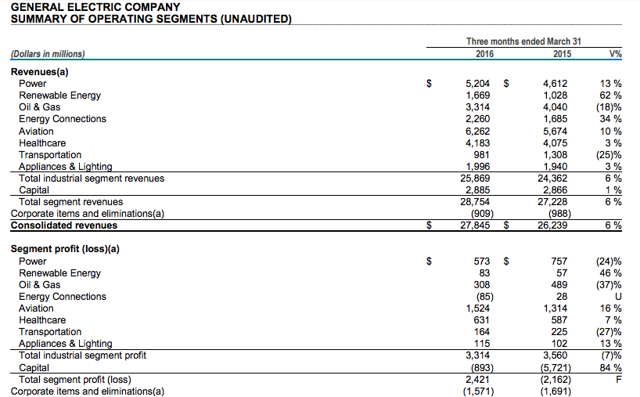 (Source: GE's 1Q results)
The Wall Street Journal wrote that "profit declines in units making locomotives, power turbines and oil-industry equipment hurt its bottom line," but there's nothing new in its quarterly trading update -- and that must be why the latest story from WSJ is very similar to the one it published in January.
For investors who carefully looked at its previous earnings release, there was no drama at all when GE stock plunged 2% on Friday in the wake of its quarterly trading announcement. The star performer, of course, is the aviation business, which sports hefty operating margins and seems to be growing organically at a faster pace than the reminder of its portfolio.
The obvious problem, however, remains the successful integration of Alstom, which is expected to deliver a few billions of synergies over the next few years. But look at the chart below, and consider the short-term impact on organic revenues growth.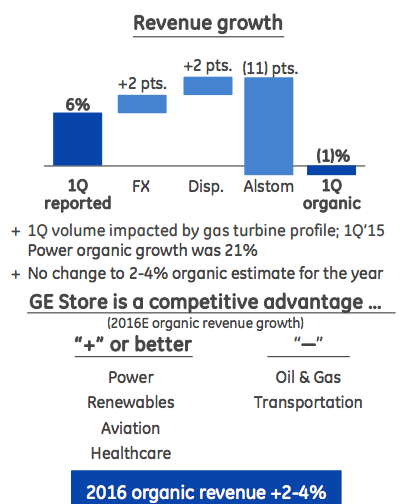 (Source: GE's Q1 presentation)
Unsurprisingly, managing expectations has been at the heart of its performance since the spring of 2015, particularly in the past few quarters, but it will unlikely continue to support its rich valuation, in my view. GE must continue to chop its operating costs -- and based on a number of factors, including trading multiples for cash flows and earnings, as well as execution risk and the valuation of its peers, there's only one conclusion here: its stock is overvalued by at least 15-20% based on its current price of $30.7.
Disclosure: I/we have no positions in any stocks mentioned, and no plans to initiate any positions within the next 72 hours.
I wrote this article myself, and it expresses my own opinions. I am not receiving compensation for it (other than from Seeking Alpha). I have no business relationship with any company whose stock is mentioned in this article.
Editor's Note: This article discusses one or more securities that do not trade on a major U.S. exchange. Please be aware of the risks associated with these stocks.