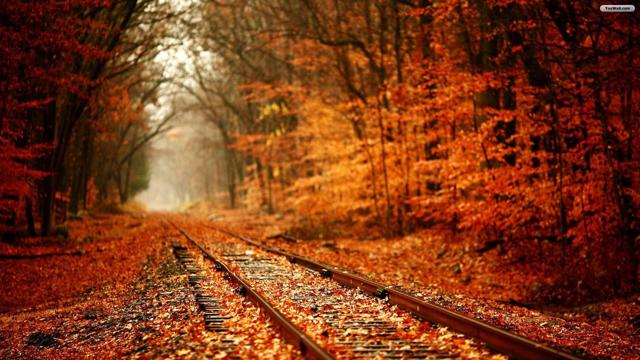 Trinity Industries (NYSE:TRN) reported Q1 earnings last week. I thought the company's explosive growth was coming to an end but the results were worse than expected. I had the following takeaways on the quarter:
Free Falling Railcar Orders
Total revenue of $1.6 billion was off 4% Y/Y and 24% sequentially. The company's largest segment -- the Rail Group -- experienced a 19% sequential decline in shipments to 7,145. Railcar revenue fell 25% sequentially due to lower shipments.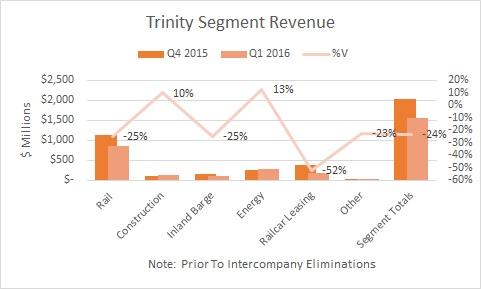 Revenue from each product segment fell except for Construction (up 10%) and Energy (up 13%). Leasing tumbled the hardest, falling 52% sequentially. I thought this segment could be a problem headed into the quarter and it played out that way. This is particularly damning given that Leasing has the highest operating profit margin at over 40%; operating profit margin company-wide was 17%. It could worsen as lease rates are highly-competitive and reflect rate declines with certain market sectors more pressured.
New railcar orders fell 67% Y/Y from 4,865 to 1,620. This is consistent with the 70% fall off in new orders experienced by Greenbrier in its most recent quarter. With shipments exceeding orders, the company's backlog is falling. The backlog peaked at 57,190 units in Q1 2015 and is now at 43,360. The backlog has fallen 24% Y/Y and 11% Q/Q. Trinity still expects 27,000 shipments this year, but 2017 could be challenging if the backlog continues to slide.
Stable EBITDA Margins
The decline in industrial activity has taken a toll on new orders. That said, heading into the quarter management was focused on cost-cutting efforts. While segment revenue fell 24% sequentially, operating costs fell 20% and SG&A fell 30%. EBITDA margin of 23% in Q1 was consistent with that of Q4 2015. The railcar industry is a cyclical business and management is adept at managing the ebbs and flows. Margins were impressive given the decline in revenue.
Revenue and EBITDA have peaked and I wouldn't touch the stock until the declines have subsided. That may not occur for several more quarters. Declining rail traffic has raised recession fears and railroad companies are cutting costs and cutting capex to preserve capital. That does not bode well for Trinity or Greenbrier. The company trades at 4.9x run-rate EBITDA (Q1 EBITDA annualized) of $1.1 billion. Trying to peg the company's sustainable EBITDA is equivalent to catching a falling knife.
There is no reason to own TRN at these levels. I was once short the stock, but closed out my position. Timing is everything when it comes to shorts. Investors should still avoid TRN as its financial demise has only just begun.
Disclosure: I am/we are short GBX.
I wrote this article myself, and it expresses my own opinions. I am not receiving compensation for it. I have no business relationship with any company whose stock is mentioned in this article.