As Kroger (NYSE:KR) dropped to a three-month low at the end of last week, we snapped up a parcel of shares. We feel recent macro data that points to improvements in U.S. wage growth should be a positive catalyst to increasing sales, helping the company to an improved performance for the remainder of the year.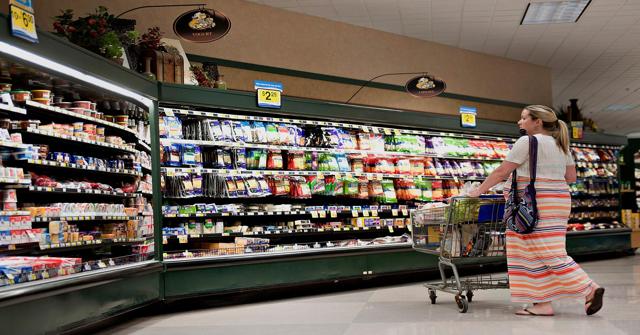 Retail sales and consumer confidence have been underwhelming so far in 2016, which has led many to believe that companies like Kroger may be struggling for growth in the current quarter. We wouldn't disagree with this sentiment, there is a strong chance that Kroger could be having a disappointing first quarter. But we expect things to pick up in the second quarter if recent positive macro data is anything to go by.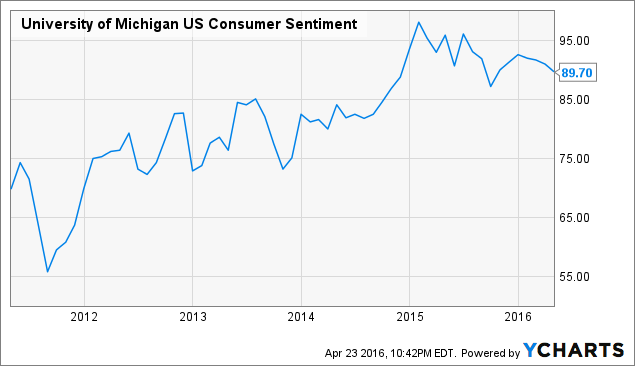 As you can see above consumer sentiment has been on a decline in 2016. It has now had four consecutive months of declines following concerns of weaker economic growth. Despite a lot of reasonably good data coming out from the Fed, perhaps their failure to not raise interest rates has led consumers to believe things are not as great as they appear. According to reports, workers have been expecting little wage growth ahead this year and this could mean that they have been a little more frugal than usual when it comes to spending.
But we believe recent data that has pointed to an unexpected improvement in U.S. wage growth could be the catalyst to get consumers spending again. Bloomberg reported that the BNA Wage Trend Indicator shows that for most U.S. workers wage growth should accelerate in the second half of the year. A healthy market continues to draw more Americans into the labor force, leading to economist Kathryn Kobe believing wages will grow by 2.5 to 3% for the next six to nine months.
It is easy to see how low consumer sentiment could negatively impact Kroger's top line growth. When consumers are being frugal, there's every chance that they will either buy less or choose the lower valued items. It could also mean some consumers head to Wal-Mart (NYSE:WMT), which is widely regarded to provide cheaper alternatives.
As we mentioned at the top, we are anticipating an average first quarter for Kroger when it reports in June. This could potentially take the share price a touch lower, but following the 15% decline in its share price since the start of the year, we see today's price as being a great entry-point regardless. We have bought in and plan to top up our position should any declines come about as we see a lot of upside in the next 12 to 18 months.
After the steep decline we feel the shares are trading at a slight discount to their peers. As you can see on the chart below, the shares of Whole Foods Market (NASDAQ:WFM) and The Fresh Market (NASDAQ:TFM) both trade in or around 20 times earnings. Kroger currently trades at just over 17 times earnings.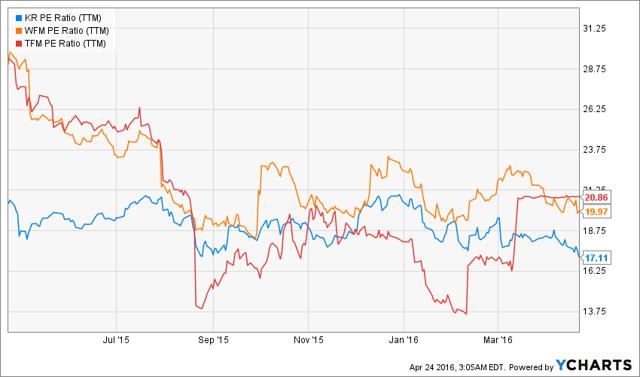 Of course it is worth taking into account that The Fresh Market has just been bought by Apollo (NYSE:APO), so its earnings multiple has been inflated. So, we would say 18.5 times earnings is fair for Kroger and Whole Foods' stock to trade at.
Speaking of Whole Foods - there was a time when many feared Whole Foods were going to steal market share away from Kroger. But if anything the reverse is now happening, with Kroger looking like its organics offerings are winning over consumers. The reason we feel Kroger will win this battle is the fact that consumers may want certain organics items, but they may also want non-organic/or budget goods as well. Do you make two trips to get your shopping or do you just go to Kroger? We feel the average time-poor consumer is likely to opt for a single trip to Kroger than make two trips.
We are pleased with where Kroger is these days and expect its earnings per share to come in at $2.23 this year, a good 8.25% higher year over year. At 18.5 times earnings this would mean a price target of $41.25, which is just a little under 16% higher than the current share price.
For such a quality company with a reasonably solid balance sheet, we believe this is a great long-term investment today. The first couple of quarters of the current fiscal year may not set the world alight, but we feel consumer spending will ramp up in the second half and thanks to its 2,778 stores, Kroger is in a position to benefit.
Disclosure: I am/we are long KR.
I wrote this article myself, and it expresses my own opinions. I am not receiving compensation for it (other than from Seeking Alpha). I have no business relationship with any company whose stock is mentioned in this article.