As a pure income investor, I've happened across a significant number of articles, and replies to those articles, regarding the price run-up and yield run-down of Realty Income (NYSE:O). Much of the discussion surrounds 'taking profits' on its run-up. So this raises an interesting question for those who are retired and invest for ongoing reliable dividends that provide the required household income: Does it make sense to sell at these historic high prices to 'lock-in' the gains? If this is done, the income provided by the appreciated stock - in this case O - will be lost to the household, meaning the proceeds would have to be reinvested to restore the dividend. Or, alternatively, the retiree could hold the cash and wait for the price of O to decline, and then once it reaches a certain point, buy back the shares that were sold.
But then this also creates a couple of other income issues: if this is a taxable account, the household tax bill may increase due to the sale, thus this tax must be paid. In addition, if the 'wait-for-a-better-price' rationale is used, the household income will be reduced by the lost dividend over this waiting period. As usual, things can be a bit more complicated than they first appear. So let's see if we can show that selling O would be a good move for the income investor by either improving household income and/or improving income risk at least at the same income level.
Recent performance
The first step I'll take is to check O to see if there has been any unfavorable trends in its ability to sustain and grow its dividend. An income stock with deteriorating or suspicious cash flows will weigh against holding it and provide a stronger incentive to sell-and-replace, while improving or sustaining cash flow metrics would signal a constant or perhaps improving income-risk profile. So first, let's look at a 5-year history of dividend growth (this assumes the remaining 7 monthly dividends for 2016 will remain at $.199/share):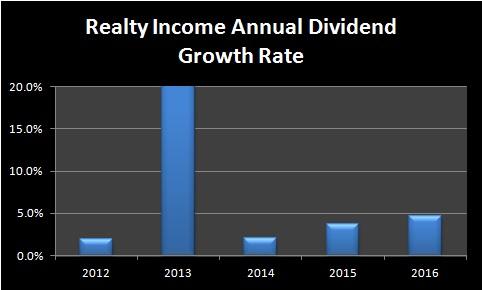 Now, let's look at the growth/decline of CFFO/share over the past 10 quarters, using a rolling 4-quarter total: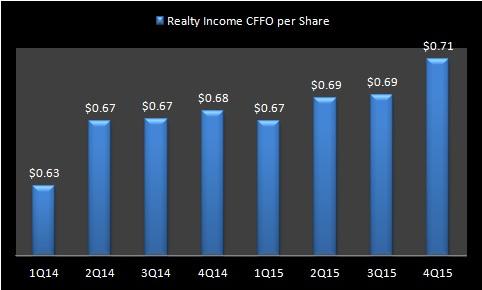 Now let's look at the CFFO-to-Dividend payout ratio over the past 10 quarters, again using rolling 4 quarters to smooth out the quarterly peaks and troughs: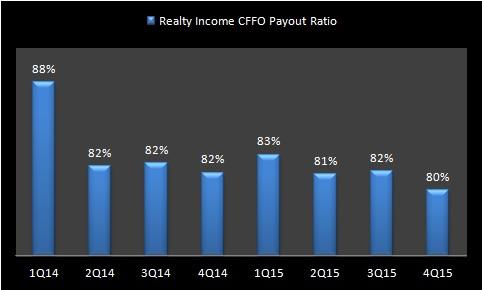 Clearly, O is holding its own. Dividend growth, following the sharp rise in 2013, has remained steadily improving. All cash flow metrics are also slowly but gradually improving. Trends here are positive. Income risk is declining.
Calculations: Sell/Replace
O reached an all-time high share price of over $63/share earlier this week, pulling back to close on Friday at $59.37. So I'm going to calculate whether it would make financial sense to sell near these all-time high prices. To do this, I will use my own holding of O in a taxable account. Others holdings will of course vary, but by following my method of calculations, others may be able to test their holdings using this approach or a very similar one.
A policy I use when I consider sell/replace for an income security is that if additional tax is generated as a result of the sale (in a taxable account), the proceeds of the sale must be used to pay this tax and the trading costs. In short, each transaction needs to pay for itself. In an IRA, there is no taxation expense involved with the transaction as long as it all occurs within the IRA (or other retirement plan). However, there will be, in both cases, transaction costs and the bid-ask spread of the stock when sold and when the replacement stock is purchased.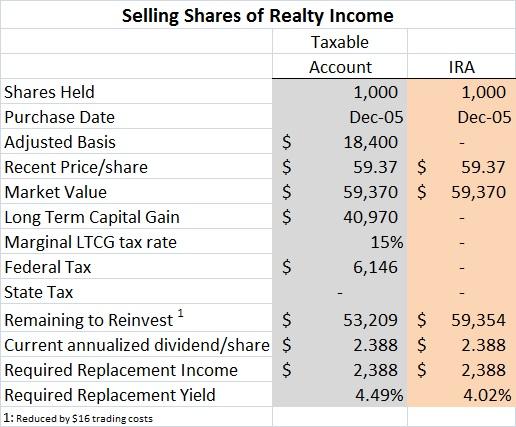 So to keep the household income constant, I'd need a 4.5% yield replacement security in a taxable account and a replacement 4% yield in an IRA. But sustaining the income status quo would not be sufficient motivation to conduct the sell/replace transaction in an IRA, as no income benefit would be achieved and I would be taking pricing risk, so I would likely need a replacement of equivalent income risk yielding in the 4.2% to 4.4% range. In the taxable account, 'stepping up' the basis may be incentive enough to carry out the transaction; again, assuming I can find a risk equivalent 4.5% yield security.
Other considerations
Other than a different basis (and tax liability), there are other factors that an income investor doing this calculation may be affected by: state tax may add to the cost (I do not have a state tax) and/or the retiree may be in the 15% tax bracket, meaning that some or even all of the LTCG may be taxed at 0%. These will have the effect of increasing or decreasing the replacement required yield.
Calculation: Sell/Wait
This is the most speculative strategy, as waiting for the price of O to fall while foregoing the monthly dividend is a two-edged risk. The price of O may not fall while the loss of the monthly dividend will compound the eventual cost of this strategy. Once sold in a taxable account, the price of O would have to decline to about $53.21/share, or a decline of -10.4% to then be able to reinvest the net proceeds to return the $2,388 of annual dividend income. This would be less pronounced in an IRA, where only the trading costs and bid-ask spreads would need to be covered by a lower replacement price. Some may feel that the price of O is so overbought that even a modest decline is a high certainty before the next ex-dividend date. Certainly views on this strategy will vary, but for an income investor like me, the sell/wait strategy seems like a lot of income risk without much income reward.
Conclusion
I'm going to stay put. Yes, it is enticing to 'lock-in' these gains, but then what next? I can think of no 4.6% to 4.8% retail REIT stock that has income risk equivalent or less than O, to include its dividend history, commitment to the dividend and ability to sustain its dividend when so many of its peers cut theirs during the 2008-2010 recession. Now, to be sure, I have not looked at all other 4.6%-4.8% yielding stocks outside of retail triple net lease REITs of equivalent income risk. There may be some out there, and if so, they may be viable replacements.
For me, the takeaway for this exercise is that the rise of the price of a stock is of no value unless there is a definitive plan for how the net proceeds will be reinvested. For a true income investor, this means a firm plan for how the lost income will be replaced with an income-risk equivalent stock and what the income risks are in the sell/replace exercise - and doing this before selling the appreciated stock. Indeed, sell/replace may be a worthwhile exercise, but it must be carefully planned out. Not doing so will most likely result in a reduction in household income or an increase in income risk, both of which are contrary to the retirement household's primary objective of reliable and growing income.
Disclosure: I am/we are long O.
I wrote this article myself, and it expresses my own opinions. I am not receiving compensation for it (other than from Seeking Alpha). I have no business relationship with any company whose stock is mentioned in this article.