Not too long ago I wrote an article on Macy's (NYSE:M), specifically covering the fundamental factors affecting the share price over a longer period of time, not factors affecting the firm itself. Nevertheless, I received many comments pointing towards the fact that I've left out the real estate potential in my financial analysis. The main reason I left it out is that I did not see any long-lasting impact on the share price. A few users, such as Ray Merola, asked me to have a look at the real estate impact on Macy's:

Some financial activists claim that if Macy's unlocks its real estate value, the share price could soar to $70. Having looked through this, I came to a quick conclusion that the real estate potential is more complicated than it seems. Therefore, this article will specifically focus on the real estate gold mine Macy's is sitting on and the pros and cons which have been covered by authors on Seeking Alpha, Macy's management and the media.
Macy's: What Can We Do With Our Real Estate Portfolio?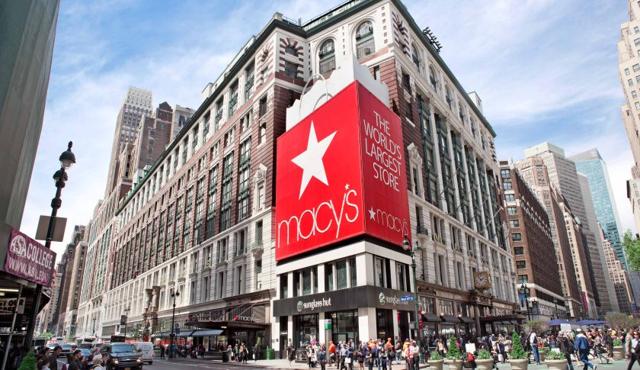 All the US department store chains have come under pressure as of late as share price performance has been disappointing. When the share price disappoints, a call for activists to get things moving is always just around the corner. The story is no different for Macy's.
That many retailers have suffered for the last year is easy to see as shown underneath: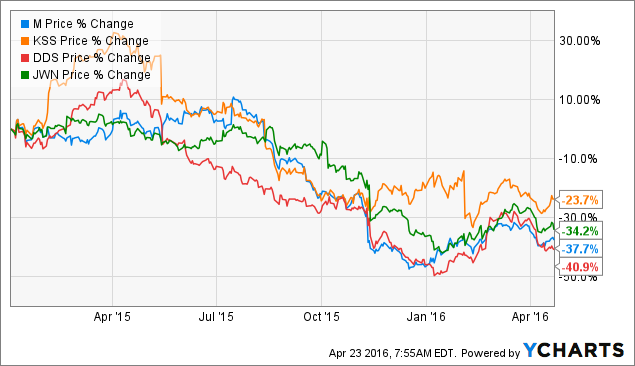 Some might not like this, but the share price comparison shows that many of the firms in the retail industry move in tandem, regardless of their individual performance. I simply consider these moves driven by large hedge funds which drop their retail portfolio holdings due to poor business performance.
Is Starboard the early Christmas gift we are waiting for?
Obviously, the ball started rolling when activist hedge fund Starboard sent a proposal out in the world. A thoroughly documented research paper on how Macy's can unlock shareholder potential through spinning off its real estate portfolio in 2 joint ventures. They consider Macy's highly undervalued. Additionally, David Einhorn also put more pressure on the table by adding a stake in Macy's around that time.
Starboard as hedge fund is a typical activist hedge fund, run by Jeffrey S. Smith. The firm has racked itself a history of being a typical agitator, with quite a bit of success over the last few years. Their overall portfolio can be found here, with some clear winners and losers. They, for example, have a large stake in Darden Restaurants (NYSE:DRI), yet Darden's overall performance year to date is around 0%. Starboard also initiated plans for Darden to sell off its real estate portfolio similar to that of Macy's.
The presentation put together by Starboard is one which is drenched positively, like a typical M&A pitch book. Nevertheless, I'll look through it as neutrally as possible. The main idea of Starboard is to put Macy's real estate portfolio in 2 separate joint ventures (JV):

Source: Presentation
Based on a SOTP analysis, it would then sum up to the following valuation: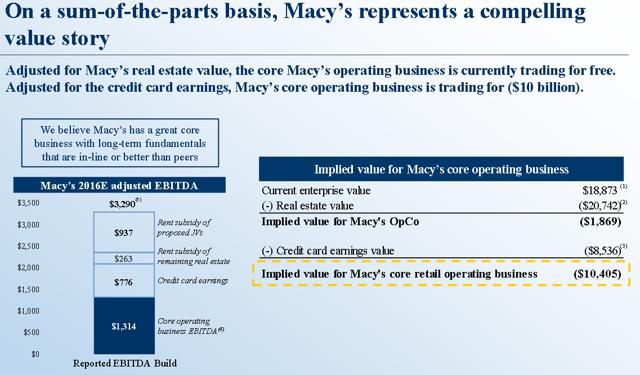 Source: Presentation
As an example, the $937 indicates the yearly rent in millions Macy's would have to pay to the joint ventures.
Macy's has a considerable real estate portfolio: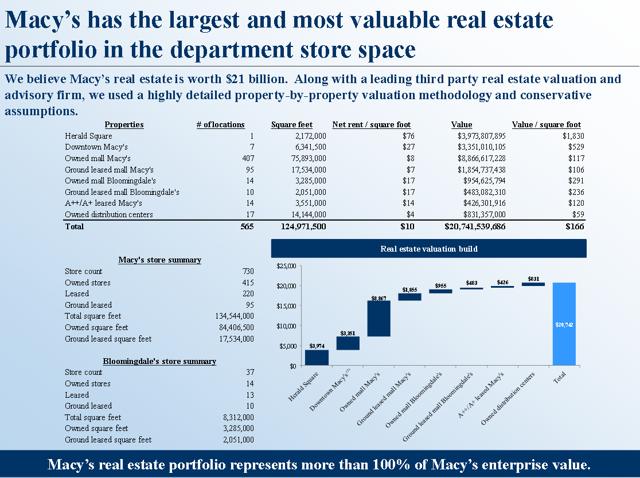 Source: Presentation
The idea of 2 joint ventures would bring the most important flagship stores in one joint venture and the malls in the other. The reason for this is to get the best price for both, as investors will obviously value the flagship stores completely differently from all the mall properties. Especially since the mall properties have come under pressure as malls in America have not been doing well. Competitors have been closing shops, specifically in malls.
The idea behind the REIT is that Macy's should be able to pay down the majority of its net debt: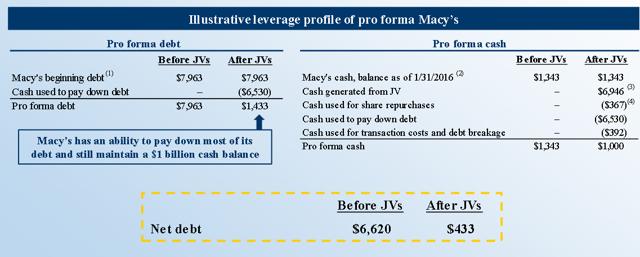 Source: Presentation
The anticipated value creation would then entail to $67, which is an undeniable boost in contrast to its current share price: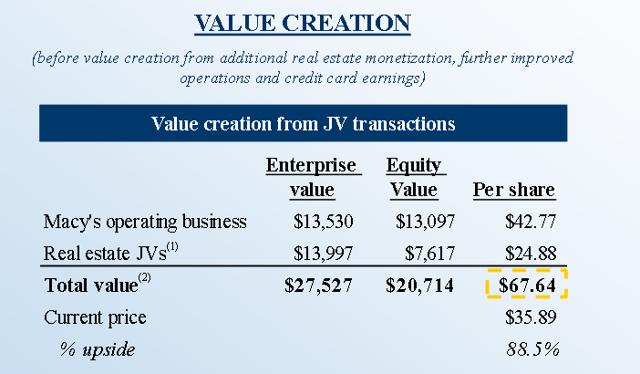 Source: Presentation
Many people already tackled the valuation proposed by Starboard. Funnily enough, when Jeffrey Smith announced that Macy's real estate portfolio was valued at $21 billion back in July 2015, the share price was still valued at $70. Apparently, the arguments that Macy's was sitting on a gold mine did not really work to propel the share price.
As Macy's currently owns the main important property, it doesn't pay lease. The deal proposed by Starboard puts Macy's on a guaranteed payment of $937 million a year on leases for the 2 new joint ventures. The enterprise value includes both the value of the company's net debt and the value of its stock. In the model presented by Starboard Value, all that happens is a shift of $7 billion of debt from the mother company into the 2 JVs. Now it seems that the parent, Macy's, has a lower enterprise value while its stock value is assumed to be higher because the debt has been paid off. This move impairs cash flow a little, but definitely does not improve it (diminishing it around 5%):

Source: Presentation
One can also factor in the adjusted debt of around $7 billion into the enterprise value calculation. If so, Macy's stock would be worth less than $20 before the impact of its real estate earnings. Including the real estate value, the stock will be similarly priced to today's value.
What Happened With Others?
Obviously, these ideas are not new in town. Sears Holdings (NASDAQ:SHLD) raised $2.7 billion by selling 235 Sears and Kmart stores to Seritage Growth Properties (NYSE:SRG). Starboard got Darden Restaurants to split off 430 properties into a REIT.
Furthermore, Terry Lundgren has mentioned in the past he wasn't fond of the idea of a spinoff of real estate simply as it would not have any upside for the firm. The issues Macy's has been facing were part of larger story that consumers simply lost interest in apparel and goods and shifted their focus more on electronics and home repairs, something Macy's is not experienced in.
Macy's announced that in March 2016, William "Bill" Lenehan, CEO of Four Corners Property Trust (NYSE:FCPT), would join the board of directors. As quoted by Terry Lundgren, the CEO of Macy's:
"Bill will contribute to our board's expertise and working knowledge on matters related to real estate, an important area of activity as we work to create shareholder value through joint ventures or other partnerships related to Macy's flagship stores and mall properties,"
Mr. Lenehan also played a role in Darden's spinoff real estate wise. Macy's also hired Douglas Sesler as executive vice president for real estate. Yet, when we look at the latest comments of Macy's CEO, the focus is more on sales (for example in China) rather than one-off profit with unlocking real estate potential. I understand Macy's skepticism.
Macy's has a few options: Either sell all the stores, sell some stores or sell parts of the stores itself, as it did with a part of its flagship in New York before, when it sold the top floors of its Fulton Street department to Tishman Speyer for $270 million. When it sells the entire store, it can also be due to the fact that sales are disappointing, to some extent what happened with the Pittsburgh sale of one of its large stores for $15 million. Even though real estate in New York has been soaring, don't forget we are at the end of a long-run bull market which can still last for a while but won't last forever.
However, not all such sale/lease back efforts are successful, and the approach can even lead to substantial corporate risk. Mervyns, which private equity firms Cerberus, Sun Capital and Lubert-Adler bought from Target (NYSE:TGT) for $1.25 billion in 2004, is the best example. The firm was split into a retail operating company and a property company. Since profits are what drives most firms, to maximize real estate profits, the rent was doubled for stores of Mervyns. The buyout group earned more than $250 million while the department store was forced to liquidate in 2008, putting 18,000 employees at 177 stores out of work.
New Accounting Standards: Plausible Ignorance?
Another red flag is that the analysis of Starboard ignored the debt perspective of Macy's significant lease obligations. It seems improbable because IFRS 16 becomes active in 2019, superseding IAS 17. Trillions of dollars in new leases are going to appear as assets and liabilities on the balance sheet in the next few years. With these new assets and liabilities, financial metrics will significantly change. As everyone can see, Macy's will be impacted.
I believe this might have been ignored due to the fact that Starboard is anticipating the spin-off to happen before 2019.
Conclusion
Macy's and the topic of "real estate spinoff" is a typical T-split. If Macy's spins off its real estate portfolio, will its share price increase? I answer that with a definite yes. Will it increase by as much as is expected by activist Starboard? I don't believe this as they sketched an optimal scenario based on Starboard's estimates.
Is a small position in Macy's based on the catalyst of real estate a bad investment decision? No, it is a clever bet, followed by many large institutional investors who don't worry by the small downside risk, considering that the amount they could profit from a large rise would be significant. I'm sure they have their positions in Macy's hedged in some way. As that is what activists do. I understand that real estate prices have soared and, therefore, the voices for spinning off real estate has increased. Yet, we all know what happens when real estate prices soar. For that, all we have to do is go back a few years.
Nevertheless, the overall picture of the retail market being sluggish and the given fact that investors' expectations simply outpaced business performance has not changed. When customers don't have more money to invest, sales won't go up. With particular cost cutting, you only work on the bottom-end, increasing margins and efficiencies, but this is not a long-term solution. Increasing cash by selling of your real estate portfolio is only to increase the share price value, but doesn't change the overall picture of the US economy which ultimately drives retail.
Don't forget that David Einhorn sent a letter to his investors pointing out that Macy's could not only be of interest out of the sake of a real investment trust, it can potentially also be a private equity takeover bid. Nonetheless, activists are in it for the money on the short-term, not long-term gains.
Disclaimer: This article provides opinions and information, but does not contain recommendations or personal investment advice to any specific person for any particular purpose. Do your own research or obtain suitable personal advice. You are responsible for your own investment decisions. This information is not a recommendation or solicitation to buy or sell securities, nor am I a registered investment advisor. The use of the Starboard presentation is based on the information provided in the PDF and only consists of information on a 'as-is' basis. It should not be considered or used as option to purchase financial assets.
Disclosure: I/we have no positions in any stocks mentioned, and no plans to initiate any positions within the next 72 hours.
I wrote this article myself, and it expresses my own opinions. I am not receiving compensation for it (other than from Seeking Alpha). I have no business relationship with any company whose stock is mentioned in this article.