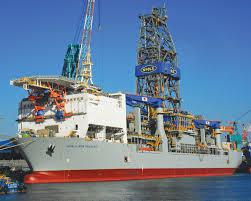 Source: Drillship Noble Bob Douglas
Noble Corporation plc (NYSE:NE)
This article is an update of my preceding article published on February 4, 2016, about the fourth-quarter results.
Mr. David Williams, CEO, said in the last conference call:
As I mentioned earlier this morning and as Simon has reinforced, our industry remains in a difficult contract environment. As we take the measure of fundamentals in early 2016, the depressed oil price, expect a decline in our customers' upstream spending, and continuing capacity and balance in the floater and jackup markets, collectively lead to tough times that require tough decisions.
Today, April 23, 2016, Noble Corp., disclosed the following:
Its board took a decision to adjust its dividend rate. As a result, the company declared a quarterly dividend of $0.02 per share.

The company's President and CEO, David Williams, said, "Noble continues to implement strategic adjustments that further reinforce our sound position as we guide the Company through this historic downturn. This action fortifies our robust liquidity, which stood at $2.7 billion at March 31, 2016. We are confident that the efficient use of cash reserves, which enhances liquidity and improves our financial flexibility, will help drive our long-term success and continue to strengthen our competitiveness in the offshore drilling industry."
This dividend cut is a reduction of approximately 87% from $0.15 to now $0.02 per share and per quarter. This second drastic cut will reduce dividend spending by $126 million a year.
On October 25, 2015, I commented in a previous article that Noble Corp. was cutting the dividend by 60% from $0.375 to $0.15 per quarter.
The question is whether or not it was positive to leave $0.02 in dividend at a cost of $19 million a year? Maybe a hidden message from the board, indicating that this reduction is only temporary and the company intends to go back to a better dividend when the market will turn positive again? Personally, I do not see the need to pay nearly $20 million to imply the obvious.
The offshore industry is experiencing the worst downturn in its entire history, and assuming that the tendering activity resumes within 12-18 month, Noble and most of its peers will have to save cash to survive.
M. David W. Williams said in the conference call:
We've experienced a volatile beginning to the year as offshore industry fundamentals remain weak as evidenced by reduced customer demand and excess offshore rig capacity. Cyclicality is a well-known dynamic in our industry and something Noble has successfully managed for 95 years and 2016 will be no exception.
A quick look at the balance sheet in 2015, released on February 3, 2016.
Year 2015
Q4 2015

Total Revenues in

$ Million

3,352.3
857.7(712)

Net Income

$ Million

511.0
(152.2)/126

Special Items/lump sum in

$ million

317
140 Discoverer

After-Tax Impairment Charge

$ million

418.3

418.3

2 rigs

Earnings Per Share in $
2.06
(0.63)

Shares Outstanding Basic

In million

242.146
241.974

Cash and Cash Equivalent

in $ Million

512.24
512.24

Liquidity: Cash + Revolving

$ Billion

2.8
2.8

Capital Expenditure

$ Million

450
170

Long-Term Debt

$ Billion

4.189
4.189
Debt-to-Capital Ratio
35%
35%

Net-debt

$ billion

3.677
3.677
A quick snapshot of NE's yearly revenue is showing a negative trend.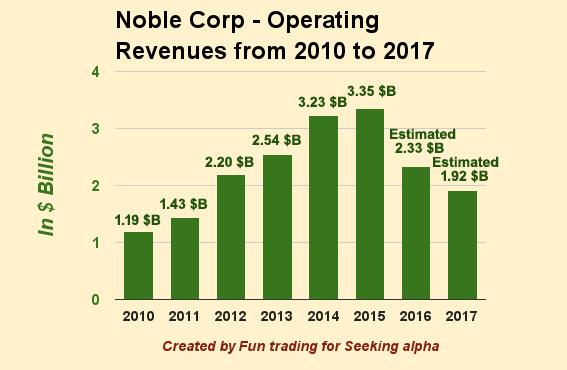 Recent events:
On March 3, 2016, Noble announced that it spent $200 million to buy back bonds due 2020 and 2021.
Noble announced a tender offer to repurchase up to $200mn of its 2020 and 2021 senior notes outstanding with cash on hand and/or borrowings on its revolver. Noble is offering $680 per $1,000 of principal amount of for its 4.9% Senior Notes due 2020 and $610 per $1,000 of principal amount of for its 4.625% Senior Notes due 2021.

Assuming the tender offer is completed as described, we estimate Noble would be able to retire ~$300mn of debt principal at face value for $200mn with new borrowings on the revolver. We estimate annual interest savings of ~$10mn or about a $0.03 impact to EPS.

We like the move to retire debt early at a substantial discount to face value and reduce future interest payments. Balance sheets continue to be the number one focus for OFS investors. The offshore market remains challenged, with falling demand and pressure on dayrates. We expect the market to stay weak into 2017, which is likely to put continued pressure on dayrates and utilization.
On April 1, 2016, Noble announced results of the cash tender offer:
Upon the terms and subject to the conditions specified in the Offer to Purchase, dated March 3, 2016 (as amended, the "Offer to Purchase"), NHIL expects to accept for purchase $23,988,520 Aggregate Purchase Price of Notes validly tendered and not validly withdrawn.
The total amount tendered was $35.626 million or a discount of 32.7%.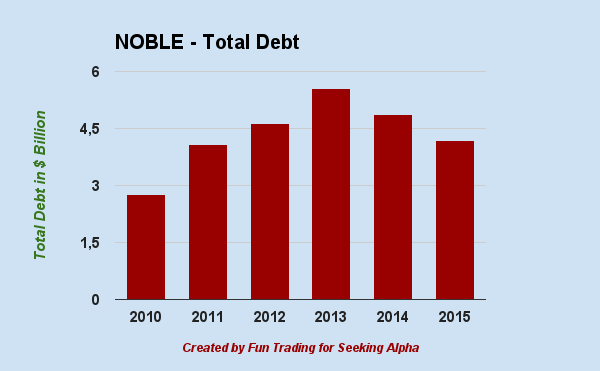 Conclusion:
I see this dividend cut as a non-event because it is coming at no surprise, especially after my preceding article on the April 15 FSR, with only one 2-year contract extension at a dismal day rate of $88k/d from $235k/d with Shell (NYSE:RDS.A) (NYSE:RDS.B) in the UK. However, NE shows the second largest backlog in the industry, right now.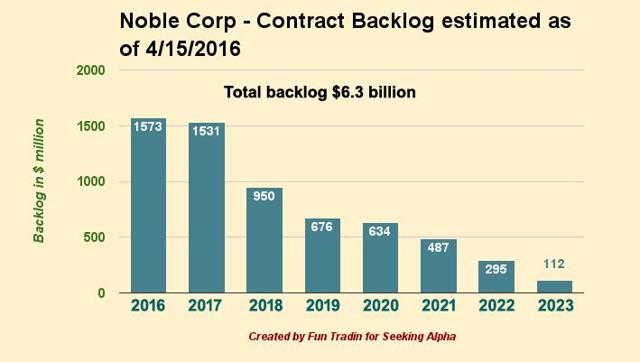 I believe long-term shareholders will continue to focus on liquidity, revenue, and debt the next two years, and will not be distracted by an unnecessary dividend. I do not expect a huge downside on Monday, and if it happens, then it should be used as an opportunity.
However, I would like to see the same "contraction" applied to management. I did not read anything about a potential "adjustment" regarding salaries and bonuses. Are there two ways of looking at the problem or is it normal to consider management totally immune?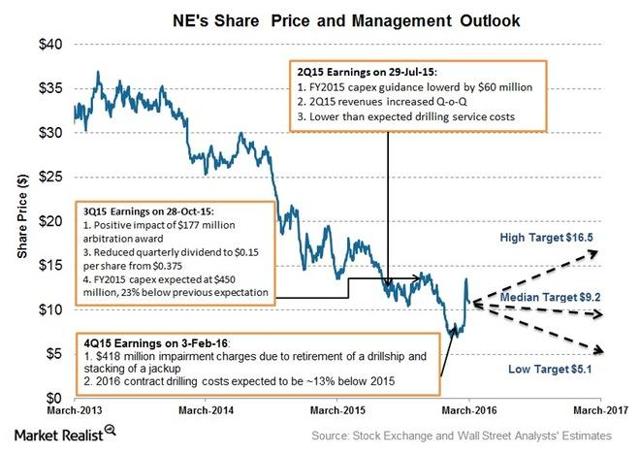 On a final note, I chose to indicate above a chart from Market Realist that I found quite interesting. The range between the low target and the high target is totally meaningless.
It shows that the stock will probably trade around $9-$11 until 1Q 2017, assuming a firming up of the price of oil around $45-$55, and increasing tendering activity later in 2016.
Technically, NE is a bit pricey right now and should re-test support at $10.25. Oil prices are of paramount importance for the next few quarters, and the stock price will be fluctuating until a real trend is seen without any doubt.
On the other hand, the 50MA is showing a positive trend that may lead to a "golden cross" and a re-test of the $14-$15 level.
I recommend to hold NE and wait for weakness in the $9-$10 area to eventually add more. I would take some profit if NE trades at $14-$15.
Disclosure: I am/we are long NE.
I wrote this article myself, and it expresses my own opinions. I am not receiving compensation for it (other than from Seeking Alpha). I have no business relationship with any company whose stock is mentioned in this article.