On April 6th, in conjunction with Q4 results, Constellation Brands (NYSE:STZ) announced it was exploring the possibility of spinning-out part of its Canadian wine business through an IPO.
Interestingly, the announcement came about 10 years to the day that Constellation originally bought Vincor International, which, at the time, was Canada's largest winery and the 7th largest in the world. Vincor, once a much sought after target, is clearly loved a bit less today, especially now that its great international brands (i.e. Kim Crawford) are firmly entrenched in Constellation's premium portfolio.
This article attempts to piece together some information about the new public entity while drawing on some of Joel Greenblatt's well-known ideas around corporate spin-offs.
Hollowing-Out
The acquisition of Vincor, announced on April 3rd, 2006, was also part of a broader period where Canadian investors were perennially worried that corporate Canada was being hollowed-out. The loss of Vincor was part of a period where Canadians lost "great corporate champions" Inco, Alcan, and Falconbridge among others.
Pardon my sarcasm.
The hollowing-out is, of course, somewhat of an illusion. Canadian firms are significant international acquirers - as a 2014 Canadian Business study revealed. From the pension funds to the global ambitions of CGI Group (NYSE:GIB) or the ever-expanding infrastructure empire of Brookfield Asset Management (NYSE:BAM), Canadian businesses have gone toe-to-toe with foreign acquirers.
Still, with the recent acquisition of Rona by Lowe's (NYSE:LOW), the fears have re-emerged. The decline of the Canadian dollar makes companies cheaper to American targets - something detailed by Portfolio Manager Norman Levine recently suggested. This is of course "bad long-term for the Canadian investor" as it only adds to the narrow-ness of the Toronto Stock Exchange, which is already heavily weighted to financials and energy.
For Mr. Levine, Constellation's potential Canadian wine IPO may (temporarily) assuage his concerns.
Constellation's Canadian IPO
As mentioned, Constellation is now exploring the possibility of spinning out its Canadian wine business, which would provide the company with capital to pursue more acquisitions of higher-growth and premium brands (outside Inniskillen, the Canadian portfolio doesn't offer much in terms of North American recognition).
Wine has also been growing slower than the business and shedding some of these mature brands would also help make the consolidated growth rate look better. If all goes as planned, I presume the business would be listed in Canada as well as the U.S.
On the conference call, Mr. Sands shared his thoughts with respect to capital allocation - specifically noting the IPO frees up capital for growth acquisitions:
Number two, it's obviously also a capital allocation opportunity for us. As I said an IPO of a part of the - of the Canadian business will enable us to continue to manage our debt and keep it at the levels that we think are optimal for the company as we also embark on some of our other strategic initiatives that are driving our very positive results in the wine and spirits business.

Meiomi is an example, Prisoner is an example, our investments behind driving premiumization in the portfolio with our other brands and our NPD initiatives. So we see the Canadian IPO as helping us to potentially achieve a lot of positive things.
The Toronto Stock Exchange is (to some) meaningfully short of great consumer brands and Constellation Wine Canada (or "CWC") might be a decent new addition.
A Look at Constellation Wine Canada
Constellation disclosed that CWC has sales of $600 million and EBIT margins slightly below the consolidated number. Compared to Toronto's other publicly-traded winery, Andrew Peller (OTC:ADWPF), these are good numbers.

On the call, management indicated CWC gained share last year but we don't yet know how fast (other than it was faster than the entire wine portfolio).
For context, Euromonitor reported in 2015 that CWC, Canada's largest winery, had 17% share of volume followed by Andrew Peller at 12%. Andrew Peller's Annual Information Forms disclosed CWC had 14.7% share of English Canada wine in 2015 - up from 13.4% the previous year. While Euromonitor also reported they had previously seen relatively weak growth, last year seems to have been a reversal of fortunes.
We have two additional growth rates to use as reference. First, Andrew Peller grew sales 6% in the last fiscal year and has been a mid-single digit grower over the past 10 years. Second, the industry is growing 3-4% annually, which is actually one of the fastest growth rates in the developed world.
While I'd be shocked if this emerges as a high-growth business, it doesn't look bad at first glance and could (in my view) probably pay a decent dividend.
Canadian Wine Portfolio
The jewel of the Canadian wine portfolio is the Inniskillen brand, which is known around the world for its award-winning ice wine. The business is also a distribution vehicle for Constellation's Californian wines and owns independent wine retailer, Wine Rack.
Do you drink any of these?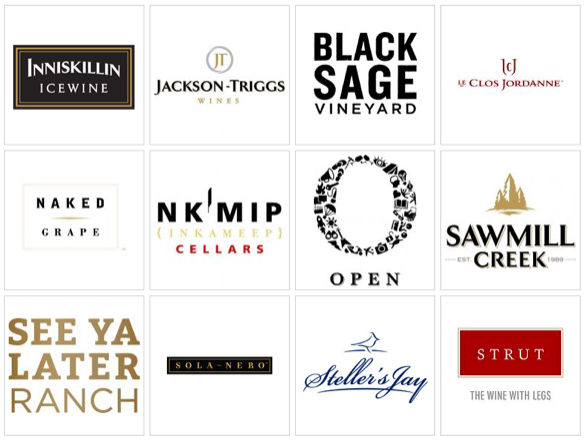 Courtesy of Constellation Brands
Searching for Lost Treasure
The timing of the IPO might be just right. In Ontario and British Columbia, grocery stores are now allowed to sell beer and wine, which provides a new avenue for sector growth. Further, wine sales have been growing faster than beer and Canadians, like Americans, drink a lot less wine per capita than in other mature markets like Australia, Italy and even Sweden.
Consider the following two charts. The first details wine consumption per capita while the second (courtesy of RBC) details U.S. growth rates of wine vs. other beverage categories.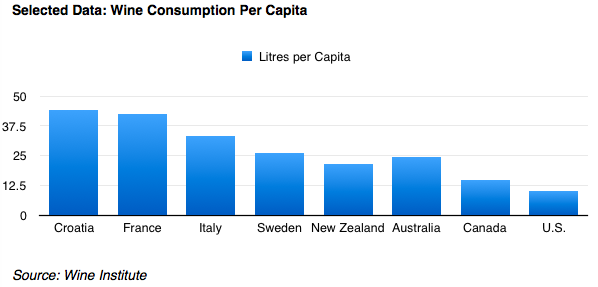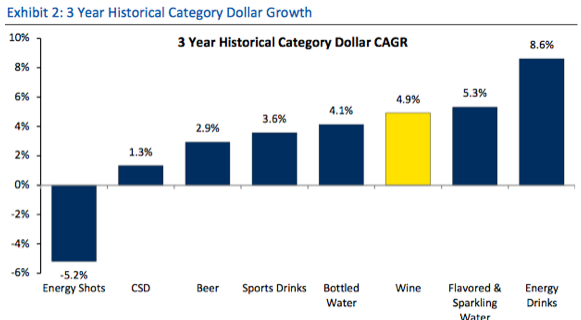 Of course it's all meaningless if the business is run poorly. A secular trend and favorable consumer behavior can quickly be destroyed by poor capital allocation.
However, it does create a potential tailwind for a business that has arguably been starved of capital and attention. This brings us (once again) to Joel Greenblatt's work on spin-offs in his book, You Can Be a Stock Market Genius.
In Constellation's case, the spin-off is motivated by the desire to purchase higher growth, premium brands. While Greenblatt admits IPO's are less fertile hunting grounds, we can still apply his freedom logic. As Greenblatt explains in his book:
When a business and its management are freed from a large corporate parent, pent-up entrepreneurial forces are unleashed. The combination of accountability, responsibility and more direct incentives take their natural course.
In short, spin-off situations, like Constellation's Canadian wine portfolio, are good hunting ground for excess returns. The parent has arguably been focused primarily on building the high-growing Corona brand and acquiring some great wine brands in the U.S.
However, this suggests the Canadian wine business has probably been an afterthought to say the least. It's reasonable to conclude that cash flow from Canada has probably been reinvested elsewhere and many of the brands have been starved of marketing dollars.
With that said, I think we're a long way from knowing whether this is a great opportunity but it's an interesting opportunity and I'm keen to learn more.
I'll be watching and I look forward to hopefully sharing more in the future. As always, I would love to hear your thoughts in the comments section.
Disclosure: I/we have no positions in any stocks mentioned, and no plans to initiate any positions within the next 72 hours.
I wrote this article myself, and it expresses my own opinions. I am not receiving compensation for it (other than from Seeking Alpha). I have no business relationship with any company whose stock is mentioned in this article.
Editor's Note: This article discusses one or more securities that do not trade on a major U.S. exchange. Please be aware of the risks associated with these stocks.