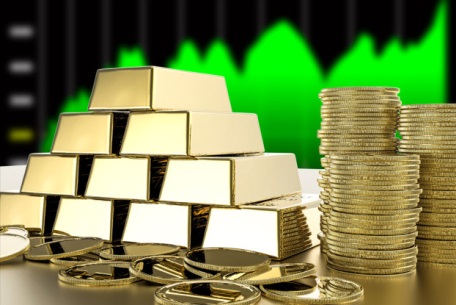 (Source: The Over Reign Investor)
In my previous article on the gold ETF, the SPDR Gold Trust ETF (NYSEARCA:GLD), I received a request to look into GAMCO Global Gold, Natural Resources & Income Trust (NYSEMKT:NYSE:GGN):

The first thing to do here is to compare GGN to a benchmark. After all, anyone interested in GGN is likely interested in placing some gold in their portfolio. So a comparison seems reasonable:
GLD up 16.19% YTD
GGN Up 38.95% YTD
The natural question is, "Why the discrepancy?" The answer comes in one main flavor: diversification. GGN is not a gold miner nor is it a pure gold stock.
Instead, GGN is an investment company that primarily buys gold miner stocks. Over 50% of its portfolio is dedicated to this one act. The difference in gains/income stems from:
Buying energy stocks
Writing covered calls
Buying bonds
Needless to say, the energy stocks are not the best performing holdings, and the fact that GGN continues to dedicate a large portion of its portfolio to them could be a significant turnoff for investors. Still, the project manages to outperform GLD. The covered calls certainly help with losses, as they allow for extra income in the beaten-down energy industry.
In a way, GGN is more similar to a basket of gold miners, such as the Market Vectors Gold Miners ETF (NYSEARCA:GDX), which is up 64.68% year to date. I have mentioned previously that GDX moves faster than GLD, giving it a steeper risk/reward profile than GLD. You can think of GGN as a more specialized version of GDX but with exposure to energy and to an extra income strategy (covered calls).
What about the Dividend?
But perhaps most important for investors, GGN stands apart from GLD and GDX in its significant dividend payout. However, with significant exposure to the energy sector, GGN faces the possibility of being forced to cut its dividend. Or at least that is the concern: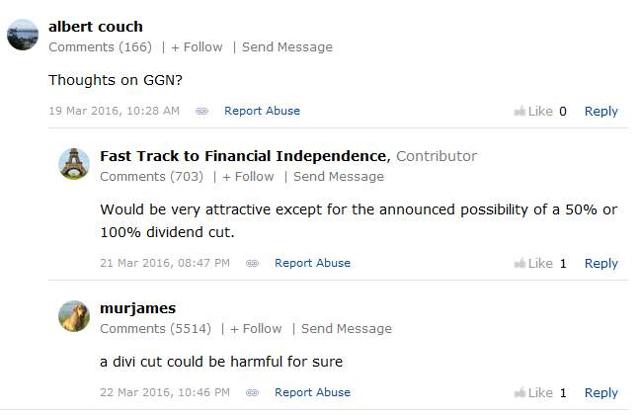 GGN's policy of payouts of monthly dividends does seem concerning, especially when you see its unnaturally high yield: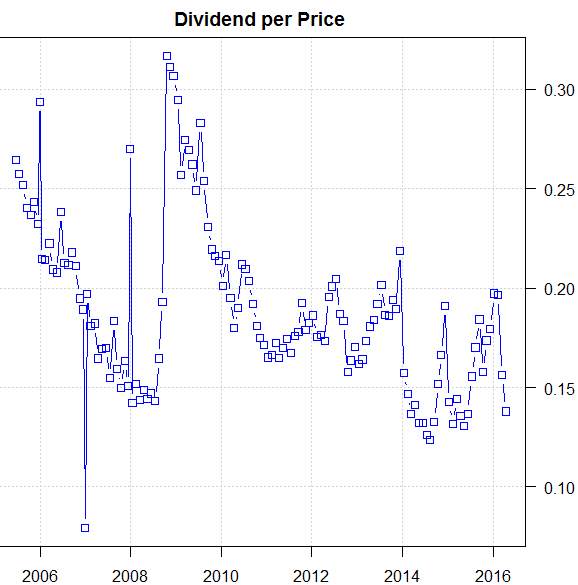 A few notes on the trend above: The yield is dipping both because of lowered dividend payments and because the stock price itself has been growing. Both of these things should help put away investors' concerns about the dividend. However, it is best we look at the dividend payout and compare that number to the current financials.
With a dividend payout of 7 cents per month and 25.7M shares outstanding, this gives a total dividend payout of $1.8M per month or $21.6M per year. GGN's TTM income of $83.4 certainly covers these dividend payouts. The cause for concern is unwarranted by this analysis - if GGN's priority is to sustain the dividend, it has the capability to do so.
Even with energy stocks in the dumps, GGN uses covered calls on its investments to derive constant income. This income is sustainable and should help in reducing the concern surrounding constant dividend payouts. Note that GGN has declared that the dividend will be sustained until at least June - but according to the data above, I believe that the dividend is not under any threat, even after June.
Conclusion
The concern surrounding dividend payouts is unwarranted. Your decision to buy GGN should be based on your viewpoint toward the holdings of the company. You have few aspects to consider:
Do you want to invest in gold only? If so, GGN is not your best choice, as its holdings are diversified, stretching into silver, energy, and bonds. If you want gold only, GLD and GDX are better options.
Do you think you can pick better gold miners than the generic gold miner's ETF - GDX? So does the management at GGN, and these guys have the ability to manage each holding with covered calls. By investing in GGN, you gain the income from those covered calls but without having to write each one yourself, constantly rolling over positions. To do what GGN is doing by yourself, you will be forced to pay large chunks of commissions on each contract.
Do you want a dividend stock in the gold industry? If so, it does not get much better than GGN, with its double-digit yield.
Do you want to sacrifice reward for lowered risk? If so, avoiding GDX might be smart. GGN is diversified enough to experience smaller drawdowns than GDX should we hit another snag in the gold market. To gain the diversification GGN has, you will have to build your own portfolio. Perhaps you can pick better non-gold miner stocks, perhaps completely avoiding the energy sector. But doing so will require much time and extra cash (in commissions).
Overall, to do everything GGN does yourself would be troublesome. GGN is a great stock in the gold industry for dividend investors who do not need "pure" gold exposure. Think of GGN as a sub-portfolio that overlaps gold, silver, energy, and dividends.
Learn More about Earnings
My Exploiting Earnings premium subscription is now live, here on Seeking Alpha. In this newsletter, we will be employing both fundamental and pattern analyses to predict price movements of specific companies after specific earnings. I will also be offering specific strategies for playing those earnings reports.
In the most recent newsletter, we are predicting how Amazon (NASDAQ:AMZN) will react after its upcoming earnings report.
Request an Article
Because my articles occasionally get 500+ comments, if you have a request for an analysis on a specific stock, ETF, or commodity, please use @damon in the comments section below to leave your request.