Introduction
Colgate-Palmolive (NYSE:CL) is a well-established company with excellent brand recognition and a solid history of returning cash to shareholders via dividends and share repurchases. However, the market has pushed the share price higher than the company's future prospects merit. To see why, let's take a brief look at the stock's history and what investors can expect in the future. As an aside, you can find all the data used in this article here.
A Stellar History
CL has an excellent record of taking care of shareholders and the best demonstration of this is their dividend history: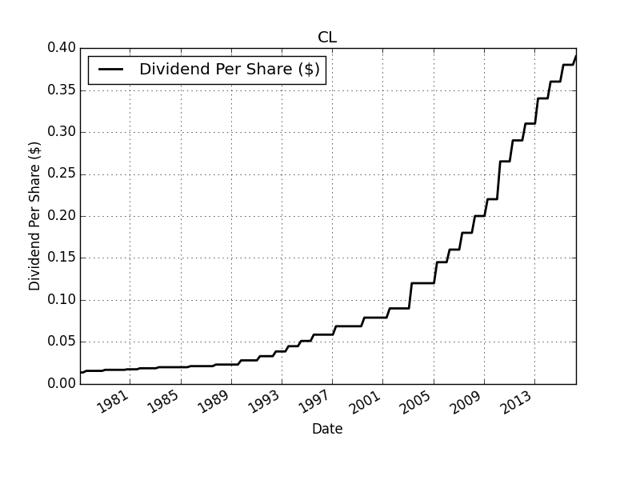 Also impressive is the reduction of shares outstanding over time: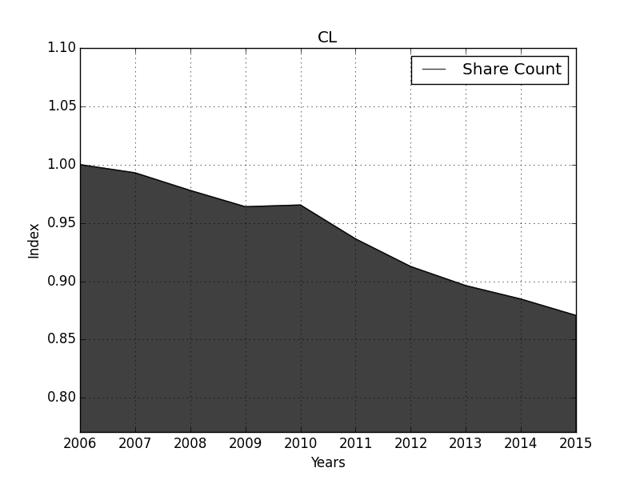 Clearly, the past years were a good time to be a CL shareholder, but the future is likely to be less impressive.
A Difficult Future
The dividend payments and share repurchases of the last decade consumed more money than the company was earning: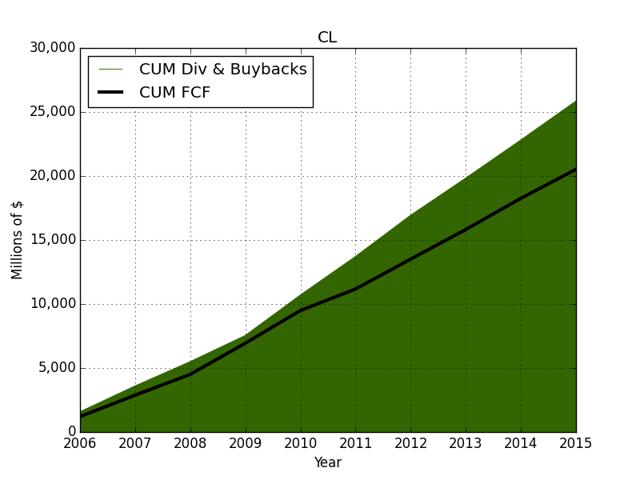 Not surprisingly, the company had to turn to debt to make up for the shortfall: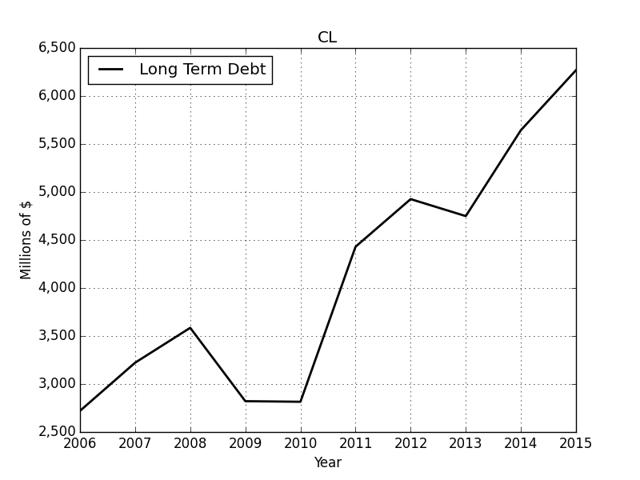 This situation cannot go on forever; stockholder equity is negative as of 4Q 2015. At some point, the company will not only have to stop issuing more debt but will also have to use earnings to start paying off the principal. I do not mean to sound alarmist since interest on debt is not very burdensome at the moment, and management seems to be rolling over debt in order to push out their average maturity horizon. However, as total debt increases, both servicing it and pushing its maturity out into the future will become more difficult. I believe the first signs of this are already appearing. From the 2015 10-K:
"During the third quarter of 2015, the Company issued $600 of thirty-year notes at a fixed rate of 4.00%. During the second quarter of 2015, the Company issued €500 of euro-denominated four-year notes at a variable rate. During the fourth quarter of 2014, the Company issued $134 of forty-year notes at a variable rate. During the first quarter of 2014, the Company issued $500 of five-year notes at a fixed rate of 1.75% and $500 of ten-year notes at a fixed rate of 3.25%. During the fourth quarter of 2013, the Company issued $300 of five-year notes at a fixed rate of 1.50% and $82 of forty-year notes at a variable rate. During the second quarter of 2013, the Company issued $400 of five-year notes at a fixed rate of 0.90% and $400 of ten-year notes at a fixed rate of 2.10%."
The key takeaway from the above paragraph is that the company is paying higher interest rates for newer issues; I think the credit markets are going to demand even higher rates going forward unless the debt levels are brought down. With higher rates, the company will find it much more difficult to continue to roll over debt.
Compounding management's problems is the strong US dollar. Most of CL's revenues are generated abroad, and the rise of the US dollar since 2013 is crushing CL's revenue and profits: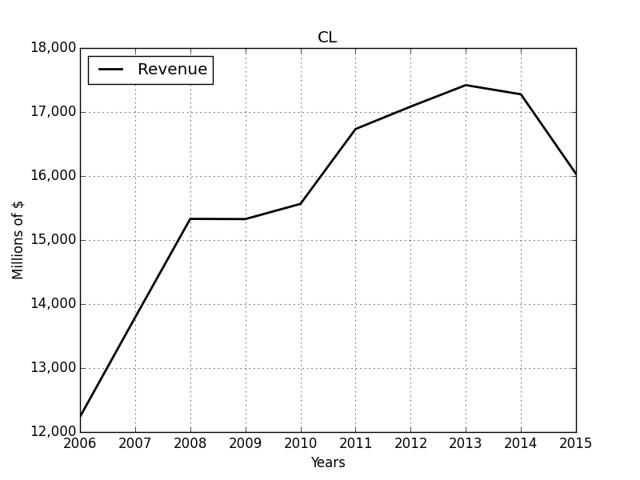 As I pointed out in this article, I believe the world is currently experiencing a currency war. Most of the world's economies are struggling and their central banks are desperate to debase their currencies relative to the dollar. Yes, the US Federal Reserve's decision to postpone rate hikes has resulted in a recent decline in the dollar's value, but I believe that other central banks will ramp up their easy money policies so as to devalue their way to competitiveness. As a result, I believe that the US dollar will remain strong against other currencies for at least a few more years.
If I'm right about the US dollar, profits will lag and CL will struggle to maintain the growth of dividend payments and share repurchases. In fact, under such circumstances, CL will likely have to scale back share repurchases and possibly even dividend payments as they address their large pile of debt.
But let's assume that I'm wrong about the future strength of the dollar. If the dollar weakens back to 2011-2012 levels within the coming year, this would be a decrease in value of about 25%. CL's free cash flow in 2015 was around $2,258 million ($2,949 million operating cash flow - $691 million in CAPEX), so let's assume that the figure gets a boost of 25% and is now $3,000 million. Well, that is about the same amount as spent on dividends ($1,493 million) and share repurchases ($1,551 million) in 2015. In this scenario, almost all free cash flow is consumed by these payments to shareholders, and little is left over to address the debt already racked up and needing to be repaid eventually.
Final Thoughts
Despite the negative shareholder equity and very high debt levels, CL is a bedrock company, with excellent market share, growing sales volumes, and strong brands. The problem with investing in CL is that the market has priced the stock as if the current rate of dividend growth and share reductions will continue well into the future; this is very unlikely. It might sound crazy, but I would advise not investing in CL until its dividend yield is 3.5% - that means a share price of $45, a level not seen in 5 years. The current yield is about 2.25% and the current price nearly $70, and I believe the low yield rate is due to a mistaken belief that per share dividends will continue to increase at past rates. Once it becomes clear that the company is unable to maintain that growth rate, the market will demand a higher yield and therefore a lower stock price.
Disclosure: I/we have no positions in any stocks mentioned, and no plans to initiate any positions within the next 72 hours.
I wrote this article myself, and it expresses my own opinions. I am not receiving compensation for it (other than from Seeking Alpha). I have no business relationship with any company whose stock is mentioned in this article.