In September 2015, as a consequence of publishing an eBook on investing for the long term and sleeping well, I created a portfolio of 7 stocks from the S&P 500. The main thesis behind the selection was that a small portfolio of a few stocks that are part of the S&P 500 with low P/E ratios, a healthy cash flow, low debt and a big moat is bound to outperform the S&P 500 because long-term performance is strongly correlated with underlying earnings.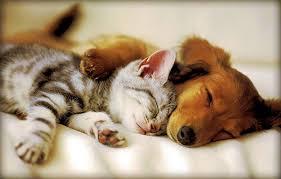 The portfolio
After a thorough screening of the S&P 500, the following 7 stocks made it through. Gilead Sciences (Nasdaq:GILD), Merck & Co. (NYSE:MRK), Johnson & Johnson (NYSE:JNJ), 3M Company (NYSE:MMM), Eaton Corporation Plc (NYSE:ETN), Wal-Mart Stores (NYSE:WMT) and Exxon Mobil Corporation (NYSE:XOM). The companies had an average P/E ratio of 14.25, long-term debt to equity ratio of 0.69, a 3.14% dividend yield, a 2% of repurchase indirect yield and a big moat, according to Morningstar. You can find more about rationale behind the selection and the fundamentals in my previous article.
Performance
It did not take long; 7 months and the Sleep Well portfolio is already outperforming the S&P 500. The S&P 500 was at 1,953 points on September 13, 2015 when my article was published. Currently, it is at 2,091.47 points that becomes 2,117.47 when we add the dividends an investor would receive by holding the S&P 500, according to the S&P 500 dividend points index. In total, the gains from holding the S&P 500 would be 8.4% since September 13, 2015. The below table shows the performance of the Sleep Well portfolio's individual stocks. I have also added the FANG stocks to make the comparison more interesting: Facebook (NASDAQ:FB), Amazon (NASDAQ:AMZN), Netflix (NASDAQ:NFLX), and Alphabet (formerly Google, hence the G) (GOOG, GOOGL). The rationale behind adding FANG stocks can be found here.
Table 1: Individual company performance from September 13, 2015 to April 22, 2016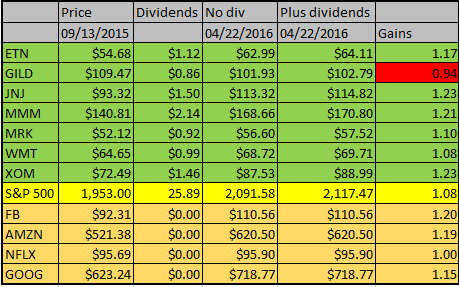 Source: Yahoo
I created an index with equal weights for each component for the Sleep Well and FANG portfolio and compared the performance to the S&P 500. The Sleep Well portfolio had a return of 13.77% in the period, the FANG portfolio had a return of 13.58% and the S&P 500 had a return of 8.4%. The theory that stock returns in the long term are correlated to underlying earnings proves correct for now.
Changes in fundamentals and portfolio
As seven months have passed, the fundamentals of the companies included in the Sleep Well portfolio should be rechecked.
Table 2: Adjourned fundamental data

Source: Morningstar and author's calculations
The fundamental data creates some issues. Of the initial portfolio, only ETN and WMT still fulfill the initial criteria of low P/E ratios and low debt. Price increases have increased the P/E ratios of JNJ and MMM, while XOM's earnings were affected by low oil prices and GILD has increased its debt to equity ratio above 1. This shakes up a bit the Sleep Well portfolio theory, but nevertheless, the returns were positive. I will continue to report on the developments of the portfolio, but before that, let us see if we can find new candidates for the Sleep Well portfolio.
Research for new candidates
The screening of the S&P 500 resulted in 61 stocks that have a P/E ratio below 15 and a debt to equity ratio below 1. But, when faced with the wide economic moat criterion and by eliminating financials, none of the S&P 500 stocks could be added to the list. An investor should decide by himself if he wants to stick to only ETN and WMT and sell the others due to their high valuations or to continue with the initial S&P 500 portfolio, betting that the current decline in earnings of XOM and MRK is just temporary.
Conclusion
The deterioration of the Sleep Well portfolio's fundamentals show how difficult it is to stick to a long-term strategy, but by looking at historical earnings, some stability could be found. The FANG portfolio still performs well, but the returns do not justify the risks of such high valuations. Those risks can be seen in the latest price declines of NFLX and GOOG. I will recheck the portfolio in September in order to see the fundamental developments and performance, but the fact that no replacement stocks could be found shows how overvalued the stock market is, something to be very careful about.
Disclosure: I/we have no positions in any stocks mentioned, and no plans to initiate any positions within the next 72 hours.
I wrote this article myself, and it expresses my own opinions. I am not receiving compensation for it (other than from Seeking Alpha). I have no business relationship with any company whose stock is mentioned in this article.
Additional disclosure: This article was provided for informational purposes only. Nothing contained herein should be construed as an offer, solicitation, or recommendation to buy or sell any investment or security, or to provide you with an investment strategy. Nor is this intended to be relied upon as the basis for making any purchase, sale or investment decision regarding any security. Rather, this merely expresses my opinion, which is based on information obtained from sources believed to be accurate and reliable and has included references where practical and available. However, such information is presented "as is," without warranty of any kind, whether express or implied. The author makes no representation as to the accuracy, timeliness, or completeness of any such information or with regard to the results to be obtained from its use should anything be taken as a recommendation for any security, portfolio of securities, or an investment strategy that may be suitable for you.