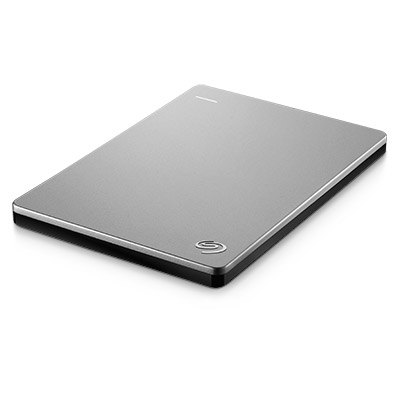 Seagate (NASDAQ:NASDAQ:STX) is a 35-year veteran of the data storage business with 52,000 employees around the world and 9,000 patents to its credit.
In recent times, the company has been moving from being purely a data storage provider to a company that provides solutions aimed at harnessing that stored data - a significant transition that has been forced due to the disruption that is taking place in the increasingly interconnected world.
Cloud solution providers are slowly taking away the necessity to store things locally. Gone are the days when Gmail offered few GBs of storage - we have unlimited storage now. With each passing day, the need to even store media files locally is diminishing - if not on its way to becoming extinct. The question is: Why even bother with local storage when I have Instagram and Flickr that can hold my pictures, and YouTube to take care of large video files. So, from the personal usage perspective, the need to store data locally is thinning, with company after company fighting for my presence.
Furthermore, PCs are on the wane and mobile devices are on the rise, further denting the storage requirement that is the bread and butter of data storage companies such as Seagate.
Things get even more depressing when you look at the data storage requirement from the enterprise angle. The cloud industry has taken off in a big way, and enterprises are slowly adopting this new technology that promises to take care of the infrastructure headache with a simple solution. To put it in another way, Amazon and Microsoft are telling companies to forget creating an IT infrastructure unit - especially if you are a company with average data operation requirements.
The requirement for personal data storage is declining, and it will continue as cloud takes off, thus severely affecting the core offering of Seagate. Welcome to the world of technology, where disruption is as common as a Saturday night out. Seagate now stands at the crossroads, and is trying to establish itself as the company that is ready to take on the highly cloudified mobile world.
Outlook for the Industry, Guidance and Details from Recent Quarterly Reports
The world's total volume of digital data is doubling every two years and will reach 44 trillion gigabytes by 2020, according to a 2014 Digital Universe study from EMC and IDC."

Source: CIO-Today
With data volumes doubling every two years, and big data slowly making its presence felt in our lives, where is all this data is going to be stored? That is where companies like Seagate, Hitachi (OTCPK:HTHIF) and other data storage providers come in.
But the growth in data storage requirements is clearly moving towards cloud. In 2014, Enterprise Tech estimated that "AWS probably has somewhere between 2.8 million and 5.6 million servers across its infrastructure." Add IBM (IBM), Microsoft (MSFT) and Alphabet (GOOG) (GOOGL) to that and we're looking at massive cloud infrastructure capacity. And you can already see the downslope of HDD storage requirements around the world: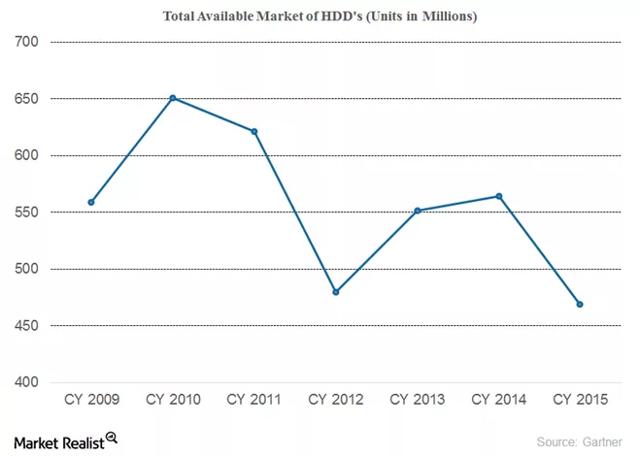 To offset the loss from a declining HDD storage business, Seagate is now betting on cloud storage systems to complement that income. With the cloud industry growing at a healthy rate, Seagate is planning to capitalize on that trend.
Worldwide Public Cloud Services Forecast (Billions of U.S. Dollars)
| | | | | |
| --- | --- | --- | --- | --- |
| | 2015 | 2015 Growth (%) | 2016 | 2016 Growth (%) |
| Cloud business process services (BPaaS) | 39.2 | 2.7 | 42.6 | 8.7 |
| Cloud application services (SAAS) | 31.4 | 15.5 | 37.7 | 20.3 |
| Cloud application infrastructure services (PAAS) | 3.8 | 16.1 | 4.6 | 21.1 |
| Cloud system infrastructure services (IaaS) | 16.2 | 31.9 | 22.4 | 38.4 |
| Cloud management and security services | 5.0 | 20.7 | 6.2 | 24.7 |
| Cloud advertising | 79.4 | 15.4 | 90.3 | 13.6 |
| Total market | 175.0 | 13.7 | 203.9 | 16.5 |
BPaaS = business process as a service; PaaS = platform as a service
Source: Gartner (January 2016)
We are planning for our cloud storage systems and silicon business to exit fiscal year 2016 at a revenue run rate of over $1 billion a year. This will position us for continued success and profitability in fiscal year 2017, as several areas of these markets are projected to grow double digits over the next few years."

Steve Luczo, Chairman and CEO Seagate (SA Earnings Call)
So, how much business is Seagate actually losing because of cloud and other factors?
Revenue Decline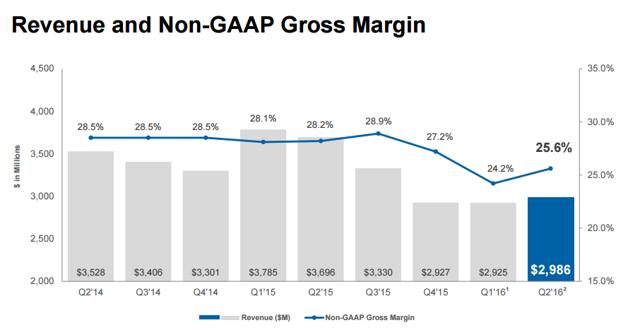 As you can clearly see, revenue has steadily declined over the last year, while the stock was hammered. But it will be unfair to expect the revenue stream, which is dependent on HDD storage devices that, in turn, are dependent on overall personal computer sales to come down to naught.
I totally agree that PCs are on the wane with tablets and mobile devices taking over their place. But to expect a non-existent PC world is still many years away - if at all such a thing happens. Seagate has already been pushing for alternate revenue streams such as cloud storage systems and entry into the growing flash storage market via its acquisition of LSI Flash Storage Business.
The offsets are in place, but the growth is not enough to compensate for the current speed of revenue loss in the existing business lines - which is exactly the reason why the stock has been hammered so hard.
Current Dividend Yield, Dividend History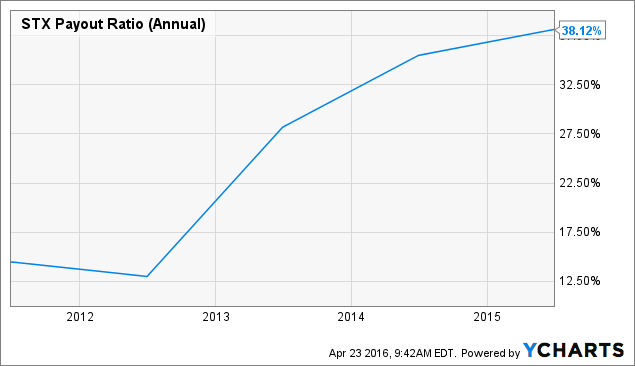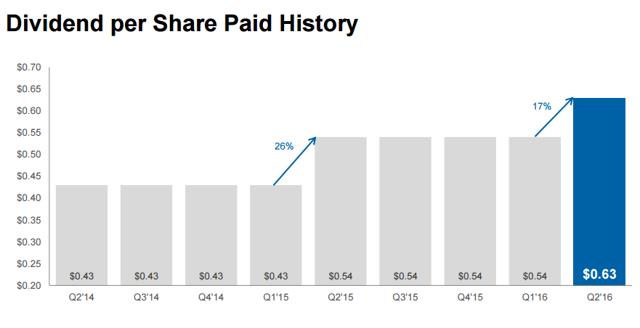 Source: STX Presentation
In a span of five quarters, the company has raised dividends from $0.43 in Q1 2015 to $0.63 in Q2 2016 - a move possibly aimed at arresting the stock's drop of more than 50% during the same time.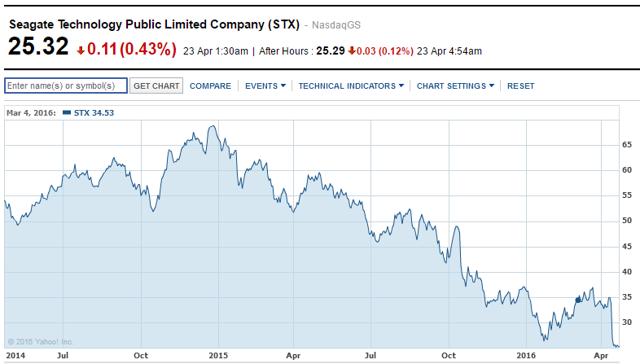 Financial Strength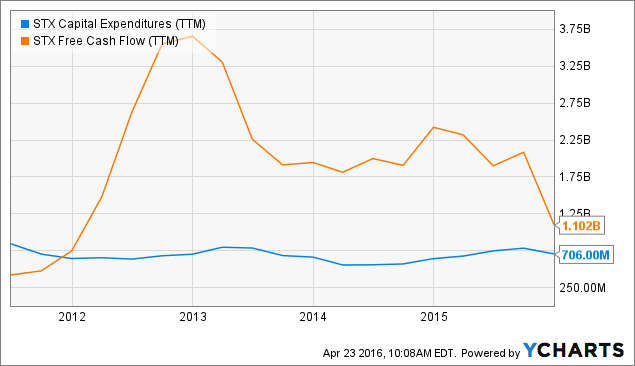 Capex requirement has been under $1 billion, with free cash flow just above the $1 billion mark.
Seagate carries a long-term debt load of $4.1 billion with a cash balance of $1.2 billion. Considering the cash flow generated by the company, and with operating margins in excess of 20%, the company has enough financial strength to weather the storm and keep moving forward.
The balance sheet is what is making the current dividend yield an extremely attractive proposition - and let's not forget the stock's upside once the other parts of the business start rising up.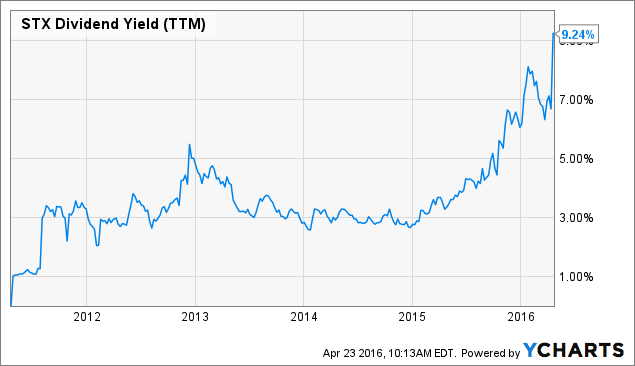 With a limited downside as described above, a strong balance sheet, the near-10% yield and the upside potential, Seagate is a worthwhile risk.