In a previous article, I outlined my approach for analyzing CoT data to reveal how different types of traders are positioned in the futures markets. If you missed it, give the article a read to see the method behind my analysis.
This is the third in a series of weekly updates that will outline how traders are positioned, and how that positioning has recently changed. I break down the updates by asset class, so let's get started.
Bonds
Money managers are extremely long the 2-year note contract (NYSEARCA:SHY). This translates to them expecting lower short-term rates.

Sell-side dealers are very long the 30-year (NYSEARCA:TLT).

Commodities
Producers and users remain very long natural gas (NYSEARCA:UNG).

They have also stayed persistently short crude oil (NYSEARCA:USO).

Money managers have trimmed long exposure to copper (NYSEARCA:JJC) over the past few weeks.

There are actually two extreme readings this week for silver (NYSEARCA:SLV). Money managers have a five-year CoT percentile of 100%, meaning they are more net long silver than they've ever been in the past five years. On the flip side, silver producers and users are massively short with a CoT percentile of 0%.

Money managers piled into cotton (BAL) as it rallied.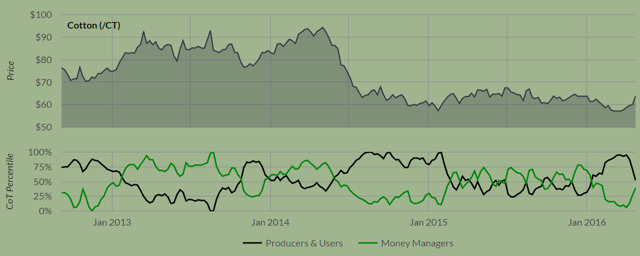 Currencies
The Australian dollar (NYSEARCA:FXA) has become a crowded long among money managers.

Money managers were caught off guard this week in the Japanese yen (NYSEARCA:FXY). They've been building a large long position and Governor Kuroda's comments late in the week caused the yen to sell off 2% relative to the USD.

Stocks
Money managers have kept covering their shorts in U.S. stocks (NYSEARCA:SPY). Positioning within S&P 500 futures is now similar to what it was during December 2015.

The long volatility (NYSEARCA:VXX) trade had continued to unwind.

Conclusion
Money managers are positioned for lower short-term rates.
Commodity producers and users are very long natural gas. Money managers are extremely long silver.
The Australian dollar and Japanese yen have become crowded long trades.
Short-term extreme negative sentiment has all but disappeared as money managers have been forced to cover more of their equity shorts.
If you've got any questions about CoT data, don't hesitate to ask me in the comments below.
Disclosure: I/we have no positions in any stocks mentioned, and no plans to initiate any positions within the next 72 hours.
I wrote this article myself, and it expresses my own opinions. I am not receiving compensation for it (other than from Seeking Alpha). I have no business relationship with any company whose stock is mentioned in this article.