Welcome to the April 25th edition of Seeking Alpha's Eye on Tech newsletter.
Eye on Tech Coverage
YouTube's Strengths And Weaknesses As It Goes After TV Ad Dollars
A WSJ column notes YouTube's ability to grab TV dollars has been limited by factors such as relatively high prices, advertiser concerns about the quality of some YouTube content (they have mixed feelings about cat videos), immature tools for measuring an online video ad's success, and ad agency structures.

Nonetheless, YouTube is still often seen as a more appealing venue for video ads than social media platforms, given content quality concerns are even higher on social and video ads can feel intrusive when run against some social content.
Google's Network Ad Sales Growth Slowdown Draws Attention Following Q1 Miss
Many post-earnings Google analyst reports noted the company's revenue growth for ads sold on third-party sites fell to just 3% Y/Y in Q1.

The loss of Google's AOL search deal weighed, as did Facebook's tremendous ad sales growth.

On the other hand, ad sales on Google sites rose 20% Y/Y. Evercore thinks Google's increasing ability to sell search and video ads based on search and browsing history is providing a lift.
Noteworthy Tech News
Microsoft and Google agree to drop regulatory complaints against each other - The latest sign an era of detente is emerging among tech giants in the legal/political realm. Microsoft (NASDAQ:MSFT) and Google had already settled their far-reaching patent dispute in 2015. That occurred a year after Google and Apple (NASDAQ:AAPL) settled their patent dispute. Microsoft and Apple have long had a patent cross-licensing deal in place - probably because each could sue the other into oblivion, and only patent lawyers would benefit if they did.
As Re/code observes, some of this newfound friendliness probably has to do with leadership changes - Tim Cook, Satya Nadella and Sundar Pichai seem more willing to play ball with rivals than Steve Jobs, Steve Ballmer and Eric Schmidt. But I think it's also due to a recognition among the companies that they have a lot of common legal and political interests - thwarting patent trolls, defending strong encryption, protecting cloud data privacy - and thus they're better off presenting a united front before politicians and regulators.
Apple: All new Watch apps must be able to run without iPhone pairing by June - Third-party Apple Watch apps initially required iPhone pairing to work - this improved battery life some (as the iPhone did much of the processing), but often led to a slower user experience. Support for native apps (i.e. apps that could run without iPhone pairing) was added in September with the launch of watchOS 2. Starting in June, all new Watch apps submitted to the App Store have to be native apps.
The Watch is still meant to be paired with iPhones (iPhone 5 or newer), something that's limited its addressable market a bit. The Sport edition's start price was cut by $50 to $299 last month, and a second-gen Watch is expected this fall. KGI Securities recently forecast Watch sales will drop 25% in 2016 to less than 7.5M - the actual figure will, of course, depend much on how the second-gen Watch is received.
Report: Internal fighting slows Apple's efforts to improve cloud services - Two Apple engineering teams working on creating new cloud infrastructure meant to improve the reliability of iCloud and other services are reportedly "in open conflict." One engineering manager (Steve D'Aurora) has resigned, and more departures are expected.
The turf war reportedly stems from Apple's 2015 decision to extend the reach of the cloud platform powering Siri to other services, such as iCloud, iMessage and iTunes. That led it to battle with a larger engineering team responsible for many of those cloud offerings. "Philosophical differences" have emerged for many technical issues. One has to wonder how Steve Jobs would've reacted to such a situation.
Ben Thompson recently made the case Apple's "functional organization" structure, in which leaders are given responsibilities tied to areas of expertise (design, operations, software, etc.) rather than products (iPhone, iPad, etc.), has hurt the quality of Apple's services, even as it creates great integrated user experiences in other realms. He concluded Apple's services "need to be separated from the devices that are core to the company, and the managers of those services need to be held accountable via dollars and cents."
CRN: Apple buying IBM hardware and software for internal use - Apple is reportedly using IBM's (NYSE:IBM) products "in its retail platform and in its corporate data centers," and a 25-employee IBM sales team focused on Apple is expected to produce 2016 sales of $82M.
That isn't a huge number for a company with a 2016 analyst revenue consensus of $79.3B, and one has to wonder if Apple's buying is a quid pro quo for the reseller deal that forms part of Apple/IBM's enterprise partnership (launched in 2014). Still, Apple is a nice reference client for IBM to have, given how many questions have been raised about Big Blue's ability to sell to the cloud giants, who are accounting for more and more of global IT spend.
Fortune: Intel mobile engineering chief Aicha Evans is staying put - Bloomberg previously reported Evans, in charge of Intel's (NASDAQ:INTC) wireless modem and radio chip engineering teams, is stepping down. Fortune now reports CEO Brian Krzanich convinced Evans to withdraw her resignation.
The news comes amid Intel's layoff announcement and the pending departures of its Client Computing Group and IoT Group chiefs. It also comes amid expectations Intel's XMM 7360 4G modem, among the products overseen by Evans, will be used within some iPhone 7 units. Last week, Qualcomm execs appeared to confirm on the company's earnings call (without mentioning Apple by name), it won't be Apple's sole modem supplier going forward.
Samsung outlines aggressive chip manufacturing roadmap, takes aim at Intel/TSMC - Samsung (OTC:SSNLF, OTC:SSNNF) plans to start production for a 10nm manufacturing process (succeeds its current 14nm processes) by the end of 2016. Unlike foundry rival TSMC (NYSE:TSM), which also plans to start 10nm mass-production by year's end, Samsung plans to build different 10nm processes meant for multiple markets. Samsung has also outlined plans to use EUV lithography - lithography equipment giant ASML (NASDAQ:ASML) is making needed tools - to bring its 7nm process to market down the line. TSMC plans to start 7nm mass-production in 1H18.
The bottom line: Both Samsung and TSMC are positioning themselves to end Intel's historical manufacturing process lead, given Intel has delayed the launch of chips based on its 10nm process (should admittedly be more advanced than TSMC's, and maybe Samsung's) to 2H17 and has changed its manufacturing strategy to feature a third CPU platform launch for a given process. That, in turn, should help out Samsung/TSMC foundry clients such as AMD (NASDAQ:AMD), Nvidia (NASDAQ:NVDA), Qualcomm (NASDAQ:QCOM), Applied Micro (NASDAQ:AMCC), Cavium (NASDAQ:CAVM) and Xilinx (NASDAQ:XLNX) as they battle against Intel products in various markets.
Amazon won't sell non-Prime customers certain movies and video games - The items in question can still be bought by non-Prime Amazon (NASDAQ:AMZN) customers from third-party sellers, but not from Amazon itself. Ars Technica notes such restrictions, which have been showing up for a while, appear to be "temporary and sporadic, and... linked to specific discounts as opposed to brand-new product launches."
Nonetheless, it's further evidence Amazon is bent on signing up as many customers for Prime as possible. The company hiked its free shipping minimum for non-Prime buyers to $49 from $35 in February, and rolled out a $10.99/month Prime option (to go with its $99/year option) a week ago. It has also been rapidly expanding the amount of ground covered by its same-day and 2-hour shipping services, which are free for Prime subs meeting minimum-order thresholds, and has been giving Prime subs a growing number of exclusive discounts.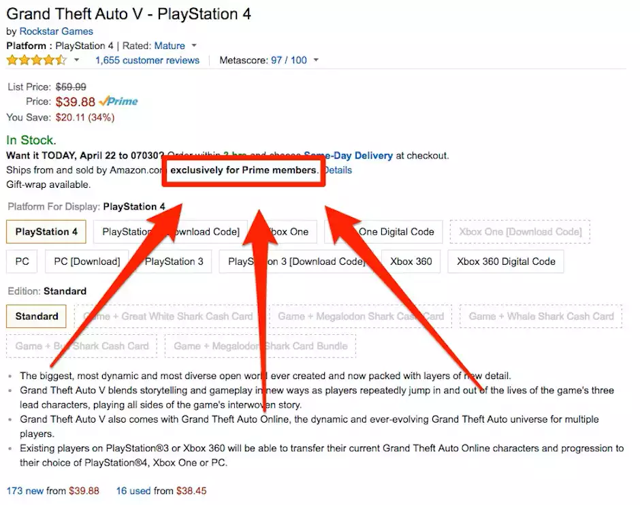 GTA V: Sold exclusively by Amazon to Prime members for now. Source: Business Insider.
Past disclosures indicate Amazon has at least 46M Prime subs (the company refuses to share an official number) within a global active customer base that totaled 280M in 2015. In this year's shareholder letter, Jeff Bezos called Prime (along with Amazon's third-party seller marketplace and AWS) one of Amazon's "three big offerings,"and declared the company wants Prime "to be such a good value, you'd be irresponsible not to be a member." You'd apparently be irresponsible not to sign up for a trial if you want a discounted copy of Grand Theft Auto V.
SecureWorks closes first day of trading right at (lowballed) IPO price - Not the best of debuts for Dell's security services unit, and arguably more evidence of the tougher stance the market is now showing towards tech IPOs involving firms posting substantial losses (see also Box and Pure Storage). This change-of-heart among public investors is having ripple effects on private tech funding and valuations, as VC Bill Gurley recently observed.
Still, I don't think SecureWorks' (NASDAQ:SCWX) debut was bad enough to deter other enterprise tech firms reportedly planning IPOs, such as converged infrastructure hardware firm Nutanix (NASDAQ:NTNX) and cloud-based analytics software firm Domo Technologies (DOMO), if they're intent on going public. The companies and their bankers might just react by pricing a little more conservatively than they once planned.
Baidu creates Silicon Valley self-driving car R&D team, plans to hire 100+ R&D workers - Baidu (NASDAQ:BIDU) isn't a stranger to tapping Silicon Valley's R&D talent pool: Two years ago, the Chinese search giant launched an R&D lab in Sunnyvale (not far from Google's Mountain View HQ) to contribute to its AI efforts. Now, it's creating a Sunnyvale-based team focused on self-driving cars, a field it has already made substantial investments in back in China.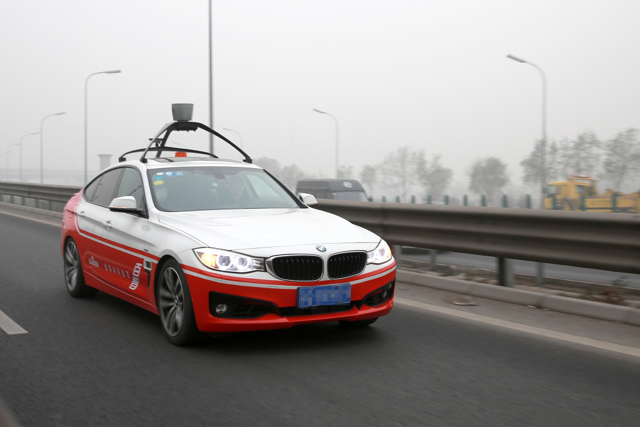 Baidu's first self-driving test car. It's a modified BMW 3-series.
Baidu, which has BMW as a self-driving car partner, appears to still trail Google in terms of developing prototype cars and systems, and (just as importantly) in collecting real-world data on autonomous driving. But as a recent NYT column observed, it's hard to dismiss either the big investments Baidu and other Chinese firms are making in autonomous driving, or the considerable support they're receiving from Beijing and local governments.
Google's DoubleClick unit launches new TV ad services - If you can't fully beat 'em (yet), you might as well help them sell better ads. Looking to profit from a TV ad market still worth over $70B in the U.S. alone (in spite of the efforts of YouTube, Facebook, and others to grab TV ad dollars), DoubleClick is now offering Dynamic Ad Insertion, a service that lets broadcasters deliver TV ads within video-on-demand and online TV streams that are targeted to an individual viewer. It's also launching a service that gives broadcasters more control over what ads run together during an ad break. DoubleClick TV clients include AMC (NASDAQ:AMCX), Cablevision (NYSE:CVC), Roku and Brazil's Globo.
Report: Google is creating a unit that lets employees build their own startups - The Information reports Google is building a startup incubator called Area 120. Teams of Google employees will be able to submit a business plan to join Area 120, and those accepted will be able to work on their project full-time for a few months. Afterwards, they'll be able to pitch Google on creating a new company that the web giant would take a stake in.
Like other tech giants, Google has seen plenty of talented workers depart over the years to launch startups, with some of the efforts proving to be huge successes (Twitter and Instagram come to mind). Area 120 represents an attempt to keep such entrepreneurial workers within the Google empire (to an extent), and profit along the way.
Cisco (NASDAQ:CSCO) has some experience in this field, via "spin-ins" such as data center switch developer Insieme Networks (acquired in full in 2013 for $863M). However, new CEO Chuck Robbins has suggested he's not a big fan of the spin-in model.
Bloomberg: Yahoo gets over 10 first-round bids, offers range from $4B-$8B - Yahoo (YHOO) reportedly wants to narrow the bidder list to 7 before moving on. As previously reported, Verizon (NYSE:VZ) and various P-E firms are bidding, and Yellow Pages owner YP continues its quixotic buyout attempt. SoftBank (OTCPK:SFTBF, OTCPK:SFTBY) is apparently interested in a side deal related to Yahoo Japan (OTCPK:YAHOY) with whoever buys Yahoo - it would gain control of YJ if it acquired Yahoo's stake.
Though I still think Verizon's online media ambitions and ability to drive deeper cost synergies than P-E suitors make it the frontrunner, the drama is far from over. Yahoo is all but guaranteed to keep tech M&A reporters busy over the next few months.
NTT DoCoMo plans to virtualize 75% of its network by 2020 - AT&T (NYSE:T) has already said it wants to virtualize over 75% of its network functions - that is, have them deployed via software running on commodity hardware - by 2020. Now DoCoMo (DCM), by far Japan's biggest mobile carrier, has unveiled similar plans.
DoCoMo argues network functions virtualization ("NFV") - expected by many to lower equipment costs and speed the pace at which network functions are deployed - will let it dynamically re-route traffic. Cisco is involved in DoCoMo's NFV effort, as are NEC, Fujitsu, and Ericsson (NASDAQ:ERIC). Nonetheless, carrier router vendors such as Cisco and Juniper (NYSE:JNPR) could stand to lose, if NFV allows proprietary hardware to be replaced by hardware featuring off-the-shelf processors on a large scale. Brocade (NASDAQ:BRCD), which is targeting carrier NFV deployments via its Vyatta virtual router unit, could benefit.
Noteworthy Tech Commentary and Reports
Barclays: Amazon now offers 4x as many movies as Netflix - Barclays reports Amazon's Prime Video offered 18,405 movies and 1,981 TV shows in the U.S. as of March 29. Netflix (NASDAQ:NFLX), by contrast, had 4,562 movies and 2,445 shows, and Hulu 6,656 and 3,588. It adds Netflix's catalog has shrunk by 28% over the last year. This fits with recent data from AllFlicks stating Netflix's U.S. movie and TV show library have, respectively, declined by 33.2% and 25.6% from January 2014 to March 23, 2016.
Quantity isn't everything, of course: Netflix has significantly upped its spending on original series, exclusive films and hit titles, and many subscribers are clearly fine with the trade-off. But Amazon, which just rolled out an $8.99/month standalone Prime Video option and a $10.99/month option for the full Prime service, can now use catalog size as a selling point.
The Next Platform: Intel Owns The Server, Wants To Own The Rack - Looks at how Intel is trying to differentiate its server CPU offerings amid those of a growing number of rivals - the list includes AMD's x86 server CPUs, IBM's Power CPUs and the ARM CPUs developed by the likes of AMD, Qualcomm and AppliedMicro - by creating end-to-end hardware solutions for the entire server rack. Central to those efforts is Intel's Rack Scale Architecture, which aims to eventually let a server rack's CPU, memory, storage, and networking resources be independently pooled and upgraded, and in doing so let resources be more densely packed and efficiently used.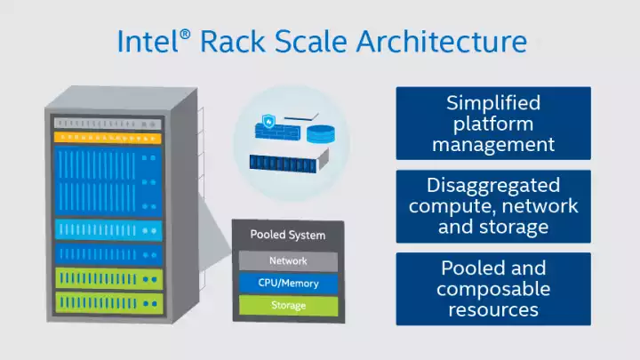 Source: Intel's site
Also part of Intel's server platform efforts: Its high-speed silicon photonics transceivers, its 3D XPoint next-gen memory (developed with Micron), its Xeon Phi co-processors (they compete with Nvidia's Tesla line), its Omni-Path interconnect fabric (connects up to thousands of server nodes, competes with InfiniBand interconnects from Mellanox and others) and chip packages that combine Xeon CPUs with recently-acquired Altera's FPGAs. Some of these solutions will appeal more to specific verticals - for example, Xeon Phi and Omni-Path are targeted in large part at high-performance computing ("HPC") deployments - but their collective result is to give Intel differentiators that don't involve CPU performance or power consumption.
The Information: Microsoft's Silver Lining Is Shrinking - Observes (following Microsoft's FQ3 report) the operating margin for Microsoft's Intelligent Cloud unit, which covers on-premise server software, Azure's cloud services, and enterprise mobility software, fell to 35.8% in FQ3 from 42.9% a year ago. The author argues a mix shift in the unit's sales from on-premise software to Azure is set to pressure its margins long-term.
I think there are some short-term factors - particularly depreciation expenses related to a huge data center buildout - that are pressuring margins. And one has to expect Azure's margins will improve as its scale grows. Still, it's likely the margin on a dollar of Azure revenue won't be on par with that on a dollar of displaced on-premise revenue going forward (Oracle, IBM, and others are dealing with a similar challenge). This needs to be offset by Microsoft's efforts to expand Azure's addressable market beyond the migration of enterprise Windows Server workloads, especially since some of those workloads will inevitably go to AWS and other rival platforms. Some of Microsoft's moves towards the former goal include courting Linux developers and launching Azure IoT and machine learning services.
Dan Grover: Bots won't replace apps. Better apps will replace apps. - Grover, a product manager for Tencent's (OTCPK:TCEHY) WeChat mobile messaging app (now has ~700M monthly active users, with the lion's share in China), argues WeChat has succeeded in getting users to adopt value-added services - he cites sending money and ordering a pizza as examples - by adding app-like features that did away with headaches such as app installation, login, payment, and notifications, rather than by creating a "conversational UI" similar to what Facebook (NASDAQ:FB) and Microsoft are offering through their just-launched chatbot platforms.
For the time being, Grover's argument seems pretty sound. Value-added services provided through WeChat have been adopted en masse by Chinese consumers, and initial reviews for Facebook Messenger bots aren't exactly stellar. But over the long run, as the AI and data relied upon by bots improves, the story could be very different. In some ways, bots are an attempt to take what Google does in providing answers directly within search results to another level. And that's not something that can be pulled off overnight.
Also: Grover calls on smartphone OS providers (read: Apple and Google) to address "pain points" related to notification viewing, app distribution, large app sizes, QR codes, offline storage, payments and contact data usage (among other things), issues that he thinks WeChat, Facebook and other platforms have often been addressing. "I want the first tab of my OS's home screen to be a central inbox half as good as my chat app's inbox… I want my apps - whether they're native or web-based pseudo-apps - to have some consistent concept of identity, payments, offline storage, and data sharing."
Forrester: 4K Applications Beyond Plain Television - Points out how 4K is enabling innovative camera solutions that simultaneously take shots of different areas within a camera's field-of-view, and allow users to cut between shots or pan around a frame. Also observes 8K recording is now on the horizon - a Japanese broadcaster is already running pilots - while cautioning 8K approaches the limits of what the human eye can discern.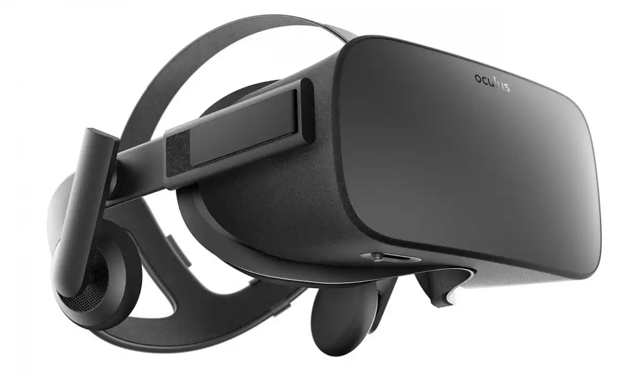 The Oculus Rift delivers a 2160x1200 resolution (1080x600 per eye). Future models could sport 4K-or-higher resolutions.
Gaming, of course, is another non-TV 4K application. VR might be another one in time - the Oculus Rift and other current VR headsets sport lower resolutions due to the massive GPU resources needed to do VR on a 4K display, but the story could be different in a few years. As Forrester notes, higher video resolutions "mean bigger files, more storage and higher bitrates." That's welcome news for the likes of Seagate (NASDAQ:STX), Western Digital/SanDisk (WDC, SNDK), and Micron (NASDAQ:MU), even if 4K's impact on storage use will take time to make its presence felt.
Disclosure: I/we have no positions in any stocks mentioned, and no plans to initiate any positions within the next 72 hours.
I wrote this article myself, and it expresses my own opinions. I am not receiving compensation for it. I have no business relationship with any company whose stock is mentioned in this article.
Editor's Note: This article discusses one or more securities that do not trade on a major U.S. exchange. Please be aware of the risks associated with these stocks.