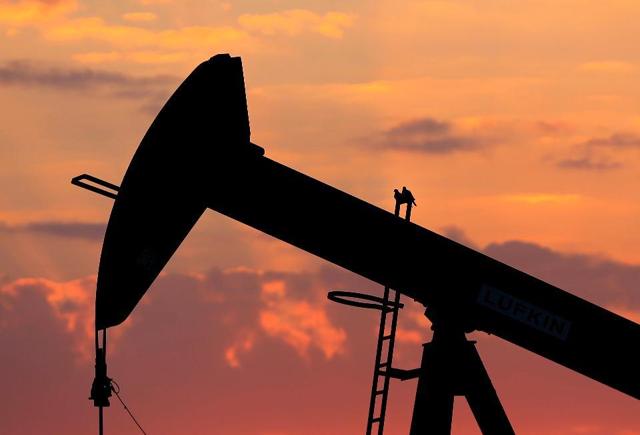 Weatherford International (NYSE:WFT) is set to report Q1 earnings on May 4th. Analysts expect revenue of $1.66 billion and a loss per share of $0.26. The revenue estimate implies a 17% decline sequentially. Investors should focus on the following key items:
North America
In Q1, Halliburton (NYSE:HAL) reported a double-digit decline in revenue on a sequential basis. North American land drillers are suffering, and Halliburton has vowed to work with them during these tough times. The last thing Weatherford needs is more headwinds in North America.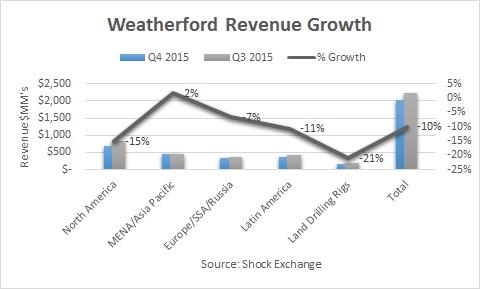 Revenue from North America fell 15% last quarter, versus a 10% decline overall. The region accounts for 35% of total revenue and less than 2% of segment EBITDA. Secondly, Weatherford can ill-afford to match price concessions offered by Halliburton or Schlumberger (NYSE:SLB) in the oil patch. Halliburton and Schlumberger have cash of $10 billion and $14 billion, respectively. I estimate Weatherford's cash at around $550 million - that's after a $630 million equity raise and debt pay downs.
Lastly, the lion's share of the company's $3.2 billion in goodwill is related to its North American operations. In Q4, the company had revenue of $699 million from North America. Segment EBITDA from the region was $5 million, and that's prior to $99 million of corporate costs. After another dismal quarter, the company could be hard-pressed to imply that goodwill is not impaired. A large goodwill impairment charge would reduce equity and potentially hurt Weatherford's chances of securing a new revolver. The current revolver has a debt-to-capitalization covenant of 70%.
Liquidity
Liquidity will be a key area of focus for oilfield services companies amid the downturn in oil & gas E&P. I am on record saying that Weatherford is insolvent. I estimate the company's liquidation value at -$1.6 billion, and that's after its recent equity raise.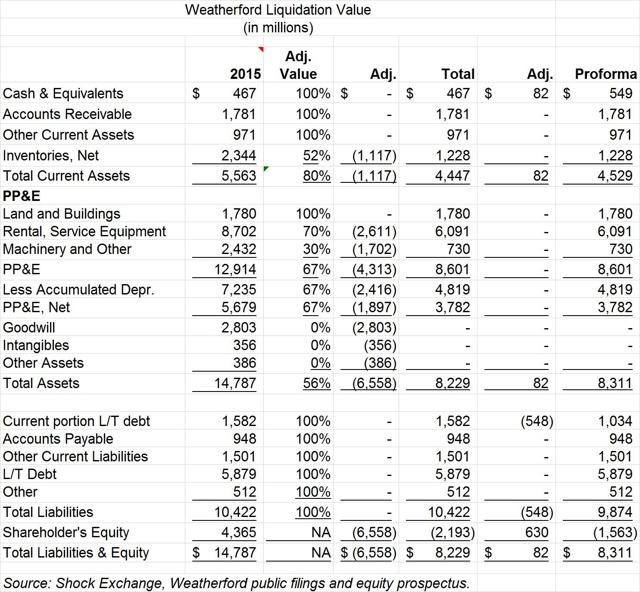 Bulls will likely focus on whether the company has enough cash in the till to meet a $600 million principal payment in Q2 2017. They are also under the illusion that lenders will provide more liquidity if or when the company's $2.25 billion revolver is renewed. The company had $947 million outstanding under the revolver at year end. The proceeds from the equity offering were expected to go to pay down the revolver. Why would lenders require Weatherford to pay down the revolver and then increase the borrowing limit again?
I believe JP Morgan (NYSE:JPM), Morgan Stanley (NYSE:MS) and others with exposure to the revolver will seek to exit the credit before the next principal payment comes due. The new credit limit will likely be at some discount to the company's accounts receivable balance. Included in the accounts receivable is about $205 million exposure to Venezuela. Halliburton and Schlumberger are paring exposure to the country and its state-owned oil company due to a lack of payment. Credit exposure to Venezuela could amplify the company's liquidity strain.
Asset Sales
Weatherford's year-end balance sheet lists over $9 billion in non-current assets, $5.6 billion of which is related to PP&E, land and buildings, rigs and service equipment. If these assets are truly worth $9 billion, then why would management continually seek capital from outside investors? Why not simply sell these assets to shore up liquidity or pare debt? I believe these assets are worth cents on the dollars. If that is the case, then why are they being carried on the balance sheet for much more? These are all great questions that management will hopefully clear up on the earnings call.
Disclosure: I am/we are short WFT, SLB.
I wrote this article myself, and it expresses my own opinions. I am not receiving compensation for it. I have no business relationship with any company whose stock is mentioned in this article.