First-quarter earnings season is off to a solid start. Or so you might understandably believe, depending on what analyst you may be hearing or reading. A common refrain in recent days is that "First-quarter earnings seasons have turned out to be better than expected so far". Hardly ever are these statements challenged with the follow-up questions of "Exactly how?" and "What actual data support this conclusion?" For in reality, first-quarter earnings have NOT turned out better than expected, at least so far. In fact, the results have been markedly worse than what was expected at the end of the first quarter.
Ignore The "Beat"
At first glance, one might think that first-quarter earnings have been coming in much better than expected. Roughly one-quarter of all companies in the S&P 500 Index (NYSEARCA:SPY) have reported earnings as of late last week, and an extraordinary 77% of these 132 companies have "beat" expectations. Unfortunately, this data is all but meaningless, for roughly 70% of companies "beat" expectations in any given quarter, and many times, these resounding "beat" percentages occur despite the fact that earnings for the S&P 500 Index end up coming in meaningfully lower than they were originally forecasted. After all, if more than 70% of companies are "beating" expectations, on average, yet the final earnings number for any given quarter ends up coming in lower than originally forecast, this implies a major disconnect between what constitutes expectations and what is actually reality.
As a result, the earnings "beat" information is all but useless. Instead, it is best to look at the numbers to see what is actually going on.
Earnings Are WORSE Than Expected So Far
At the start of April, just ahead of the beginning of first quarter earnings season, as-reported corporate earnings on the S&P 500 Index were expected to come in at $89.28 per share. This represented a -10.05% decline versus year-ago levels. Looking ahead for the remainder of the year, second-quarter earnings were expected to come in at $94.01 per share, which would be effectively flat versus year-ago levels. Earnings growth was then expected to jump dramatically in the back half of the year with a $99.88 per share reading in the third quarter, which would be +10.17% higher than year-ago levels, and an impressive record-breaking $111.11 per share in the fourth quarter, representing a remarkable +28.41% improvement over year-ago levels. Once again, these were expectations just three weeks ago, at the start of April.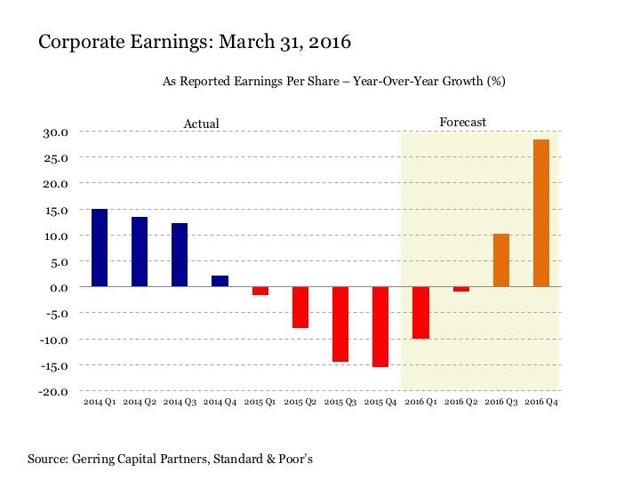 In the three weeks that have passed through April 21, earnings have NOT come in better than expected. They have come in measurably worse than expectations for the first-quarter earnings season so far. With one-quarter of companies already reporting and the remaining three-quarters of companies guiding expectations lower so that they can magically "beat" expectations, first-quarter earnings on the S&P 500 Index are now expected to come in at $88.06 per share, which is -1.37% lower than expectations from three weeks ago and now represents a -11.27% decline versus year-ago levels. Expectations for the remainder of the year are also lower across the board. Second-quarter earnings are now expected to come in at $91.72 per share, which is -2.44% below expectations from just three weeks ago and represents a -3.37% decline versus year-ago levels. Third-quarter earnings expectations have also been ratcheted back by -2.13% to $97.75 per share, which no longer represents a double-digit increase, with just a +7.82% improvement over year-ago levels. And even the remarkable fourth quarter, where all suddenly becomes right with the world, is already showing signs of breaking down, as expected earnings have been lowered by -2.46% to $108.38 per share, which would still set a new record and represents a +25.25% increase over year-ago levels. One should not have their hopes set to high for the fourth quarter, however, as it is very likely that earnings growth could end up being negative by the time we get to next January, when the fourth-quarter earnings season actually gets underway.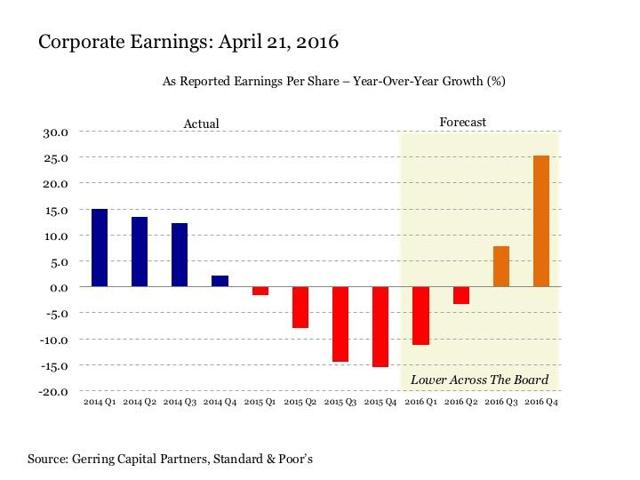 The data makes it clear. Corporate earnings for the first quarter of 2016 are NOT coming in better than expected. They are coming WORSE than expected by as much as -1% to -3%. And this is only after one-quarter of all companies have reported. With a large number of companies reporting in the next two weeks, it is reasonable to expect that these numbers will continue to be revised lower. Until I see developments that would indicate otherwise, I am sticking with my projection for first-quarter earnings to come in the $82-83 per share range by the time reporting season is completed.
It's NOT Just An Energy Problem
Another misconception about corporate earnings is that the decline in earnings is a problem exclusive to the energy sector (NYSEARCA:XLE). Look beyond the energy sector, many say, and earnings are still growing at a healthy rate. Once again, that would be great if it were true, but it is not necessarily so. Indeed, energy along with the materials sector (NYSEARCA:XLB) have been a drag in recent quarters, but both are seeing measurable earnings improvements this quarter. Instead, we are seeing operating earnings fall by double digits on a quarter-over-quarter basis in the consumer discretionary (NYSEARCA:XLY), industrials (NYSEARCA:XLI), technology (NYSEARCA:XLK) and telecom sectors. Consumer staples (NYSEARCA:XLP) is also lower by near-double digits on a quarter-over-quarter basis. Moreover, a number of sectors, including consumer staples, financials (NYSEARCA:XLF), technology and telecom, are lower on a year-over-year basis.
So while the energy and materials sector may have once been the primary detractors to quarterly earnings on the S&P 500 Index, this is no longer the case. And with earnings expectations being revised meaningfully lower across many sectors, it is likely that this pressure is likely to remain more widespread going forward.
Bottom Line
The first-quarter earnings season is NOT off to a good start. Instead, results are coming in below expectations, and are likely to continue to do so in the coming weeks. As a result, for any further increase in the stock market, it is becoming increasingly more expensive for investors, with the underlying earnings underneath the stock market price continuing to shrink. Many investors may not care right now about the price they are paying for stocks in the current market environment, but the markets have repeatedly shown throughout history that valuations eventually matter, particularly when prices are climbing, while earnings are shrinking. This is a risk that investors should not overlook when continuing through the remainder of the year.
Disclosure: This article is for information purposes only. There are risks involved with investing including loss of principal. Gerring Capital Partners makes no explicit or implicit guarantee with respect to performance or the outcome of any investment or projections made. There is no guarantee that the goals of the strategies discussed by Gerring Capital Partners will be met.
Disclosure: I/we have no positions in any stocks mentioned, and no plans to initiate any positions within the next 72 hours.
I wrote this article myself, and it expresses my own opinions. I am not receiving compensation for it (other than from Seeking Alpha). I have no business relationship with any company whose stock is mentioned in this article.