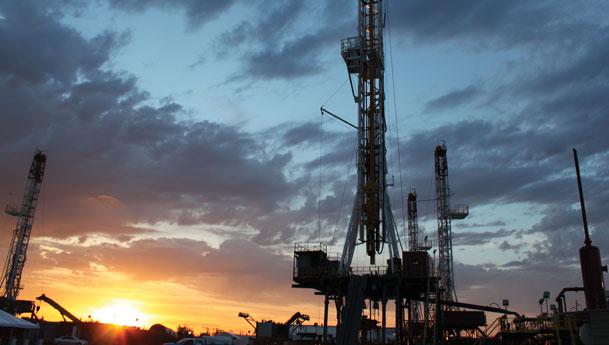 National Oilwell Varco (NYSE:NOV) is set to report Q1 earnings on April 28th. Analysts expect revenue of $2.24 billion and a loss per share of $0.08. The revenue estimate implies an 18% decline sequentially. Investors should focus on the following key items during the quarter:
Diminution In North America
The diminution in offshore equipment sales has been well-documented. The lion's share of the offshore exposure is through Rig Systems (37% of revenue). Longs should also expect management to announce the write-off of $1.8 billion of its Petrobras (NYSE:PBR) - related backlog prior to earnings or in conjunction with earnings. Sete Brasil, the company contracted to build Pertrobras' $20 billion drill ships package, filed for bankruptcy last week.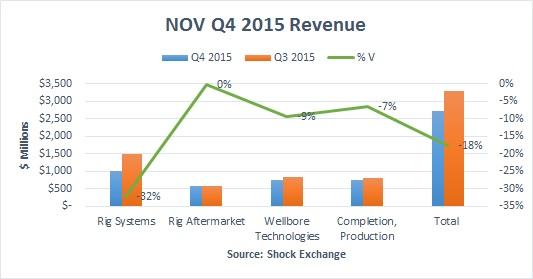 Land drilling operations could trip up the company in this quarter or the next. Last week Halliburton (NYSE:HAL) warned that life has changed for the energy industry, particularly in North America. Halliburton expects double-digit revenue declines in Q1.
National Oilwell has exposure to land drillers through Wellbore Technologies (sells rental and drilling equipment) and Completion & Production (equipment for hydraulic fracking). These two segments represent 55% of total revenue. Last quarter, these two segments experienced sequential declines of 9% and 7%, respectively. Meanwhile, total revenue was off 18%.
The U.S. rig count fell to 431 -- a record low -- for the week ending April 22nd. Idle rigs create spare parts for owners; this could hurt Rig Aftermarket (21% of total revenue) sales as companies might have less need for new parts. That said, Halliburton's warning could spell trouble for product segments exposed to land drilling this quarter.
Waning Liquidity
The company's cash flow from operations fell from $3.4 billion in 2013 to $1.3 billion in 2015. Thinking NOV was cheap, management also engaged in a stock buyback program; the company made a total of $3 billion in share repurchases in 2014 and 2015. In turn, cash fell from $3.5 billion in 2014 to $2.1 billion at the end of 2015. Earlier this month the company slashed its dividend by about 89% in order to stem cash burn.
National Oilwell's liquidity is paltry vis-a-vis its larger competitors. Halliburton and Schlumberger (NYSE:SLB) have cash balances of $10 billion and $14 billion, respectively. Baker Hughes (NYSE:BHI) has cash of $2.3 billion, but is due a $3.5 billion break-up fee if its merger with Halliburton fails. It is paramount that National Oilwell preserve what little liquidity it has left. After downgrading the company's debt to Baa1 from A2 Moody's agrees:
The stable rating outlook is based on Moody's expectations for free cash flow generation and debt reduction. If net Debt/EBITDA rises above 3x then NOV's ratings could be downgraded ... In order for the ratings to be upgraded, gross Debt/EBITDA would need to be sustained below 2.5x, while maintaining sizable cash balances.
National Oilwell's dividend cut could portend that cash flow and liquidity are still in decline. If the company's liquidity continues to decrease unabated it could be disastrous for NOV.
Disclosure: I am/we are short NOV.
I wrote this article myself, and it expresses my own opinions. I am not receiving compensation for it. I have no business relationship with any company whose stock is mentioned in this article.