Introduction
This article is the second in the series where I am analyzing the lithium producers. As discussed in the first article, despite representing a great potential due to supply deficit expectations, emerging lithium producers are usually quite risky investments due to the following factors:
Most small producers are in a constant need for additional capital injections, which results in rising debt and continuous share dilution. In addition, the majority of them have no profits, which makes it quite difficult to compare and evaluate them properly.
Due to their size, emerging producers are usually poorly diversified - many companies (as well as their stock prices) are focusing on 1-2 major projects, often representing large business and geopolitical risk.
The majority of emerging producers are small or even nano caps. Handling such price fluctuations requires much experience and focus, and even the most experienced ones cannot avoid occasional losses when dealing with such securities.
Therefore, the possible options for the lithium investors can be divided into two main directions:
Avoiding small cap lithium producers completely.
Buying the bottoms, selling any long-lasting strong rallies (as these stocks are subject to quite volatile and cyclical sentiment shifts) and avoiding the producers who search for additional financing too often.
Considering the second strategy, one might certainly expect a pullback in the shares of Galaxy Resources (OTCPK:GALXF), which have demonstrated a rally in excess of 60% since the publication of the first part of the article series. The company has recently reopened its Mount Cattlin mine (annual output capacity of 137,000 tons of concentrate), which was closed for more than 3 years after becoming economically unviable.
Here is the performance of the other stocks from the first article (as of April 24, 2016):
One should carefully track the performance of Galaxy Resources now. The company is certainly looking more attractive after announcing the expected production restart at Mount Cattlin (as it suggests that it is finally economically viable to do so). According to Anthony Tse, the company's managing director, "Amid tightening supply, lithium concentrate prices have risen from around $280 a ton in 2012 to around $600 as agreed in our recent sales contracts." In addition to higher lithium revenues, it is reasonable to expect lithium production to represent a larger portion of the company's revenue in the future.
One should not forget about the General Mining's (NYSEARCA:GMM) stake in the project, however.

Source: Media Release of Galaxy Resources (2016).
The Big 3 of the lithium market
Investing in the lithium industry should not be viewed as purely speculative. Despite the increasing number of new entrants, the industry is quite old. Most of the supply is handled by an oligopoly of the 3 largest producers, who happen to be quite stable as opposed to the emerging lithium companies. There is the other side of the coin, however.
All 3 companies are large players in the natural resources industry and are strongly dependent on commodity markets. In addition, only a relatively low part of their revenues comes from lithium. The 3 stocks have a low correlation with lithium prices.
The market's attitude towards these companies is different. These are not "hot" lithium stocks that jump on new contract announcements (as the expected impact on the revenues is smaller), pre-feasibility study results or even stock pump-and-dump schemes. An increase in lithium prices and/or plans to expand production will not make these stocks outperform over an extended period of time unless the commodity bear market ends tomorrow.
Therefore, it is reasonable to assume that unless one wants to end up holding a commodity producer with some exposure to lithium, one should find the company that is the least dependent on the broad commodity market. This is what I am focusing on in this article, as this is the Achilles' heel of the 3 titans of lithium. If this issue was absent, the potential investment would possess both (1) stability and (2) significant long-term potential.
SQM (NYSE:SQM)
Market capitalization: $5.81 billion.
Price/Earnings: 30.5
Price/Book: 2.5
Price/Operating Cash Flow: 11.1
Debt/Equity: 0.09
Current dividend policy: 50% of net income.
A Chile-based worldwide company operating in 5 major areas: specialty plant nutrition, iodine and derivatives, lithium and derivatives, industrial chemicals and potassium. It estimates its market share in these business lines as follows: 47% (spec. plant nutrition), 26% (iodine and derivatives), 26% (lithium and d.) and <3% (potassium).
The company has been producing lithium carbonate since 1997. It produces lithium carbonate and hydroxide as a by-product of potassium in Salar de Atacama, a source of underground salar brines formed through natural leaching from the Andes Mountains. According to SQM, "They contain the greatest lithium and potassium concentrations ever known, in addition to considerable sulphate and boron concentrations [...] If production levels are equivalent to current ones, confirmed reserves of the salar that belong to SQM will last at least for 30 more years." SQM is considered to be the lowest-cost producer due to its high-grade brines.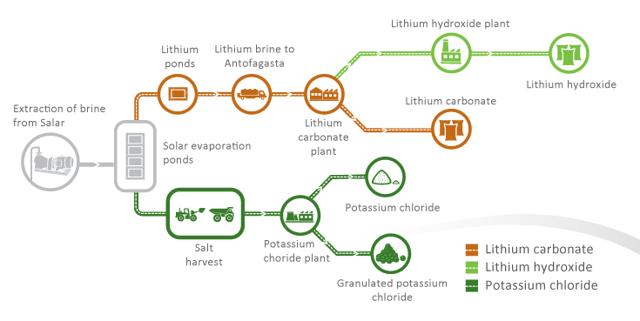 Source: Company Website (2016).
Commodity price performance has been quite a drag on the company's operating performance of late.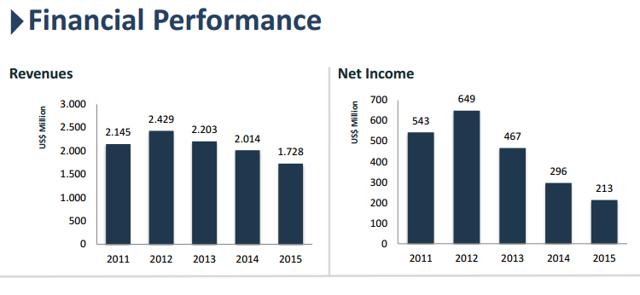 Source: Company Presentation (2016).
Of note is the effort SQM is putting into cost-cutting. Patricio de Solminihac, the company's CEO, said during the Q4 Earnings call: "We continued to work on our cost reduction efforts. The restructuring of our nitrates and iodine operations during 2015 will improve our competitive position in the challenging iodine market by allowing us to further reduce production costs."
Here are the key statements from its market update for 2016. Despite the rising lithium prices, the company does not plan to perform outstandingly this year. In addition, SQM plans to increase its CAPEX to $150 million this year (+35% y-o-y). With a Price/Earnings in excess of 30, the stock may lose steam in case of a risk-off market correction.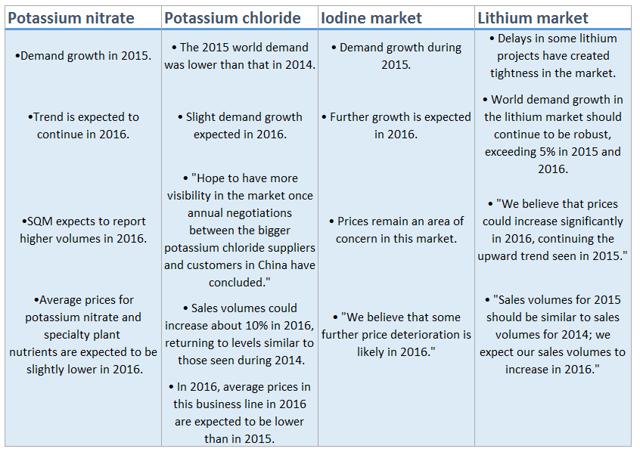 Source: Made by the author using SQM's 2016 Market Update (2016).
This argument is backed by the fact that lithium, the only business line experiencing good performance, is currently not a major contributor to the company's revenues.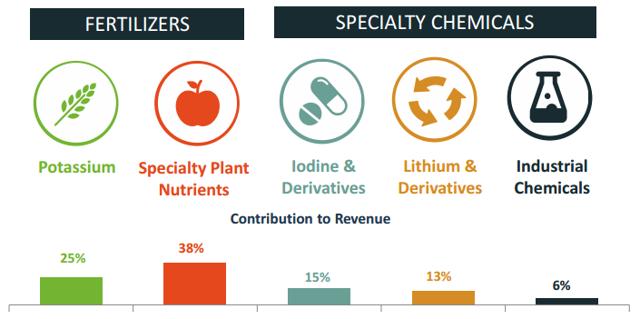 Source: Company Presentation (March 2016).
Will this change? The market has appreciated the recently announced news of a joint venture establishment between SQM and Lithium Americas (OTCQX:LACDF) (even though later, the stock had a brief correction before resuming the uptrend). Under the terms of the deal, SQM bought a 50% stake in Minera Exar (the parent company of Lithium Americas) for $25 million. Minera Exar has been developing the Cauchari-Olaroz project in Argentina, which was believed to be the world's 3rd largest lithium brine resource and was fully permitted for immediate construction and development, according to Mining Weekly. SQM got a good price, as can be seen below.

Source: Mining Weekly (2016).
The acquisition might indeed improve the company's competitiveness in the lithium market and increase shareholder value for the long term. From the announcement:

Source: Joint Venture Announcement (2016).
There is another angle to the story of SQM's recent acquisition, however. Mining.com writes, "SQM, controlled by the former son-in-law of dictator Augusto Pinochet, has been on uneasy terms with the Chilean government in recent months and has previously expressed an interest in tapping resources outside the country." It also notes that the company is in a legal battle with the government over mining rights in Salar de Atacama. Even though the company claims to be compliant with contractual obligations, it is accused of underpaying the royalties, and the Chilean government has already threatened to revoke SQM's license.
Here is an opinion I have found in the comment section of Financial Post's recent article on the 3 titans of the lithium industry. It provides a different view on the issue, which might be of value to investors of both companies.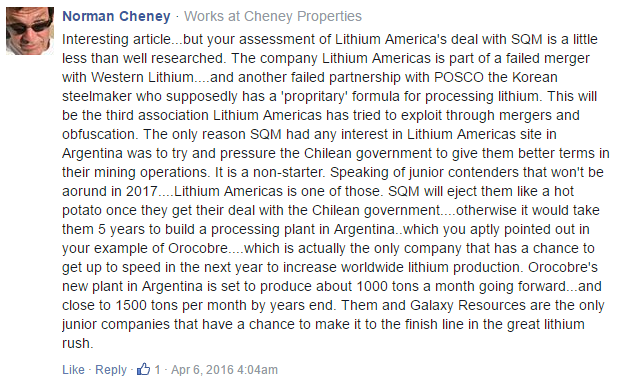 Source: Financial Post (2016).
The company is no stranger to corruption-related scandals. In 2014, Julio Ponce, its former chairman (Pinochet's former son-in-law), has been fined over market manipulation. In mid-March 2015, SQM's former CEO was fired due to the company's involvement in an election campaign financing scandal. "Shortly after the announcement, SQM said it would voluntarily comply with a demand this month by Chile's internal revenue service to hand over tax information for the last six years. Contesse (the former CEO) had tried to block the move but he was rejected by the courts," Reuters wrote. A week later, it published, "SQM says uncovers $11 million in questionable payments linked to ex-CEO." Meanwhile, temporary resignation of 3 board members from Potash Corp. (POT), the company's largest shareholder, made the stock lose a quarter of its value in March 2015.
Julio Ponce left the company's board in September 2015. "Ponce resigned as chairman and director of the four cascading holding companies he uses to control SQM for 'personal reasons,' according to regulatory filings late Tuesday. The shares rose as much as 6.1 percent, the biggest intraday gain since Aug. 10, before closing up 1.6 percent," Bloomberg wrote. Later that year, the stock jumped on news that Ponce is starting to sell his stake in the company. Recently, news came out that SailingStone Capital Partners LLC bought a 20.7% stake in the company and proposed the reelection of Edward J. Waitzer (who is currently the vice chairman of the board) to serve as an independent director.
New year, new scandal. The company is currently under another bribery-related investigation.
The company has a reasonable cash position and is not strongly indebted. However, a brief look at its financials supports the conclusion that one should wait until the commodity bear market ends before considering investing in SQM. It can be argued that the stock could be a good tool for betting on a commodity upturn in the future. Would it be a great bet on lithium as well? Unless the company increases its lithium sales volumes, there will be a noticeable impact, but not the one that many would like to see.
To sum up, if bought at a right time, SQM might be a good bet on commodity upturn given its focus on low costs, market share maintenance and the lithium business line. Given the issues the company faces, it is reasonable to wait for a better entry point, as (1) market corrections, (2) commodity prices and (3) the possibility of negative follow-up stories on the recent scandal will most probably weigh on the stock price over the next 6-12 months.
Albemarle (NYSE:ALB)
Market capitalization: $7.51 billion.
Price/Earnings: 22.1
Price/Book: 2.3
Price/Operating Cash Flow: 20.5
Debt/Equity: 0.98
Current Dividend Yield: 1.77%. The company has been raising its dividend for 22 consecutive years.
A leading specialty chemical company mainly specializing in 4 areas. Albemarle is headquartered in Baton Rouge, Louisiana.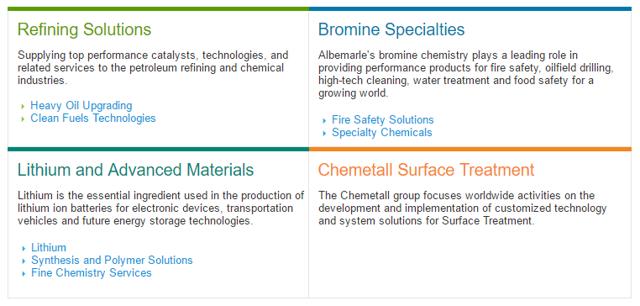 Source: Company Website (2016).
The company acquired Rockwood Lithium on January 12, 2015. Operating as a full subsidiary of Albemarle, Rockwood now handles all of the company's lithium operations. It describes itself as a leader in developing new resources for the production of lithium and a pioneer in brine production. The video on the company website serves as a great summary of its production process and its global presence.
Rockwood Lithium has a 49% interest in Talison Lithium (through Windfield Holdings Pty Ltd.) since March 2014. Talison has a strong position in the Chinese lithium concentrates market and is 51% owned by Sichuan Tianqi Lithium Industries Inc., the leading lithium producer in China. Rockwood Lithium's production and geographical presence is strongly diversified. For a complete map of its operations, please see here.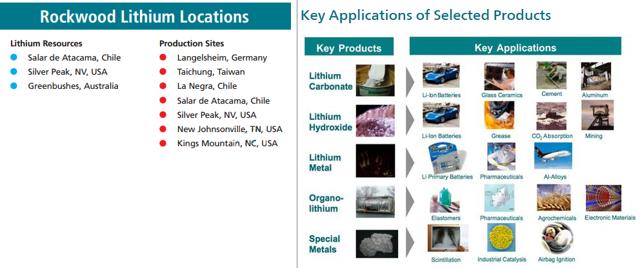 Source: Company Website (2016).
The company puts emphasis on research & development and maintains a close relationship with a wide list of academic institutions. Why is that so important? Albemarle has plans of improving the technology (and economic viability) of recycling lithium EV batteries. It has a recycling pilot plant in Langelsheim, Germany, which was sponsored by the German Ministry of Environmental Affairs.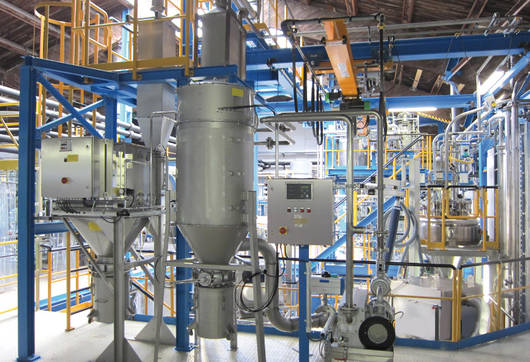 Source: Company Website (2016).
Rockwood is participating in the LithoRec project, the main objective of which is also focusing on the creation of an efficient industrial EV battery recycling solution. The project involves 10 industrial companies and 6 universities, and is funded by the German Ministry of the Environment. The technology would certainly suit Albemarle's lithium business quite well: "The idea of LithoRec is to get as many valuable materials out of the battery as is economically feasible." The figure below demonstrates a visual scheme of the project.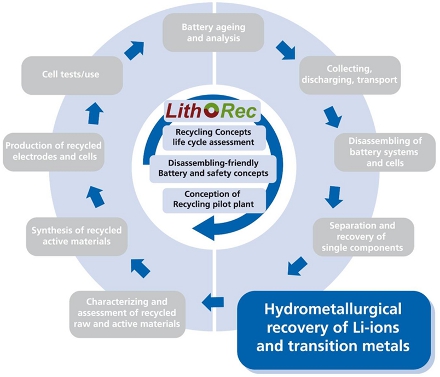 Source: Company Website (2016).
Auto brands are also interested. Here are the most notable participants of the project.

Source: LithoRec II Website (2016).
However, the current state of the project is not clear. From the LithoRec II website: "In the previous LithoRec project, a process chain for the recycling of lithium ion batteries on a laboratory scale was developed. On the basis of a sound life-cycle analysis an economical and ecological favorability has been certified. For recycling in an industrial scale, a further tuning of the individual process steps is required, especially in view of the anticipated range of different cathode materials, and the difficulty of handling large-volume traction batteries." The project has reached its second phase, and there is a mentioning of the Rockwood's pilot plant in the description of Lithorec II on its website: "The central target of the joint project LithoRec II is the material-specific development of the laboratory scale holistic processes of lithium ion batteries for traction applications, the construction of a pilot plant for the mechanical separation of the battery materials and the implementation of all process steps of the recycling chain on a pilot scale." Nevertheless, one should not be too optimistic on the project as long as there is seemingly no relevant information available and it has only been briefly mentioned in a few papers (one might consider checking the German press).
Since May 2015, lithium operations of Albemarle are being led by Raphael Crawford, who also serves as the president in the bromine specialties business line since December 2015. Prior to that, Raphael has been working as a vice president in the synthesis and polymer solutions division. Before joining Albemarle in October 2012, he has been mainly working in the fields of marketing and commerce in companies including Dow Chemical (NYSE:DOW) and Campbell Soup (NYSE:CPB). Other key employees - David Klanecky (VP lithium) and Anne Marie Sauer (global director R&D/NBD lithium) - have a long tracking record of being responsible for research & development.
Due to the acquisition of Talison, the combined lithium output of Albemarle can fall under certain definitions of a monopoly.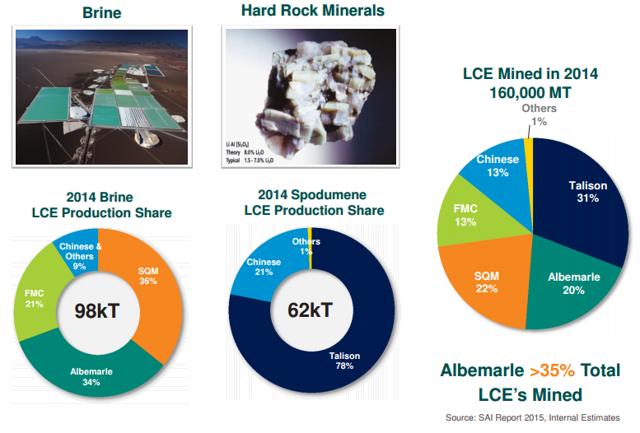 Source: Albemarle's Presentation at Goldman Sachs HCID Conference (March 2016).
In terms of ore quality, its mines in Greenbushes (Australia) and Kings Mountain (U.S.) are the best globally at 2.8-3.3% Li2O and 1.8-2.0% Li2O, respectively. Combined with the company's ambitious expansion plans in Chile, this will have a strong impact on Albemarle's lithium output capacity in the future.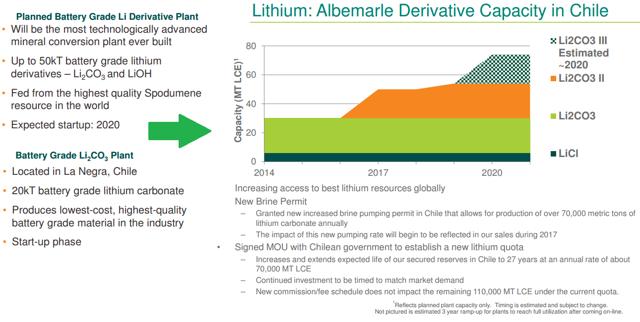 Source: Albemarle's Presentation at Goldman Sachs HCID Conference (March 2016).
The size of the company's market share, in combination with a strong product differentiation will most probably have a large impact on its future competitiveness (and revenues) in the lithium sector.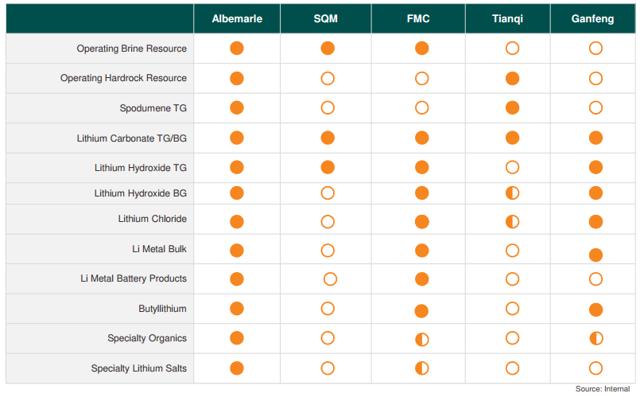 Source: Albemarle's Presentation at Goldman Sachs HCID Conference (March 2016).
The most significant customers of the company include Panasonic Corporation, Syngenta AG, Umicore S.A., Samsung SDI Co. Ltd. and Royal DSM N.V. So, Tesla is not on the list? This might sound frustrating to certain investors, but one should not forget Albemarle's current position in the lithium industry. It can be also argued that the company might become an attractive supplier to consider in case Tesla has supply issues with other (smaller) producers, given its geographical position.
Caveat 1: "Our contract with the Chilean government will remain in effect until the date on which we have produced and sold 200,000 metric tons of lithium in any of its forms from the Salar de Atacama. As of December 31, 2015, the remaining amount of lithium we were permitted to sell under the contract equaled approximately 115,000 metric tons of total lithium [...] the ownership of the land at the Salar de Atacama will revert to the Chilean government once we have sold all amounts of lithium remaining under our contract with the Chilean government" - from the company's latest annual report.
Caveat 2: Albemarle is expected to face certain headwinds coming from its bromine and refining solution business lines, which, given the percentage of the total net sales they account for (64.1% including lithium revenues), are going to weigh on its financial performance until oil prices finally stabilize. The table below summarizes the company's view on its main business areas as described in the latest annual report.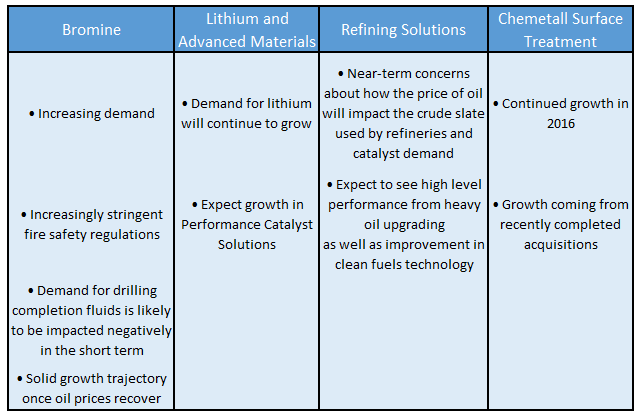 Source: Company's Latest Annual Report.
Caveat 3: Albemarle's liquidity position has strongly deteriorated due to additional acquisitions costs of late. The company does not have any debt maturities until December 2019 ($250 million at 3.00%) and December 2021 (€700 million at 1.875%). From the annual report: "With generally strong cash-generative businesses and no significant long-term debt maturities before 2019, we believe we have and will maintain a solid liquidity position."
Caveat 4: The lithium titans are fierce competitors. Recently, SQM has announced that it is going to challenge Albemarle's expansion in Chile's Atacama region. Here is the link (in Spanish).
It can be concluded that Albemarle has the strongest position and expansion plans in the lithium sector. Unless the company experiences unexpected events that will lead to liquidity issues, it is going to be a strong bottom line performer as soon as the oil-related headwinds disappear. The expectations are high for the company, and so is the stock's current performance. Albemarle's next earnings announcement is scheduled for May 10, 2016. Buying the stock before the announcement might be risky to a certain extent, as the stock has demonstrated a significant run-up (+29%) over the last 3 months. It can be a good short-term holding if one expects the market to stay strong this year. My personal take is more or less neutral, however, as oil-related revenues and the possibility of a market correction will have a negative impact on the stock no matter where the lithium prices go this year. Albemarle's valuation is quite reasonable at current levels, but I would prefer waiting for a better entry point. I am planning to closely follow the company's news and only start accumulating shares below a P/E of 15. In 2008, one could buy shares at Price/Earnings and Price/Book below 1.4 and 8, respectively. The situation might be different this time, but not so different that one should overpay for a stock at a potential market top.
FMC (NYSE:FMC)
Market capitalization: $5.76 billion.
Price/Earnings: -
Forward Price/Earnings: 13.6
Price/Book: 3.1
Price/Operating Cash Flow: -
Debt/Equity: 1.09
Current Dividend Yield: 1.54%
A specialty company serving agricultural, industrial and consumer markets globally. Its 3 main business lines are: FMC Agricultural Solutions, FMC Health and Nutrition and FMC Lithium.
The company has set strong expectations for its lithium segment. From its latest annual report:
Source: FMC's Latest Annual Report.
However, before diving into the company's lithium segment, one should take a careful look at FMC's current financials.

Source: FMC's Latest Annual Report.
Net income for 2015 has been strongly impacted by the sale of FMC Alkali Chemicals, a one-time event.

Source: FMC's Latest Annual Report.
During 2015, FMC has also acquired Cheminova A/S for $1.2 billion. From the annual report: "Revenue of $3,276.5 million in 2015 increased $17.8 million or one percent versus last year. The increase in revenue was attributable to FMC Agricultural Solutions as a result of additional revenue from the acquisition of Cheminova." In order to get this 1 percent, the company has paid a hefty price tag. The company now calls its business "more capital intensive than it has been historically".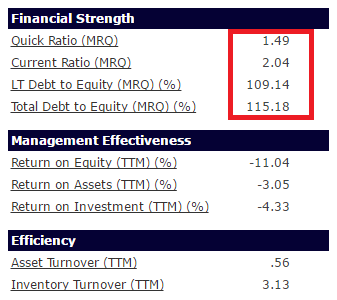 Source: Company Website (2016). Note: The company uses shareholder (instead of total) equity in its calculations.
Low commodity prices have had a large negative impact on FMC's performance. High inventory levels (which have increased over the year), lower insect pressure and negative foreign exchange have been stated as additional key headwinds the company faced in 2015. Sales in Latin America, FMC's main market, declined 18 percent. Depreciation of the Brazilian real, to which the company is the most sensitive (in addition to the euro, Argentine peso and the Chinese yuan), has had a significant impact as well.

Source: FMC's Latest Annual Report.
As of December 31, 2015, FMC had a total debt of $2.149 billion and only $78.6 million in cash, which is concerning (even though the company expects "continued improvement in cash generation" in 2016).

Source: FMC's Latest Annual Report.
Even though FMC expects earnings growth in all of its business segments in 2016, lithium revenues are not going to be a strong catalyst over the course of the year. The FMC Lithium segment was only responsible for 7% of the company's consolidated revenues in 2015.

Source: FMC's Latest Annual Report
Strong revenue driver? In 2015, the lithium segment has been affected by lower volumes of upstream products and weaker foreign currencies, the company notes in its latest annual report.

Source: FMC's Latest Annual Report.
The company is very optimistic on the lithium segment going into 2016, however.

Source: FMC's Latest Annual Report.
Among the 3 lithium titans, FMC's lithium business currently has the least growth potential and is a relatively weak contributor to the company's revenues. Despite the optimistic expectations, company's liquidity position looks quite concerning to me, as one cannot be sure the headwinds it is facing are going to completely vanish in 2016. It has also been mostly following oil downwards since 2014 (correlation of 0.42 with USO over the last 2 years).
Conclusion
To sum up, the 3 titans of the lithium industry demonstrate a significant growth potential.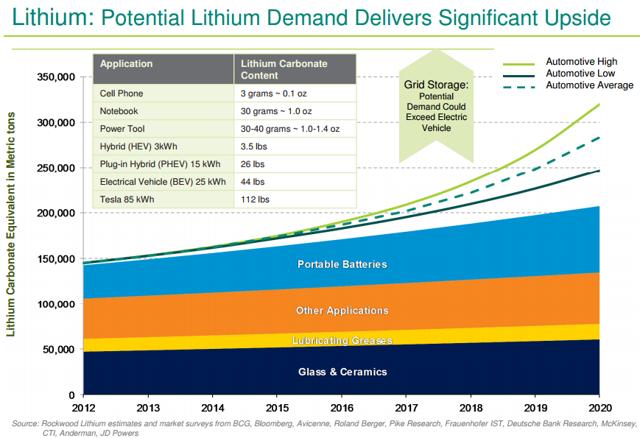 Source: Albemarle's Presentation at Goldman Sachs HCID Conference (March 2016).
However, the commodity price downtrend is going to weigh on the companies' performance for as long as commodity cycle does not reverse itself. Even though lithium prices are expected to continue increasing throughout 2016, it is not certain whether the 3 titans' share prices are going to enjoy the lithium rally in the nearest future. Commodity prices have been undermining their performance for quite a while, and the impact has not been the same among the 3.
At the time being, it is clear that SQM's valuation does not make it an attractive investment given the geopolitical risk the company is facing, and the stock's response to any news follow-up stories related to the ongoing political scandal might be quite stark (and asymmetrical to the downside). The company's plans of increasing lithium output are a big plus for the bullish thesis focusing on lithium, yet it is not strong enough to justify a bullish thesis on the entire stock (company). The next earnings announcement is scheduled for May 18.
Speaking of FMC, a combination of a concerning liquidity position with strong revenue growth expectations makes it a rather "wait-and-see" type of stock. The stock's performance might prove to be discouraging in case the company's key markets disappoint over the course of 2016. Moreover, lithium is a reasonably weak contributor to the company's revenue growth (and thus, the share price) for the time being. Even though FMC is a large producer, its stock is not a 100% direct bet on lithium prices' future. At the same time, Barron's seems to be somewhat bullish on the stock for the short term. The next earnings announcement is scheduled for May 2.
Finally, Albemarle stands out on most of the parameters one might consider when comparing the 3 largest producers. The company has a leading position in the lithium market and is strongly focused on exploiting the opportunities of further expansion. However, one is better off waiting until the commodity price trends demonstrate a certain degree of clarity. The recent run-up increases the chance of a disappointment-based correction in case the company faces problems in areas other than its lithium operations. The stock is certainly a good target to follow until the valuation becomes more attractive. A market correction or even a bear market might create a brilliant opportunity to accumulate shares at a better price. Buying the stock at a mature phase of the bull market might lead to bad timing even if Albemarle's bottom line improves in the nearest future. The next earnings announcement is scheduled for May 10.
Over the long term, SQM, FMC and Albemarle can be viewed as potential investment candidates for more risk-averse investors. Even though junior producers - the main creators of the "lithium hype" - are mostly young and quite fragile, the 3 stocks described in this article have been there for a long time and have no intentions of giving up their respective market share. Even though the "lemon" is getting bigger, these are the stocks that are going to squeeze out the most "juice". As a supplemental argument, here is Sam Volkering's "Why I'm Not Tipping Lithium Stocks".
Disclosure: I/we have no positions in any stocks mentioned, and no plans to initiate any positions within the next 72 hours. I wrote this article myself, and it expresses my own opinions. I am not receiving compensation for it (other than from Seeking Alpha). I have no business relationship with any company whose stock is mentioned in this article.