Retail REITs are off to a formidable start in 2016, up 6.3% YTD (malls +5.0% and shopping centers +7.5%). Fundamentals remain strong, especially shopping centers, as historically low new supply coupled with strong demand continues to support landlords' pricing power.
But not all shopping center REITs are likely to perform well in 2016, as I am primarily focusing on the higher-productivity REITs that are insulated from e-Commerce and I favor - my quality bias - because of the potential positive catalysts that should drive shareholder value in the next few months.
Last week, I wrote on DDR Corporation (NYSE:DDR), an Ohio-based REIT that has managed to bounce back after a near-death experience during the last recession. As I explained, "DDR's value plummeted in 2009 when the company was forced to cut its dividend from $2.64 per share (in 20070) to just $.08 per share in 2010."
As I pointed out, I see upside with DDR because of the continued asset pruning and de-leveraging efforts, the company has reduced risk by increasing asset quality and focusing on prime Power Center properties. In the past five years, DDR has been able to grow FFO per share at a compound annual growth rate of more than 6% (despite selling nearly $4 billion of lower-quality assets, highlighting the ability to manage dilutive events).
I have been watching DDR claw back much of the dividends lost in 2008 and 2009. Since 2013, DDR has grown its annual dividend payout by around 12% per year. DDR hopes to wind down its strategic asset sales program in 2016, thus improving portfolio fundamentals and earnings growth prospects - both catalysts for the stock.
In my newsletter (Forbes Real Estate Investor) this month (May 2016), I have identified five of my top shopping center REITs, ranking them based on a number of metrics such as dividend safety, balance sheet, earnings potential, and valuation. While researching the shopping center sector, I ran across one REIT that has the appearance of a precious stone, and today, I am going to unlock the secrets behind this West Coast gem.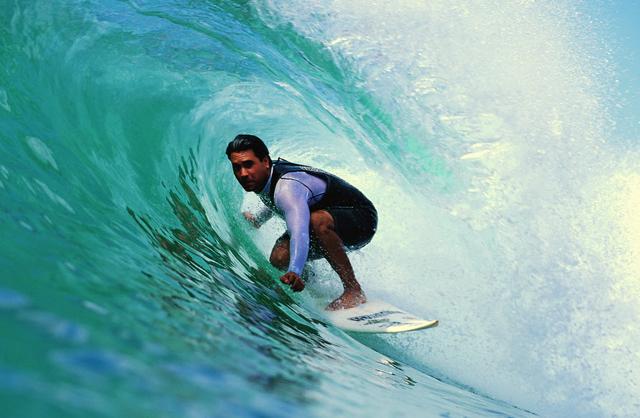 Battle-Tested?
Around 2008 Retail Opportunity Investments Corporation (NASDAQ:ROIC) got its start from cash raised through a special purpose acquisition company (or SPAC). In essence, a blind pool with $400MM of cash at the trough of the real estate market.
Accordingly, CEO, Stuart Tanz, took advantage of the situation to start buying properties in familiar West Coast markets where Pan Pacific (the company Tanz previously ran) had deep experience (and strong relationships).
So when the last recession officially ended, ROIC was ready to list shares on Nasdaq (in November 2009) and begin to take advantage of the disruption in the retail market.
To make it clear, my first encounter with ROIC was not a blind date. The company's core management team consists of its current President and CEO Stuart Tanz and several other leading shopping center veterans.
Although ROIC has not been "battle-tested," its CEO and management team certainly have. Tanz is no stranger to the shopping center business as he was the former CEO of Pan Pacific Retail Properties Inc. where, during his nine-year tenure, he grew the company's market cap from $447 million to around $4 billion.
Through a series of consolidative acquisitions, PNP purchased around $2 billion of retail assets (over 18 million square feet), and later PNP was sold to Kimco (NYSE:KIM) for around $4.1 billion (in 2006).
Another notable shopping center veteran, Richard Schoebel (currently COO at ROIC), was also directly involved in the success of PNP where he directed leasing and property management for around 38 shopping centers (and over 5 million square feet). With a long career in creating value, Tanz and his team have integrated a proven development and redevelopment platform with a proven track record for repositioning assets and identifying inefficiencies in the retail sector.
As evidenced by the early enthusiasm with ROIC's IPO, Tanz's track record (at PNP) was fundamental to the success of the investment model. During the period of PNP's public ownership, the company provided a 529% total return, compared with 355% for shopping center REITs, and 67% for the S&P 500 over the same period.
So clearly, Tanz brings a veteran bench over to ROIC and included is a formidable culture for profitability and success.
Keep in mind that because there is a greater amount of discretionary equity required to buy (and refinance) commercial real estate, ROIC entered the public markets at a perfect time by capitalizing on market place inefficiencies (distressed with developers over their skills due to higher LTV ratios). Here's a snapshot of ROIC's performance since its IPO.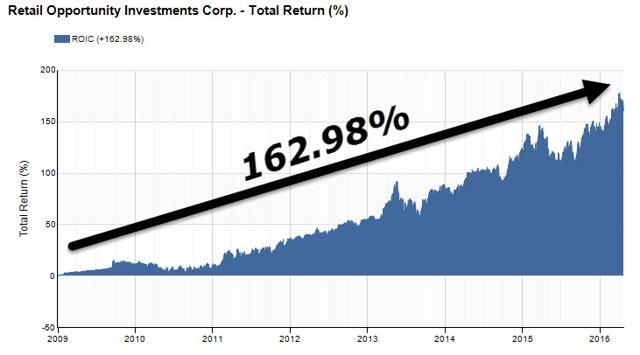 I also want to point out that I became a shareholder in ROIC in October 9, 2013, and since that time, my shares have returned 54.92%, beating both the S&P 500 and SNL Equity REIT Index by a wide margin.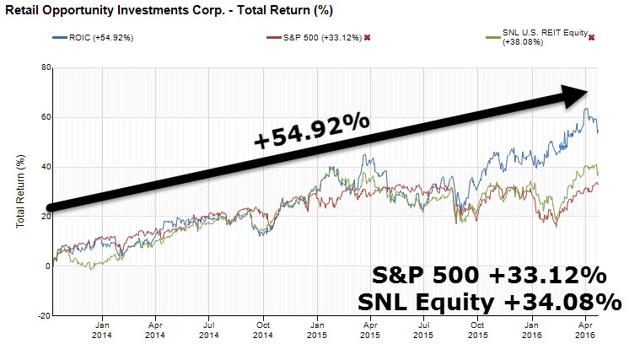 Here's a snapshot illustrating how my other retail REIT holdings compare to ROIC since October 9, 2013 (when I initially purchased shares in ROIC):

Secret #1: The West Coast Portfolio
To begin with, let's take a look at one key differentiator for ROIC, as you can see below, all of the shopping centers are located in desirable West Coast metropolitan markets.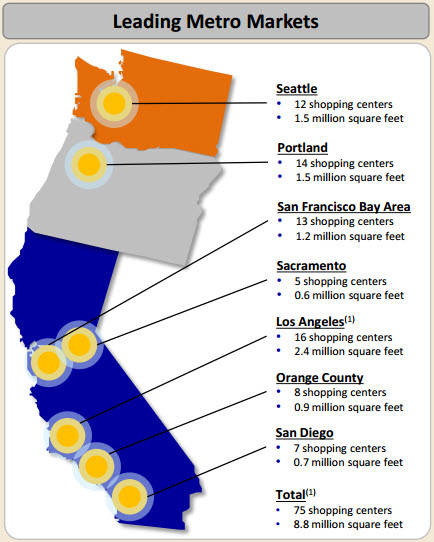 Within these markets (Seattle, Portland, San Francisco, Sacramento, Los Angeles, Orange County, and San Diego) ROIC owns shopping centers that are well located in the heart of mature, affluent communities.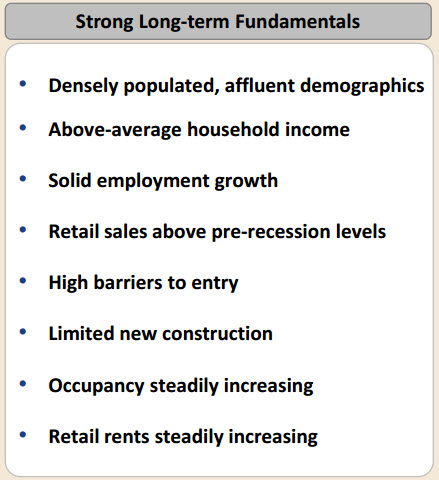 Keep in mind that because ROIC commenced as a new equity REIT (in 2009), it has no legacy assets and the company originally targeted 11 of the top 15 U.S. retail markets - all enjoying strong, densely populated trade areas with lower unemployment.
Also, these top tier markets enjoy above average household income levels and disposable income to support the retail investment model. In addition, ROIC was targeting markets deemed historically difficult for new development, as zoning tends to be more restrictive.
As ROIC began to build the portfolio (in 2009 and 2010), it acquired performing and non-performing loans at discounts to the long-term intrinsic values. However, over the last several years, the company has shifted its focus on stabilized, high-quality, well-located, grocery-anchored shopping centers, where the company can build value through increasing occupancy and rents as leases roll over. Here's a snapshot of ROIC's growth in Assets since 2009:

With over $2.13 billion in Total Assets and over 1,540 tenants, ROIC has been able to diversify its business model. As you can see below, ROIC has a diversified revenue stream with many recession resistant tenants listed in the Top 10 list (i.e. Albertsons (NYSE:ABS), Kroger (NYSE:KR), Savemart, CVS (NYSE:CVS), and Rite Aid (NYSE:RAD)).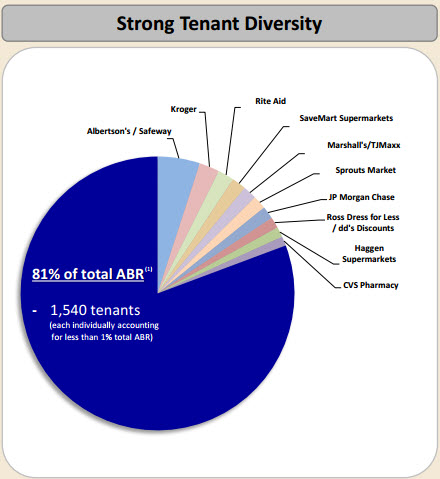 By owning a high percentage of grocery-anchored centers, ROIC has been able to recapture leases and replace those with stronger retail with higher rents. As the new tenants take occupancy and start paying rent, ROIC expects to see a positive impact to same-center cash numbers.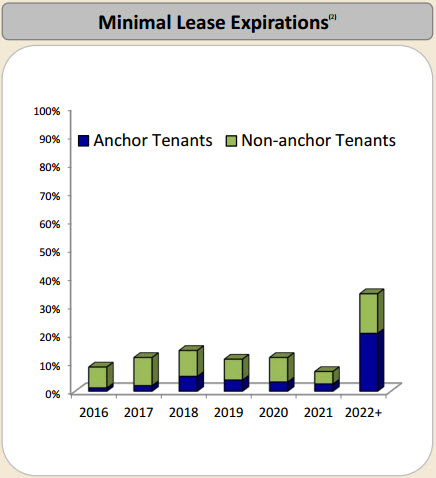 ROIC posted another very strong year in 2015 on the property operations front. The company leased a record amount of space during 2015 and for the second year in a row achieved a portfolio lease rate above 97%. Specifically, ROIC ended the year at 97.2% including having 33 of 75 shopping centers at 100% leased, which is a new record. Breaking the 97.2% number down between anchor and non-anchor space, at year-end 2015, ROIC's anchor space was 99% leased and the shop space was 95% leased.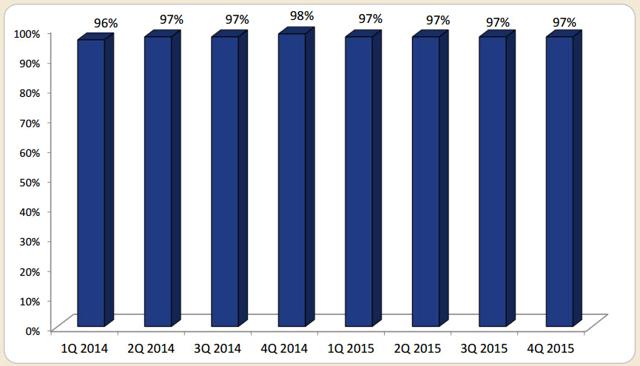 Secret #2: The Fortress Balance Sheet
ROIC raised ~$543 million of capital during 2015, and issued common shares through the ATM program as well as through a public offering at a blended price of $16.70 per share, raising a total of ~$97 million of equity.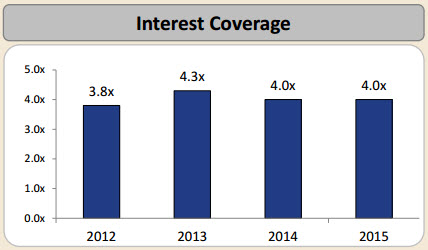 Also ROIC closed on a new $300 million unsecured term loan (in September) and in December issued operating partnership units (or OP units) based on a value of $17.29 per unit on average equating to approximately $146 million. At year-end, ROIC's total cap was approximately $3.991 billion, here's how market cap compares with the peer group:

ROIC's debt outstanding equates to a debt-to-total market cap ratio of just 33% and with respect to the $991 million of debt outstanding, the vast majority of that is unsecured.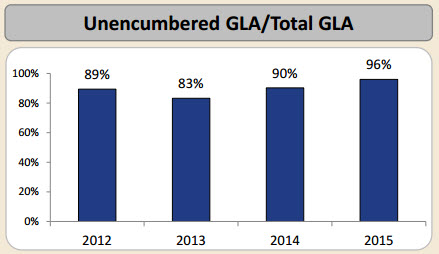 At year-end, ROIC had only $63 million of mortgage debt outstanding - over 96% of the portfolio in terms of gross leasable area was unencumbered at year-end.

In terms of ROIC's credit line, at year-end, the company had $136 million outstanding meaning there was over $360 million available on the line. Additionally, both the credit line and new term loan have accordion features providing ROIC with another $700 million of incremental capacity.
One other note, during the first quarter of 2016, ROIC fixed $100 million of its variable rate debt through two swap agreements. Taking that into account around two-thirds of ROIC's debt is now effectively fixed rate.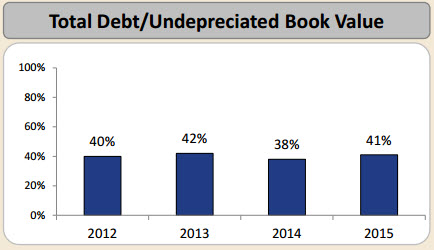 So now you can see that one of the secrets to ROIC's success has been its balanced approach to funding growth. By maintaining a conservative and flexible investment grade balance sheet (33% debt, 4x interest coverage, and well-laddered maturities) this sweet little West Coast REIT has become a gem to own.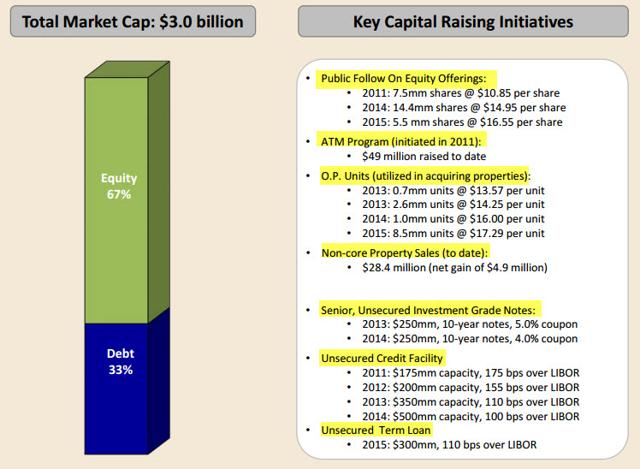 Secret #3: Predictable Profits
By combining its West Coast expertise with its fortress balance sheet, ROIC has been able to produce highly predictable profits. As you can see below, ROIC has grown assets by an average of 35% per year since 2011.

But it's clear that this REIT is not "empire building," instead its mission is to grow returns for investors. As you can see below, ROIC has a tactical investment strategy in which it seeks out high-quality shopping centers that generate above-average growth in its core markets.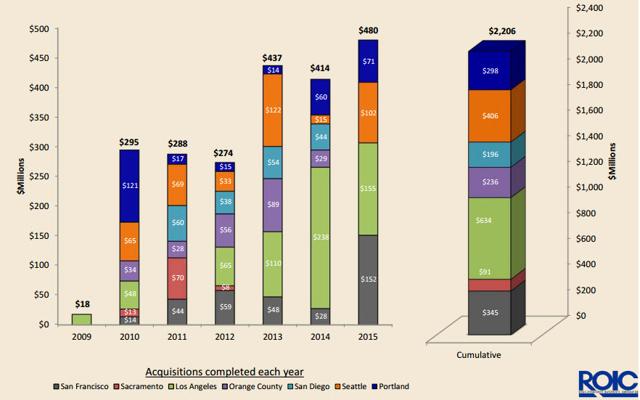 As illustrated below, ROIC has consistently acquired new assets: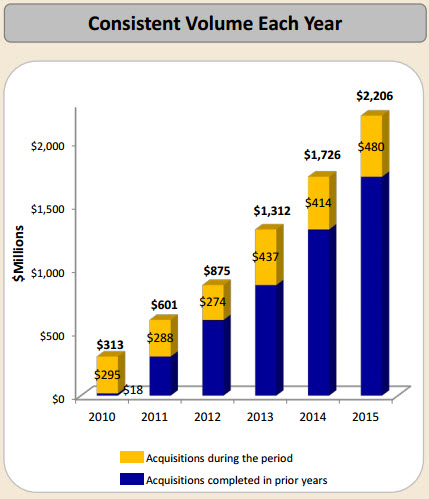 Remember, as I explained above, ROIC's management team has a long track record in the shopping center business so it has the ability to source off-market deals. By acquiring off-market centers, ROIC generates above average returns (~50 bps above market) and also many of ROIC's deals are acquired using OP units (a cheap form of currency).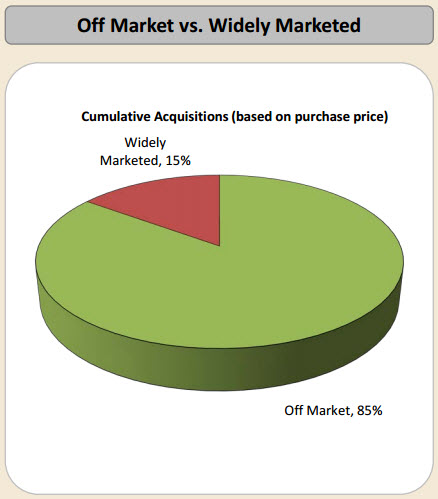 In 2015, ROIC closed on a record number of acquisitions surpassing its stated target of acquiring $300 million for the year. 2015 proved to be the company's most successful year-to-date completing the total of $480 million of grocery-anchored acquisitions for the year. On the recent earnings call, Stuart Tanz (ROIC's CEO) explained,
Our success on the acquisition front is driven by three key factors.

First is our ongoing ability to source attractive off market opportunities, capitalizing on relationships that we worked hard to cultivate over the past 25 years.

Second by having a strong presence in multiple metropolitan markets up and down the West Coast we are able to generate a sizable pipeline of opportunities, which enables us to not only be highly disciplined in selecting the best most attractive transactions, but it also enables us to grow our presence in a geographically balanced manner.

In fact, during 2015 we acquired properties in four different core markets, including adding grocery-anchored shopping centers to our San Francisco, Los Angeles, Portland and Seattle portfolios.

The third distinguishing factor is one that has taken shape in 2015 utilizing our currency in the form of OP units to acquire well-established grocery-anchored shopping centers, properties that are situated in highly sought-after irreplaceable locations that are rarely ever traded.

In fact, three out of the four shopping centers that we acquired most recently in December involved OP units. Had it not been for the seller's desire to take ROIC currency we would not have been able to acquire these exceptional properties nor on such attractive reasonable terms.
The sum of ROIC's success can be "summed up" in regards to the reliable and predictable earnings (or FFO) growth. In Q4-15, ROIC had $51.3 million in total revenues and $16.3 million in GAAP operating income as compared to $41.7 million in total revenues and $11.7 million in GAAP operating income for the fourth quarter of 2014.
For the full-year 2015, ROIC had $192.7 million in total revenues and $59.3 million in GAAP operating income as compared to $155.9 million in total revenues and $43.8 million in GAAP operating income for 2014.
On a per share basis, FFO in Q4-15 was $0.25 per diluted share, representing a 19% increase of FFO per diluted share for the fourth quarter of 2014. FFO for the full-year 2015 was $96 million as compared to FFO of $74.6 million for 2014. On a per share basis, FFO increased 12.9% from $.85 per share to $0.96 per share for 2015.

ROIC recently announced that the board has increased the dividend by 5.9% representing the sixth year in a row since the company commenced operations in 2009. Here's a snapshot of the dividend history:

In 2016, ROIC expects FFO to be between $1.00 and $1.04 per diluted share for the year and acquisitions guidance assumes the company will acquire approximately $300 million of shopping centers during 2016 at going in cap rates between 5% and 6% on average. As you can see below, ROIC has maintained a satisfactory payout ratio:

Is There Any Shine Left?
If you own ROIC (like I do), you are likely saying to yourself, "what a great pick" but for those who have not been as fortunate (or perhaps you're looking to add more shares) the question is "has ROIC lost its shine"?
To answer that question, let's take a look at the company's dividend yield compared with the peer group:

Before you click on another article, I suggest you keep reading. I know 3.8% is not a huuuuuge (enough of Trump, I couldn't resist) but there could be more value…
Let's now examine ROIC's P/FFO multiple compared with the peer group:

Don't leave me yet. I agree, it looks like ROIC is a tad expensive, but you must remember that the premium is warranted. As I explained above, ROIC invests in West Coast assets where demand for properties could have an outsized impact on shares due to the company's 100% focus on QUALITY.
Also, to drive organic growth, ROIC should be able to close the gap for its leased and occupied shop space as well as drive values when below market anchor leases roll.
Better said, wouldn't you want to own a low-leveraged, grocery-focused, West Coast REIT when the next recession hits?
But we all like bargains, and ROIC has no specials today, at least that's what Mr. Market is telling us: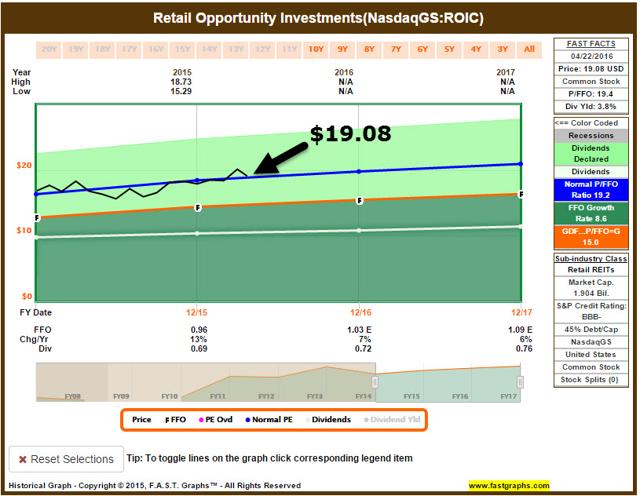 Shares appear to be soundly valued and my bargain instincts tells me that the best time to buy this West Coast gem is when there's a better margin of safety. I decided to increase my Fair Value (buy) target from $17.00 to $18.00.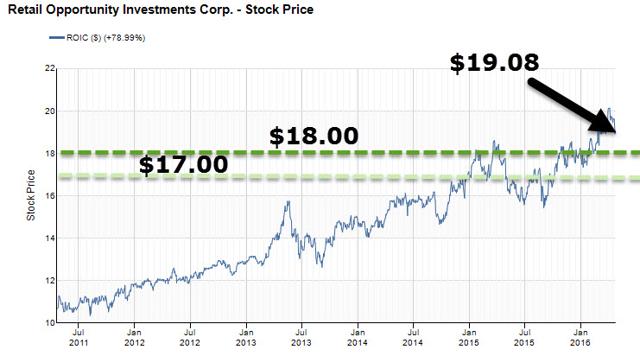 ROIC reports Q1-16 earnings on April 27th and the earnings call is April 28th.
Author's Note: I'm a Wall Street writer, and that means that I am not always right with my predictions or recommendations. That also applies to my grammar. Please excuse any typos, and I assure you that I will do my best to correct any errors if they are overlooked.
Finally, this article is free, and my sole purpose for writing it is to assist with my research (I am the editor of a newsletter, Forbes Real Estate Investor) while also providing a forum for second-level thinking. If you have not followed me, please take five seconds and click my name above (top of the page).
The only guarantee that I will give you is that I will uncover each and every rock I can, in an effort to find satisfactory investments that "upon thorough analysis promises safety of principal and satisfactory return. Operations not meeting these requirements are speculative." (Ben Graham).
Sources: SNL Financial, FAST Graphs, ROIC Filings.
REITs mentioned: (NASDAQ:WHLR), (NYSE:WSR), (NYSE:UBA), (NYSE:EQY), (NYSE:FRT), , (NYSE:RPAI), (NYSE:REG), (NYSE:WRI), (NYSE:RPT), , (NYSE:WPG), (NYSE:BRX), (NYSE:UE), (NYSE:AKR), and (NYSE:KRG).
Disclaimer: This article is intended to provide information to interested parties. As I have no knowledge of individual investor circumstances, goals, and/or portfolio concentration or diversification, readers are expected to complete their own due diligence before purchasing any stocks mentioned or recommended.
Disclosure: I am/we are long O, DLR, VTR, HTA , STAG, GPT, ROIC, HCN, OHI, LXP, KIM, WPC, DOC, EXR, MYCC, BX, TCO, SKT, UBA, STWD, CONE, BRX, CLDT, HST, APTS, FPI, CORR, NHI, CCP, CTRE, WPG, KRG, SNR, LADR, HCP, PEB.
I wrote this article myself, and it expresses my own opinions. I am not receiving compensation for it (other than from Seeking Alpha). I have no business relationship with any company whose stock is mentioned in this article.