General Electric (NYSE:GE) was a long time favorite long of mine as I liked its combination of industrial and bank earnings. The decision to sell off GE Capital, however, instead of spinning it out was a sizable negative for me, and since that decision was made, I've been an outspoken critic of GE. That is, until it reported Q4 earnings. and at that time, I declared I was wrong about GE. Shares were $28 at the time and have since risen above $30, but with relatively weak Q1 earnings out, it seems buyers have less conviction for the moment.
(click to enlarge)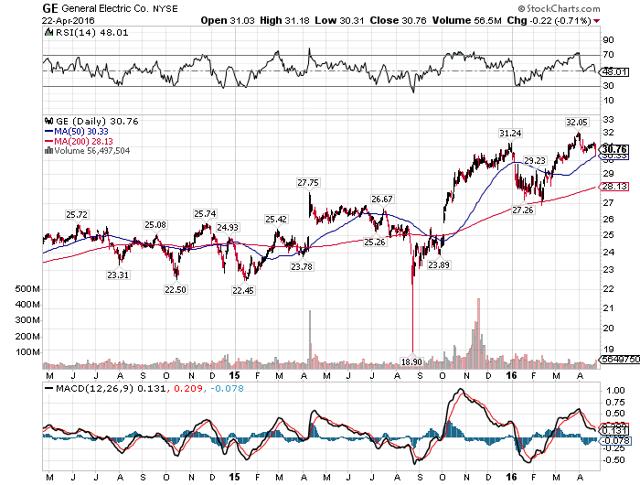 GE shares have shown a lot of strength in the months since the GE Capital plan was announced and to be honest, given the nature of the Q1 report, I'm a little surprised shares didn't trade down more than they did. Total revenue grew nicely but GE's recent spate of acquisitions helped there. Indeed, orders were +1% overall but -7% on an organic basis. Likewise, the backlog grew 18%, but if you exclude Alstom (OTCPK:ALSMY), the number was +7%. GE's reports are complicated due to the diverse nature of its businesses, but one thing was clear when looking at the press release; GE's revenue picture wasn't quite so rosy in Q1.
Indeed, that extended to its profits as well as industrial operating profits were flat on an organic basis and minus three percent on a reported basis. The story for years with GE has been operating margin expansion as the company's focus there has been well publicized and very successful. But with Q1's weak results in both revenue and operating profits, it seems GE is at best taking a pause and at worst, seeing margins top out. I don't think margins have hit their ceiling yet but this, perhaps more than any other metric, should be watched carefully as GE reports throughout the year.
To its credit, the Capital portfolio is being sold off at a much faster rate than first thought, a testament to the quality of the assets being divested. I favored a spinoff of Capital but since that didn't happen, this is the next best thing. GE has signed for $166 billion of Capital assets to be sold and at the rate it is going, could easily hit $200 billion by the end of this year. We'll see what it ends up looking like but the sales of Capital assets are funding enormous capital returns to shareholders; the biggest single driver of growth right now for GE.
GE bought back $6.1 billion of stock in Q1 as it continues to make good on its promise to use Capital proceeds to buy back shares. This is of the utmost importance because the former version of Capital used to contribute 40% or 50% of GE's total profit; with that number quickly dwindling, the only way for GE to maintain its former levels of EPS is to retire shares. It is certainly going to take a long time for this to play out, so if you own GE, you must exercise patience and have a long-term view. The share count was down 7% Y/Y as GE has put the larger buyback into place, and I expect we'll see a greater percentage decline as the year wears on and the buyback has more time to work.
The fundamental picture, for me, faded a bit in Q1. The company's rapid sale of Capital assets is providing lots of cash, but it is also very rapidly removing a formerly strong source of earnings. While the cash infusions are welcome, GE needs to find a way to turn that cash into EPS growth, and the only way to do that is to buy back stock. GE has promised to continue to buy back large amounts of stock - which is fine - but that only works if the industrial business remains strong. Q1 was not a strong quarter regardless of how you slice it, and that has me concerned for GE's longer-term picture. If the new GE is going to post flat operating profits, perhaps the Capital asset sales aren't the best idea. At any rate, that is the chosen path and there is no changing it now, so we must value GE on the information we've just received.
The Oil & Gas and Transportation businesses fell off a cliff in Q1, but their marked weakness was offset by strength in the Power and Aviation businesses. The Oil & Gas weakness is easy to understand but is no less painful, although a turnaround in that business should be easier to see should commodity prices continue their recovery. Still, GE's mixed revenue picture doesn't bode well for year one of the new, industrial-focused GE.
It seems analysts are as pessimistic as I am as next year's revenue number is expected to be flat. At the same time, buybacks are expected to contribute massively to GE's EPS growth as that number should rise in the mid-teens. But what happens when the money from Capital sales dries up? GE won't have a massive influx of cash forever so what if industrial earnings remain flat on an organic basis? It could happen, and if it does, GE would prove to be very overvalued at current levels. And at better than 20 times this year's earnings, GE is hardly cheap. For a story built entirely upon acquisitions and buybacks, it would seem $31 is too high a price to pay.
That being said, the stock has shown tremendous technical strength since the day the Capital plan was announced. Shares have made higher highs and higher lows and the 50DMA and 200DMA are both steeply rising. The pullback to the 200DMA in February was met with torrid buying, so some big money stepped in to send shares higher. You can't fight the tape, but GE's Q1 has cast some serious doubt for me upon its ability to grow the industrial business at a pace that is sufficient to sustain a 20+ PE indefinitely.
GE was good for a trade at $28 but at $31 - after a weak Q1 - it looks expensive to me again. The strength in GE's core industrial segments was offset by weakness elsewhere as GE's diversification works both ways. The buyback will juice EPS growth in the near term, but long term, GE needs margin expansion to sustain its valuation. Can it do that? Sure. Will it? That remains to be seen. Q1 certainly was not a good start to 2016, and for that reason, I think the bias is to the downside until further notice.
Disclosure: I/we have no positions in any stocks mentioned, and no plans to initiate any positions within the next 72 hours. I wrote this article myself, and it expresses my own opinions. I am not receiving compensation for it (other than from Seeking Alpha). I have no business relationship with any company whose stock is mentioned in this article.