Warren Buffett has stated, "Be greedy when others are fearful and fearful when others are greedy." I think the former sums up Chipotle (NYSE:CMG) at the moment. The fast-casual chain announces its fiscal first quarter earnings on the 26th of April and sentiment is extremely bearish. I would advise investors and my followers not to short this stock at these levels because there are just too many sound fundamentals surrounding the stock despite the huge problems it has had with the E. coli breakout in multiple states across the U.S. over the last six months.
Chipotle is still a growth stock and that's what investors will be tuning in to confirm in the earnings announcement later this month. Here are three strong reasons why I would not consider shorting this stock at these levels.

First, if you look up the S&P 500 (NYSEARCA:SPY), you can see that the 7-year trend line has been broken (see chart below). All the technicals on the S&P 500 are extremely bullish and what investors need to realize here is that with the quantitative easing we have had since 2009, many stocks have doubled, tripled or even quadrupled in value in that time period. In fact, the S&P 500 has gone from 666 in March 2009 to over 2,100, but earnings have not increased at the same pace of stock prices. Furthermore, as I have outlined in previous articles, the stock market could enter a bubble phase which would mean 12 months of rising prices ahead of us. Therefore, even if Chipotle struggles to better analysts' earnings estimates this year, it still could have the tailwind of a rising stock market. Think this can't happen? Well all you have to do is remember when the Greek stock market was on its knees but then rallied a whopping 40%+ in a very short space of time after the European Central Bank intervened. So I would be weary to short at these levels for that specific reason.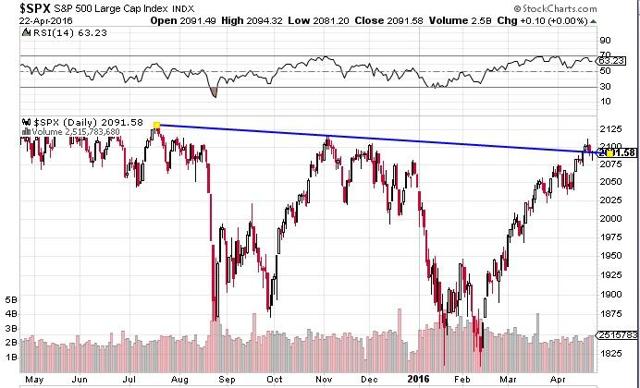 A second reason I would not short this stock at the moment would be the ongoing buyback programs the company has been undergoing. If we look at its cash flow statement, we can see that over $400 million of stock was bought back in 2015. Furthermore, almost $800 million of stock has been bought back over the last 5 months. Therefore, the pace is increasing. Now, at the end of 2015, Chipotle had $1.3 billion of cash on its balance sheet. Now, if the pace of current buybacks continue, this cash will eventually run out. However, buybacks are going to temporarily increase earnings and because sentiment is so negative at the moment, any earnings beats in the 2nd and 3rd quarter this year are going to again put a floor on the stock price temporarily.
Thirdly, investors should remember that Chipotle dominates the fast-casual segment in the U.S. Morningstar feels that the fast-casual segment will grow by 7% on a rolling-year basis over the next 10 years which demonstrates a growth sector. However, I believe it will take 12 months to restore its traffic numbers, but I do feel that its premium brand has massive pricing power associated with it. Its food integrity logo definitely enables the company to charge more to its customers than other competitors in this space.
The marketing spend ballooned to $50 million in the 1st quarter, which is a company record, but if marketing can revolve around the new safety measures, then this could end up being a very good long-term investment for its brand.
So to sum up, Chipotle can achieve its earnings per share target of over $13 in 2017. It needs to aggressively continue with its store openings and really hammer home its "Food With Integrity" philosophy. The present problems the company is going through will blow over and we should be looking at a Chipotle definitely above at least $550 in 12 months' time. Here is how we are going to play this. We could sell the cash secured put of $440 in January of next year for around $45 before earnings, but I'm expecting earnings to be poor which is why we will wait until the figures are announced. If the stock sells off aggressively, we will go long the stock as a post earnings bounce would undoubtedly ensue.
I'm going to be adding a few good dividend and growth stocks to the elevation portfolio over the next several weeks, when I see value. It's imperative that they are not correlated and all don't have similar valuations, to ensure that income is brought in every month, which, over time, will increase our share count. Follow along by pressing the "Follow" button above.
Disclosure: I/we have no positions in any stocks mentioned, and no plans to initiate any positions within the next 72 hours.
I wrote this article myself, and it expresses my own opinions. I am not receiving compensation for it (other than from Seeking Alpha). I have no business relationship with any company whose stock is mentioned in this article.