Our portfolio is now up 14% since mid-January of this year. Our best-performing underlines to date are Silver Standard (NASDAQ:SSRI), IBM (NYSE:IBM),and GDX (NYSEARCA:GDX) which is the market vectors gold mining ETF. We are initiating sell orders in Silver Standard and GDX. Why? Well, sentiment is getting to extreme levels in this sector. The precious metals sector has had a really bullish run-up over the last 2 months and I believe it is getting overbought.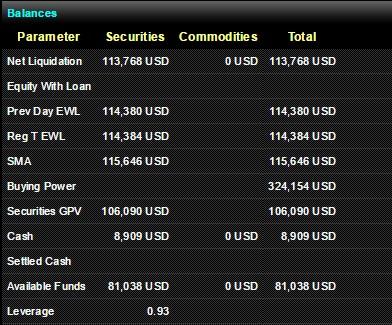 Actually I believe taking profits off the table at this juncture will end up being a wise move. If we go through the rest of our portfolio, I'm happy to see Mosaic stock (NYSE:MOS) and Western Digital (NYSE:WDC) trading well off their recent lows. Also, Caterpillar (NYSE:CAT) is slightly down on the trade we initiated a few days ago but its recent earnings miss hasn't affected the stock price all that much. Also happy to see that Chevron (NYSE:CVX), despite its problems in Australia with initiation of the Gorgon Project, has rallied hard on the back of rising oil prices and is now trading at well over $100 a share.
American Express (NYSE:AXP) really did well after earnings and is now trading at $65 a share which means we are up over $1,000 on that trade so far. In relation to IBM, which is the best performing large-cap in our portfolio, the company announced earnings a few days ago and despite reporting an earnings and revenue beat, the stock sold off down to $144 because of reduced guidance for the second quarter. Since then, the stock has rallied hard back up to $148, and we will not be selling this stock even though guidance has been lowered for the second quarter. Why? Well, there are few things that I still like about IBM and why I think it's undervalued. Firstly, I like the moves that Watson is making in the healthcare industry. I have written in previous articles that I believe that the biotech sector is primed for a breakout and I still believe this to be the case.
Nevertheless bearish commentary focuses on IBM's legacy business as being the reason why the tech company has now reported 16 straight quarters of declining revenues. But, what they miss is that biotech and healthcare I believe are industries that will drastically grow in the next few years. Why? Well, just look at the acquisition rates in biotech. They haven't slowed down at all and I think any success in healthcare is going to dramatically boost the stock because it's operating in an industry that is trending upward. Also, if you look at the customers that Watson has gained over the last few years, again the curve is going up a lot (see chart)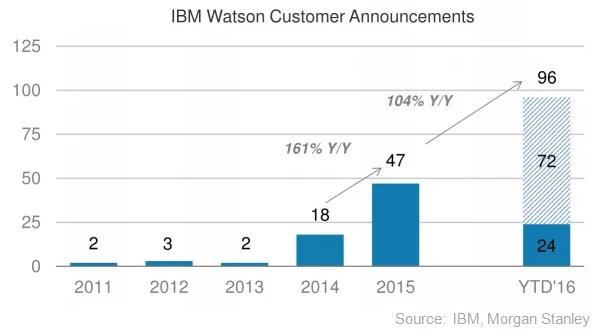 Finally, getting back to our portfolio, if you look at our Caterpillar position, you'll see that we're down $90 on the trade so far. We initiated a covered call trade, where we bought the stock at $79, and sold a covered call (leap) in January 2017 for $3. We're down $21 on the call and $69 on the stock position. Now, there is a big lesson here that I think any investor selling option premium should watch out for. Theoretically, we should be up on the option part of this trade because the stock has gone down since we initiated the trade. This means that when the stock goes down the call should also go down. Caterpillar reported earnings on the 22nd before the bell but I placed the covered call trade a few days prior to this date.
However in hindsight, the time to place this trade was just before the company announced earnings which was just before market close on the 21st. Why? Because that's when you get the most call premium for your position due to volatility expansion which continues right up until earnings. In fact, Caterpillar was trading at $79 before the market closed on the 21st where call premium for our strike price reached $3.50+ per contract which was far better than the $2.99 we collected on the 18th. The takeaway here is if you're selling these long term leap calls because you want to boost your income over a 12-month period, the best time to sell premium is right before earnings because that's when option premium will be inflated which means more income for our portfolio.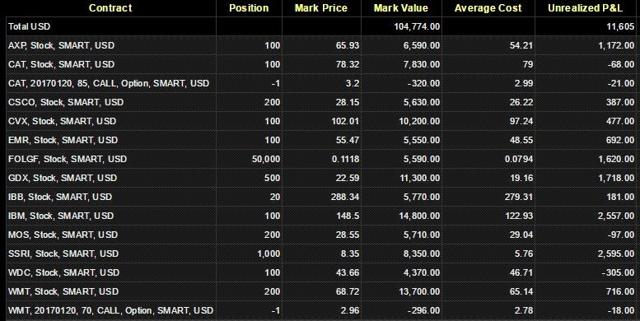 I'm going to be adding a few good dividend and growth stocks to the elevation portfolio over the next several weeks, when I see value. It's imperative that they are not correlated and all don't have similar valuations, to ensure that income is brought in every month, which, over time, will increase our share count. Follow along by pressing the "Follow" button above.
Disclosure: I/we have no positions in any stocks mentioned, and no plans to initiate any positions within the next 72 hours.
I wrote this article myself, and it expresses my own opinions. I am not receiving compensation for it (other than from Seeking Alpha). I have no business relationship with any company whose stock is mentioned in this article.