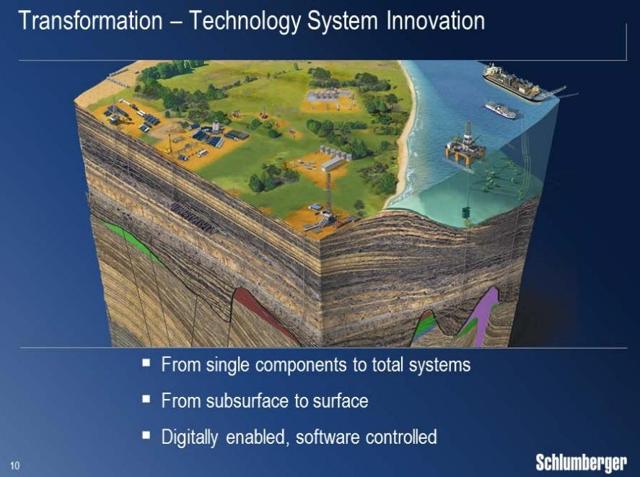 (Source: Schlumberger, March 2016)
Important note: This article is not an investment recommendation and should not to be relied upon when making investment decisions - investors should conduct their own comprehensive research. Please read the disclaimer at the end of this article.
As the global drilling rig count continues its seemingly endless decline, land drilling contractors, particularly in the U.S., have to brace up for what promises to be a long and slow recovery cycle. In North America, land rig utilizations and spot daily margins have collapsed, whereas the spot market remains shallow, with all major contractors competing for scarce jobs at near-breakeven prices. Spot daily margins have been more resilient in select international markets, such as the Middle East, but even there the trend appears to be towards continued margin erosion.
Capacity attrition in the older-generation rig category promises to be significant during the current downturn. However, it is unlikely to be a factor until later in the recovery cycle. Moreover, the scrapping of the oldest, least capable rigs may have little or no impact on the pricing in the high-performance rig category.
It is worth noting that the modern-generation market tends to be highly concentrated. I estimate, for example, that in the U.S. top five operators control over 80% of the high-performance AC rig fleet (which I estimate at ~850 units). As a result, an arrival of another significant and potentially aggressively-minded player could be a significant landscape-changing factor, particularly in the context of the cyclically depressed market environment. The concern is particularly strong if this new player is a deep-pocketed and technologically advanced company like Schlumberger (NYSE:SLB).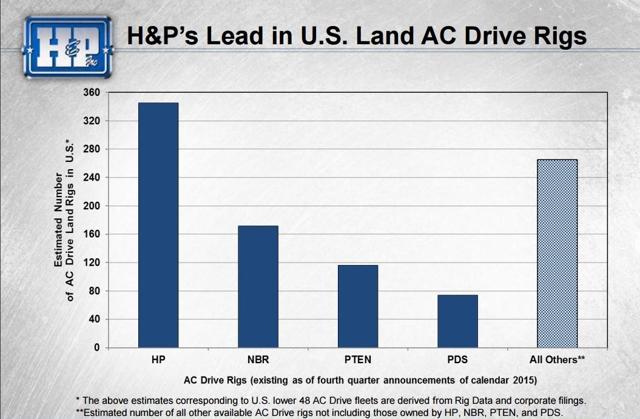 (Source: Helmerich & Payne, March 2016)
Last year, Schlumberger announced a plan to design and mass-produce what the oil service major refers to as its "Drilling System of the Future." Apparently, Schlumberger had worked on this technology-system concept for quite some time and last year launched the project into implementation.
Specifically for this project, Schlumberger acquired T&T Engineering, a rig engineering company, to help develop the new rig's design. The rigs will be manufactured in Germany by a joint venture that Schlumberger has created with BAUER Maschinen GmbH, a leading machinery manufacturer for oil and gas and mining industries. BAUER has its own extensive rotary drilling rig product line, with an example of the company's modern deep drilling rig shown on the picture below. Completing the package is Schlumberger's recent acquisition of Cameron. From Camron's drilling equipment portfolio, the new rig will receive top-drives, pipe handling modules and blow-out preventers.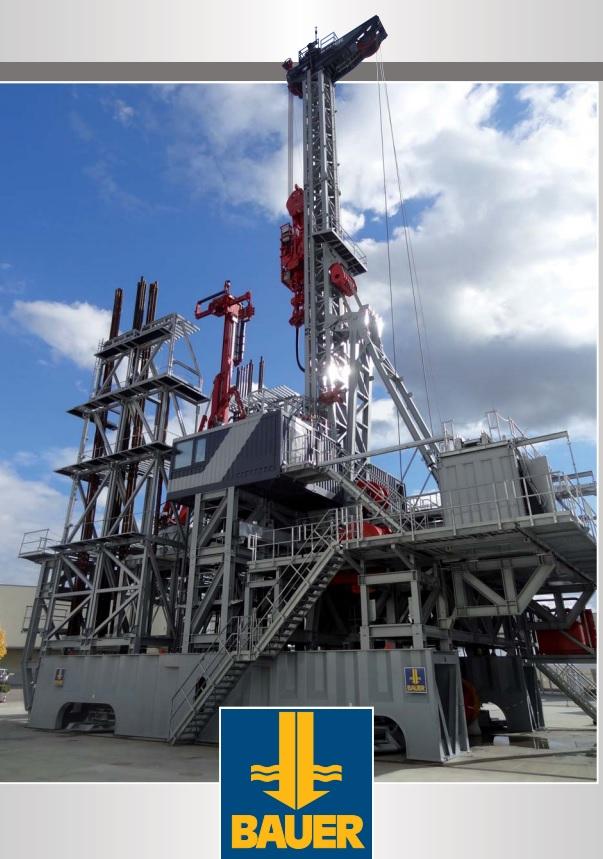 (Source: BAUER Maschinen Gmbh)
The software backbone of this project, which Schlumberger is working on, will include all aspects of well design, operational planning, and drilling optimization. The project will be jointly developed by Schlumberger's software centers in Houston and Beijing and will be further supported by the company's Big Data and Cloud Computing technology center Palo Alto, California.
Announced last year, the project is quickly becoming a reality. Five engineering prototypes of the new system will be ready for field testing in 2016 in Ecuador and the US, with full commercial introduction on track for 2017.
Schlumberger's vision is that the "rig of the future" will represent the ultimate integrated drilling platform bringing together digitally enabled surface and downhole hardware. The drilling system will also integrate drilling optimization software to achieve a step change in operational efficiency. Obviously, the drilling system will be compatible and integrated with the entire suite of Schlumberger's products and services, allowing the company to provide a "complete drilling solution" to its customers.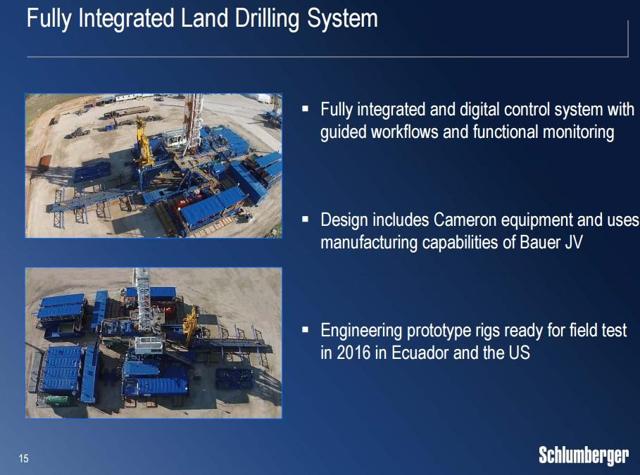 (Source: Schlumberger, March 2016)
Given the overcapacity and low operating margins in the North American market, international markets are likely to be the primary target for Schlumberger's new drilling system. However, North American Land is a market that Schlumberger simply cannot ignore. Regardless of the cycle trajectory, Schlumberger will have to introduce its product in North America and act aggressively in order to achieve customer awareness and acceptance. Schlumberger must be aware that establishing and nurturing customer relationships takes time and will need to start early.
Given Schlumberger's massive financial resources and technology portfolio, any analysis of the North American land drilling competitive landscape must factor in Schlumberger's almost certain forceful arrival. The impact on select international markets may be invent more significant.
Schlumberger is a competitor to be taken very seriously and the threat to the existing drilling contractors in the U.S. is real. While the leading North American independent drilling contractors, such as Helmerich & Payne and Patterson-UTI, have achieved tremendous success in designing and continuously improving highly efficient drilling rigs specifically tailored for shale drilling, their advantage versus Schlumberger may not be long-lived. There is certainly a risk that Schlumberger's integrated technology approach will make a difference in terms of achieving higher well productivity and drilling efficiency.
The additional high-performance rig capacity is hardly a positive for the North American land drilling market. Schlumberger's cycle-insensitive newbuilding may extend the duration of the downcycle and push the existing high-performance rig fleet lower in the pecking order in term of customer preference, just like it happened when Helmerich & Payne first introduced its FlexRig design.
Examples of land drilling contractor stocks that may be impacted by competition from Schlumberger's product include:
For in-depth data and analysis of commodity fundamentals, please consider subscribing to Zeits OIL ANALYTICS that provides analysis of the crude oil and natural gas markets.
Disclaimer: Opinions expressed herein by the author are not an investment recommendation and are not meant to be relied upon in investment decisions. The author is not acting in an investment, tax, legal or any other advisory capacity. This is not an investment research report. The author's opinions expressed herein address only select aspects of potential investment in securities of the companies mentioned and cannot be a substitute for comprehensive investment analysis. Any analysis presented herein is illustrative in nature, limited in scope, based on an incomplete set of information, and has limitations to its accuracy. The author recommends that potential and existing investors conduct thorough investment research of their own, including detailed review of the companies' SEC filings, and consult a qualified investment advisor. The information upon which this material is based was obtained from sources believed to be reliable, but has not been independently verified. Therefore, the author cannot guarantee its accuracy. Any opinions or estimates constitute the author's best judgment as of the date of publication, and are subject to change without notice. The author explicitly disclaims any liability that may arise from the use of this material.
Disclosure: I/we have no positions in any stocks mentioned, and no plans to initiate any positions within the next 72 hours.
I wrote this article myself, and it expresses my own opinions. I am not receiving compensation for it (other than from Seeking Alpha). I have no business relationship with any company whose stock is mentioned in this article.
Editor's Note: This article discusses one or more securities that do not trade on a major U.S. exchange. Please be aware of the risks associated with these stocks.