The thirty-third edition of:
Resource Sector Digest
(vol.33 - April 25, 2016)
an offering that is brought to you by Itinerant and The Investment Doctor.
As always, this edition of our newsletter will:
set the scene;
highlight actionable ideas;
comment on news releases;
and link to relevant articles.
As always, here is a cordial invitation to join Itinerant Musings for exclusive access to actionable research on mining and energy stocks. Some examples are sprinkled throughout this newsletter for good measure.
And before we forget, you can read the three most recent editions here, here, and here in case you missed them!
Setting The Scene
The gold price has moved up lately, but does seem to be rangebound now as the price continues to trade between $1215/oz and $1270/oz.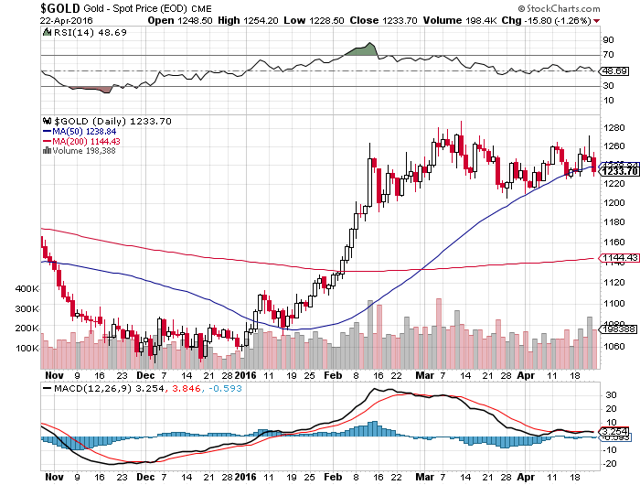 Source: stockcharts.com
Despite the fact the gold price is now trading just 15% higher compared to the January price levels, the share prices of the gold stocks have been on fire lately. The senior producers have seen their share prices being impacted by a huge wave of cash flooding the gold market now. Barrick Gold (NYSE:ABX)? Doubled. Kinross Gold (NYSE:KGC)? Tripled! Even Newmont Mining (NYSE:NEM) and Yamana Gold (NYSE:AUY) saw their share prices increase by double-digit and triple-digit percentages! The streamers Franco Nevada (NYSE:FNV), Silver Wheaton (SLW) and Sandstorm Gold (NYSEMKT:SAND) didn't move that much, but of course the impact on their margins is lower due to their 'fixed' purchase cost of the gold and silver.
Unfortunately, it doesn't look like these price increases are supported by an improvement of the underlying commodity price. Sure, the gold price is up over $100 since January, but does this really warrant the prices of the senior miners going through the roof? Not really, and it does look like investors are already anticipating for another breakout of the gold price.
This also seems to be confirmed by research from other companies and banks. I got my hands on a research report from the Royal Bank of Canada (NYSE:RY) which usually does a pretty good job in reporting back on the mining sector [just like the Bank of Nova Scotia (NYSE:BNS)]. There was a nice chart in the report (see here below), but what was more interesting was the comment accompanying the chart.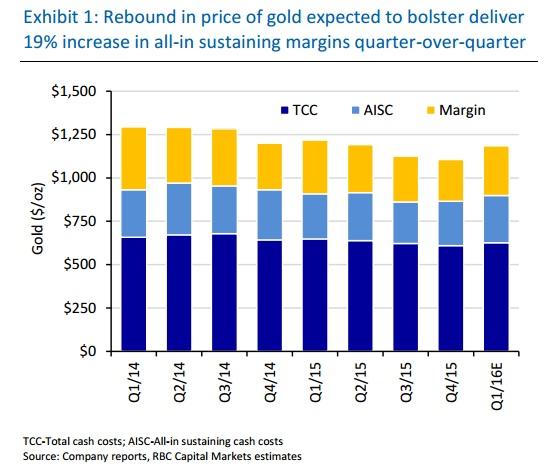 Source: Royal Bank of Canada, Capital Markets
Indeed, RBC estimates the margin of the mining companies will increase by 19% (based on an average price received per ounce of $1185). So let's use at an average gold price of $1250 for a moment. This would increase the margin to $350/oz (up from $240/oz in Q4 2015), resulting in a 46% margin expansion.
Does this warrant an increase in the share prices? Absolutely. But does this warrant a stock price tripling? Not really. The highly-levered companies (like Yamana Gold) will notice the biggest impact, but the wide-spread triple digit price increases is a balloon that could deflate soon.
Does this mean we will see another huge crash? Not necessarily, no. A lot of 'fresh' money has now flown into the gold equities market and as long as there's no specific 'shock' happening (read: the gold price nosediving again), there's no real reason for them to dump the stocks they own. Interesting times, for sure!
Actionable Ideas
After a disappointing week before, the past week was a bit more entertaining with a lot of SA contributors chiming in on the Kinder Morgan 'situation'.
The oil price is moving up, and so are the drill rig companies! Seadrill (NYSE:SDRL) added 35% to its share price in a few weeks, but Transocean (NYSE:RIG) saw its share price increase by just 20%. Vladimir Zernov does a good job in keeping tabs on both companies, and you should check out his research here.

The Investment Doctor had Petrofac (OTCPK:POFCF) on his 'to research' list, but Richard McDonagh beat him to it! Read the article here. The article is pretty short, but it could be your basis for further research on this company!

News Releases
As could be expected, the past week wasn't really busy in terms of noteworthy news as half of the commodity sector seems to have started an early hibernation, hopefully to emerge stronger in 2016!
Panoro Minerals (OTC:POROF) has announced it has received a first payment from Silver Wheaton as part of the previously signed precious metals purchase agreement. Panoro has now received a $1M cash payment.
Perseus Mining (OTCPK:PMNXF) has closed the acquisition of Amara Mining (OTCPK:CLUGF) and took the opportunity to update the mine plan at the Edikan gold mine. Using a 10% discount rate, the after-tax NPV is approximately US$287M based on a remaining mine life of 7.5 years and a gold price of $1200/oz.
Grizzly Discoveries (OTCPK:GZDIF) said KG Exploration, a subsidiary of Kinross Gold has completed its exploration program at Grizzly's Greenwood property. The main focus of the exploration program was to outline and prioritize potential drill targets based on a rock sampling and soil sampling program. It looks like Kinross is pretty pleased as it announced it wanted to continue to earn a 75% stake in the property.
NexGen Energy ( NXGEF) has drilled a few more holes at its Arrow property in the Canadian Athabasca Basin, and the company continues to surprise as it has once again encountered off-scale radioactivity. The Arrow deposit continues to grow, and the initial resource estimate containing approximately 200 million pound of uranium was just a start. How long will it take before a Cameco (NYSE:CCJ) would pull the trigger?
There was quite a bit of uranium exploration news as Fission Uranium (OTCQX:FCUUF) also released an update on its Triple R uranium project. It has now hit high grade uranium mineralization at four zones on the property, including 40 meters of 2.64% uranium which contains a higher grade interval of 5 meters at 10.95% uranium. This assay result was retrieved from a hole at the 1620E zone which was NOT included in the Triple R resource estimate!
And of course, if NexGen and Fission are putting out good results, Denison Mines (NYSEMKT:DNN) can't stay behind as it is expanding the mineralized zone that was discovered not too far away from the Gryphon zone. Denison has completed an additional 21,800 meters of drilling in 32 holes trying to improve the economics of the Wheeler project.
Primero Mining (NYSE:PPP) has disappointed the market with its Q1 update as the total production rate was much lower than anticipated whilst the all-in cost was much higher as the company implemented the Canadian safety standards for its ground support, which resulted in delayed access to some high-grade stopes. A delay is not a cancellation, and those stopes should be mined shortly and the quarterly production rate in the next few quarters will increase by 50-75%. The share price didn't react well on this news, and the cheaper Primero gets, the more Goldcorp (NYSE:GG) might be interested to buy the asset (and the Canadian mine) back.
Brazil Resources (BRIZF) released a resource estimate on the Island Mountain zone at its Whistler project in Alaska, USA. The maiden resource estimate isn't bad at all, using a cutoff grade of 0.3 g/t, the zone contains almost 1.6 million gold-equivalent ounces at an average grade of a little bit in excess of 0.52 g/t. That's, low, very low for an Alaskan project, but one could see it as a call option on the gold price. Keep in mind Amir Adnani from Uranium Energy Corp (NYSEMKT:UEC) is one of the driving forces behind Brazil Resources.
Pretium Resources (NYSE:PVG) has released a construction update at its Brucejack gold project in British Columbia, Canada. The company still intends to start commissioning the underground mine in the summer of 2017. The underground development is advancing at a rate of approximately 20 meters per day and right now, Pretium is developing the 1320 meter level. It's nice to see Pretium is keeping its shareholders
Rio Tinto (NYSE:RIO) was nice enough to publish its production results for the first quarter of 2016. The company's iron ore, bauxite and aluminium production increased compared to Q1 2015, but generally decreased compared to the final quarter of last year. But what's really interesting is the fact that even though the titanium dioxide slag production rate fell by 24% to 246,000 tonnes YoY, it increased by 10% QoQ. Is Rio Tinto seeing or experiencing a stronger demand?
Pan American Silver (NASDAQ:PAAS) probably thinks it's never too late to join a party, and the company has announced it has entered into an agreement with Maverix Metals, which will result in Maverix becoming a publicly traded streaming and royalty company. Apparently PAAS does think this will help the company to create more value, so let's see what happens.
Dominion Diamond (NYSE:DDC) saw its quarterly diamond production jump to the second highest output in 2 years time as the company processed 560,000 tonnes of material at Diavik, recovering almost 1.9 million carats. Dominion has also provided the expected average sales price per carat depending on where the diamonds were recovered. As you could expect, the range of the valuations is quite wide with $50/ct from COR and $175/ct from the A-154 North zone. The demand for diamonds also seems to be increasing again, which is good news for Dominion, as well as for Lucara Diamond (OTCPK:LUCRF).
Gold Resource Corp (NYSEMKT:GORO) has released its preliminary production results for the first quarter of the current financial year. It was a little bit disappointing as GORO produced less than 6,500 ounces of gold and 434,000 ounces of silver. The company does remain on track to produce 26,000 ounces gold as well as 1.9 million ounces of silver.
Randgold (NASDAQ:GOLD) is pretty proud to share the production results of the Kibali project with the market as the mine produced almost 650,000 ounces of gold. That's great, but investors shouldn't expect this to continue, as Kibali is transitioning towards an underground mine.
Banro Corporation (NYSEMKT:BAA) has increased the proven and probable reserves at Twangiza by 11% to 1.82 million ounces, whilst the reserves at Namoya increased to 1.36 million ounces for a combined total of almost 3.2 million ounces. This confirms Banro is in an excellent position to try to unlock value for its shareholders, but all free cash flow will (have to) be used to reduce its net debt.
Platinum Group Metals (NYSEMKT:PLG) also released an updated resource estimate as the company now has almost 24 million ounces in the indicated category as well as an additional 11.7 million ounces in the inferred category. The average grade of the indicated resource is 3.55 g/t 4E (consisting of 1.07 g/t Platinum, 2.19 g/t Palladium, 0.26 g/t gold and 0.03 g/t Rhodium).
Nevsun Resources (NYSEMKT:NSU) has encountered more high-grade results at the Asheli zone in Eritrea. 44 meters containing almost 2% copper, 9% zinc and an ounce of silver per tonne of rock is really good, and it emphasizes the potential on Nevsun's land package.
Seabridge Gold (NYSEMKT:SA) went on a shopping spree and acquired SnipGold which has an interesting project in Canada's British Columbia. For every 63 shares of SnipGold, its shareholders will receive one new share of Seabridge Gold , resulting in a very nice premium of 124% based on the closing price before the deal was announced.
Turquoise Hill (NYSE:TRQ) had a strong first quarter of the year as it processed almost 9.7 million tonnes in the first quarter at an average grade of 0.7% copper. Turquoise produced a total of almost 58,000 tonnes of copper as well as 144,000 ounces of gold and almost 400,000 ounces of silver.
NovaCopper (NCQ) has released an updated resource estimate on the Bornite project in Alaska's Ambler mining district. The total in-pit resources now contain 913 million pounds of copper with an additional 1.8 billion pounds of copper in the inferred resource estimates. On top of that, there's a 'below-pit' resource based on a cutoff grade of 1.5% copper of 3.7 billion pounds in the inferred category at an average grade of almost 2.9% copper.
McEwen Mining (MUX- produced almost 38,000 gold-equivalent ounces in the first quarter, causing the company to increase its production guidance to 144,000 gold-equivalent ounces. Klondex Mines (NYSEMKT:KLDX) also released its production results, and after having processed almost 74,000 tonnes of ore resulting in a total gold-equivalent production of 30,142 ounces. Gold Fields (NYSE:GFI) had a decent quarter compared to Q1 2015 as the production rate increased by approximately 3%, but it was roughly 10% lower compared to the final quarter of last year. The AISC was $961/oz in Q1 FY 2016, and that's actually pretty good!
In Colombia, Atico Mining (OTCPK:ATCMF) has also completed a strong operating quarter and completed 4.3 million pounds of copper as well as almost 2,600 ounces of gold. The average processing rate increased to almost 800 tonnes per day, and this compensated for the lower gold grade.
The fight between Taseko Mines (NYSEMKT:TGB) and Raging River Capital is heating up as the mud-throwing party continues! In a recent press release, Taseko is blaming the RRC nominees for not having a decent amount of stock in the company.
Pure Gold (OTCPK:LRTNF) released the results of a PEA on the Madsen gold project in Canada's Red Lake district. This first PEA is actually pretty good, and Pure Gold thinks it can get the property up and running for just $20M at an AISC of $700/oz. The initial mine life would be 6.5 years which is quite short, but as the payback period is just 1.5 years, and the after-tax NPV5% is coming in at US$61M, or C$0.76 per share.
Gold Standard Ventures (NYSEMKT:GSV) will take a 19.9% stake in Battle Mountain Gold (OTCPK:BMTNF) by acquiring 10.2 million units.
Newmont Mining has already released its production and financial results for the first quarter of the year. The company produced 1.23 million ounces of gold at an all-in sustaining cost of $828/oz. The company has now confirmed it will meet its official guidance of 4.5-5 million ounces of gold at an AISC of less than $1000/oz.
The shareholders of Endeavour Mining (OTCQX:EDVMF) and True Gold Mining (OTCQX:RVREF) have voted in favor of the deal, so it looks like nothing will stop the acquisition/merger from happening.
Itinerant will be back next week and as the earnings season for mining companies is about to start, it will be very interesting to see which companies will release surprising results (either positive or negative)!
Disclosure: I am/we are long ATCMF, DDC, PMNXF, LRTNF, NSU, EDVMF.
I wrote this article myself, and it expresses my own opinions. I am not receiving compensation for it (other than from Seeking Alpha). I have no business relationship with any company whose stock is mentioned in this article.
Editor's Note: This article covers one or more stocks trading at less than $1 per share and/or with less than a $100 million market cap. Please be aware of the risks associated with these stocks.