In this article, as has become typical for my ProShares Ultra VIX Short-Term Futures ETF (NYSEARCA:UVXY) publications, I will be updating investors and readers as to my latest UVXY trade. Additionally, I will offer another trade idea I'm currently aiming to execute at a defined target price and with a predetermined level of risk. My most recent UVXY-related article, "The Fitbit/UVXY Play," outlined a recent addition to my core UVXY holding, as follows:
Having said all of that, I added to my constant short, core position in shares of UVXY recently at $21.40 a share. Should the market continue to climb and seek out round numbers, UVXY could fall below $16 a share. I'm utilizing this sentiment that would define the Dow Jones Industrial Average exhibiting 18,000 and the S&P 500 exhibiting 2,100 in the coming weeks. Given those targets, UVXY should effectively fall further than where it currently trades.
Fortunately, my sentiment surrounding round numbers and the major averages seeking them out came to fruition. The Dow Jones Industrial Average did achieve 18,000, and the S&P 500 did achieve 2,100. As expected, this forced the UVXY to seek out new trading lows below my $16 target price, according to which I sold my recent UVXY trade at $15.95 and tweeted this out in real time.

Upon execution of the trade, I returned to my core position in shares of UVXY, which continued to fall below $15, if only briefly. So what's next? With the markets approaching all-time highs, what do you think is next? It's a toss-up as we enter the busiest week of the earnings season. With that said, economic data can support long-term market sentiment, so let's take a brief look at the table from Market Watch below, which depicts the economic data from the previous week.
THIS WEEK'S U.S. ECONOMIC REPORTS

TIME (NYSE:ET)

REPORT

PERIOD

ACTUAL

MEDIAN

FORECAST

PREVIOUS

MONDAY, APRIL 18

10 am

April

58

60

58

TUESDAY, APRIL 19

8:30 am

March

1.089mln

1.170 mln

1.194 mln

8:30 am

March

1.086mln

--

1.177 mln

WEDNESDAY, APRIL 20

10 am

March

5.33 mln

5.30 mln

5.07 mln

THURSDAY, APRIL 21

8:30 am

4/16

247,000

265,000

253,000

8:30 am

April

-1.6

10.5

12.4

8:30 am

Chicago Fed national activity index

March

-0.44

--

-0.38

10 am

March

0.2%

--

-0.1%

FRIDAY, APRIL 22

9:45 am

April

50.8

--

51.5
It's pretty clear that Housing Starts and the Philly Fed Index came in far below expectations, but both pieces of economic data have been spotty and on a roller coaster ride over the last few years. Be that as it may, it's hard to assign a market sentiment or market value to these otherwise key economic indicators. On the surface, both data points were weaker than expected, and by a good deal, but we'll see if they rebound in the coming months. So let's take a look at retail sales and consumer spending forecasts. Kiplinger offers their forecast for retail sales and consumer sales as follows:
Retail sales will lose some steam this year, with the long recovery from the recession causing many consumers to wait for discounts and delay nonessential purchases. Look for core retail sales - which exclude vehicles, gasoline, building materials, food and drink - to grow by 2.9% in 2016, down from 3.1% last year. The overall rate, excluding price-sensitive gasoline sales, will grow by 3.8%, down from 4.6% in 2015. Instead of spending freely, many cautious consumers are saving more. The biggest drag so far this year comes from the automobile industry. Dealers saw receipts fall 2.1% in March after being flat in February. On a full-year basis, though, look for another strong year for vehicle sales, though less robust than 2015, when a whopping 17.5 million units left the lots. Americans also cut back on spending at clothing and department stores, as well as at restaurants and bars.
Kiplinger's meager forecast for retail sales and consumer spending is somewhat supported by the latest consumer spending data released in late March. According to the U.S. Commerce Department, consumer spending increased a slight 0.1% in February. At the same time, the Commerce Department revised their January consumer spending results down from 0.5% to only .01%. The consumer spending data has forced economists and analysts to revise their 1st quarter economic growth forecasts down from 2% to just 1%. The chart below from the U.S. Commerce Department depicts just how little the consumer is spending in spite of a pickup in personal income. As we've come to understand over the last 12-24 months, the consumer is saving this added income for a variety of reasons, and not putting the money into the coffers of retailers to the extent they had been prior to the 2008 economic fallout.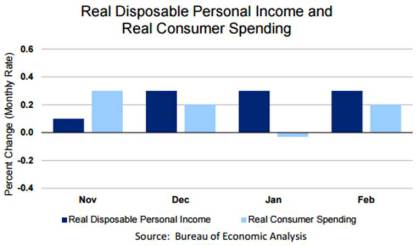 While all the economic data is not at all bad or poor, none of it suggests the major averages should be hitting all-time highs, in my opinion. Having said that, investors should consider that earnings are the driver of market appreciation. With earnings expected to show a second straight quarterly decline, we shall see if the major averages can hold up above current levels and achieve record highs.
I'm in the camp that believes we are entering a very critical point in our economic cycle that will be felt in the U.S. stock market. Depending on how the current earnings season is treated by investors, this will likely dictate the overall market direction for the proceeding 90-day period. For this reason, I have moved much of my capital into cash, with an eye on a few stock plays that I feel will be rewarded in due time. One of those stock plays is Bed Bath & Beyond (NASDAQ:BBBY) and the other is Starbucks (NASDAQ:SBUX).
After Starbucks released their 2nd quarter results, the stock fell more than 5% intraday. Josh Arnold, a fellow Seeking Alpha contributor, offered his recap of Starbucks quarterly results as follows:
Total global comps rose 6% in Q2 as the Americas hit 7%, but the company's other geographic segments were much weaker. The US market is, of course, SBUX' most important and comps are flying here. In addition, the comp gain was once again split between traffic and ticket gains, something I find to be very important. SBUX saw a 4% ticket gain in Q2 and a 2% traffic gain, indicating it is either picking up new customers, existing customers are coming in more often, or both. Either way, it sets SBUX up very well for continued future growth as traffic is the lifeblood of any business with physical locations. In addition, SBUX continues to work its magic with its average ticket and a 4% gain is very strong indeed. In short, the fact that Q2's comp gain of 6% was a deceleration from Q1's 8% is a ludicrous reason for the stock to sell off; 8% comps aren't going to happen every single quarter and to throw a temper tantrum because of a +6% print makes no sense. Q2 saw operating margins jump 60bps higher to 17.6%, another very positive sign investors are ignoring.
I believe that shares of SBUX traded off with good reason. It isn't enough to meet EPS estimates and miss revenue estimates, even if ever so slightly, with the 2nd Quarter results. Given SBUX trades at a higher multiple than its peers at 31X FY16 earnings guidance, the company is expected to earn that multiple by beating and beating and beating across the board. Still, investors always come back to SBUX in the end, and the stock tends to perform decently after all selloffs. So that is what I'm looking to take advantage of with regards to SBUX shares. Having taking a first position at $57.85, I will hope to see shares fall a little further, possibly to the $55, level where I would acquire more shares. Ultimately, I'd like to find shares appreciate back to $60 in a good market, but if I have to settle for $59 on a quick trade, I may just take it. That doesn't seem like much of a return, but keep in mind I decided to move largely to a cash position because I feel the market may be nearing its top. With that said, tops may have to be "on watch" for all individual trade positions and return on capital expectations.
My next trade idea comes from my extensive coverage of Bed Bath & Beyond. I've been covering BBBY for years and in 2015 I liquidated my restricted stock grants through UBS at $76 a share. Since that time, shares have come down greatly and in accordance with my analytics that focused on extreme gross margin contraction that has persisted for several years at the retailer. Bed Bath & Beyond's latest quarter results were recently released and found the company to beat expectations on the top and bottom lines. But this beat came from lowered guidance during the January period and very low expectations for the company. Here is an excerpt from my recent quarterly recap depicting the retailer's Q2 results.
For the 4th quarter of fiscal 2015, the Company reported net earnings of $1.91 per diluted share compared with $1.80 per diluted share for the 4th quarter of fiscal 2014. Net earnings per diluted share for the fourth quarter of fiscal 2015 included approximately $.06 per diluted share of a net benefit for certain non-recurring items, including a favorable state audit settlement. If we eliminate the one-time item, the company would have earned $1.85 a share against the lowered full year guidance issued during the 3 rd quarter of $1.72-$1.86 a share. Net sales for the 4th quarter of fiscal 2015 were approximately $3.4 billion, an increase of approximately 2.4% from net sales of approximately $3.3 billion reported in the 4th quarter of fiscal 2014. Net sales on a constant currency basis increased by approximately 2.8% for the 4th quarter of fiscal 2015. Comparable sales in the 4th quarter of fiscal 2015 increased by approximately 1.7%, compared with an increase of approximately 3.7% in last year's fiscal 4th quarter. Comparable sales on a constant currency basis increased by 2.1% for the 4th quarter of fiscal 2015. Comparable sales from customer-facing digital channels grew in excess of 25% while comparable sales from stores were flat during the 4th quarter of fiscal 2015 and in-line with previously stated guidance for the quarter. And of course, gross margin for the 4th quarter was approximately 38.6%, down about 110 basis points from last year. The decrease was primarily due to a decrease in merchandise margin. Also contributing were increases in net direct to customer shipping expense and work downs. For the year, the gross margin deleverage was less than it was in 2014.
Unfortunately and in my opinion, the earnings results lack quality as the majority of the earnings beat is tied to the retailer stepping on the gas with regards to its share repurchase program.
All of Bed Bath & Beyond's SSS growth during the quarter came from its on-line sales channel. At the same time, in order to drive earnings growth, the company pushed the pedal on its share repurchase program as indicated in the following chart: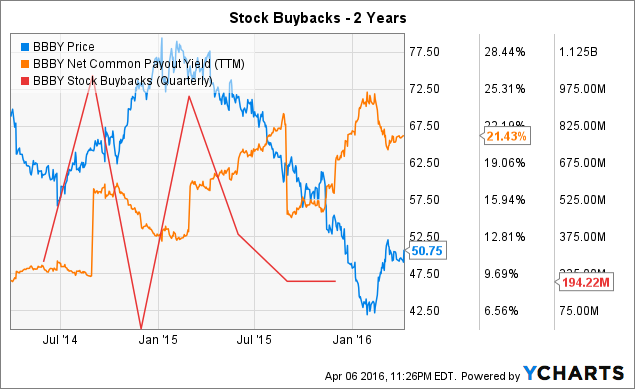 BBBY data by YCharts.
In spite of all the spending Bed Bath & Beyond has done in the past couple of years, the company is failing to generate greater foot traffic and ticket sales at brick and mortar stores. Gross margins have contracted for each quarter, consecutively for the last 2 years and are near all-time record lows. In an attempt to bolster investor sentiment that hasn't worked for the company with share repurchases, the company instituted its first ever dividend alongside quarterly results.
I'm of the opinion that financial engineering will not lift shares of BBBY significantly and given the continued pressures on gross profits that are seemingly endless, shares will track downward over the next 60-day period, at least. I'm looking to short shares of BBBY around $50 if the market will bear such a price. I'd like to see shares revisit their recent lows below $42 where I would take profits, but it all depends on market conditions.
Last, but certainly not least, is my tried and true core UVXY holding. With UVXY seemingly resting here around $15, I have little interest in adding to my core short position. What I'd like to see happen is for the market to achieve all-time highs on at least one of the three major averages and with $UVXY falling to roughly $13 a share. At that price level, I might consider taking on a new long position for a hopeful spike in volatility that supports a retracement of the overall market. So to conclude this update and reiterate, cash is king for my portfolio right now and with significant profits already booked in 2016, I'm patiently waiting for determined outcomes to put money to work. If they don't come to fruition, then patience will have to be honored and other opportunities will be evaluated with the usual scrutiny.
Disclosure: I am/we are long SBUX.
I wrote this article myself, and it expresses my own opinions. I am not receiving compensation for it (other than from Seeking Alpha). I have no business relationship with any company whose stock is mentioned in this article.
Additional disclosure: I maintain a core UVXY short position at all times and have done so since 2012