Welcome to the fourth edition of "Buy on Weakness?," a weekly series of articles that sifts through the underperformers of the week to find potential investment opportunities in the large-cap tech world.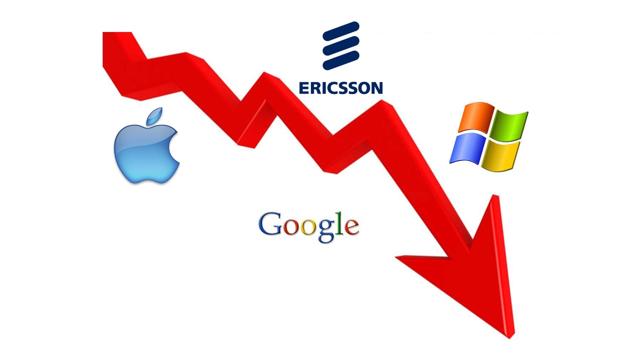 Credit: DM Martins Research montage using company logos
My goal is to help investors, particularly those focused on value plays, think through fresh ideas for the coming week. You may also want to check out the third and second editions of "Buy on Weakness?" for insights into prior weeks' "tech losers".
The table below highlights the top 20 tech companies - worth $10 billion or more in total equity value - that have performed the poorest in the previous five trading days.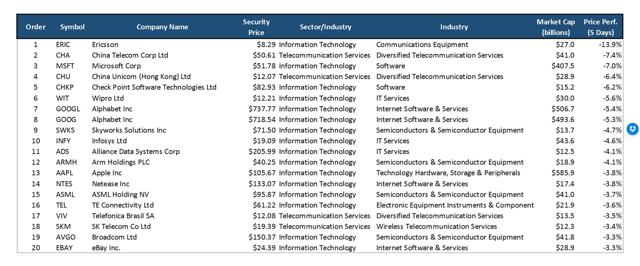 Source: DM Martins Research, using market data compiled through Fidelity
Overall, tech had a rough week
The week of April 18th (marked by the first few meaningful earnings reports of the quarter within the sector) undid most of the previous week's overall gain of 1.7% in the large-cap technology group. More than $80 billion in market value was lost this time, against a gain of $116 million last week. Internet was the "biggest loser" among all subsectors, mostly driven by Alphabet's (NASDAQ:GOOG)(NASDAQ:GOOGL) sizable drop of 5.4% that followed the company's not-too-impressive earnings release. Tracking not far behind, the Software subsector was responsible for erasing $23.3 billion in market value, as Microsoft's (NASDAQ:MSFT) quarterly results failed to impress and sent the company's stock tumbling 7%.
The Wireless Telecom subsector was the only one to post positive returns for the week, up 1.2%. China Mobile (NYSE:CHL) climbed 1.8% and accounted for the largest gain in market cap terms ($4.4 billion), while Sprint (NYSE:S) was up 4.2% and T-Mobile (NASDAQ:TMUS) rose 2.4% for the week.
So which short-term losers should investors consider adding to their portfolio to take advantage, in the long run, of the price pullback? And which should they avoid, despite the price drops?
Making sense of the data
The top 20 tech losers of the week have a relatively low median forward P/E of 15.3x, compared to the previous week's top 20 median of 19.8x; the S&P 500's median trailing P/E of 14.6x; and the overall tech sector's 25.3x. This week's top 20 group is expected to grow EPS in 2017 by 11.1%, and the companies generate an average dividend yield of 1.5% (14 of the 20 companies are dividend-payers).
The table below highlights, in green font, the three best-positioned tech companies in each of the following categories: projected EPS growth, dividend yield and forward P/E.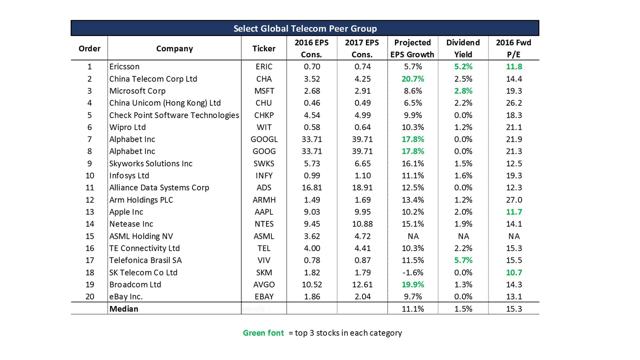 Source: DM Martins Research, using data from Yahoo Finance, Nasdaq and Market Watch
As you may remember from last week's "Buy on Weakness?" report, the market seemed to have favored lower-risk tech stocks with low P/Es and low growth rates on the week of April 11th. I wondered whether the market's more defensive stance could be indicative of the development of a "risk-off" approach to trading and investing large-cap tech names.
But as it turned out this week, a trend did not emerge. This time, none of the top 10 losers are valued at a P/E higher than 27x, while two of the top 10 "winners" (see table below) are. The average P/E of the top 10 winners of the week is 23.3x, vs. the losers' 19.3x, and two of the top 10 winners can be considered "hyper-growth" companies (vs. none of the top 20 losers).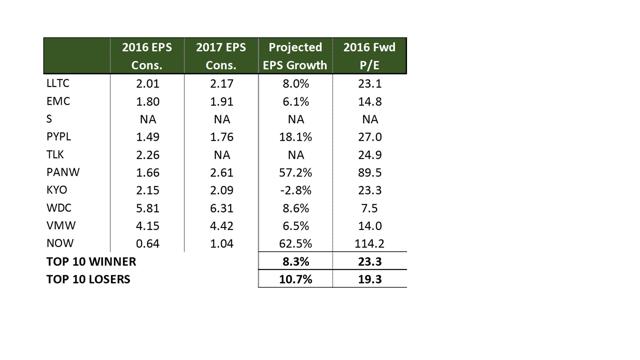 Source: DM Martins Research, using data from Yahoo Finance
Taking a closer look at a few of the key names
Now let's take a closer look at the top 20 "biggest loser" list.
Ericsson (NASDAQ:ERIC)
Number one on the "biggest loser" list this week was Ericsson . Down nearly 14% in the past five trading days, this is a stock that already suffered a drop of over 4% in the previous week. The Swedish company delivered earnings results, on April 21st, that did not quite impress investors. Latin America and the Middle East were impacted by macro headwinds, while the important European market saw revenues drop year-over-year as carriers wrap up their LTE rollouts. Gross margins suffered a decline from deterioration in Global Services, although operating margins improved from a reduction in operating expenses and FX tailwinds.
With that said, I continue to be intrigued by this tech name. As I mentioned in prior weeks, ERIC is one of only three radio and core networking players to have real scale to compete at a global level. The company is also one of the key names in the development and commercialization of 5G technology. This week, ERIC announced a restructuring of its businesses, which includes changes in leadership teams. Add to this the fact that ERIC seems to be on track and confident about executing on its SEK 9 billion net savings program, and we are looking at a handful of mid- to long-term catalysts that could shake up the stock in the next few quarters.
ERIC is trading at a 2016 forward P/E of only 11.8x (third lowest in the 20 "biggest loser" list), while paying a very attractive dividend of 5.2% (second highest in the list). The stock is now slightly down versus its YTD lows of mid-February, and sits at the bottom of its 52-week range.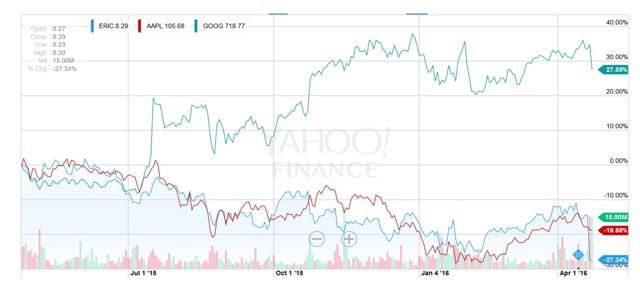 Alphabet
GOOG/GOOGL is a non-regular name on the "biggest loser" list that stood out on the week of its 1Q16 earnings release. As SA author Eric Jhonsa appropriately pointed out on Friday, "Q1 results were just mildly disappointing relative to analyst estimates, rather than disastrous. But the stock went into earnings up nearly 40% from where it traded a year ago […]. There wasn't much margin for error."
The 5.4% dip in share price, therefore, can barely be seen as an entry opportunity. The stock still trades at 20-21x the company's 2016 consensus EPS - largely on par with the stock's earnings multiple 90 days ago. The pullback seems to be, in my view, only (partially) corrective of a 12% run that shares had enjoyed since mid-February.
Apple

Lastly, AAPL finally debuts on the "biggest loser" list. After a nice run of 20% between a YTD low of $93.42/share in late-January and a YTD high of $112.10 in mid-April, the stock gave up 3.8% on the week that preceded the company's fiscal 2Q16 earnings release. As I mentioned in January, fears had started to mount regarding inventory cuts and weaker global sales for the iPhone. At that point, consensus estimates for F2Q16 EPS had dropped from $2.37 to $2.28, and so had FY16's, from $9.73 to $9.58. Today, the two metrics stand even lower, at $2.00 and $9.03, respectively.
Last week's pullback, less than a window of opportunity, may have represented a much-needed de-risking ahead of the company's upcoming quarterly results. Keep in mind that F2Q16 marked the launch of the iPhone SE, a smartphone model that may have seen slow sales coming off the gate (whether due to reduced demand or limited supply). "Despite the high stability of the phone, adoption has been low", says research house BlastMedia. Their data "largely aligns with other sources […]. For example, Localytics reported 0.1% adoption for the [first] weekend, and [BlastMedia's] data shows exactly the same. [BlastMedia's] numbers show it has since gone up to 0.14%, but still very lackluster compared to previous iPhone launches."
In forward P/E terms, AAPL's valuation multiple has expanded from 10.8x at the beginning of 2016 to 11.7x today. Still, the stock looks relatively cheap compared to the peer group, while 2017 consensus EPS growth of 10% and dividend yield of 2% are both respectable. Value players that are on board with the company's investment thesis (refer to my article about China and India, for example) might appreciate the 4% pre-earnings discount and decide to add AAPL to their portfolios during the next couple of trading sessions, before the company reports F2Q16 on Tuesday post-market close.
Disclosure: I am/we are long AAPL, ERIC.
I wrote this article myself, and it expresses my own opinions. I am not receiving compensation for it (other than from Seeking Alpha). I have no business relationship with any company whose stock is mentioned in this article.