When I last covered TrustCo Bank (NASDAQ:TRST) in depth, I argued you could still trust in this regional bank and that I wasn't backing away. When shares were yielding over 5%, I asked simply "how often do you find a safe 5% yield?" Well shares have in fact rebounded from a near 52-week low and year yielding 4.1%. I said that shares under $6 were a huge bargain, and thanks to the broader market weakness that happened. The name was not to be ignored there. But now the stock is at $6.40, so what should we do here?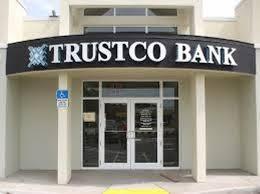 Well, according to its recently announced Q1 2016 results, the company reported a top line beat and an in line bottom line. This follows a Q4 2015, which saw the same pattern. TrustCo's Q1 2016 core net income was actually down to $10.4 million from $10.7 million compared to Q1 2015. It is however up from the $10.2 million last quarter. I am okay with this and the numbers show earnings per share of $0.11, which matched consensus estimates. Further, this is easily covering the dividend of $0.066. The revenues came in at $40.71 million, which surpassed estimates by about $0.18 million. Robert J McCormick, President and CEO said:
"We consider our first quarter 2016 results to be solid and are encouraged by the increase in pre-tax earnings from the fourth quarter of 2015. In terms of our core business, we continue to make solid progress, adding customer relationships which ultimately position our business well for the future. Our highly liquid balance sheet continues to allow us to fund our loan growth without having to overpay for deposits. We will continue taking advantage of opportunities as they are presented during the balance of 2016."
This sounds very promising but is the company really delivering? Well, let's start with the all-important efficiency ratio. As you may be aware now, this ratio measures the costs expended to generate a dollar of revenue, and net interest yield measures the basis points the company earns over the cost of funds. The strongest banks have an efficiency ratio under 60%, with the ideal being around 50%. Well, TrustCo's efficiency ratio is among the strongest of all regional banks, and it came in at 56.2%. This is a slight worsening from Q4 2015's 55.4%, but overall, I am incredibly pleased. At 56.2%, the company is clearly spending money wisely and generating a return at a healthy and effective pace. I am pleased with this outcome.
What about loans and deposits? These are critical. Well, average loans were up $122.3 million, or 3.9% year over year. Total loans have once again reached an all-time high of $3.30 billion. At the same time, deposits were up $39.9 million or 1% year over year. Most of the gains in deposits came from core deposit accounts. Average core deposits were up $86 million versus Q1 2015, or 2%. These deposits reflect longer-term customer accounts, and so are more stable. On top of that, deposits per branch were up to an average $28.6 million. Overall, I am very pleased.
The quarter was strong, as it exceeded my expectations for an in line quarter. I was happy with most aspects of this report, even though the earnings number was flat thanks to expenditures. The most bullish piece of this report is the fact that many asset quality measures improved during Q1. The bank's loan portfolio is at an all-time high. As interest rates are set to rise, the bank should see solid gains and real earnings growth. For now, it continues to be a trustworthy dividend payer that is biding its time and paying you to wait. I still want you to be a buyer when the name dips under $6.
Note from the author: Christopher F. Davis has been a leading contributor with Seeking Alpha since early 2012. If you like his material and want to see more, scroll to the top of the article and hit "follow." He also writes a lot of "breaking" articles that are time sensitive. If you would like to be among the first to be updated, be sure to check the box for "Real-time alerts on this author" under "Follow."
Disclosure: I/we have no positions in any stocks mentioned, but may initiate a long position in TRST over the next 72 hours.
I wrote this article myself, and it expresses my own opinions. I am not receiving compensation for it (other than from Seeking Alpha). I have no business relationship with any company whose stock is mentioned in this article.