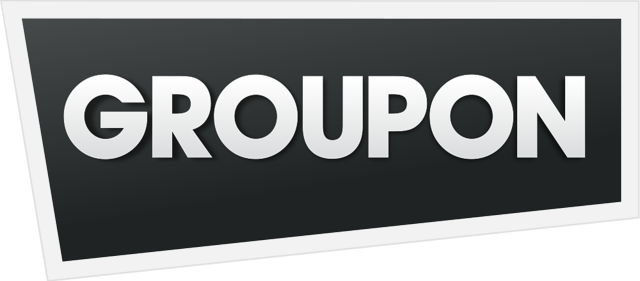 Introduction
Groupon (NASDAQ:GRPN) offers mobile and online marketplaces where consumers can discover and save on products and services while small businesses can attract and retain customers by offering deals. The vision is to connect local commerce and to increase consumer buying power.
Groupon's annual sales in 2015 amounted to $3.1 billion and it employs 4,000 people around 28 countries where it has a presence. Revenue is categorized in three different segments: Groupon Local, Groupon Goods and Groupon getaways. In 2015, it derived 65.6% of the revenue from North America, 27.8% from EMEA and 6.6% from rest of the world.

Source: Google Finance. Groupon's stock price since the IPO.
Performance
The company's stock has declined significantly after the initial public offering. It is currently trading more than 85% under the all-time highs of $31.14. However, since the recent news that Alibaba Group took a stake in the company and better-than-anticipated Q4 results, it has recovered more than 100% from all-time lows of $2.15. Since 2011, the company has increased its revenue annually at a rate of 18%. Increased active customers grew from 33 to 49 million and now the company has a massive 650,000 active deals. But at the same time, the average customer spending has decreased from $187 in 2011 to $130 in 2015.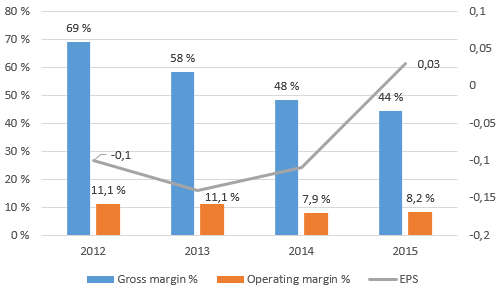 Source: Groupon IR
Groupon hasn't shown any stable profitability. In order to improve efficiency of the business, Groupon will narrow its focus to only key markets. The target is to restructure, streamline and divest. It has already disposed of controlling stakes in businesses that are located in India and Korea. In 2015, it also ceased operations in 13 international countries and are planning to exit another four this year. These divestitures are having an impact on the 2016 outlook; it is guiding revenue to be between $2.75 to $3.05 billion, so either little or clearly below 2015 figures. I have no problem in lower sales growth in the future if it is able to sustain profitability. It would certainly turn the negative perspective about the stock to more optimistic.
Even with lackluster earnings, Groupon's balance sheet remains strong with little debt and positive cash flow from operations. It is using that balance sheet for a share repurchase program. It announced in 2015 a $500 million buyback program, which is in addition to the previously authorized $300 million. To date, it has repurchased $645 million in value and still has around $155 million left to use. For a Groupon-sized, $2.5 billion market cap company, the buyback is/was massive, yet the share count has been steady until recent quarters.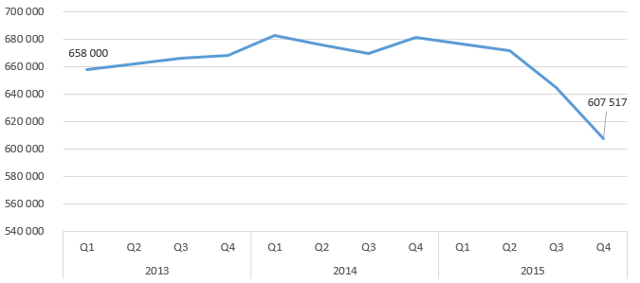 Source: Groupon 10-K. Figures in thousands.
Takeaway
What separates Groupon from most of the other discount service providers is the fact that it's a household name. People are always looking ways to increase their buying power. In recent years when wage growth was modest, the obvious choice to find bargains was discount services. When there's economic slowdown, the demand for Groupon's services will most likely increase.
The discount services business is easy to duplicate and the competition remains fierce. However, when Groupon exits the markets that aren't growing or showing profits, it can leverage the existing platform in key markets and possibly stay profitable longer. Another financial tailwind is that if the buyback program continues to eliminate the share count and there's no dilution from acquisitions, there might be rapid earnings per share improvements.
Conclusions
There's a lot of uncertainty at the moment and it's hard to evaluate Groupon. Revenues will decline this year, but how much? The efficiency improvements will include one-time expenses, but how much? For a reasonable 20 times earnings Nasdaq valuation, Groupon would have to produce net income of $133M or $0.22, which seems far-fetched for this year. I'm curious to see when it reports Q1 numbers this Thursday and if margins are starting to improve. I'm sitting this one out, waiting to see clear improvements before potentially buying.
Disclosure: I/we have no positions in any stocks mentioned, and no plans to initiate any positions within the next 72 hours.
I wrote this article myself, and it expresses my own opinions. I am not receiving compensation for it (other than from Seeking Alpha). I have no business relationship with any company whose stock is mentioned in this article.