An article titled "Growth Companies Vs. Dividends, Risk And Younger Investors" was recently published that caught my interest. Patrick Gunn, the author, positioned the two most considered variables when investors deploy capital to any particular investment, risk vs. reward and the juxtaposition of time. I really appreciate this type of consideration put forth by the author and how he shows why and where he decides to put money to work in the markets. Having said that, some of the stocks he mentions gave me reason to consider constructing this article. I'm currently delivering detailed analytics and forecasts with regard to Fitbit (NYSE:FIT) and formerly delivered analytics and forecasts for the former Research In Motion, currently operating as BlackBerry (NASDAQ:BBRY). Both of these stocks are exampled in "Growth Companies Vs. Dividends, Risk And Younger Investors." This article will aim to explain why I feel that Mr. Gunn's article was thoughtful but could elaborate further with consideration along the lines of at least the risk/reward factor. After all, risk was a great consideration for the author's recent article as he stated the following:
My decision to buy was preceded by a myriad of internal struggles on my own appetite for risk.
But before we get into the development of additional considerations regarding risk, I'd like to offer a personal experience surrounding proposed growth companies of the past with Research In Motion. In my younger years, not so long ago, I was a "junior analyst" for a major financial institution that was offering coverage of RIMM. In 2010 I was offered the opportunity of advancement and to become a sell-side Senior Research Analyst for the firm, replacing the current analyst who was covering RIMM for the last three years. Of course I jumped at the opportunity to prove my merit as I was assigned to the duties of Advanced Research and Data Gathering. The excitement was pretty hard to contain and I could imagine were doors flying wide-open for me in the years to come. But that excitement would be tempered and eventually crushed relatively quickly.
It took me all of six months to perform all the necessary research I needed to deliver a complete report to the head of our division. I traveled to RIMM's headquarters to meet with management and tour the facility. I flew to component suppliers and assembly line facilities abroad. I studied carefully predecessor hardware providers and the current competitive landscape for the smartphone industry. I contacted developers and licensed technology providers to the hardware manufacturers. I studied very carefully consumer adoption rates for smartphones and juxtaposed the data with emerging market middle-income demographic growth. It was nothing short of daunting, this project, and even with the need for greater resources my queries were negated by the firm.
In the end, I delivered my fully detailed, three-year scaled model for RIMM complete with a price target and suggested rating revaluation. Based on the word revaluation you might already understand that my analytics were in contrast to the firm's rating and valuation. My firm desired to raise their PT to $100, reiterating their Buy rating on shares of RIMM, but my report delivered anything but an optimistic outlook for RIMM long term. And so I got called into the "big boy" office. Ever had your hard and long considered works literally thrown in your face from your boss across his desk? It certainly wasn't the reaction I anticipated, but maybe I should have. Shortly after having my hat handed to me and leaving the firm, which shall remain nameless, I started Capital Ladder Advisory Group and hadn't looked back. And yes, my report offered a Sell rating with a $34 PT on RIMM shares while the stock had currently been trading at $65 a share and BlackBerry was still very much revered in the smartphone industry for many reasons upon my dismissal. So what do you do when you believe in your research, start your own firm with a little bit of supportive seed money and still yet need a marketing budget for said venture? That's right, you bet on Black…Berry that is…and you bet it all to the downside.
Talk about taking on risk in that example - I probably took on excessive risk, but it all very much worked out in the end with significant profits realized in the RIMM short trade. What I'm offering in the RIMM example is a rather high risk/high reward investing "strategy." I validate the use of the term "strategy" by highlighting the amount of research and due diligence I performed that led me to take the assumed risk. The reality is that given the elevated amount of research performed on the investment strategy in RIMM, the risk was relatively low and I went into the investment/trade and held onto it rather comfortably.
As a "rehabilitated trader" and by Scottrade standards possibly one of their most consistent since 2001, I'm no stranger to risk. I've learned to develop an ice block core in my veins over the years of boom and bust market cycles. But even with an elevated risk tolerance compared to some, I'm always scanning and researching for less risky investment vehicles or trades. I still do a lot of trading, which might seem to fly in the face of acknowledging myself to be a "rehabilitated trader," but I participate in trading to stay sharp, involved and to better refine my overall investing strategies.
Moreover that brings me to the juxtaposition point of this article with regards to "Growth Companies Vs. Dividends, Risk And Younger Investors." Frankly speaking it's always about risk, isn't it? Investors and traders desire to dedicate capital hoping to achieve a reward with as little risk as possible. Dividend paying stocks and such investment vehicles offer this reward potential in multitudes. But even so, they are not without risk, as we tend to understand and accept. Rather, these dividend payers tend to carry less risk while offering a stream of income. The greatest of dividend payers are often revered as Dividend Aristocrats as they grow the dividend payment alongside share price appreciation over time. It's a win/win as they say.
I don't too much care for dividend stocks all that much as you might have concluded already. At the same time, I'm always in the market looking for lower risk with higher or ever appreciating reward. Hard to say and even harder to find, right? So the point I'm making is that alongside evaluating dividend stocks and proposed growth stocks, investors might consider looking for even lower risk-associated investment vehicles. They do exist you know!
I found one of these low-risk investment vehicles in 2012, a year after the ETF's IPO. If I were to speak with even greater certainty and confidence than I already am, I would go so far as to say, "when utilized appropriately, the ProShares Ultra VIX Short-Term Futures ETF (NYSEARCA:UVXY) carries zero risk and maximum reward potential." After all, when you exhibit the chart that is indicated below, it becomes clear that the design/construction of this particular double-leveraged ETF was created to do one specific thing over time... depreciate in value.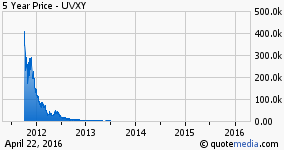 Long term and regardless of market conditions being favorable or unfavorable, the UVXY will find itself seeking new lows. For the exact "internal struggles" articulated in Mr. Gunn's article, I sought out to find an instrument like the UVXY and was greatly benefited in doing so over the last 3 years-plus once I had found the UVXY.
It's kind of a paradox huh? In order to beneficially be rewarded with participating in the UVXY, you have to short the ETF long term. Shorting equals low-risk doesn't always find itself easily understood, but nonetheless, is most valid and factual with this particular instrument. In fact, based on the complete and fail proof predictability of the UVXY long-term direction, the only potential risk associated with the UVXY has to be introduced to it by human engagement. We're the problem, not the ETF itself. UVXY desires and is constructed to erode in price long term.
Back in February of 2016, when the market was in a steep decline and volatility or VIXX was spiking to annual highs, the UVXY was also spiking as it is directly tied to volatility and the S&P 500 volatility to be precise. I wrote a two-part series on the UVXY titled Best Trade Of The Decade Part 1 and Part 2. Unfortunately, even though the article was the most comprehensive article ever to be made available to the public since the ETF was issued, the Series was only positioned in my Instablog on Seeking Alpha. In an attempt to alert the investor community to this low-risk/high reward opportunity, I failed to do so in a light that was found desirable. Since February, shares of UVXY predictably fell further than they appreciated and from over $60 a share to under $15 a share recently. The drop was sharp and severe as articulated and to be expected in my two-part series.
So with "Growth Companies Vs. Dividends, Risk And Younger Investors" coming into publication and the focus centered on risk and younger investors, I thought it a good time to also open investors to the potential provided with UVXY shares. I have written several articles on UVXY as follows and with additional articles unmentioned.
The articles mentioned and the two-part series give great detail on the overall variables surrounding the construction of UVXY, how to participate with UVXY and why it is a very low-risk, high reward investment vehicle. So let's move on to the other growth vehicle Mr. Gunn mentions in "Growth Companies Vs. Dividends, Risk And Younger Investors," Fitbit. I'm kind of the "most hated man" in the analyst picture right now regarding the business and operations of Fitbit and I'm OK with that. Some have even argued in their emails to my firm that my article titled "Fitbit's Total Addressable Market Hype May Leave Investors With Disappointment" forced investors to consider that Fitbit's TAM was not achievable and that most of the company's growth was in the former years. I'd be hard pressed to deny the proposed claims, but they don't make the analysis any less considerable for investors.
The day I released my first article on Fitbit, the stock dropped mightily and over the next month or so. A share price devaluation of more than 50% in that period found investors befuddled as to what to do with this seemingly high-growth company. The sentiment still persists to some degree and as insiders endlessly dump shares on the market. What do the insiders know that investors don't or haven't considered? Nothing really I would propose and especially as I've addressed relevant consumer good investor considerations now. Here's the biggest problem for Fitbit or at least one of the biggest problems for Fitbit: The attrition rate is extreme for a consumer good that is nonessential. "Essentially" speaking, nobody needs the product and its performance is passive for every aspect of its usefulness. The second biggest problem for the company is the declining rate of revenue growth. After growing triple digits in 2011, 2012, 2013 and 2014, the company grew revenues 92% in 2015. For fiscal year 2016, the company is expected to grow revenues in the range of 33%-35% while I believe they can grow upwards of 40 percent. So what's the problem with that growth rate Seth and as you are seemingly higher than the average analyst estimate for revenue growth?
The problem identified with the rate of growth is tied to what happens to every single consumer good company in history: You can only grow as far as you can distribute and sell-in is rarely able to be equalized by sell-through. For this explanation, Fitbit is demonstrating exactly what will persist for the company, slowing revenue growth until eventual revenue declines are at hand. This will likely occur for the company in the next 18-24 month period. Fitbit is telling investors this as much in their growth rate and as they expand globally. Fitbit's operations are being dictated to them by the rate of sell-through. The sell-through is less than the sell-in and as such, the majority of Fitbit's revenue growth is coming from additional retail distribution partners coming into the network and not same-store-sales, i.e. sell-through. All the sell-through data compiled by NPD Group, which is also utilized by Fitbit itself, demonstrates the weakness in sell-through that can't produce growth on a same-store-sales basis.
So this is not to say that Fitbit isn't the leader of wearables/fitness trackers or even that they don't sell millions of these devices, but rather it is to identify to investors what will happen when Fitbit has saturated markets and is forced to rely on pure sell-through. Fitbit will be fine and generate strong revenues and cash flow, but the gross profit will likely not support an increasing share price for investors long term. Simply put, revenues will begin to decline and A&P costs will be forced to rise in order to drive demand, which will all serve to crunch gross profits. And it happens to most every consumer good company and especially those with only one product line. Having said all that about Fitbit, there is still time to make money with shares of FIT as the saturation point is still a good deal of time away. If you do decide to invest or trade shares of FIT, kindly consider my dozen or so articles on the company that offer a plethora of perspectives. You will likely see where I've traded shares profitably four separate times since the stock's downturn and by reading the comment section as well. After buying shares below $14 and selling them at $17 most recently, I tweeted that I won't be a buyer of shares unless a $15 handle is revisited. And that opportunity may not come for me. But I always maintain my core position in shares of UVXY and have for 3 years-plus now and through several reverse splits, so I can stand to miss out on the potential FIT trade going forward. here
Well, I think that just about covers it, don't you? Risk is a hard thing to define and especially for young investors who have ample time to achieve long-term capital gains from dividend payers, growth stocks and even lower risk investment/trading vehicles like UVXY. The education process can be daunting for young investors, but spend the time, as it will likely pay off with great capital appreciation for years to come. I have spent a good deal of time seeking low-risk investments in my career as an investor. What I believe "Growth Companies Vs. Dividends, Risk And Younger Investors" offers is a good opportunity to evaluate or consider evaluating multiple classifications of investment vehicles while also considering risk. In kind, I hope the inclusion of seeking and evaluating even lower-risk investment vehicles finds investors to be busy bees during their investing years.
Disclosure: I am/we are short UVXY.
I wrote this article myself, and it expresses my own opinions. I am not receiving compensation for it (other than from Seeking Alpha). I have no business relationship with any company whose stock is mentioned in this article.
Additional disclosure: I have maintained a core UVXY short position since 2012 and through several reverse splits. I frequently trade around this core position as UVXY spikes with the advent of market volatility. UVXY can increase in price dramatically and quickly due to market volatility and as such investors should strategically consider this anomaly when dedicating any capital to a short UVXY position. Additionally, due to the instruments double-leverage to the S&P 500 ViXX, the instrument will erode in price more intensely than the increase in price once volatility peaks and declines resulting in contango.