This strategy index is my least favorite, because of its explosive risks. Unfortunately, even given its risks, the index has had incredible performance, both historically and YTD.
Although I hate this index, it's important to see a brutal example of the effects of contango and convexity over time.
I hope the technology we examine together will provide inspiration for readers to create their own methods for dealing with an increasingly difficult investment environment.
Remember, hope is for people who do not use data. Wise investors plan using evidence-based methods.
The idea behind this strategy index is that we can generate return from capturing contango in the equity volatility market. Often, VIX future are in a state of contango. This means, that on average, if we short VIX futures through TVIX, that we have the potential to capture some of this contango. Unfortunately, a jump in VIX futures, or sustained backwardation, could be absolutely ruinous.
In addition, shorting inverse leveraged ETP products linked to the S&P 500 and long duration government bonds allows us to capture convexity.
Combining Contango Capture with Convexity Capture can be an explosive combination (for better AND FOR WORSE).
Imagine that we are intellectually hacking the quantitative tendencies of these instruments to try to create a potentially massive return stream. It's not pretty, and without a tail-risk hedge, it's not even close to sane. But the results are important, because they illustrate some robust tendencies.
Please note that even though the rules of this strategy index have been publicly released, like any other index, we require the execution of a licensing agreement with ZOMMA LLC for any form of commercial use whatsoever.
Before continuing further, remember, DO NOT TRY THIS AT HOME. This is a highly complex strategy index, and without an adequate tail hedge, it could destroy you. I REPEAT, THIS STRATEGY INDEX IS DANGEROUS, BECAUSE MASSIVE MOVES IN VOLATILITY, STOCKS, OR BONDS COULD CREATE ALMOST LIMITLESS DOWNSIDE THAT FAR EXCEEDS THE ORIGINAL INVESTMENT DUE TO THE USE OF SHORTING.
ZOMMA Quant Madman rules:
I. Short TVIX (NASDAQ:TVIX) with 10% of the dollar value of the portfolio.
II. Short SPXU (NYSEARCA:SPXU) with 30% of the dollar value of the portfolio
III. Short TMV (NYSEARCA:TMV) with 60% of the dollar value of the portfolio.
IV. Rebalance weekly to maintain the 10% / 30% / 60% dollar value split between the instruments.
Here are the results of a backtest of these rules in a log scale: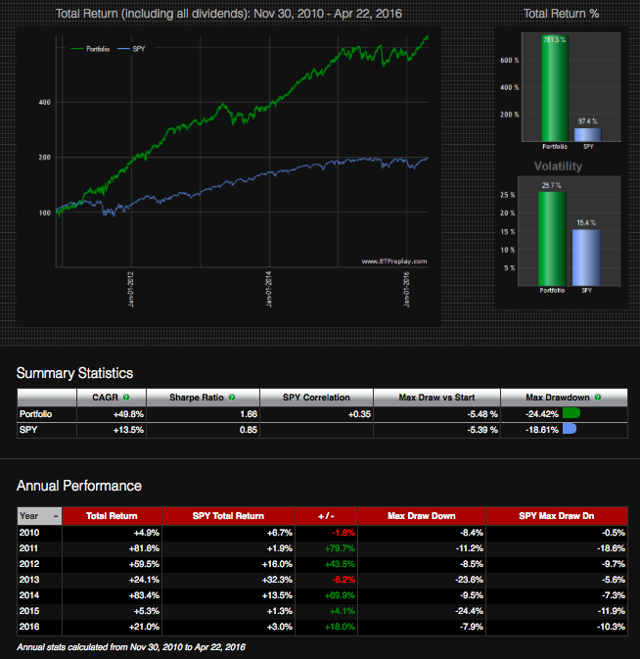 The performance of this index is spectacular. But the tail risk is simply unacceptable.
The index dramatically illustrates the power of capturing both contango and convexity. I believe that years from now, Contango Capture will be widely recognized as a well accepted return factor. It's important to note that the index not only can capture the stock market's upside, but also has the potential make money from convexity and contango when the markets moves sideways. It's the return capture when the markets go sideways that really powers the index, acting statistically almost like another asset class, in terms of return generation.
Our subscription service features some innovative Contango Capture strategy indices that do not contain shorting. I personally find the tail-risk in this publicly released version to be unacceptable.
However, for enterprising hedge funds which believe they can potentially hedge the tail risk (an intellectual position I would caution against), I would encourage them to consider the use of call options on the VIX index as a method of hedging tail risk for the TVIX/SPXU leg of the index. For all others, I would run in the opposite direction, while admiring the power of shorting leveraged inverse products from afar.
AGAIN:DO NOT TRY THIS AT HOME. POTENTIAL LOSSES COULD BE ALMOST LIMITLESS.
Thanks for reading. We feature far more impressive strategy indices in our subscription service. If this post was useful to you, consider giving it a try.
Hypothetical performance results have many inherent limitations, some of which are described below. No representation is being made that any account will or is likely to achieve profits or losses similar to those shown; in fact, there are frequently sharp differences between hypothetical performance results and the actual results subsequently achieved by any particular trading program. One of the limitations of hypothetical performance results is that they are generally prepared with the benefit of hindsight. In addition, hypothetical trading does not involve financial risk, and no hypothetical trading record can completely account for the impact of financial risk of actual trading. For example, the ability to withstand losses or to adhere to a particular trading program in spite of trading losses are material points which can also adversely affect actual trading results. There are numerous other factors related to the markets in general or to the implementation of any specific trading program which cannot be fully accounted for in the preparation of hypothetical performance results and all which can adversely affect trading results.
Disclosure: I/we have no positions in any stocks mentioned, and no plans to initiate any positions within the next 72 hours.
I wrote this article myself, and it expresses my own opinions. I am not receiving compensation for it (other than from Seeking Alpha). I have no business relationship with any company whose stock is mentioned in this article.