Advanced Accelerator Applications (NASDAQ: AAAP) - Sell or Short Recommendation - $31.25 PT
May 9, 2016, concludes the 180-day lockup period on Advanced Accelerator Applications.
At this point, AAAP's pre-IPO shareholders, directors and executives will have the chance to sell their ~67.7 million shares.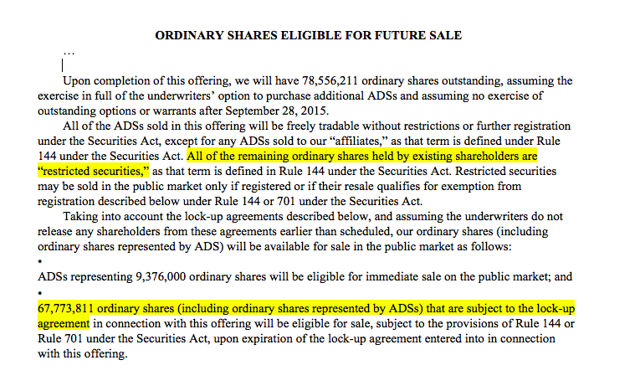 (Source)
The potential for a sudden increase in stock available in the open market may cause a significant decrease in the price of Advanced Accelerator Applications stock.
Business Summary: Radiopharmaceutical Company Developing Molecular Nuclear Medicine
Advanced Accelerator Applications is a radiopharmaceutical company that focuses on molecular nuclear medicine with therapeutic and diagnostic products. See our IPO preview of the firm here.
AAAP offers positron emission tomography (PET) products, including its branded PET imaging agent Gluscan that assists in the diagnosis of severe oncological conditions. Products also include IASOdopa for diagnosing Parkinson's disease and a variety of tumors; IASOflu, which scans and images bone metastases; and IASOcholine for diagnosing prostate cancer.
In March 2016, the company announced that it had begun an expanded access program (EAP) in the U.S. for its investigation product candidate Lutathera. Through this program, patients who suffer from certain inoperable cancerous tumors will have access to the investigation drug. Under its expanded access program, the FDA works with pharmaceutical companies to give patients with life-threatening illnesses access to certain investigational therapies. In addition, Advanced Accelerator Applications announced it had filed a new drug application (NDA) for Lutathera. The FDA allows rolling submissions under its Fast-Track program, and the agency accepted a submission plan in which each part of the NDA will be sent in by the end of the current month.
Recent Highlights
As per AAAP's recent press release:
Reported an increase of 37 percent for the third quarter of 2015 versus the same period in 2014
Reported an increase of 32 percent for the first nine months of 2015 versus the same period in 2014
Received FDA priority review for Somakit-TATE New Drug Application
Submitted MA application to European Medicines Agency for Somakit-TOC
Secured two marketing authorizations in France of FDopa and FCholine
Announced positive results from Phase 3 NETTER-1 study, which analyzed Lutathera in patients with advanced midgut neuroendocrine tumors
Management Team Overview
Founder, CEO, President and Director Stefano Buono is trained as a physicist. His previous experience includes positions at Centre for Advanced Studies, Research and Development in Sardinia and CERN, the European Organization for Nuclear Research in Geneva, Switzerland. He served as Chairman of the Board at Advanced Accelerator Applications SA, Director of Atreus Pharmaceuticals Corporation, and he is the author of numerous scientific papers. Mr. Buono holds a master's degree in physics from the Universita degli Studi di Torino in Turin, Italy.
COO Gerard Ber has served the company since 2002. His previous experience includes positions at OM Pharma, CIS Medipro, and CIS Bio International. Mr. Ber received a PhD in pharmacy and a master's degree in advanced studies in food science from the Université Scientifique et Médicale de Grenoble in Grenoble, France and a degree in marketing and international commerce from the Institut de Pharmacie Industrielle de Paris in Paris, France.
See additional details in AAAP's management section.
Competition: Novartis, Ipsen and Pfizer
AAAP's leading product candidate, Lutathera, has no direct competition, although traditional chemotherapy will still be a primary factor. Companies that manufacture chemotherapy include Roche, Pfizer, Ipsen and Novartis.
Competition for SPECT products comes from both enterprise level organizations and smaller diagnostic imaging companies. Examples include GE Healthcare and IBA Molecular. PET products generally last only about 10 hours, thus competition comes mainly from local providers that can manufacture and deliver PET products rapidly.
Strong Early Market Performance
AAAP's IPO priced at $16 per share, right at the midpoint of its expected price range of $15 to $17. The stock had a stellar first day of trading and closed at $24.50, an increase of 53 percent. The price began to dip and reached $23.81 on January 28, but it recovered to reach an all-time high of $38.01 on March 18. Currently, the stock trades around $34.89 (morning sessions 4.22.2016).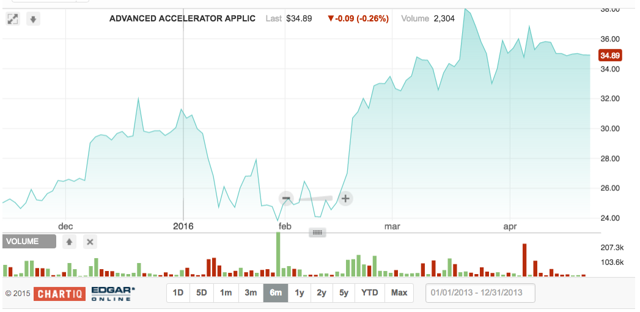 (Nasdaq.com)
Conclusion: Shorting Opportunity
We see a strong opportunity to short AAAP ahead of its May 9 lockup expiration. Our firm's research over four years supports significant price declines of over 4% for many IPO lockup expirations. Given AAAP's success on the market, the firm's pre-IPO shareholders (thirteen directors and senior management, along with five 5% shareholders (four individuals and one firm) could be ready to sell and reap rewards.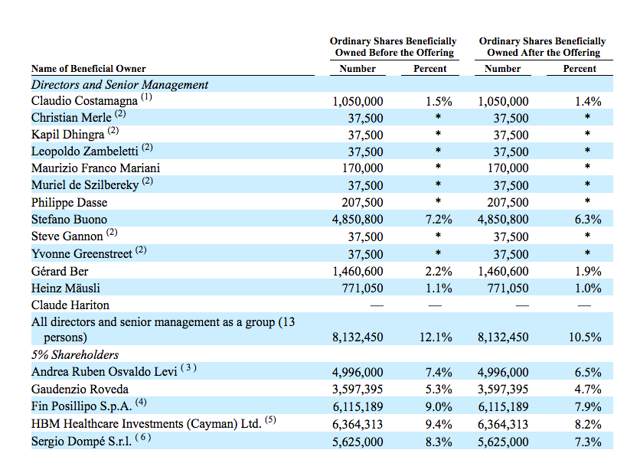 (Source)
Disclosure: I am/we are short AAAP.
I wrote this article myself, and it expresses my own opinions. I am not receiving compensation for it. I have no business relationship with any company whose stock is mentioned in this article.