Intel (NASDAQ:INTC) investors dumped their stock last week on what some saw as less-than-expected financial performance and outlook. The fact is that Intel earnings were robust and the sellers may rue that decision.
Year over year, Intel posted an 8% gain in revenues and a 19% gain in net income. That is not shabby for a company the size of Intel.

Source: Intel
The weakness in Intel stock may have less to do with current sales and profits and more to do with trends in the chip market. AMD (NASDAQ:AMD) is making a last-ditch effort to resurrect itself as a key competitor by licensing x86 technology to third parties and introducing its Zen line of processors this fall with expected performance gains of about 40%. That, together with its world class GPUs, may be enough to let AMD survive and ultimately become a profitable competitor.
At the same time, Intel's massive 87.7% share of server processors is vulnerable not only to a resurgent AMD, but also to ARM Holdings (NASDAQ:ARMH) processors from Qualcomm (NASDAQ:QCOM) and Applied Micro (NASDAQ:AMCC).
The server market continues to grow but non-x86 based servers now have a meaningful share of the total pie, making up $2.9 billion of the $15.4 million total market in the fourth quarter of 2015.
Having said that, the non-x86 segment demonstrated a 5% decline while the x86 server market grew 8% in that quarter. A reversal of that trend would be a serious setback for Intel, and while it is too early to predict such an event, there is little doubt that the ARM-based server manufacturers are eager to capture more volume in the segment, particularly in server farms supporting cloud-based services.
The potential for increased competition for Intel comes at a time when the PC market is in steady decline with growth in Windows 10-based two-in-one devices insufficient to offset the erosion of the traditional PC market.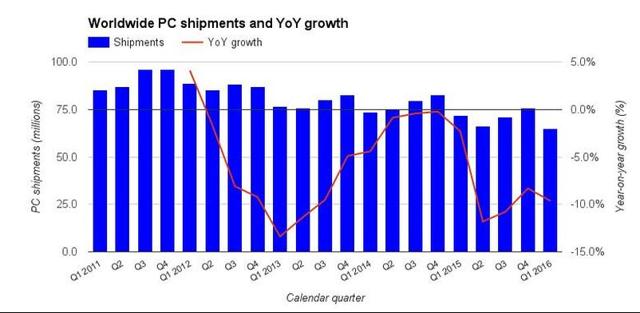 Source: ZDNet.com
Longer term, Intel's growth in microchips for the Internet of Things (IoT) should develop into a meaningful business but that event seems distant today, with IoT chips currently representing only 4% of Intel sales. Intel sees 200 billion chips for IoT devices by 2020, but those chips sell for pennies. Even so, 200 billion chips at even $0.25 per chip still comprise a $50 billion market, which is large even by Intel standards. In 2015, the IoT market comprised an estimated 15 billion chips. Qualcomm is the key competitor in IoT markets and reportedly shipped $1 billion in IoT chips in 2014. Intel's 2015 IoT chip shipments were $2.3 billion according to the company.
With the PC market in decline and a measureable risk that competition may take a bigger bite out of server markets now dominated by Intel, investors might move to the sidelines for a while and monitor Intel's progress in the IoT space. Despite some success in tablets, Intel's effort to carve out a major role in mobile communications have been disappointing and there is no reason to believe Intel is on the verge of any major breakout in the mobile market, except possibly the potential for a modem in a future iPhone.
Intel's expensive foray into tablets saw it take a sizeable share of the non-iPad tablet market but at a great cost, as Intel effectively subsidized its Atom processors to bull its way into the tablet space. Today, that strategy looks like misadventure as its success in tablets came at the expense of Intel-powered netbooks which have virtually disappeared. In the first quarter of 2016, Intel chips for tablets fell 44%.
In past articles, I have suggested a long position in INTC and a short position in QCOM made sense given their relative valuations and industry dynamics. This thesis has held true over the past several years with an investment in Intel outperforming an investment in Qualcomm by a wide margin.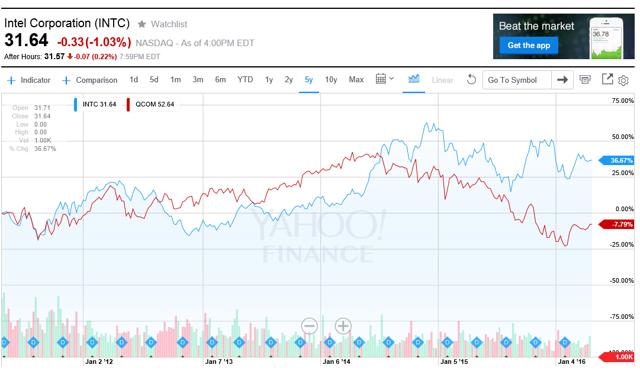 Source: Yahoo.com
I have been bullish on Intel since the stock traded in the mid-teens, but at this point, I'm on the sidelines. I would like to see either resurgent growth in PCs (which is unlikely) or more short-term success in mobile (which I see as even less likely) to take a long position in Intel at the moment. I remain convinced the company is a solid holding for longer-term investors and that the IoT market will emerge as a new growth pillar for Intel over the next decade. I see a somewhat similar path for Qualcomm as it yields to pressure from Chinese competitors in the applications processor space and to Intel in modems but carves out a substantial piece of the IoT market.
It is unclear who will be the ultimate winner in semiconductors. Investors could either hold base positions in both if they must participate in semiconductors or avoid each name until the trends are better established. For my money, there is little compelling reason to be invested in either of these names today.
Disclosure: I/we have no positions in any stocks mentioned, and no plans to initiate any positions within the next 72 hours.
I wrote this article myself, and it expresses my own opinions. I am not receiving compensation for it (other than from Seeking Alpha). I have no business relationship with any company whose stock is mentioned in this article.