The home builders have mostly reported for the first quarter of 2016 and by all accounts the reports are good. Sure, on a case by case basis some estimates were missed but the market is missing the forest for the trees. Sure, results were largely in line with expectations, a few misses on revenue and few on EPS, but those expectations were double digit revenue and earnings growth and that is what really matters.

One builder, Hovnanian (NYSE:HOV), stands out as a clear winner for the quarter but all have done well on a year over year basis, and all have positive forward outlook. Of those that do provide forward guidance the message is clear, expect revenue and earnings growth. Luxury brand Toll Brothers (NYSE:TOL) is projecting 20%, DR Horton (NYSE:DHI) the same and near 30% revenue growth based on numbers provided by Hovnanian. As for the rest, the analyst tend to agree that growth is on tap for 2016 and 2017.
Richard J Dugas, Jr - CEO Pulte Group, from the earnings press release.

"Looking to the broader housing market, we remain pleased with overall demand and expect new home sales will continue to move higher over the coming years as the industry benefits from an improving economy, ongoing employment and wage gains, low interest rates, a limited supply of homes and the gradual release of pent-up demand,"
Growth is being driven by a number of factors including labor trends, pent up demands, rising prices and improvement in the consumer. These factors are fueling and feeding off of each other, as one improves so does the next in a cycle that will last for years to come.
Data from FactSet shows that earnings and revenue outlook for the group is very good. The consumer discretionary sector (NYSEARCA:XLY) is expected to post revenue growth of 5.5% this quarter, better than the -1.1% estimated for the S&P 500, led by a 20% to 30% increase in home builder revenue. Based on analysts estimates forward revenue growth is expected to outpace the broader market and the discretionary sector into 2017 at least.
Toll Brothers and Pulte Group (NYSE:PHM) are expected to lead revenue growth into 2017 but all except Hovnanian are projected with gains. KB Homes (NYSE:KBH) has the lowest positive projection for 2017 growth, only 10.5%, but still fair compared to the broader market.
Labor Trends Driving Housing Market, And Vice Versa
Labor trends are driving improvement in the housing market. As the economy and consumer improves so too do home sales and building, when homes sales and building improve they add jobs. According to the Bureau of Labor Statistics construction accounted for more than 17% of all news jobs in March, and more than 11% over the past 12 months, second only to retail. Retail jobs account for about 13% job growth, and include many of the ancillary services associated with a robust housing market such as Home Depot (NYSE:HD) and Lowe's (NYSE:LOW).
The Kansas City Federal Reserve Index of Labor Market Conditions is signaling the onset of robust economic expansion. It has been trending upward for 6 years, since the end of the Global Financial Crisis, and is in the process of moving above 0. A move above 0 is associated with every period of strong economic growth and bull market since the index has been tracking the market, the most recent occurring in early 1994 and then again in 2003. Expansion will be led by housing as jobs are added to complete back logged orders and build homes.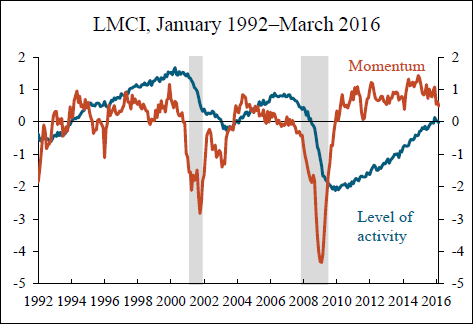 According to Realty.com 2016 is expected to see record levels of home sales, led by new construction. The total number of sales for both existing and new homes is projected to top 6 million, led by a 12% you increase in starts and a 16% you increase in new home sales. The increases in construction and new home sales is expected to help rebalance the market and moderate price increases.
Jonathan Smoke, chief economist for realtor.com - from a press release

"Next year's moderate gains in existing prices and sales, versus the accelerated growth we've seen in previous years, indicate that we are entering a normal, but healthy housing market, The improvements we've seen over the last few years have enabled a recovery in the existing home market, but we still need to make up ground in new construction, which we could begin to see in 2016. New home sales and starts will bring overall sales to levels we have not seen since 2006 and will help set the stage for a healthy new home market."
Activity; Down In March, Up Longer Term
Housing activity has been mixed over the past two months but long term trends reflect ongoing growth. Sales stalled in March but activity within the sector shows this is likely temporary.
March data shows a month over drop in permits and starts, -7.7% and -8.8%, but both show steady year over year increases. Permits are running at a rate of +4.6% YOY, starts at a rate of +14.2% but completions are the number that will influence sales and prices most in the near to short term. Completions were positive in March, +3.5%, and very strong on a year over year basis, +31.6%. Also of note is year over year gains in construction spending, +10.5% at last report.
The March New Homes Sales data shows the same. March sales fell, -1.5% month to month, but long term trends remain intact. On a year over year basis sales are up 5.4% to an annualized rate above the pace of sales seen last year. On top of this, and the reason for this month's decline, is an upward revision to last month's data. The upward revision adds to last month's 2% gain and suggests that new homes are not slowing as much as some feared.
At heart a lack of inventory is what has been hurting new home sales the most, primarily through higher prices. This month prices moderated a bit and will continue to do so if the long term trends in housing starts, construction spending and completions remains true.
Earnings Are Undervalued
The sector and group are both undervalued compared to the broader market although some stocks are trading at deeper discounts than others. On a sector basis consumer discretionary is trading about 15.1X earnings, below the 18.4X of the S&P 500. Within the group current P/E runs from a low of 13.31, Lennar (NYSE:LEN) to a high of 19.38X earnings for NVR Corporation (NYSE:NVR). While not all are subject to multiple expansion the sector as a whole is and many of the builders are as well.
Discounts to valuation deepen when you look at the forward P/E of these companies. The high is 15.53X for NVR, just below 16.8X for the S&P 500, with a low of 5.34 for Hovnanian and an average for the group near 11.65X. A rise in value to match to the broader market could result in gains of 40% or more for many of the builders.
Three stand out as possibilities to me; Toll Brothers, KB Homes and Pulte Group. Toll Brothers is unique in that it services the high end exclusively and commands the highest prices, it also has the highest projected revenue growth for 2017 and is trading at the deepest discount to forward P/E not counting Hovnanian. The negative is that Toll Brothers has the slowest pipeline in terms of new contracts and back log.
KB Homes is on the other end of the spectrum in terms of clientele, focusing primarily on first time home buyers. In terms of valuation it is trading at the same forward P/E as Toll Brothers, in terms of 2017 revenue growth it is lagging at 10.5% but may make up for that with a more robust pipeline.
Pulte Group is a more diversified builder, servicing buyers of all age ranges and needs, and trades at slightly higher valuation to the other two. It is above average in terms of 2017 projections and the current pipeline is looking healthy. The value of new orders is up 24% year over year, leading to a back log worth $3.4 billion, with one of the highest margins in the group. On a quarterly basis margin held stable near 22% and is expected to improve with the rest of the sector into the end of the year as efficiencies have their effect on cash flow.
Of them all I lean toward Pulte. The other two are both good investments in light of results, expectations and trends but neither offer the same broad exposure to the market as Pulte. . . and Pulte looks really good. The only negative I can see is the battle for control of the company that is raging in the boardroom. So long as it doesn't have material impact on outlook or performance this stock should move higher.
Simply having forward P/E valuation come in line with current and sector valuation could drive this stock up by $3.82 or 20%. Average analyst estimate is only $19.50, about 2.5% above current price, but this is very low. High estimate is $24 and estimates have been rising. Over the past month current quarter, current year and next year projections have been raised by 2 of 15 analysts.
Why I'm Investing In The Home Builders
Bottom line is that the sector, the group and the Pulte Group specifically are doing well. The group is producing sector beating results, the sector is beating the broader market and both are expected to continue into next year. This trend is being supported by labor market health, and the two are fueling each other. The group is also undervalued, providing cheaper returns than the broader market, with a potential 40% upside over the next 12 to 18 months. The only negative that I can see is that dividends in the group are sub-par, only about 0.5% paid by the XHB, which is another reason why Pulte is a better choice. Pulte pays close to 2% at current prices, just shy of the S&P 500 (NYSEARCA:SPY).
Disclosure: I/we have no positions in any stocks mentioned, but may initiate a long position in PHM over the next 72 hours.
I wrote this article myself, and it expresses my own opinions. I am not receiving compensation for it (other than from Seeking Alpha). I have no business relationship with any company whose stock is mentioned in this article.