Remember when the iPad (NASDAQ:AAPL) was all the rage and pundits wrote off the Microsoft (NASDAQ:MSFT) Surface entry as a DOA? Back in the fall of 2013, I wrote a piece describing why the then new Surface mattered to Microsoft and why it should matter to investors. At the time, the overwhelming number of comments laughed at the Surface and exalted the merits of the then popular iPad.
The world has changed a bit since then. The iPad has been in a secular decline with its worldwide market share falling steadily from the 60% range in 2012 to the 25% range today.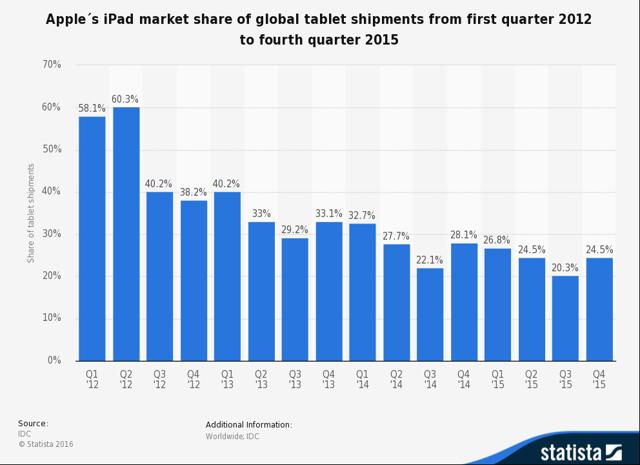 Source: Statista
What most people have not noticed is the parallel growth of Windows-based tablets including the Surface, augmented by two-in-one designs from traditional Windows assemblers like HP (NYSE:HPQ), Asus (OTC:ASUUY), Acer and Lenovo (OTCPK:LNVGY). For its part, Microsoft's own Surface line shipped some 6 million units in 2015 with forecasts of 8 million units for 2016.
Total Windows-based tablets also are growing quickly. Strategy Analytics sees Windows-based tablets taking 18% of the market in 2019, up from 10% today, while the venerable iPad languishes at around 23% of the market.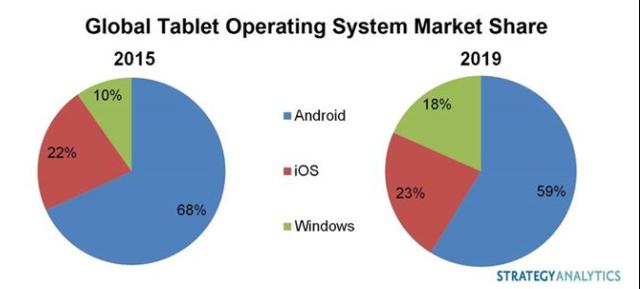 Source: Strategy Analytics
IDC sees a somewhat similar picture, assigning a 30% growth rate to Windows-based tablets and two-in-one devices through 2019 while forecasting no growth to speak of for either iPads or Android tablets.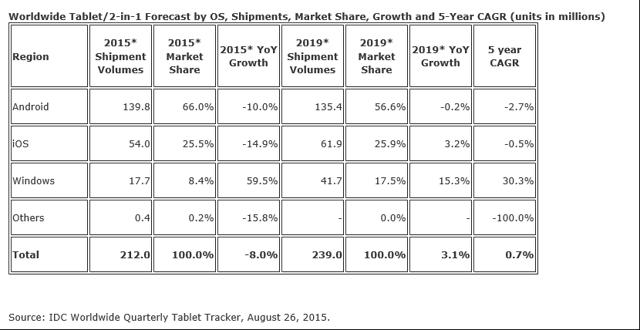 Source: IDC
Microsoft's approach to the tablet market has been slow and steady with a solid vision of the way a robust Windows 10 platform designed to support all form factors can energize both assemblers and developers. That strategy is paying off and Microsoft is both excited and pleased by the growth of its applications library in the Windows store. The number of Windows applications is now approaching 700,000.
More importantly, the quality of the Windows applications library rivals all competitors. There seems little doubt that Microsoft Windows-based tablets over time will emerge as a major player in the tablet space with the potential to equal the iPad's acceptance over time.
In my view, Microsoft is a premier name in the technology space with plenty of room to continue to grow profitably under the strong leader of Satya Nadella. Long-term investors should include Microsoft in their technology portfolio.
Disclosure: I/we have no positions in any stocks mentioned, and no plans to initiate any positions within the next 72 hours.
I wrote this article myself, and it expresses my own opinions. I am not receiving compensation for it (other than from Seeking Alpha). I have no business relationship with any company whose stock is mentioned in this article.