Having been on two Princess Cruises, I wanted to learn more about the parent company which is Carnival Corporation (NYSE:CCL). Carnival Corporation has several brands that may be familiar to you. Princess Cruises, Carnival, Holland America Line, and Cunard to name a few. All in all, CCL has more than 100 ships; serves over 10 million customers per year; and offers cruises from North America, Australia, and Europe. Carnival is unique in that it is a company that is headquartered in Miami, Florida and Southampton, England. This is due to its corporate structure in which Carnival Corporation and Carnival plc (NYSE:CUK) are a single economic entity through contractual agreements. Carnival Corporation is NYSE listed as CCL, and Carnival plc is listed on the London Stock Exchange as CCL and on the NYSE as an American Depository Share under the symbol CUK. Shareholders of either company have identical voting interests.
In this article, I am trying to decide if CCL is worth my investment dollars. I will consider revenue growth as the primary factor as I want to own a company that has strong consistent revenue growth moving forward. However, I don't want to pay a premium price for that revenue growth. I am looking as if I were to invest for a period of 18 months or longer.
Carnival Corporation is in the consumer discretionary sector of the economy as vacations are obviously a discretionary purchase. However, due to demographics, CCL may weather the storm quite well. Baby boomers like myself like to take vacations. It is expected that over 21.7 million people will take a cruise in 2016, and this number is up slightly from 21.3 million in 2013 according to an article from MarketWatch. Perhaps more people would be willing to take a cruise, but the cruise industry has had some negative comments lately. A Royal Caribbean cruise ship caught on fire in October 2015 while sailing in the Mediterranean. Carnival had the infamous poop cruise in December 2013 in which a fire in the engine room caused systems to shut down including the toilets. Lastly, another Carnival ship had an engine fire in September 2015, leaving passengers stranded in St Thomas.
Incidents such those mentioned above adversely affect CCL's revenues and profits. Passengers on those ships were given steep discounts for futures cruises, refunds for the cruises they were on, and in the case of the ship stuck in St Thomas, the passengers were flown home on chartered aircraft. All of those expenses work against net profits. Plus, there is the lost revenues of no on-board shopping, no excursions, and no upscale dining or alcohol purchases by those passengers.
I believe these recent negative news events will be forgotten by the vacationing public in the not-too-distant future. I don't believe that these negative news events will permanently reduce future revenue expectations for CCL. However, if CCL continues to have a series of engine fires and ships stuck in port, then that will bear negative consequences for CCL and perhaps others in the industry moving forward.
Another headwind that CCL faces is the economy. According to the GDPNow chart from the Atlanta Federal Reserve Bank, the Q1 2016 Gross Domestic Product is expected to come in at 0.3% as of April 19, 2016. See Chart 1. This speaks to at least lackluster economic growth. Reviewing the chart shows that the expectation for Q1 growth has come down quite a bit as well.
Chart 1 - GDPNow Forecast Q1 2016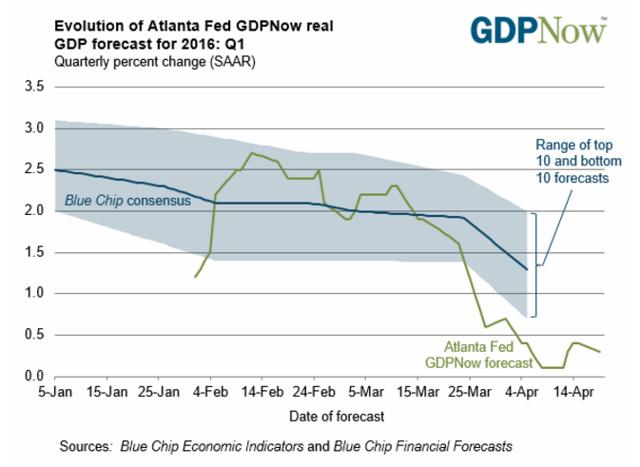 If the economy continues to struggle or worse, goes into a recession, then CCL would also struggle with revenues and earnings. To wit, CCL saw revenues decline 8.1% during the recession year in 2008-2009 based on its fiscal year ending in November. See Table 1:
Table 1 - Carnival Corporation Year-End Revenues
| | | | | |
| --- | --- | --- | --- | --- |
| Year (End Nov) | Revenues (Millions) | % Gain or Loss | | |
| 2007 | 13,033 | | | |
| 2008 | 14,646 | 12.4% | | |
| 2009 | 13,460 | -8.1% | | |
| 2010 | 14,469 | 7.5% | | |
| 2011 | 15,793 | 9.15% | | |
| 2012 | 15,382 | -2.6% | | |
| 2013 | 15,456 | 0.5% | | |
| 2014 | 15,884 | 2.8% | | |
| 2015 | 15,714 | -1.1% | | |
| 2016 est | 16,330 | 3.9% | | |
| 2017 est | 17,270 | 5.5% | | |
Source: Carnival Corporation 10-K filing with the SEC and Yahoo Finance
Another concern I have about investing in CCL is that it appears that revenues may have plateaued. Carnival's revenues bounced back after the recession and then showed growth for a few years, but appears to have topped out. According to Carnival's website, it has more than 100 ships in operation and is expecting the delivery of seven more ships between January 2015 and March 2017. More ships should mean more revenues. Analysts estimate that revenues will increase to $17.2B by fiscal year-end 2017. More ships providing cruises and cruises now sailing to Cuba could be the catalysts for that revenue growth. However, that revenue growth is still lower than the growth coming out of the recession, and I am not convinced that it is worth the current price of the stock. Carnival's price-to-sales ratio is currently 2.4, which seems rich to me. According to YCharts, the five-year price-to-sales ratio range for CCL is 1.45 to 2.73. The low was reached in March 2012 while the high was recently reached recently in December 2015. As a comparison, the S&P 500 index currently sells at a 1.8 price-to-sales ratio.
With a current stock price of $48.51, CCL sells at a PE ratio of 21.46. See Chart 2 for a 10-year history of the stock price. According to information from YCharts, CCL's five-year range of the PE ratio has been as high as 31.39 in May 2014 and as low as 12.09 in October 2011. Carnival's current PE ratio is slightly under the average of the high/low range of PEs in the last five years. More importantly, its forward PE ratio is 12.22 for the year ending November 2017 according to Yahoo Finance. As a comparison, the S&P 500 index sells at a PE ratio of 24.17. To me, CCL and the S&P 500 index both sell at a rich multiple in terms of trailing 12-month earnings.
Chart 2 - CCL Weekly Stock Price 2007-Current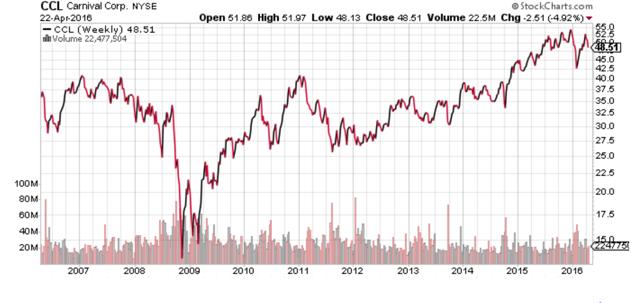 In summary, CCL is a dominant player in the cruise industry with over 100 ships serving 10 million people a year. I do like its prospects long term as I think that baby boomers will continue to spend their discretionary dollars on vacations. I do not think that CCL will be adversely affected in the long term from its recent negative news. The fact that Carnival has seven new ships coming online and that they are now cruising to Cuba bodes well for CCL's prospects moving forward. In the near term, I am concerned about stalled revenue growth especially with regards to a slowing economy. If the economy goes into a recession, I do expect CCL to suffer as revenues and profits would contract significantly.
Right now, I think that CCL is priced as if the company and the economy have no immediate concerns moving forward. I see CCL's revenue growth in the next one to two years as not that exciting, and I am concerned about the economy stalling or worse in the next year or two. That being said, I think the stock is currently overvalued for my investment dollars. I would be inclined to purchase CCL when the price-to-sales ratio drops to 1.75 or less. At current revenues and shares outstanding, this equates to a market price of $38.50. Until I see the price-to-sales ratio drop to a lower level, I will continue to monitor the company and be patient in regards to making an investment. I have to constantly remind myself to plan my trades and to trade my plan.
Disclosure: I/we have no positions in any stocks mentioned, and no plans to initiate any positions within the next 72 hours.
I wrote this article myself, and it expresses my own opinions. I am not receiving compensation for it (other than from Seeking Alpha). I have no business relationship with any company whose stock is mentioned in this article.