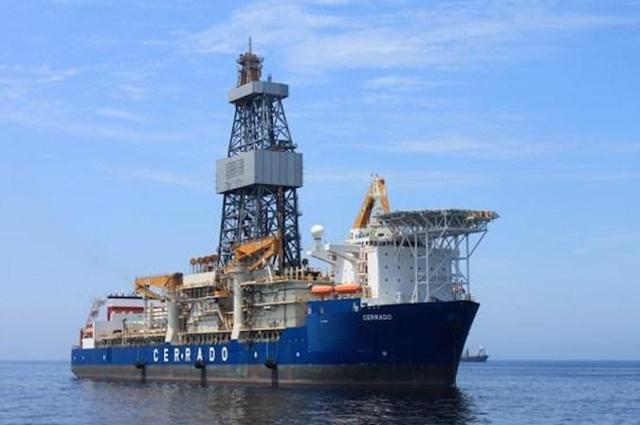 The UDW Cerrado Sertão drillship. Photo: Schahin
This article is an update of my previous article on Ocean Rig UDW (NASDAQ:ORIG), published on April 5, 2016.
ORIG is an offshore drilling company providing oilfield services for offshore oil and gas exploration, development and production drilling.
Today, April 25, 2016, the company announced the following:
NICOSIA, CYPRUS--(Marketwired - Apr 25, 2016) - Ocean Rig UDW Inc. ("Ocean Rig" or the "Company"), a global provider of offshore deepwater drilling services, announced today that one of its subsidiaries has acquired the 6th generation ultra deepwater drillship Cerrado, being sold through an auction, for a purchase price of $65 million, which will be funded with available cash on hand. The drillship was built at Samsung Heavy Industries in 2011 to similar design specifications as the Company's existing 6thgeneration drillships built at Samsung, and will be renamed the Ocean Rig Paros upon its delivery to Ocean Rig. Another subsidiary of the Company has been acting as the manager of the drillship for its previous owners. The transaction is expected to close upon completion of the judicial auction procedure.
I had to read the news twice to make sure I was not mistaken? Recently, I commented on another UDW Drillship sold through an auction, as well, for $210 million.
On March 15, 2016, The UDW Deepsea Metro II (2Q'11 Gusto P10000 design) was sold at auction for $210 million.
The drilling rig Deepsea Metro II was auctioned and sold for USD 210mln on 15 March. The vessel was anchored in Curacao waters. The Court of First Instance of Curacao granted the order for the auction at the request of the executing party, DVB Bank America NV. DVB was assisted by partner and maritime law expert Mayesi Hammoud.
The judicial sale was covered by Antilliaans Dagblad (Antilian Daily); the clipping can be downloaded here (in Dutch).
From the Chloe Marine Corp. in 2011 we learned that the cost was approximately $630 million.
In November 2011...After securing external financing of USD 550 million Chloe is close to being fully financed. The remaining funding requirement is approximately USD 80 million.
The Ocean Rig Paros (new name) is a Ultra-deepwater 6th generation drillship very similar to what Ocean Rig owns, right now. The drillship is now ready stacked in Aruba per Rigzone (click blue link above) after being canceled by Petrobras last year.
A little history of the situation (Connecting the dots):
The Ocean Rig Paros -- we can now call it that name -- was working for Petrobras in the giant pre-salt Libra field.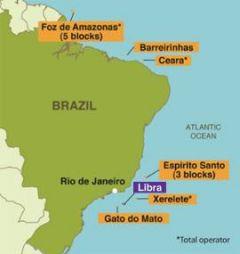 The OR Paros -- Shahin Petroleo e Gas SA Cerrado -- was successful in the exploration well 3-RJS-731 in 8/2014, and worked there until 5/15.
The first exploration well, 3-RJS-731, was spud by the Schahin Cerrado drillship in August 2014, just 5km southwest of the discovery well 2-ANP-2A-RJS. Petrobras later confirmed in October of that year that the well had found good quality oil in the north western portion of the structure.

The Libra field, discovered in 2010, covers about 1500sq km and contains between 8-12 billion boe, according to Brazil's national petroleum agency, ANP.
Unfortunately, Shahin Petroleo e Gas was involved in the Petrobras bribery called the "car wash prosecution", and the UDW Cerrado with four other aforementioned rigs owned by Shahin lost their contract in May 2015.
The five Schahin vessels are the drillships Cerrado Sertão and Lancer and the semi-submersible oil production platforms Amazônia and Pantanal. All had been on long-term leases.

Schahin said it was forced in early April to temporarily pull these vessels from service with Petrobras for nearly a month and move them to port after a lack of cash to pay debt led a creditor to seek the sale of assets. The creditor was leasing the Pantanal and Amazônia to Schahin.

In late April, after renegotiating a $1 billion reduction in debt Schahin informed Petrobras that the ships were ready for service. On May 21 Petrobras canceled the leases, Schahin said.
The Libra field is operated by a consortium comprised of Petrobras (operator, 40%), Shell (20%), Total (20%), CNPC (10%), CNOOC (10%) and PPSA (as contract manager).
On April 13, 2016, I commented on the OR Mylos and a potential 4-year contract with Statoil in the Esperito Santos field.
Statoil has unveiled plans to charter a rig to carry out exploration work in the Espirito Santo basin - Brazil.

Norwegian StatOil expected to spud two wells each on four blocks off Brazil with four-year charter.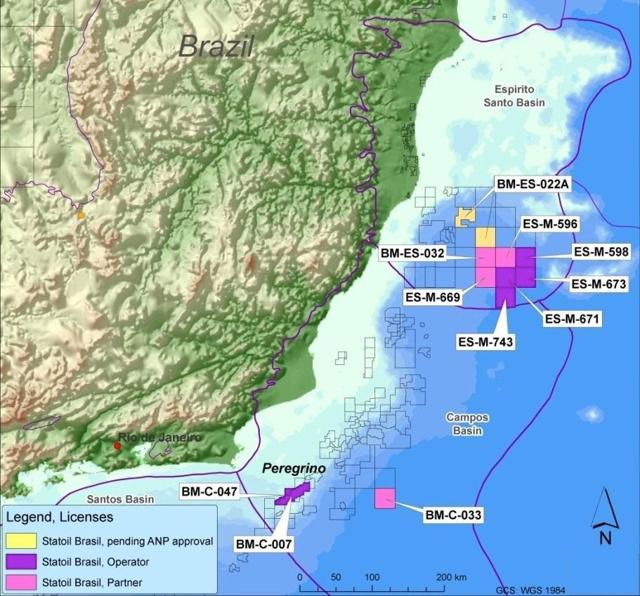 With this new astonishing purchase, Ocean Rig will have more flexibility and added competitiveness to win the 4-year contract from Statoil or eventually get a new contract in the Libra field at a reduced rate with Petrobras.
We were all wondering why ORIG was setting aside $180 million in a "newly unrestricted subsidiary"? The answer was quick to show.
Since the last 4Q'15 results and conference call, the company bought:
All of DryShips Inc.'s shares in Ocean Rig for total cash consideration of approximately $49.9 million. A quick calculation indicates that the deal translates to $0.89 per share, which is excellent for ORIG, which is retiring 40.4% of its shares outstanding, or 56.079 million shares.
The UDW Cerrado for $65 million.
For $114.9 million in cash, ORIG retired 40.4% of its shares outstanding and purchased a 2011 UDW Drillship. It is unbelievable and I have to recognize that M. George Economou, CEO, is quite a clever man who is getting the best deals possible for peanuts.
I now wonder if ORIG is not "in the process of" acquiring more rig(s) from Shahin, through another auction?
ORIG has still $60+ million, and the Company could eventually purchase a second UDW Drillship -- Probably not the UDW SC Lancer which is stacked, built in 1977 -- At $65 million a piece, ORIG cannot go wrong...
Disclosure: I am/we are long ORIG.
I wrote this article myself, and it expresses my own opinions. I am not receiving compensation for it (other than from Seeking Alpha). I have no business relationship with any company whose stock is mentioned in this article.
Additional disclosure: I mostly trade the stock.