By Tim Hunter, Harry Fudge, and Deepikaa Jeganath
[Editor's note: Although Seeking Alpha targets coverage of stocks and ETFs that trade on U.S. exchanges, we have made an exception for the University of Bath student competition.]
Significant diversification in the past decade has put Barr in a good position in the soft drinks market and large investment in production sites will likely improve efficiency in the coming years. Along with good debt levels, this puts Barr in a position to weather many shocks, such as any negative outcomes from the introduction of the UK sugar tax in 2018. A merger also has the possibility to create significant value for shareholders.
Company Background
A.G. Barr (LON:BAG) is a Scottish soft drinks maker and, with a market capitalisation of £608.7m, is a constituent of the FTSE250 index. Responsible for brands including Irn-Bru, Strathmore spring water, Tizer and Rubicon alongside partnerships with Snapple and Rockstar Energy, the company operates in four segments: carbonates, still drinks and water and other (including ice cream).
All of the company's sites and assets are located in the UK, with its head office in Cumbernauld, Scotland and ten sales and administration offices, sales branches and supply chain sites throughout Scotland and England. Revenues are highly concentrated in the UK (96%), with almost 60% of total sales coming from England and Wales in FY2015.
| | | | | |
| --- | --- | --- | --- | --- |
| £m | Carbonates | Still drinks and water | Other | Total |
| Total revenue | 189.7 | 57.1 | 11.8 | 258.6 |
| Gross profit before exceptional items | 98.6 | 16.9 | 5.6 | 121.1 |
| Gross margin | 52% | 30% | 47% | 47% |
(source)
Barr has a manufacturing and distribution agreement for the Rockstar energy drinks brand until 2024 and the exclusive rights to sell, market and distribute the Snapple juice drink brand in the UK and some EU countries until 2025.
Financials and Competitors
A.G. Barr's two main UK public competitors are Britvic and Nichols, each with a market capitalisation of £605m, £1.85bn and £488m and price to earnings ratios of 21.1, 17.3 and 23.0 respectively. This is a reflection of the profitability, liquidity and leverage of each of the firms. Nichols also operated a soft drinks dispensing business, so it is unclear as to whether this is the reason for its better ratios.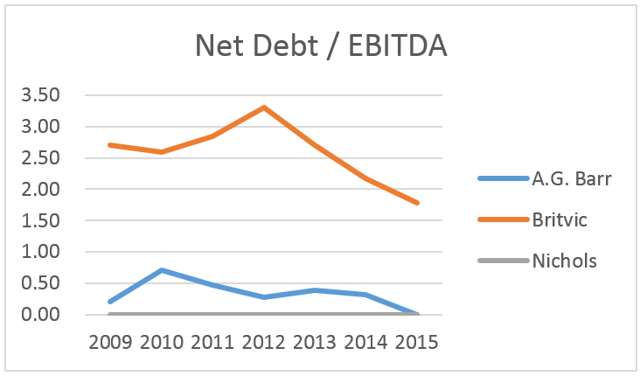 (Source: Thomson Reuters Eikon)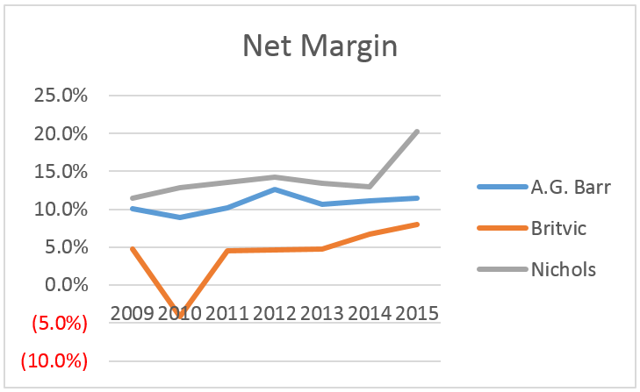 (Source: Thomson Reuters Eikon)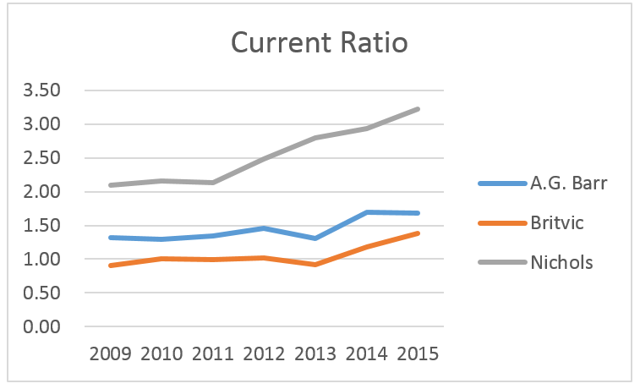 (Source: Thomson Reuters Eikon)
Value Drivers and Opportunities
Merger with Britvic
Barr agreed to merge with Britvic in 2012, but this fell through in 2013, after having been approved by the UK's Office of Fair Trading, with both sides unable to agree on terms. With both companies operating in many of the same areas, the combined entity would likely have benefitted from increased efficiency. This leaves open the possibility of a future merger or acquisition.
Sugar Tax Leads to Increased Innovation
In the 2016 UK Budget, a levy on medium and high-sugar content drinks was announced, aiming to be introduced in April 2018. The levy would operate in two bands: greater than 5g and greater than 8g of sugar per 100ml of drink. With a current proposed introduction point of April 2018, Barr has stated that it expects two thirds of its portfolio to be low or no sugar by this point, thus levy-free. With increasing demand for low or no-sugar drinks from consumers, an increased range of drinks in this area may draw many consumers to Barr's brands which they would have previously avoided because of their high sugar content. This gives Barr the opportunity to both mitigate the effect of the levy and increase revenues with new consumers of its drinks.
Acquisitions
With five acquisitions in the past ten years, Barr has sought to diversify its portfolio into higher growth areas. Indeed, the Strathmore water brand grew by over 20% in the year to January 2015, beating the total bottled water industry growth of 10.7%, and Rubicon, whilst having some products in the shrinking fruit juice sector, grew by 3.4% in the same period. Two of Barr's acquisitions, Taut and Vitsmart, were discontinued in 2010 and, although both were purchased for relatively small sums, this does show that such an acquisition policy is not void of any risk, although Barr has managed to avoid any substantial losses as of yet.
Value Inhibitors and Threats
Falling Prices
The UK soft drinks market's value fell by 1.8% in the year to January 2016, with volumes flat. Barr believes that the market has not yet benefitted from the 'improvement in underlying consumer purchasing power'.
Sugar Tax
Many of Barr's most popular drinks are under the levy, and low- or sugar-free versions are currently available for few of such drinks. In response to this, Barr have stated the aim to have two thirds of their portfolio to be low or no sugar by the time of the introduction of the levy, thus exempt from it, and that 'brand loyalty and consumer preference' will continue to drive demand for the drinks under the levy. This is not unreasonable, as the company already benefits from these in competing against the larger and more recognisable brands of Coca-Cola, PepsiCo and Britvic and lower-cost supermarket own brand products.
Fruit Juices Falling
Whilst they are excluded from the sugar tax, fruit juice sales have fallen in recent years (down 7.1% 2014-15). Barr has a number of products in this sector, and has stated that it has seen 'significant value declines in fruit juice'.
Regional Sales Dependency
With 96% of sales in the UK, Barr is open to a number of threats that would affect soft drink consumption in the UK, including economic slowdown decreasing consumption of soft drinks or a general consumer shift away from the areas in which it operates, perhaps caused by the increasing health consciousness of consumers. These risks may not be as large as they appear however, and Barr is currently working on improving its range of low and no sugar drinks and its acquisition policy has diversified its brands into water, juices, sports drinks and cocktail mixers, mitigating the impact of a fall in demand for medium and high-sugar soft drinks.
Valuation
A discounted cash flow model has been used to value A.G. Barr, applying both a terminal EBITDA multiple and a Gordon-growth model, with the lowest value chosen for a conservative value. Five years' worth of unlevered free cash flows were estimated and a WACC was used to discount these values.
A number of assumptions were made in the model:
WACC
The risk free rate is equal to the discount rate of a 3 month UK gilt. This roughly equals the BoE's Bank Rate, and it was assumed that this would rise by 0.5% per year to 2% in 2019 A constant beta was assumed, equal to the average of Barr's 3-year weekly beta against the FTSE250 for the end of years 2013 to 2016 Barr's cost of debt will rise in line with the risk free rate
Operating Model
Revenue, cost of goods sold and operating expenditure will grow by 4% p.a. and depreciation by 2% p.a., both conservative estimates
DCF
Terminal EV/EBITDA multiple and Gordon-growth model approaches were used, with the lowest terminal value being used. For the Gordon-growth model, the long term growth rate was equal to the average UK population growth rate between 2000 and 2016, due to 96% of Barr's revenues currently being from the UK. The change in working capital and capital expenditure will rise from their averages over the past seven years at the rate of growth of revenue.
This implies a share price of 638.71p, 15.1% greater than the most recent close of 555p.
Barr's positions in high growth sectors will likely drive sales upwards in the coming years, and investment in production will turn an increasing share of that into profit. The previous merger attempt with Britvic may open up again if the sugar tax places increased pressure on firms in an already highly competitive market, creating significant value for shareholders if so.
All values correct as of 21/04/2016
Disclosure: I/we have no positions in any stocks mentioned, and no plans to initiate any positions within the next 72 hours.
I wrote this article myself, and it expresses my own opinions. I am not receiving compensation for it (other than from Seeking Alpha). I have no business relationship with any company whose stock is mentioned in this article.