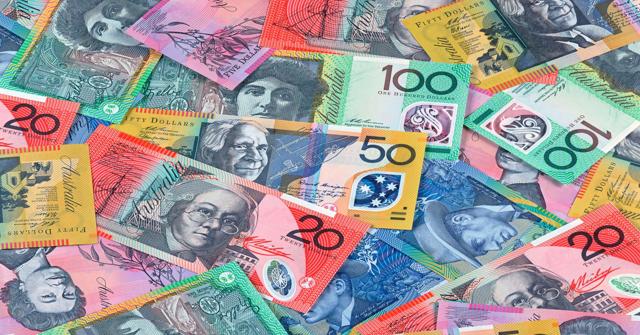 Following a remarkable rise in the iron ore price, the Australian dollar staged an even more remarkable rally against its U.S. counterpart. But the good news for those shorting the Australian dollar is that the rally cannot last, according to many economists.
There is a strong correlation with the price of iron ore and the Australian dollar. That is quite understandable to some degree, considering Australia is responsible for just over half of the world's iron ore exports through mining behemoths such as BHP Billiton (NYSE:BHP) and Fortescue Metals (OTCQX:FSUGY).
Right now, with iron ore prices rising high thanks to a boom in steel use in China, things are looking very promising for shareholders of these two miners. But let's not count our chicken before they hatch. 98 percent of iron ore is estimated to be used to make steel, and with steel prices climbing higher on the back of a binge from China, iron ore producers have benefitted. But few expect this binge to last. It is believed that the high steel price has been driven by a "seasonal recovery in activity that's been exacerbated by increased speculation in the futures market," according to Laura Zhai from Fitch Ratings.
Due to demand being strong and prices being high, idled plants are now expected to come online, which will of course mean that supply increases. We expect supply will grow to a rate that knocks the steel price back down to where it started, which of course will then take the iron ore price back down with too.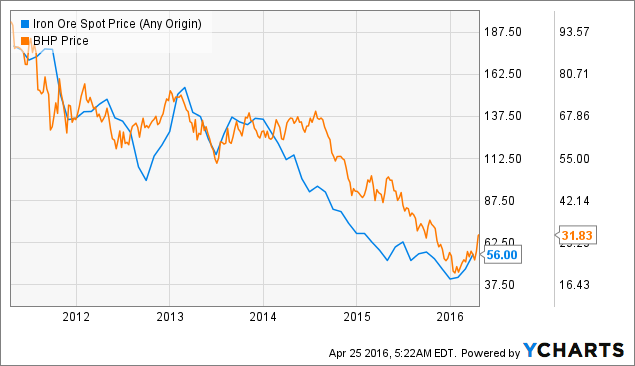 This is not great news for BHP Billiton and Fortescue shareholders which may see their share prices decline following a strong rally in the last few weeks. Not that this should come as a surprise to them. BHP Billiton actually warned the market that iron ore prices were not sustainable and would retreat soon, whilst cutting its production target for the year. As you can see above, any drop in iron ore is very likely to drag the BHP Billiton share price down with it. We would be heading for the exits now if we were shareholders, especially after such a strong gain recently. Better to lock in those gains than risk losing them.
What this means for the Australian dollar
Much like BHP Billiton or Fortescue Metals, the Australian dollar also has a strong correlation to the iron ore price. So when the iron ore price drops again, which we expect it will do soon, the Australian dollar will also drop.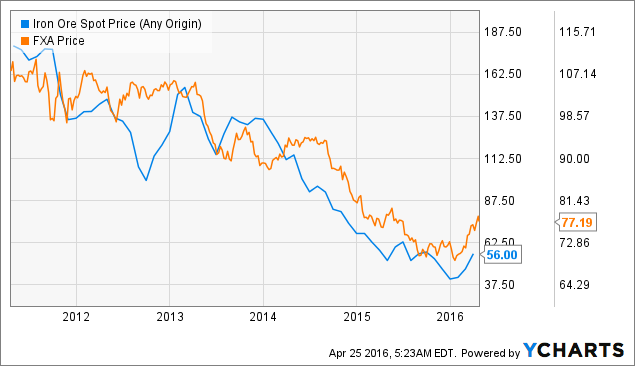 This would certainly make the life of the Reserve Bank of Australia easier. It has been reluctant to cut rates despite acknowledging that the Australian dollar was stronger than they would like it to be, which we can fully understand. A number of reserve banks have cut rates only to see their currencies climb higher. It does seem to be a bit of a waste of a weapon in the current financial climate.
But there is only so long that the RBA can hold out. First quarter inflation will be released this week and a bad reading here could force the RBA to act the following week at its interest rate decision meeting. Admittedly, we don't expect much action from the RBA until at least the Fed has made its mind up on rate hikes in the United States.
This is something we hope to learn more about this week. It is extremely unlikely that the Fed will raise rates this week. But we will be looking for hawkish rhetoric to give us an indication to its plans. We are firmly in the camp of wanting rates to rise sooner rather than later but, if we were to bet on it, we would pick June as being the first rate rise this year. When this does occur, we have little doubt that the Australian dollar will depreciate as low as US 71 cents, representing a huge 8 percent drop from the last trade price.
Although we differ on timeframes, Australia's second largest bank Westpac (NYSE:WBK) also sees the Australian dollar dropping down to US 71 cents.

Source: Westpac Weekly
Westpac's economists see the Australian dollar dropping down to US 74 cents in the next couple of months, and then down to US 71 cents by the end of the year.
Whether we are right or Westpac is right, time will tell, but one thing for sure is that patient investors do stand to make strong gains. For this reason, we believe that shorting the Australian dollar with the U.S. dollar through the CurrencyShares Australian Dollar Trust ETF (NYSEARCA:FXA) is a great trade today for those that have time on their side.
It is going to be a very interesting week for the two currencies. We look forward to seeing where things are at the end of it, and wish you the best of luck with your trades!
Disclosure: I am/we are short FXA.
I wrote this article myself, and it expresses my own opinions. I am not receiving compensation for it (other than from Seeking Alpha). I have no business relationship with any company whose stock is mentioned in this article.
Editor's Note: This article discusses one or more securities that do not trade on a major U.S. exchange. Please be aware of the risks associated with these stocks.