I like stocks which normally fly under the radar. China Automotive Systems (NASDAQ:CAAS) is such an example, which I've covered before on Seeking Alpha. China Automotive Systems is a supplier of power steering systems to the automotive industry. It operates through a variety of subsidiaries and sells worldwide.
Not too long ago, the firm announced the results over 2015, and in this article, I am revisiting the investment thesis.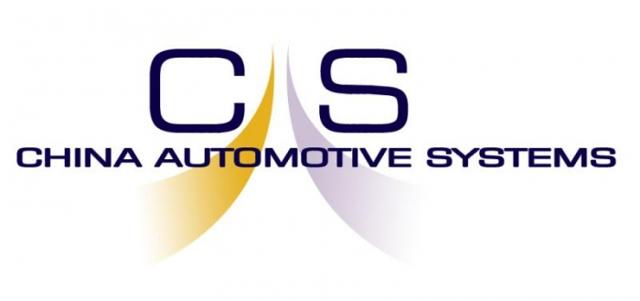 As I pointed out in the earlier article, CAAS was uniquely positioned based on its low valuation in an interesting consolidated market with large players such as ZF Friedrichshafen, Nexteer Automotive (OTCPK:NTXVF) and JTEKT Corp. (OTCPK:JTEKY).
Unfortunately, as CAAS is a Chinese small-cap firm, a majority of red flags always comes up. The majority of these red flags I've discussed here, an article on Seeking Alpha covering the iShares MSCI China Small-Cap ETF (NYSEARCA:ECNS), pointing out to specific accounting measures investors should look for when looking at small-cap stocks in China.
Results Over 2015: Not Disappointed
Overall results of 2015 can be found here.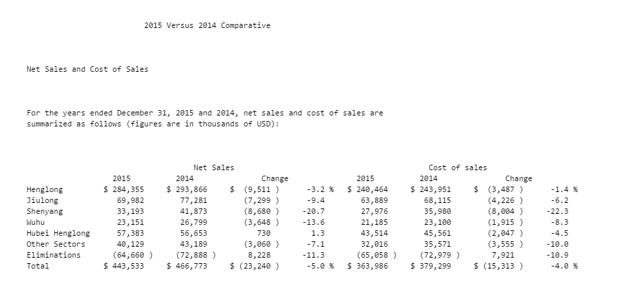 Source: Annual Report CAAS 10-K
Overall sales fell by 5% over the year. The largest decline was Shenyang, as shown above. The 20% decrease in sales seems worrying, yet Shenyang is a subsidiary which is specifically focusing on hydraulic steering units. It mainly sells to Shenyang Brilliance Jinbei Automobile Co., Ltd., "Jinbei" which has been increasingly using electronic power steering units.
According to the Chinese Association of Automotive Manufacturers (CAAM), commercial vehicle sales declined 9% year on year. Sales of Chinese branded cars fell 12.5% over the year. The majority of sales for CAAS is Chinese branded cars.
The largest client of CAAS in 2015 was Fiat Chrysler (NYSE:FCAU) with around 12.8% of overall sales. 13.8% of total revenue was outside China compared to 12.4% in 2014.
Revenue for Q4 2015 was $120.1m (-11.2% year over year), yet was still a beat of $11m compared with analysts' estimations. Over the entire year, revenue was $444m compared to $467m in 2015, a decline of -5%. This was mostly driven by lower car sales in China.
Shifting Towards Electronic Power Steering In 2016
The CEO of CAAS, Qizhou Wu, mentioned:
"We reported lower sales of our traditional hydraulic power steering units, as the sales of electric power steering units ("EPS") accelerated. Sales of our own EPS units continued to climb in 2015 and we are making further investments in R&D and our operations to speed our changeover to emphasize EPS sales in the future. Several of our customers also delayed the launch of new passenger vehicle models in 2015 which also impacted our sales. We anticipate those new models will be introduced in 2016."
It's important to notice that overall R&D expenditure has not materially changed over the year 2015, yet the percentage focusing on electronic power steering (EPS) is likely increasing. Overall R&D expense in 2015 was $22.3m while in 2014 it was $23m.
The first question on the conference call was specifically pointed towards utilization rates of the firm: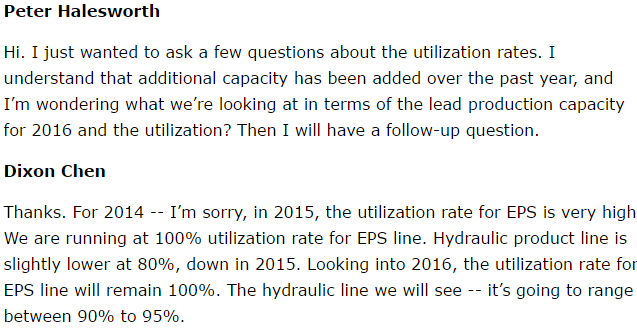 Source: Conference Call
A 100% utilization rate has a few advantages and disadvantages. If growth is already fully utilized, either capacity needs to grow, or average sales price needs to increase to profit from a fully utilized capacity.
CAAS is expecting a 50% year-on-year growth in EPS:

Source: Conference Call
In my last article covering CAAS, I mentioned that the share buyback was actually a solid move by the firm. Now during the last conference call, that path slightly deviated from a timing perspective: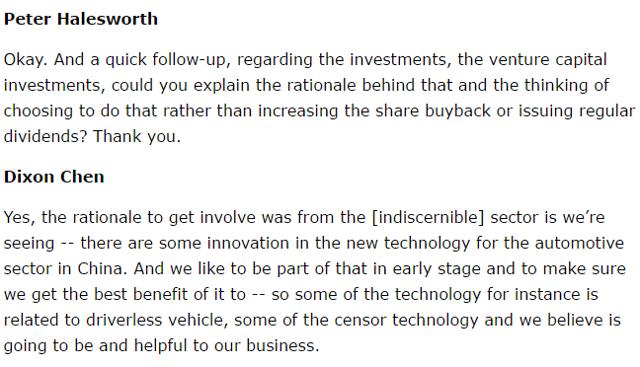 Source: Conference Call
CAAS: 2016 Is Not Going To Be A Bad Year
The outlook for 2016 revenue is around $450m in total. Rather than looking for specific revenue growth, focus will be geared towards margin enhancement.
Looking at the order book: the deal with Shanghai GM was delayed, yet started in December of 2015 for 250.000 units. There will be a small new order with Fiat-Guangzhou Auto (OTCPK:GNZUY) in 2016 and CAAS will follow up with Ford (NYSE:F). As an investor, I'm not very fond of Ford. CAAS has dealt with Ford for a while, yet order wise, it remains small. The takeaway here is that CAAS deals with large international clients.
I realize that based on fundamental metrics, CAAS is a screaming value play, as is shown underneath in the GPRV analysis: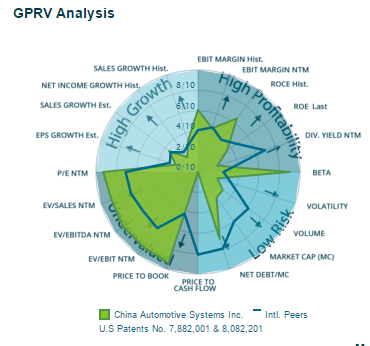 Source: Infinancials
Yet, one should realize that the firm is also showing relatively low signs of growth, no specific factors which indicate low risk.
Conclusion
As was pointed out in the conference call, CAAS is losing out on the transitioning between electronic steering and traditional hydraulic steering as the growth in electronic steering is outpacing traditional. The majority of CAAS's sales is traditional, which brings forth an issue that has to be dealt with.
Other than that, the firm performed better than the overall decline in the market. Even though its margins declined, as average selling price decreased, they are still reasonable numbers. The firm has quite a bit of cash on the balance sheet, yet its utilization rates are incredibly high. Based on the outlook by the management of sales around $450m, I'm not expecting it to increase capacity. Nevertheless, I think the company eventually might make this choice.
As I do believe international growth will eventually increase more and more, I'm anticipating CAAS to come more on the radar internationally. This could make it an interesting candidate. For now, CAAS remains on the radar.
Disclaimer: This article provides opinions and information, but does not contain recommendations or personal investment advice to any specific person for any particular purpose. Do your own research or obtain suitable personal advice. You are responsible for your own investment decisions. This information is not a recommendation or solicitation to buy or sell securities, nor am I a registered investment advisor.
Disclosure: I/we have no positions in any stocks mentioned, and no plans to initiate any positions within the next 72 hours.
I wrote this article myself, and it expresses my own opinions. I am not receiving compensation for it (other than from Seeking Alpha). I have no business relationship with any company whose stock is mentioned in this article.