With a strong balance sheet and diversified upstream operations, Hess Corporation (NYSE:HES) is entering 2016 on a solid footing. On April 27, investors will get an idea just how solid that footing really is when Hess Corporation reports its Q1 2016 earnings results.
For some background context, Hess sold off half of its stake in its midstream operations up in North Dakota that were servicing production from the Bakken and Three Forks shale plays. On June 11, 2015, Hess announced that Global Infrastructure Partners had just bought a 50% share in its Bakken midstream assets for $2.675 billion. Part of the deal included the newly formed master limited partnership Hess Midstream Partners LP paying out $300 million to each party with cash raised from a five-year term loan.
This move generated a net $3 billion to Hess Corporation and helped provide a benchmark for how valuable its Bakken/TF midstream assets are. When energy markets recover, Hess plans to go forward with a public offering of Hess Midstream Partners. The deal was finalized at the beginning of July 2015.
At the end of 2015, Hess had $2.713 billion in cash on hand. A secondary offering that was announced on February 4, 2016, raised that to $4.3 billion according to its March 22 presentation. That implies that the cash infusion from its equity offering slightly exceeded its guidance, which called for "net proceeds from the common stock offering and the depositary shares offering will be approximately $945.8 million and $485.3 million, respectively, in each case after deducting underwriting discounts and commissions and before estimated offering expenses payable by Hess."
On top of its cash balance, Hess Corporation's undrawn $4 billion revolving credit facility provides the company with an enormous amount of liquidity and access to plenty of additional liquidity if need be. Hess's debt load stood at $5.92 billion at the end of last year, down $67 million from the same period in 2014. A net debt balance of $1.62 billion for a company with a market cap of $18.3 billion is enviable in this environment.
During Hess's earnings release, investors should see what the company plans to do with its large cash pile, which may include debt reduction and/or a small acquisition. However, it's very possible/likely the upstream player will decide to continue camping on its cash pile to ride out the downturn.
Another interesting thing to pay attention to is how the ability to export crude from its US operations will impact Hess Corporation's realized prices. Earlier this month, Hess shipped out 175,000 barrels of crude produced from its Bakken/TF wells from St. James, Louisiana to a refinery in Europe. As Brent, the international crude pricing benchmark, trades at a premium to America's oil pricing benchmark WTI (West Texas Intermediate), Hess should be able to increase its margins.
That being said, the Bakken-WTI differential has plummeted to around $2/barrel, so any gain probably will be marginal. The crude was exported during the beginning of Q2, but there is a decent chance this will come up during Hess's conference call if it isn't mentioned in the prepared remarks or earnings release.
Exploration endeavors
On the exploration front, there are several major endeavors Hess stands to gain materially from. In the Gulf of Mexico, Hess owns 35% of the Melmar prospect that was targeted by a well spud in December 2015 by the operator, ConocoPhillips (NYSE:COP). Results are expected sometime in Q2 2016 as the partnership taps into a large four-way Paleogene structure that may hold huge amounts of recoverable hydrocarbons. It might be too soon for management to be able to comment on anything, but it's worth looking out for.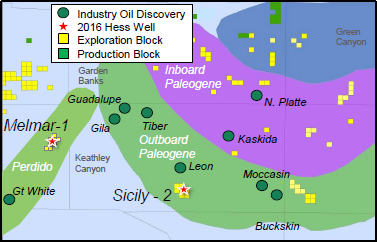 Source: Hess Corporation Presentation
Another exploration operation in the Gulf of Mexico Hess is participating in is the Chevron Corporation (NYSE:CVX) operated Sicily prospect that Hess owns 25% of. Back in April of 2015, Chevron (50%) and Hess's (25%) Sicily-1 well had reached total depth and encountered "encouraging" results. The Sicily-2 well was spud in December 2015 and results from that well are expected by the second quarter of this year. Investors should see if Hess has any updates on that prospect, especially as it appears there is something worth developing based on the partnership quickly jumping on the opportunity to appraise the prospect in the current environment.
Off the coast of Guyana in the northern portion of South America, Hess and Exxon Mobil (NYSE:XOM) struck liquid gold on their first try. The Stabroek license covers a vast amount of offshore space, 6.6 million acres, that could be loaded with crude. Exxon Mobil is the operator of the venture (45% interest) with Hess (30% stake) as its partner. Last year the venture struck 295 feet of "high-quality oil bearing sandstone reservoirs" that could house 500 million BOE of recoverable resources heavily weighted towards crude.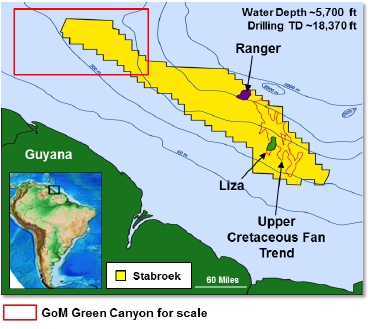 Source: Hess Corporation Presentation
As of March 22, the partnership's 3D seismic program that covers 17,000 square kilometers was 98% complete, providing an immense amount of info to capitalize on. The Liza-2 well was spud in February of this year to build off of the success of the Liza-1 well, which is a part of the venture's plan to drill four exploratory/appraisal wells in the block this year. Clearly, Exxon Mobil and Hess Corporation see Guyana, which borders Venezuela, as one of the world's up and coming oil producers.
Shale
With energy prices still in the dumps, Hess doesn't intend on performing any more drilling activities after Q1 2016 on its Utica position until market conditions improve. Investors should see at what point in the probable likelihood of a pricing recovery that Hess would return to the play. Hess has allocated $45 million of its 2016 capital expenditure budget to the Utica.
Hess still has some locations capable of being economical (with a 15% after-tax IRR rate instead of the industry standard 10%) in the Bakken and Three Forks formations even when considering the stressed conditions all upstream players are facing. 8% of its inventory is economical under $40 WTI, and that number goes up to 20% when WTI is at $50/barrel. The company intends to run two rigs in the region this year with capex set at $425 million, a plan that will see its output from the area decrease somewhat in 2016 to an average of 95,000-105,000 net BOE/d. Hess Corporation pumped out 109,000 net BOE/d during the final quarter of last year. Investors should look out for comments regarding continued optimization and efficiency gains, and at what prices would management consider ramping up development once again.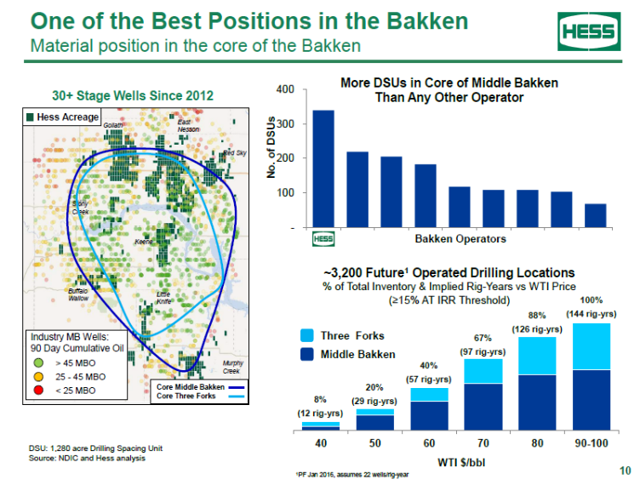 Source: Hess Corporation Presentation
Final thoughts
Over the past couple of months, there has been a major shift in sentiment towards the oil & gas sector, specifically the upstream portion. As WTI marched from under $30/barrel during the beginning of the year to $43.73 as of this writing, names like Hess Corporation shot upwards. It appears that non-OPEC production is set for steep declines throughout the rest of the year and America's oil rig count continued to move lower last week even as prices climbed higher. That being said, from a valuation perspective, the E&P sector is looking a lot less attractive now, but it's worth keeping up to date and having high-quality names like Hess Corporation on your radar.
Disclosure: I am/we are long HES.
I wrote this article myself, and it expresses my own opinions. I am not receiving compensation for it (other than from Seeking Alpha). I have no business relationship with any company whose stock is mentioned in this article.