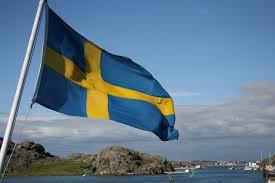 Earlier this year, Credit Suisse published its long-term returns report, and perhaps unsurprisingly, Sweden is one of the best. The country continues to punch above its weight, and buoyed by an excellent social system focused on innovation, has generated exceptional long-term returns for investors.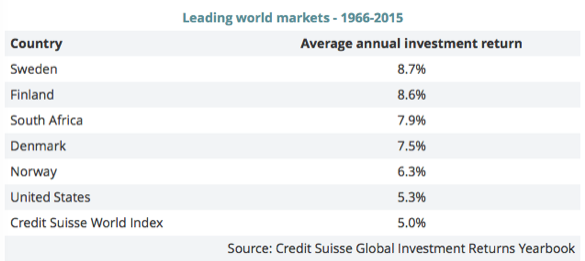 What's more surprising (at least for me) is that each Scandinavian country has generated good investment returns over time. The amount of good-quality companies and global leaders to come from such a small population and tiny region of the world is undeniably impressive.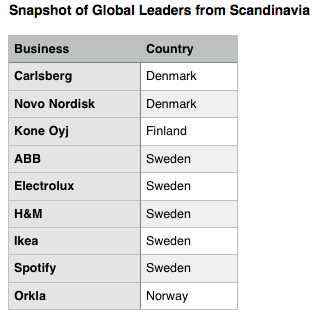 So, while future returns are not guaranteed, Scandinavia is definitely a good place to start turning over rocks.
If you're ever interested in more on Sweden, Hurricane Capital's blog is a wealth of information (as well as being an amazing source of information on business analysis and investing).
Two Boring Companies
With that introduction, I want to emphasize that it's slightly more fun trying to find great businesses that are more under the radar than the preceding list.
In fact, two of my favorite Swedish companies are two very boring ones that, in my view, aren't very well known.
I wrote about Axfood (OTC:AXFOF) earlier in the year, and with ROE above 40%, a leading discount banner, and expanding operating margins, it is an example of a great Swedish business that's not known to the broader investment community.
The company recently reported Q1 results. Same-store sales were up 5.2%, led by discount brand Willy's, and earnings grew 25%. It has no debt and continues to add to the cash balance, which serves as a potential source of future special dividends. Further, Axfood continues to gain share of the Swedish retail food market: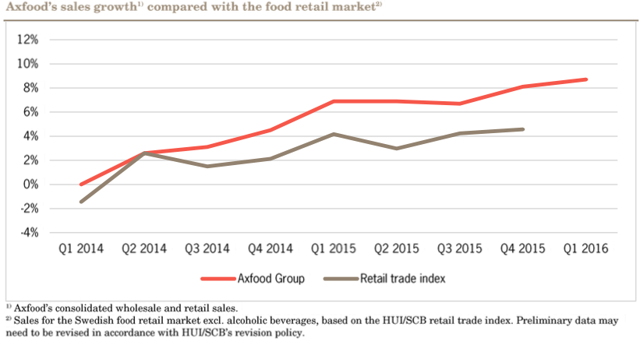 The second company is Vitec Software, which reported year-end results in February. Vitec sells software to a variety of industries, such as construction, real estate, automotive dealers and healthcare, among others. The company focuses on profitable growth and regularly redeploys capital towards acquiring vertical market software companies in Scandinavia. Its business strategy is often compared to that of Canada's Constellation Software (OTCPK:CNSWF).
2016 was a banner year for Vitec:
Operating margins increased to a record 16%.
Recurring revenue (i.e. maintenance and subscription) were 78% of sales.
Return on invested capital increased to a record 17%.
Earnings increased 31% to a record.
The last point is particularly interesting. ROIC at Vitec has been increasing each year, suggesting that as the company grows, management is getting better at reinvesting shareholder capital.
It is also worth noting that Sweden is increasingly becoming known as one of the world's best technology hubs. Stockholm is one of the most productive technology regions in the world (second only to Silicon Valley), and in 2014, took in 15% of all foreign investment in the European tech sector.
When we consider that Sweden's population is less than 5% of Europe's total, it quickly becomes clear just how much the country punches above its weight.
Return on Invested Capital
I wanted to conclude this piece with a brief discussion of return on invested capital. I've often thought that high ROIC businesses tend to do well by shareholders in other areas too: they don't overburden shareholders with debt, they are consistently profitable and always generate more cash than they need to run the business.
Nothing wrong with that.
So, let's revisit Bill Ruane's Four Rules of Smart Investing, which I first looked at in my discussion of New Zealand healthcare distributor, EBOS Group (OTC:EBOSF).
His "four rules" are theoretically simple, but, like all investment processes, can be difficult to implement over time and across a variety of different markets. It requires a tremendous amount of discipline to stick to a process when temptations regularly pop up begging you to invest in a new hot idea or deviate from your process.
Buy good businesses - Demonstrated by high return on capital.
Buy businesses with pricing flexibility - Successfully able to pass through inflation.
Buy net cash generators - Cash earnings (i.e., free cash flow) are consistently positive.
Buy stock at modest prices - A company that consistently reinvests capital at a higher rate is worth more.
Let's see how Axfood stacks up against Ruane's Rules:

Think about the first point. A grocery store generated 30% return on invested capital. 30%!! I have yet to find another grocer that generates returns on invested capital above 20%, let alone 30%. To put that number in context, let's look at return on invested capital for a variety of other grocery stores, which are all good-quality businesses:
| | |
| --- | --- |
| | TTM ROIC |
| Kroger (NYSE:KR) | 13% |
| Whole Foods (NASDAQ:WFM) | 13% |
| Costco (NASDAQ:COST) | 15% |
| Sprouts (NASDAQ:SFM) | 13% |
| Metro, Inc. (OTCPK:MTRAF) | 15% |
*Courtesy of Morningstar
These are still very good ROIC numbers - each is above the company's cost of capital and suggest it spends shareholder money wisely. However, they aren't even in the same ballpark as Axfood.
Moving along, let's see how Vitec stacks up against Ruane's Rules:

At 20x estimated Free Cash Flow (or Owner's Earnings), these two companies aren't exceptionally cheap. They do, however, generate good returns on invested capital. This presents us with one of our most difficult problems: how do balance quality and value?
I'd love to hear from you. In your process, what matters more: quality or value? How do you balance return on invested capital and valuation? Do you know of any high ROIC businesses that trade at low multiples?
Disclosure: I am/we are long MTRAF, COST, CNSWF.
I wrote this article myself, and it expresses my own opinions. I am not receiving compensation for it (other than from Seeking Alpha). I have no business relationship with any company whose stock is mentioned in this article.
Editor's Note: This article discusses one or more securities that do not trade on a major U.S. exchange. Please be aware of the risks associated with these stocks.