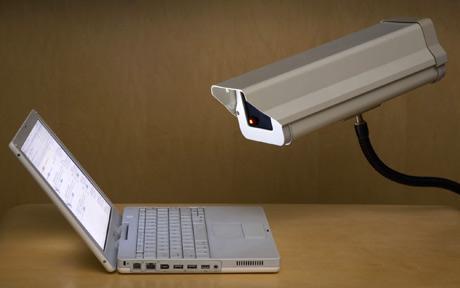 Last Sunday I bought an Alta from Fitbit (NYSE:FIT). After a week of wearing the wristband, here are some stats:
Steps: 64,761
Heart Rate: 68bpm (65bpm resting)
Miles: 34.26
Good to know. The app also tracked my activity/inactivity, calories burned, elevation and stairs climbed, sleep time, location, and a host of other metrics. The right person (with too much time on their hands) could fairly accurately determine how I was feeling at 4:00 PM on Tuesday with access to the data. It got me thinking, who has access to the data?
Here's what Fitbit's website has to say:

"...to never sell your personal data." What's personal data?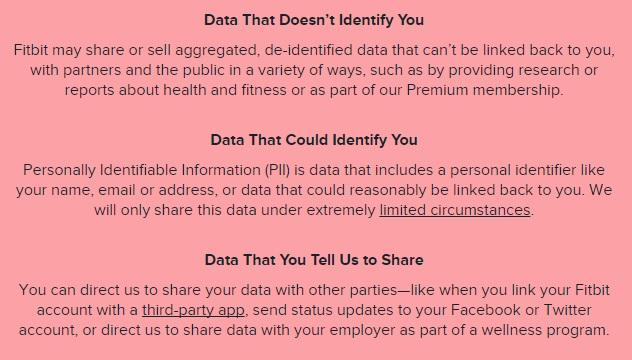 So they'll only share the data if it doesn't identify me, except under "extremely limited circumstances." What are the circumstances?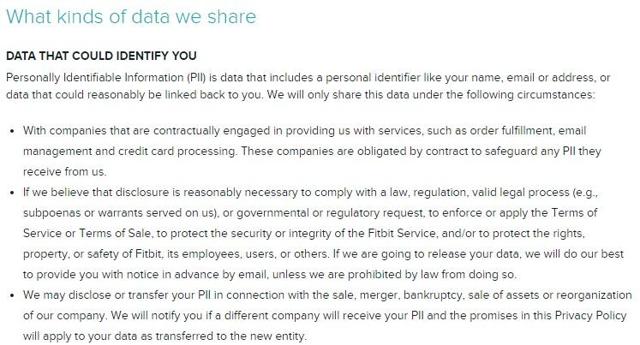 Notice that the screenshots are getting bigger the deeper we dig? The point is, unless you take a serious look at the Terms and Conditions, you don't really know what data is being collected, and who it is being sold to.
Alright, so this new toy tracks my life. But unless I plan on robbing a bank, why do I care if Fitbit knows where I am at all times and how many steps I've taken today? Well, I don't. The part I'm not so comfortable with is not knowing what types of data are being collected, and who will have access to that data.
Fitbit spokesperson, Stephna May, likened the company's privacy policy to that of Facebook's (NASDAQ:FB). She said that the company would consider marketing "aggregate information" that cannot be linked back to an individual user, but "does not sell information collected from the device that can identify individual users, period."
If you have a smartphone, you are, in effect, being watched right now. Even if it isn't in real-time, you can think of data collection as a digital filming of your interaction with technology. The average American spends 4.7 hours, or one-third of each day on their phone, but the camera is still rolling when your phone is in your pocket.
"Computer scientists at Carnegie Mellon University concluded that a dozen or so popular Android apps collected device location-GPS coordinates accurate to within 50 meters-an average of 6,200 times, or roughly every three minutes, per participant over a two-week study period" ((WSJ)). Fitbit sharing heart rate data should be the least of our worries.
Bottom Line: We need to be concerned with privacy and security in a networked world.
Consumers should have the right to know what data is being collected about them and shared. The way I see it, there are two options:
Consumer Choice

American consumers are not a strong enough force to drive privacy and transparency competition because so many are uniformed on the matter. Instead of giving companies guidelines to follow, there should be a standardized consent form that allows the buyer to choose which major categories of data can be shared with third parties. Otherwise, we will continue to see provisions for sharing buried in the bowels of companies' privacy policies.

Consumer Choice

Consumers should be informed (again, in a standardized way to level the playing field between companies and uninformed buyers) which major categories of data will be shared with third parties should they choose to purchase the product. By making the purchase, the buyer consents to all disclosed uses of their data. The only difference between this option and the current privacy atmosphere is that there is no standardized way of reporting data sharing.
We need to be preventive and proactive with our privacy laws in this country. Companies are already selling financial data to everyone from the largest institutions to small prop shops, and this practice can be found with any consumer product that collects data.
Government Data Surveillance
Recently, the government's right to use consumer data for law enforcement has been a hot topic. From the locked Apple (NASDAQ:AAPL) iPhone of the San Bernardino shooter, to Microsoft's (NASDAQ:MSFT) lawsuit on cloud data, U.S. tech companies are pushing back against government surveillance.
Last year, more tech companies than ever published transparency reports aimed at putting consumers' privacy concerns to rest. Snapchat released their first transparency report in 2015, and continues to release reports semiannually. The picture below is a portion of the most recent report, released March 29, 2016.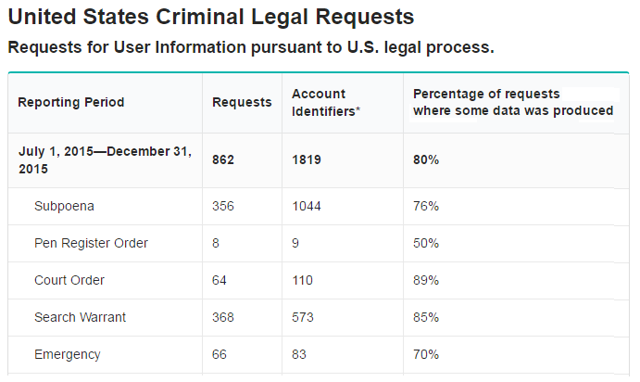 Many companies are arguing that the current laws in the U.S. allow the government to access personal data too easily. ABC's Nick Grimm puts it into perspective nicely:
Normally...in the U.S....you would need a court order to march into someone's house and go through the personal belongings in their desk, but now most of us have our personal belongings in the cloud somewhere. So this can actually be searched without a court order and Microsoft says, well look, if you're going to make us do that, we should at least be able to tell our customer's what's going on.
Why Data Sharing Can Be A Good Thing
The reason Company A sells your data is because Company B wants to buy it, and the reason Company B wants to buy it may not be as malicious as you think. Three uses of your data that, on the surface may seem harmful, can actually be beneficial are:
Price Discrimination

Simple example: Microsoft wants to sell its office package to a wide range of customers, and knows that some customers will be willing to pay more for certain features than other customers. Using data it buys from a data broker, Microsoft determines that it can sell Package A to business owners for $350, Package B to the average consumer for $150, and Package C to students for $100. Without this information, they would have to sell everyone the same package for $200 to make the same in revenue (with a plethora of simplifying assumptions holding). In this case, the average consumer benefits from everyone's personal data being shared.

Ad Targeting/Recommendations

You bought an iPhone 6 on eBay (NASDAQ:EBAY) yesterday. Today, you log into your Amazon (NASDAQ:AMZN) account and in the "Inspired by your shopping trends" section in the middle of the landing page advertises a charger case, screen protector, and a virtual reality headset that fits an iPhone 6. How'd that happen?

Single Sign-on

On just about every app or website, you are now able to bypass the process of creating an account by signing in with Facebook, Google+, or similar sites. In this case, a company isn't selling your data, but it illustrates one benefit of allowing your data to be shared.
The Investor's Perspective
The number of devices that collect data about users is growing rapidly. Smart phones, smart TVs, smart watches; they're getting to know you by learning about your behaviors. Because of this, the market for consumer data is becoming increasingly competitive.
The company that I believe will emerge as the primary data broker in the next decade is Acxiom (NASDAQ:ACXM). In 2014, the Little Rock, Arkansas based company acquired LiveRamp, a spinoff of Rapleaf, a key competitor in the data brokerage industry. Consumers are demanding more transparency from data brokers, and Acxiom appears committed to openness. In an interview with the New York Times, Acxiom Chief Privacy Officer, Barrett Glasgow vouched for "more transparency among data brokers."
Douglas Rushkoff, author of Present Shock, has been advocating open source solutions to social problems since the early 1990s. In 2002 he was awarded the Marshall McLuhan Award by the Media Ecology Association for his book Coercion. In a 2004 Frontline interview, he referred to Acxiom as "one of the biggest companies you've never heard of."
Their computers are programmed not only to figure out who we are now, but where we are going and when we will get there. What Acxiom is promising is nothing less than the solution to clutter: Send us ads only for products we really want, and anticipate just when we will want them.
Since then, the company has continued to gain market share. Acxiom recently formed a strategic partnership with Twitter (NYSE:TWTR) to "facilitate advertisers to gauge the efficacy of advertising campaigns on offline sales...utilizing the analytical insights and onboarding capabilities of Acxiom alongside Twitter's specific KPIs (key performance indicators)."
According to Zack's, "the research intends to analyze exposure and client sales data to determine audience delivery (advertising reach), audience response (conversion rates), and campaign lift (sales increase). A detailed analysis report and key insights from the study will be provided thereafter to advertisers to help them understand the effectiveness of their campaigns...For augmenting its long-term margins, Acxiom is focusing more on its core competency areas by expanding its businesses across key regions. Additionally, the company's newly introduced customized product range is successfully catering to the needs of its clients. At present, the company is also working on improving the functionality, while continuing to invest in product enhancement and connectivity."
On March 29, Acxiom appointed Debora B. Tomlin, chief marketing and distribution officer for CSAA Insurance Group, and former VP of marketing with Capital One (NYSE:COF), to its BOD. At Capital One, she "designed and delivered industry-recognized programs in marketing and customer management." (Acxiom) Her expertise in data-driven marketing will be a huge asset to the company in the coming years. Acxiom shares gained 0.51% after the announcement.
Acxiom revenue growth has been consistently growing this year, despite lackluster performance in 2015.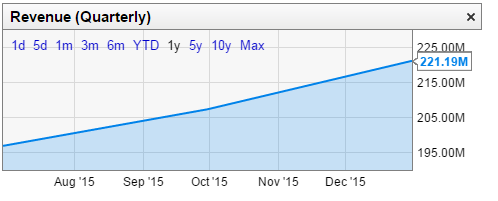 The issue with Acxiom is that the company's stock seems to be overvalued right now. Earnings Yield is 0.14% (40th percentile vs. industry), and book-to-market is 0.415. Market cap-to-sales is 1.622, which is on the higher end for this industry. However, comparable companies like NCR (NYSE:NCR), Teradata (NYSE:TDC), and Rackspace Hosting (NYSE:RAX) are trading at high multiples compared to earnings, book value, and dividends as well.
Despite those problems, Acxiom has a decent balance sheet:
Current ratio = 1.876
D/E = 0.6489
Consistent BV/share growth over the last 10 years
Conclusion
Companies are collecting more data about you than you think, and this trend will continue as products become "smarter." The companies that are able to leverage this influx of data will be the most successful at price discrimination and targeted advertising in the next decade. We may see legislation against data sharing in the near future, but data brokerages like Acxiom will most likely be successful as long as there is data to be bought and sold. Although Acxiom appears to be overvalued right now, keep an eye on the stock long term.
Disclosure: I/we have no positions in any stocks mentioned, and no plans to initiate any positions within the next 72 hours.
I wrote this article myself, and it expresses my own opinions. I am not receiving compensation for it (other than from Seeking Alpha). I have no business relationship with any company whose stock is mentioned in this article.