Last week, IMAX (NYSE:IMAX) announced successful earnings results for the first quarter of 2016. With the EPS of $0.22 and revenue of $93.13 million (+49.7% Y/Y), the company beat analyst consensus and once again strengthened its position in the premium large format (PLF) market. According to last year's study conducted by IHF Technology, IMAX is one of the leaders of the PLF screens market and it's likely that it'll continue to increase its presence in this field in the coming years.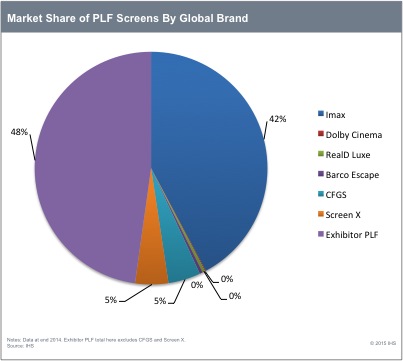 Source: IHF Technology
The successful results were in part thanks to the strong box office releases that occurred during the period. The launch of movies like Batman vs. Superman and Deadpool exceeded the company's expectations and made a lot of contributions to its income statement.
Also, the company's Chinese subsidiary that held an IPO last year showed an impressive growth over the period and is considered to be one of the main catalysts of IMAX's future success. As CEO Richard Gelfond said:
Our screen network in China grew by over 30% since last year and yet saw virtually no dilution of per screen averages, which as many of you know is no small feat and is a testament to the strong consumer demand for movies in IMAX.
Besides that, to sustain its competitive advantage, IMAX constantly increased the number of theaters in which its systems are being applied. In the first quarter, the company signed agreements for 36 theaters (+71% Y/Y) and installed 19 new theater systems. While it has a strong presence in North America and China, it also sees a lot of potential in markets like India and Continental Europe. This month IMAX announced the deal with Indian exhibition chain Inox Leisure to install 5 theaters in four of the country's largest cities and signed a revenue share agreement with German UCI KINOWELT to add a new theater with the company's latest laser system in the Mercedes-Benz Platz, which is located in the center of Berlin.
Going forward, IMAX expects to continue its current pace of growth and has a positive outlook for the coming quarters. The rest of the year is expected to be full of blockbuster releases that will attract more customers to the company's theaters. Movies like X-Men: Apocalypse and Rogue One: A Star Wars Story are already expected to crash their box office and would definitely improve IMAX's financials. Also, most of the analysts are confident in the company's future and are giving "Buy" recommendations:

Source: NASDAQ
And in the last quarter, IMAX's board also increased its repurchasing program which should push the stock even higher in the coming quarters:
Our board has also increased our existing stock buyback authorization from $150 million to $200 million underscoring our ongoing commitment to returning value to shareholders. - Richard L. Gelfond said.
As we can see, a strong first quarter and the successful expansion will create more value for the shareholders in the near future. The coming releases and continuing growth will only strengthen the company's position in the film industry.
In the end, I believe that based on the facts that I stated above, IMAX is an attractive investment which you should consider adding to your portfolio.
Disclosure: I/we have no positions in any stocks mentioned, and no plans to initiate any positions within the next 72 hours.
I wrote this article myself, and it expresses my own opinions. I am not receiving compensation for it (other than from Seeking Alpha). I have no business relationship with any company whose stock is mentioned in this article.