Pembina Pipeline (NYSE:PBA) is new to my portfolio. I have been looking at the company since my interest in pipelines was piqued last fall and I began to expand my holdings in the sector. My first purchase of PPL was

December 22, 2015, for $30.13. I became concerned about the quick rise in the oil sector and sold the holding, but have since purchased it again at a higher price. Of course, hindsight says I should have just stuck with the long-term plan, but I am not going to complain about taking quick profits.
I have held Enbridge (NYSE:ENB) since the now-barely-noticeable August 2011 dip. Two years later, I diversified by putting half of my ENB holding into Inter Pipeline (OTCPK:IPPLF). One of the reasons I purchased PPL was the higher growth profile. That holding soared beautifully, then fell. I have added to both of these holdings over the years. I decided to add PPL to my holdings, essentially as a growth replacement for IPL. However, since I have a lot of cash in the portfolio, I do not really see a need to sell IPL to buy PPL, even though I think PPL will outperform IPL, so I currently have shares in both companies.
PPL is not as cheap as some of the other pipelines. ENB has a price/cash flow of 10.0 times, IPL's P/CF is 11.7x. Pembina's is 15.8x. It is even currently above its normal P/CF as seen in this FastGraph. This is part of why I have been hesitant with the stock. The company is doing very well, but it is not necessarily as dramatic a bargain as some of the others.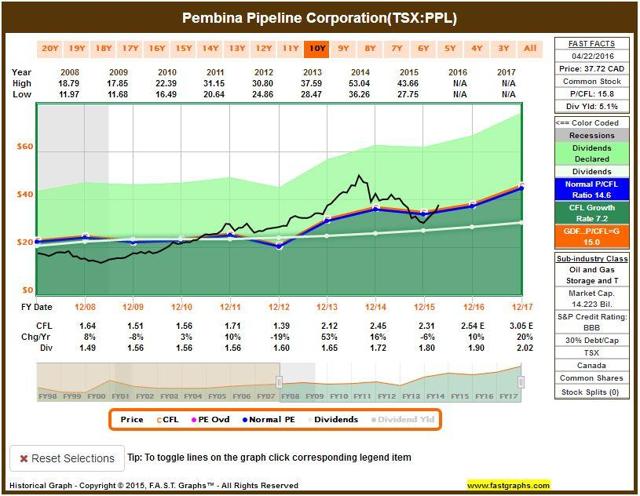 When compared with ENB & IPL over the last six months, it has been the clear winner:

But that is not the case if I had chosen PPL over ENB at the time of my first purchase.

This graph only looks at the capital gain. With a substantially higher dividend, the end results change. This is why I want to hold both Enbridge and a smaller pipeline. Enbridge will lend a measure of stability to the portfolio, while the smaller one(s) may provide a boost in capital gain and if not, a higher income.
The drawdown of Enbridge peak to trough over the last 18 months or so was about 32%. Both Pembina and Inter Pipeline were down about 45%.
Pembina Pipeline had its annual Investor Day on April 11th, and the annual report is now available online. One of the factors that made me choose Pembina over other companies is that Pembina will be bringing new projects online almost every quarter into 2017. As with the other pipelines, these projects are substantially insulated from direct commodity prices as they have long-term contracts with customers. Almost 80% of 2015 EBITDA was generated from fee-for-service contracts and it is forecasted to exceed 80% by 2018. Pembina's clients may not be as financially stable as AltaGas (OTCPK:ATGFF), which claims 90% are investment grade, compared to Pembina's 70%.
Despite volatile markets, "Pembina's goals have not changed and we remain focused on doing the important things right. This includes - operating our business safely and reliably, successfully executing on our growth plans, working to achieve our costs savings goal of $225 million, keeping operating costs low for our customers, supporting the communities we operating in and taking a prudent approach to maintaining and growing shareholder value. Pembina has always been a dividend paying company and our management and Board are very proud of the fact that we have never cut the dividend and have increased it over the last four consecutive years, which includes the 5.2 percent increase in 2015."
I have a small holding in Pembina, which I plan to increase as I grow more comfortable with the company.
Disclosure: I am/we are long ENB, IPPLF, ALA, PBA.
I wrote this article myself, and it expresses my own opinions. I am not receiving compensation for it (other than from Seeking Alpha). I have no business relationship with any company whose stock is mentioned in this article.