On April 20, after market close, American Express Company (NYSE:AXP), the biggest U.S. credit card issuer by purchases, reported its first quarter 2016 financial results, which beat EPS expectations by $0.09 (6.6%). As a result, AXP's shares climbed 3.94% in after-hours trading. Total revenues for the quarter were at $8.1 billion, an increase of 1.9% year over year, also beating the consensus estimate of $8.0 billion. AXP showed earnings per share surprise in four of its last five quarters, as shown in the table below.

Source: Yahoo Finance
AXP was able to beat estimates due to higher than expected net interest income, lower provisions for losses, higher discount revenue, and higher other fees and commissions. The company reiterated its outlook for 2016 of EPS between $5.40 to $5.70 and EPS of at least $5.60 in 2017.
In the report, Kenneth I. Chenault, chairman and chief executive officer, said:
First-quarter results were in line with the financial outlook we provided last month at our Investor Day. Despite strong competition throughout the payments industry, we generated a 4 percent increase in FX-adjusted revenues. Those revenues reflected strong, underlying growth in our lending portfolio, along with higher Card Member spending and fee income. Our 6 percent rise in Card Member spending was partially offset by a lower merchant discount rate and the higher costs associated with cash back rewards. Investment spending was up significantly and reflected initiatives to grow the business by expanding our Card Member base and gaining a greater share of their overall spending and borrowing. We added 3 million new proprietary cards this quarter, with almost two thirds of the consumer acquisitions coming through digital channels. Our underlying loan portfolio grew 11 percent and credit metrics remained excellent. In addition, we continued to make very good progress on expanding our merchant network here in the United States and internationally. Operating expenses continued to be well managed and the restructuring charge this quarter reflected an initial phase of actions to take $1 billion out of our cost base by 2017. Our priorities for this year and next continue to be accelerating revenue growth, resetting our cost base and optimizing the investments we're making in the business.
AXP obtained an increase in FX-adjusted billed business growth from 5% during the fourth quarter of 2015 to 6% in the first quarter. Some items influenced first-quarter performance, including a benefit from leap year and slightly higher international volume growth. These benefits were partially offset by a larger year-over-year decline in Costco (NASDAQ:COST)-related volumes in the US, as the company moves closer to the end of the relationship during June.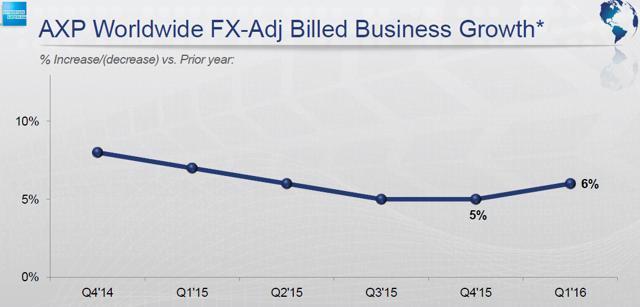 Source: Earnings Conference Call Q1'16
Last year, American Express said it was ending its U.S. partnership with Costco Wholesale, a relationship that accounted for 20% of its worldwide loans and 8% of customer spending, and its agreement with JetBlue Airways (NASDAQ:JBLU). AXP is making efforts to capture the spending activity of current Costco co-brand card members. The landscape will change once Citi (NYSE:C) launches its new Costco co-brand card in June, but it will remain focused on the spend and lend activity of these customers as the environment evolves. According to the company, as part of its effort to optimize investments, it intends to spread more evenly the spend across all four quarters. It continues to expect that the total full-year spending on growth initiatives during 2016 will be consistent with 2015 levels.
I see continued healthy growth prospects for the company. One of the key focus areas for its incremental spending on growth initiatives is driving new card acquisitions. These efforts drove 2.1 million new cards acquired across its U.S. issuing businesses during the current quarter, and nearly 1 million more from its international issuing businesses, which remains well above the average level of card acquisitions in prior periods. These results include new cards from Costco co-brand card members who have signed up for another American Express product, which has been a significant driver of the higher acquisitions in recent quarters. An increasing portion of the new card acquisitions is also coming through digital channels, as digital represented almost two-thirds of global consumer acquisitions this quarter.
Valuation
Since the beginning of the year, AXP's stock is down 5.2% while the S&P 500 Index has increased 2.3%, and the Nasdaq Composite Index has lost 2.0%. Moreover, since the beginning of 2012, AXP's stock has gained only 39.8%. In this period, the S&P 500 Index has increased 66.3%, and the Nasdaq Composite Index has risen 88.3%.
AXP Daily Chart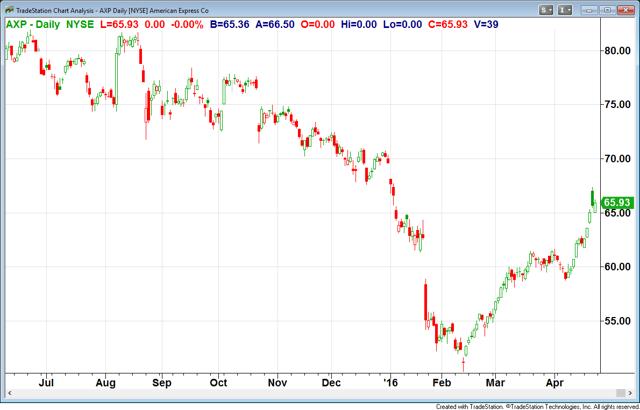 AXP Weekly Chart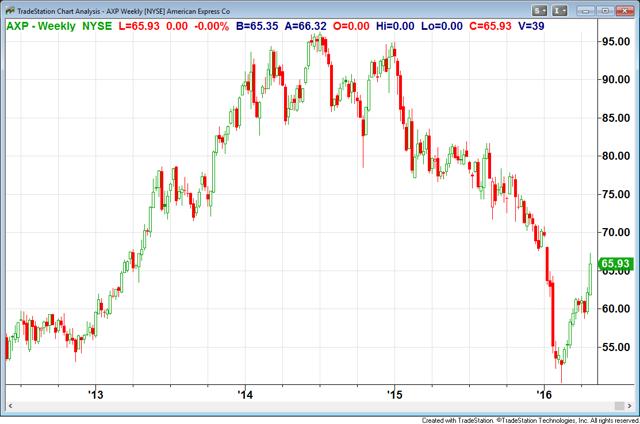 Charts: TradeStation Group, Inc.
AXP's valuation metrics are good, the trailing P/E is low at 13.06, and the forward P/E is even lower at 11.77. Moreover, the price to cash flow ratio is low at 10.42, and the PEG ratio is at 1.35.
On March 11, 2015, AXP increased its quarterly dividend by 12% to $0.29 per share. The annual dividend yield is at 1.76%, and the payout ratio is only 23.1%. The annual rate of dividend growth over the past three years was high at 12.2%, over the past five years was at 9.4%, and over the last ten years was at 8.9%.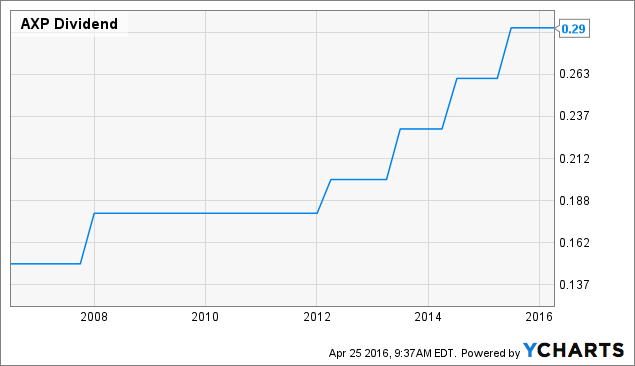 AXP Dividend data by YCharts
Over the past 12 months, the company has repurchased 69 million shares, which reduced its average share count by 6%.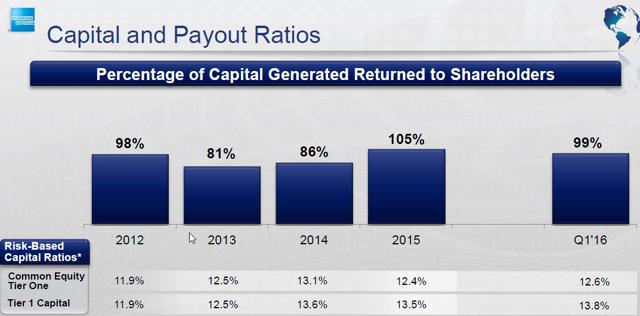 Source: Earnings Conference Call Q1'16
Summary
I see continued healthy growth prospects for American Express. The company delivered another quarterly results that exceeded estimates, and it is spending on growth initiatives, including new card acquisitions. An increasing portion of the new card acquisitions is also coming through digital channels, as digital represented almost two-thirds of global consumer acquisitions this quarter. AXP's shares are trading at a discount to their historical valuation. Furthermore, the company generates strong cash flow and returns substantial capital to its shareholders by stock buybacks and increasing dividend payments. All these factors bring me to the conclusion that AXP's stock is a smart long-term investment.
Disclosure: I/we have no positions in any stocks mentioned, and no plans to initiate any positions within the next 72 hours.
I wrote this article myself, and it expresses my own opinions. I am not receiving compensation for it (other than from Seeking Alpha). I have no business relationship with any company whose stock is mentioned in this article.