I am a strongly left-brained person. I feel lucky to be left-brained, because our education system is (unfortunately, and very unfairly) set up to value a mind that naturally excels at math, science and logic. My calculated mindset has served me well in investing and has kept me living far below my means, but this line of thinking comes with a huge caveat - my brain struggles when I am faced with illogical situations. When things don't make sense, I cannot wrap my mind around the situation. The end result: an extreme state of frustration.
Case in point: I am extremely frustrated by Mr. Market as of late.
Mr. Market Is An Imposter
Let me explain a little something about Mr. Market to all of you.
Mr. Market pretends to be a "numbers man." To the casual observer, he is an adept number cruncher, constantly scouring the quarterly and annual reports of every company on the exchange for revenues, earnings and liabilities to assess its health moving forward. After the assessment is complete, he applies a price to the economic data - we know this as the market price. The casual observer believes this process is highly mathematical and requires extensive knowledge in finance, history, statistics and risk assessment. The end result: most people are intimidated by Mr. Market and his seemingly omnipotent business acumen.
That is all a facade. Mr. Market is actually strongly right-brained - he is a very talented actor. Such a good actor is he, that he has tricked almost everyone into believing his immediate actions are cold and calculating, when they are, in fact, emotional and speculative based on instantaneous sentiment. Mr. Market is a dreamer and sets his market price based on his imagination.
Perhaps you've heard the phrase "The market takes the stairs up and the elevator down?" Mr. Market has extreme emotional swings - he is naturally an optimist that sees most news as good news, but will occasionally snap and suffer from brief moments of unbridled panic. At any given moment, the market price of stocks is rarely fairly valued, and due to his temperament, the extreme discounts in market price don't last long, while the overvalued prices tend to linger. The most successful investors have done well betting on Mr. Market by investing in two ways:
Ignoring Mr. Market entirely and hoarding cash during his prolonged good moods, then investing the built-up lump sums during his brief, irrational panic attacks.
Investing small sums of cash with extreme regularity over very long periods of time. While at any given moment Mr. Market is probably not valuing a stock correctly, over very long periods he is extremely accurate when calculating the mean.
It is ironic that the left-brained investors among us have done the best by exploiting Mr. Market's right-brained nature, while the naturally emotional investors among us have suffered by selling his panics and buying his good moods.
I am writing this article as a warning to all: while I am only 29 years old and my investment career has been brief, this is the most irrationally optimistic I have seen Mr. Market in my career. Historically speaking, these times have been the worst to buy into the market price he sets. I will present my case point by point below.
Point 1: The Dow Jones Industrial Average
In August 2015, the Dow Jones Industrial Average (NYSEARCA:DIA) suffered the largest instantaneous collapse in its history, falling over 1,000 points in a trading session. After setting an intraday high of 18,351.36 on May 19, 2015, the Dow found itself falling as far as 15,450.56 by January 20, 2016, a collapse of nearly 16% from its all-time highs.
Since then, the Dow has rebounded, closing at over 18,000 this past Friday, April 22nd. Currently, 18 out of the 30 Dow stocks are within 10% of their 52-week highs.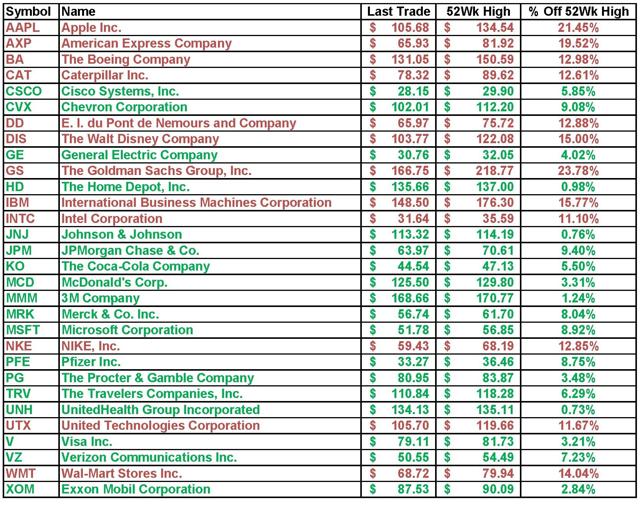 For the index to have rebounded so strongly following Mr. Market's brief panic attack, there needs to be strong economic data to support the rebound to justify a good investing opportunity. Otherwise, investors buying into these highs may be at risk of subpar returns by buying into Mr. Market's emotional optimism.
We must ask ourselves, "Are these highs warranted, or is Mr. Market overly optimistic?"
Point 2: The S&P 500
We are midway through the Q1 2016 earnings season. I have taken the liberty of collecting the GAAP diluted earnings of the top 40 S&P 500 (NYSEARCA:SPY) stocks that have reported thus far, as they most heavily weigh and influence the index. These earnings are compared to their Q1 2015 earnings YoY.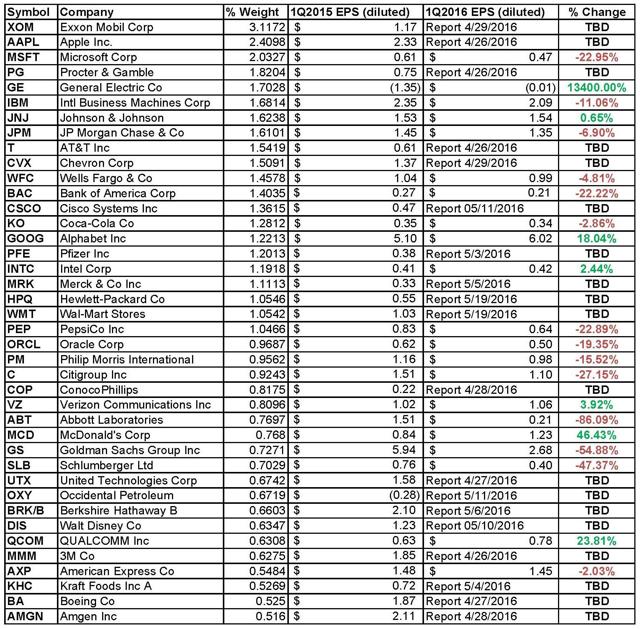 Out of the 21 companies that have reported earnings thus far, 14 have reported YoY earnings declines. Despite these shrinking earnings, the S&P 500 sits at 2,091.58, a mere 43.14 points off its all-time intraday high of 2,134.72 set on May 20, 2015.
What we have here is a case of full-blown multiple expansion. The P/E ratio of the S&P 500 now sits at 24.17x trailing earnings as calculated by Multpl.com. The price investors are currently paying for $1 of the index's earnings sits at post-financial collapse highs.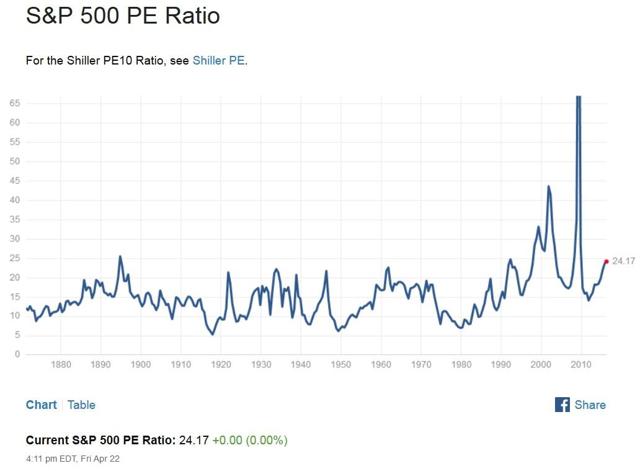 Image credit: Multpl.com
While Mr. Market is pricing today's S&P 500 about the same as last year's S&P 500, the private investor is paying more for each $1 of earnings.
Point 3: Mr. Market's Crystal Ball
The most recent S&P 500 Earnings and Estimate Report can be downloaded here.
In this report, we notice a few key areas of interest.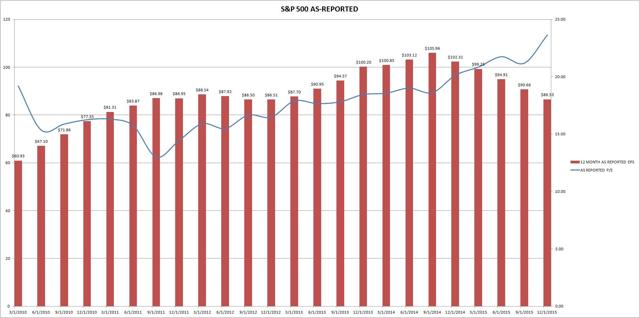 When plotting the as-reported EPS from the post-financial collapse recovery from Q1 2010 to Q3 2014, we notice a general trend where the P/E ratio of the S&P 500 increases alongside increasing earnings. This can be expected - growth was relatively strong, and as a result, investors were willing to pay more for said growth. However, after Q4 2014, a different but disturbing trend began.
EPS began falling each quarter, while the P/E ratio of the S&P 500 kept rising. Why are investors willing to pay a higher multiple for falling earnings? This is the exact opposite of logical. Mr. Market has completely abandoned what remained of his left brain and adopted a crystal ball instead. I believe the answer lies in the Forward Schedule.
| | | | |
| --- | --- | --- | --- |
| Quarter End | As-Reported EPS | As-Reported P/E | 12-Month As-Reported EPS |
| 12/31/2017 | $33.34 | 16.71 | $ 125.17 |
| 9/30/2017 | $32.44 | 17.26 | $ 121.16 |
| 6/30/2017 | $30.93 | 17.73 | $ 117.98 |
| 3/31/2017 | $28.46 | 18.43 | $ 113.50 |
| 12/31/2016 | $29.33 | 19.30 | $ 108.38 |
| 09/30/2016 | $29.25 | 21.40 | $ 97.75 |
| 06/30/2016 | $26.46 | 22.80 | $ 91.72 |
| 03/31/2016 | $23.34 | 23.75 | $ 88.06 |
Above is the forward EPS per quarter for the next 2 fiscal years. Mr. Market is pricing today's S&P 500 along assumed 2017 earnings. If FY2017 earnings fall in line, today's S&P 500 looks fairly valued at 16.71x earnings. That's about historical pricing for fair value. But how likely is Mr. Market to be correct? Or is he being a completely irrational, emotional optimist again?
Point 4: Mr. Market Is A Hopeless Optimist
It is my opinion that the course we are on is unsustainable. I believe the market exists at these levels solely due to the artificially low interest rate situation the Fed has placed us in, and I believe we are in a two-fold lose-lose situation given the rate hike scenario the Fed has promised.
Scenario #1: The Fed doesn't hike interest rates and keeps them near 0%. This symbolizes the Fed's bleak outlook on our economy. Market sentiment will slowly erode as we come to terms with our poor financial outlook. Eventually, P/E ratios come down as reality sets in and market prices fall.
Scenario #2: The Fed does adhere to its interest rate hike schedule. Ultimately, markets are expensive due to ZIRP destroying yield across the board. Bonds yield nothing, certificates of deposit yield nothing, and savings accounts yield nothing. Fixed income has been taken out of the equation, and every investor chasing yield has been forced into equities with strong dividend histories. The market is overcapitalized as a result, and if fixed-income investments become viable options again for the most conservative investors, the P/E ratio will come down as income investors begin to leave equities for more guaranteed sources of income.
My overriding concern is that if the market is going up while earnings are going down, there must be more demand for stocks than supply - prices are being run up. That means lots of people are buying in at these levels.

I struggle to wrap my mind around increasing demand for equities that are less profitable now than they were a year ago. And mind you, the S&P 500 is heavily energy-weighted, and the three monsters - Exxon Mobil (NYSE:XOM), Chevron Corporation (NYSE:CVX) and ConocoPhillips (NYSE:COP) - have yet to report. Anyone venture to guess what their results will be, given the YoY price of oil?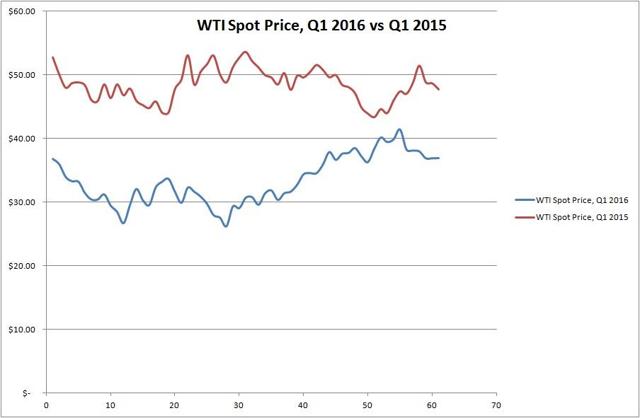 In short, I am bearish on their earnings, and even if they beat analyst estimates, I expect them to further exacerbate the overall market's lofty P/E ratio with a poor showing and YoY EPS declines.
Either way, I believe the long-term path of the S&P 500's P/E ratio is downward. I am no advocate of "selling the market" - I'm an investor, not a trader. Outside of my automatic weekly index contributions and my Johnson & Johnson (NYSE:JNJ) DRIP, which I have pledged to contribute to come rain or shine, I personally am more interested in accumulating cash than shoving it into equities right now. I consider the overall market to be a hold, and will not be buying in with fervor until I see a strong correction or a strong EPS boon. I believe the former is more likely than the latter.
Disclosure: I am/we are long SPY, DIA, JNJ, XOM, CVX.
I wrote this article myself, and it expresses my own opinions. I am not receiving compensation for it (other than from Seeking Alpha). I have no business relationship with any company whose stock is mentioned in this article.
Additional disclosure: All information found herein, including any ideas, opinions, views, predictions, commentaries, forecasts, suggestions or stock picks, expressed or implied, are for informational, entertainment or educational purposes only and should not be construed as personal investment advice. I am not a licensed investment adviser.