Recently, the senior loan sector has caught fire after a slump last year. For example, the ETF BKLN is up about 6% since the bottom on February 11. The steady up move since then may be caused by different factors, but it is quite possible the market is sniffing out potential Fed Fund rate increases later this year.
Back in March 2013, I published an article recommending the Nuveen Tax Advantaged Total Return Strategy Fund (NYSE:JTA) for a swing trade. JTA is an equity dividend income fund that keeps a portion of the portfolio invested in senior loans and may be a relatively safe way to re-enter the stock market at these levels for those who have new cash to invest.
JTA is a multi-asset fund with the objective of "achieving a high level of after-tax total return consisting primarily of tax-advantaged dividend income and attractive capital appreciation." Because of the tax-advantaged dividend payouts, it can be a good holding in either a taxable account or an IRA.
The fund invests a substantial majority of its managed assets in common and preferred stocks whose dividends qualify for reduced income tax treatment (e.g. qualified dividend income or QDI). It also invests a portion of its assets in senior loans to generate additional income.
The fund uses leverage to enhance returns. JTA uses the senior loans to generate additional income and to reduce the net asset value and income volatility that may be caused by the leveraged structure when short- and/or long-term interest rates change.
(Data below is sourced from the Nuveen website unless otherwise stated.)
This is a recent asset allocation breakdown:
JTA Asset Allocation (as of 03/31/2016)
| | |
| --- | --- |
| Equities | 65.2% |
| Senior Loan and Debt Securities | 19.5% |
| Cash and Equivalents | 13.8% |
| Convertible Preferred Securities | 1.3% |
| Other Assets | 0.1% |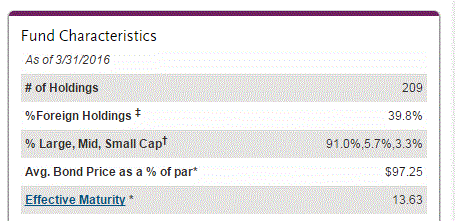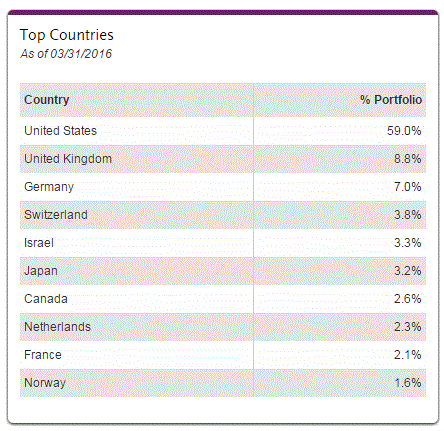 In many ways, JTA is a combination of two different funds - a senior loan CEF plus a leveraged tax-advantaged equity dividend CEF. The senior loan portion helps to hedge the interest rate risk of the leverage if the Fed were to raise short-term interest rates.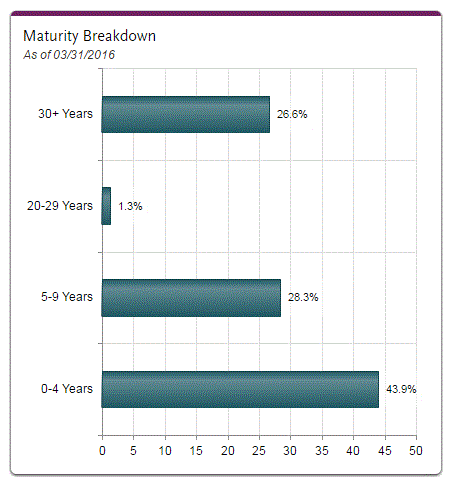 Since inception in 2004, JTA has had mixed results in its total return performance. It had excellent years in 2006 and 2013, but terrible results in 2008. But it has been a good swing trading candidate because of variations in its discount/premium to NAV. Here's a long-term chart of the discount from cefconnect: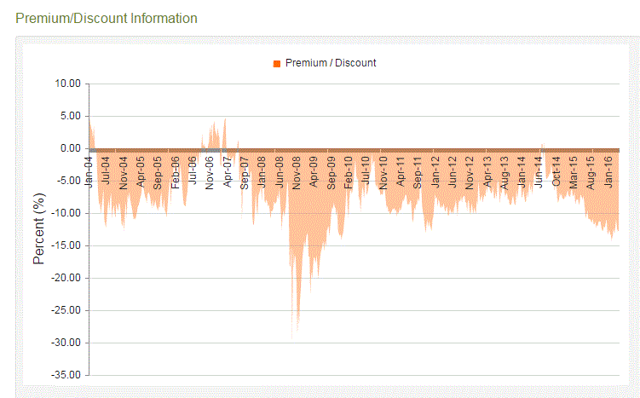 Annual NAV Performance (from 2006)
Category: World Allocation
Year - NAV - Rank
| | | |
| --- | --- | --- |
| 2006 | +24.49% | 55 |
| 2007 | -2.31% | 58 |
| 2008 | -55.39% | 100 |
| 2009 | +36.19% | 64 |
| 2010 | +15.04% | 73 |
| 2011 | -3.85% | 90 |
| 2012 | +14.66% | 31 |
| 2013 | +35.06% | 1 |
| 2014 | +4.91% | 40 |
| 2015 | -1.53% | 37 |
| YTD | +1.50% | 64 |
Source: Morningstar
The current discount to NAV as of April 22 is -12.66%. The one-year discount Z-score is -0.83, which means that the current discount to NAV is nearly one standard deviation below the average one-year discount of -11.15%.
The two-year discount Z-score is -1.23. The current discount is more than one standard deviations below the two-year average discount of -8.28%.
Source: cefanalyzer
Alpha is Generated by High Discount Plus Distributions
The distribution rate of 9.07% along with the 12.66% discount allows investors to capture alpha by recovering a portion of the discount whenever a distribution is paid out.
Whenever you recover NAV from a fund selling at a 12.66% discount, the percentage return is 1.00/0.8734 or about 14.50%. So the alpha generated by the 9.07% distribution is computed as:
(0.0907)*(0.145) = 0.0132 or about 1.32% a year in discount capture alpha.
This is only a little less than the 1.40% annualized baseline expense ratio (Source: cefanalyzer), so you are almost getting the fund management for free with an effective expense ratio of only 0.08%. Note that this alpha capture occurs even if the discount remains, so long as the fund keeps paying out at the same distribution rate.
Here are some other stats on JTA:
Nuveen Tax-Advantaged Total Return Fund
Total Assets: 256.8 MM
Total Common assets: 180.4 MM
Annual Distribution Rate: 9.07%
Last Regular Quarterly Distribution: $0.258 (Annual= $1.032)
Fund Baseline Expense ratio: 1.40%
Discount to NAV: -12.66%
Effective Leverage: 31.34%
Average Leverage Cost: 1.05%
Average Daily Volume: 61,000 (Source: Yahoo Finance)
Average Daily Dollar Volume: $695,000
I think JTA is a good buy at current levels. Liquidity is not an issue for smaller trades, but care must be taken on larger orders of a few thousand shares or more. The bid-asked spread probably averages around two cents, but often varies from one to four cents throughout the day. Its leverage cost of 1.05% is not bad for a fund that is primarily equities.
Overall, JTA provides a convenient way for investors with fixed income holdings to lower their interest rate exposure, get some exposure to equities and senior loans and take advantage of fairly low cost leverage.
Disclosure: I am/we are long JTA.
I wrote this article myself, and it expresses my own opinions. I am not receiving compensation for it (other than from Seeking Alpha). I have no business relationship with any company whose stock is mentioned in this article.