Talk of inflation has found its way back into capital markets. Inflation, of course, has important implications for asset prices as well as the future direction of global monetary policy. While it makes for an interesting narrative du jour, is there any substance to the idea that prices might start moving sustainably higher?
Any talk of inflation is met with understandable derision by participants on both side of the debate.
Some quickly dismiss the idea that inflationary pressures are likely to surface any time soon. After all, inflation has been a persistent wolf cry for the last seven years since the calming of the financial crisis that has never amounted to anything other than more softness in the official numbers. Sure, we've had some blips higher along the way, but they have been nothing more than counter-trend pricing moves in a longer-term disinflationary trend that is teetering on the brink of a full-blown deflation.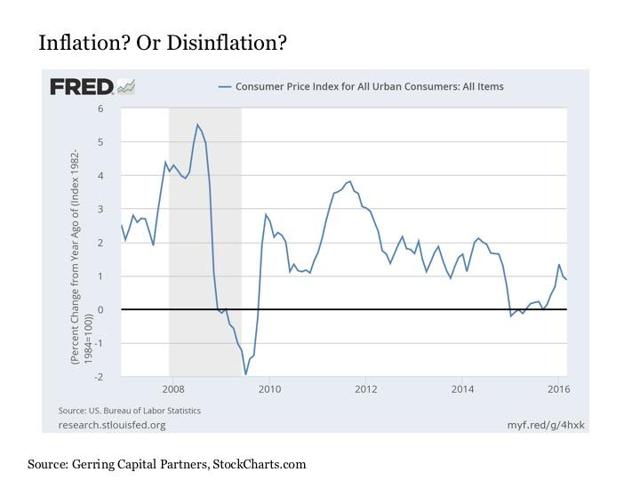 For others, they question how the data is already showing a good deal of inflation. As the saying often goes, if your covering your healthcare costs out of pocket, paying college tuition bills or shopping at the grocery store, among other things, many of your costs may feel like they are going through the roof on a year-over-year basis.
But when stripping out the more volatile food and energy items and focusing on changes in the Core Consumer Price Index, evidence does exist of a pickup in prices in recent months.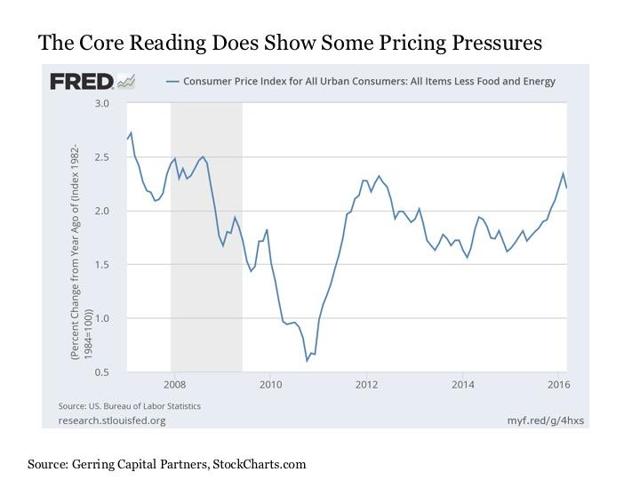 This leads to the following question. Are the markets truly reacting in a way that suggests that any recent rise in inflationary pressures is sustainable? Or is this just the latest blip in what is otherwise an ongoing global disinflationary trend?
First, some have cited the recent rise in Treasury yields as evidence of the onset of inflationary pressures. Indeed, Treasury yields have increased in recent weeks. For example, the 10-year Treasury yield has jumped from 1.68% in early April to as high as 1.90% this week, which is a solid 22 basis point move. But it is important to put this shift into context, for yields still remain near their lowest levels that they have been in the last three calendar years and are still below the 2% peak reached as recently as a month ago in March. In short, this is not what one would expect to see if the market had any meaningful concerns about inflation at the present time.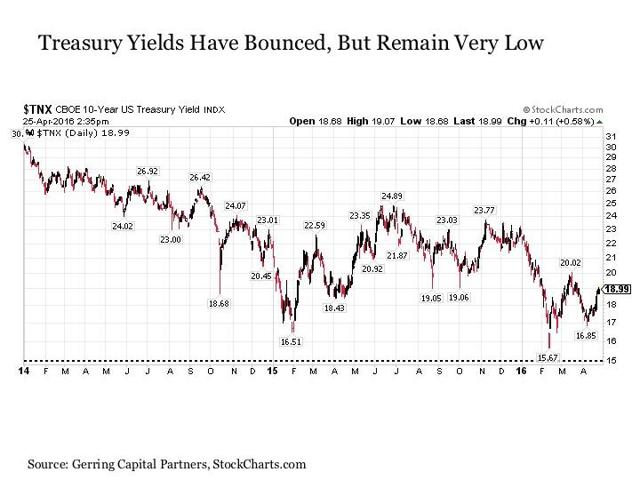 Taking this a step further, it is worthwhile to consider the 10-year breakeven inflation rate, which compares the yield differential between 10-year TIPS and 10-year Treasuries. Once again, the 10-year breakeven inflation rate has indeed spiked from as low as 1.2% earlier this year to over 1.6% today, which is a notable move. But this same 1.6% reading would have represented post-crisis lows for inflation expectations as recently as the end of last year. If anything, the recent rise in the 10-year breakeven inflation rate represents a return from extremely low levels at the beginning of the year to a level that still suggests that inflation expectations are highly subdued.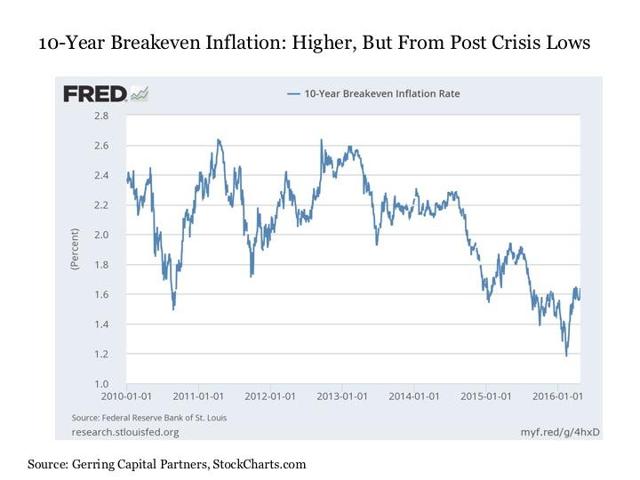 What about TIPS anyway? Yes, they have been rising higher in recent months, which suggests the potential that inflationary pressures may be starting to build. But we have seen TIPS prices rise to this very same level on a number of occasions over the past few years and in each past instance they have been turned back lower, which suggests that this may be nothing more than a blip like it has been on several occasions in the past.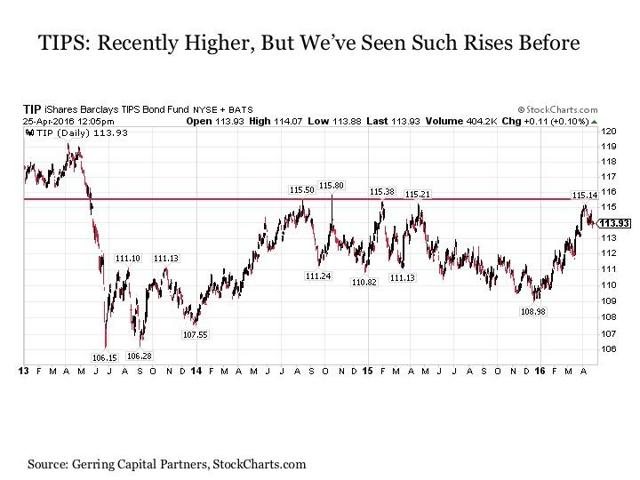 The same can even be said of oil prices (NYSEARCA:OIL). Yes, they have bounced strongly higher over the past two months, but this is off of post-crisis lows. At present, they have returned to levels from late last year, and questions still remain as to whether we may see lower lows before it's all said and done. Once again, one has to look no further than the rally that took place around the same time last year and what followed for the remainder of 2015 to see how things could potentially play out for the rest of 2016.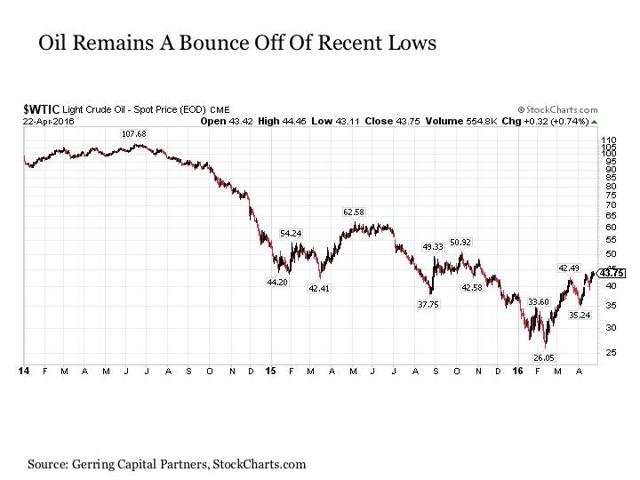 Even if recent inflationary pressures do end up proving sustainable, it does not necessarily mean that the Fed will be falling over itself to raise interest rates. After all, it has been wringing its hands for the past seven years in trying to bring the inflation rate to a 2% target. Despite whatever it might say, it is reasonable to expect that it might like to see prices hold at or above this 2% target for a period of time before rushing to pull the trigger on more rate hikes. And this assumes that prices even get back to this level any time soon.
Let's take this one step further. Even if the Fed does raise interest rates in response to building inflationary pressures. Certain investment categories such as dividend stocks (NYSEARCA:DVY), bonds (NYSEARCA:LQD) and Treasuries (NYSEARCA:TLT) are likely to take a downside hit on such news. But any such sell off would likely present an attractive buying opportunity for those interested in holding such positions. This is due to the fact that the bias in the global economy remains toward decelerating growth. And if the Fed is forced to raise interest rates due to rising prices in an environment where underlying growth remains weak, this would likely favor these same categories that have proven time and again to hold up well during prolonged periods of economic and market weakness.
Bottom Line
Despite the recent talk of rising inflationary pressures, it is not necessarily showing up in the official data in any meaningful way. Moreover, the market is showing little evidence of believing it. As a result, any assets that are sold off amid such concerns may warrant consideration for purchase in expectation that these fleeting pricing concerns may eventually subside.
Disclosure: This article is for information purposes only. There are risks involved with investing including loss of principal. Gerring Capital Partners makes no explicit or implicit guarantee with respect to performance or the outcome of any investment or projections made. There is no guarantee that the goals of the strategies discussed by Gerring Capital Partners will be met.
Disclosure: I am/we are long TLT.
I wrote this article myself, and it expresses my own opinions. I am not receiving compensation for it (other than from Seeking Alpha). I have no business relationship with any company whose stock is mentioned in this article.